A Bus On A Dusty Road – Anita Louise Hummel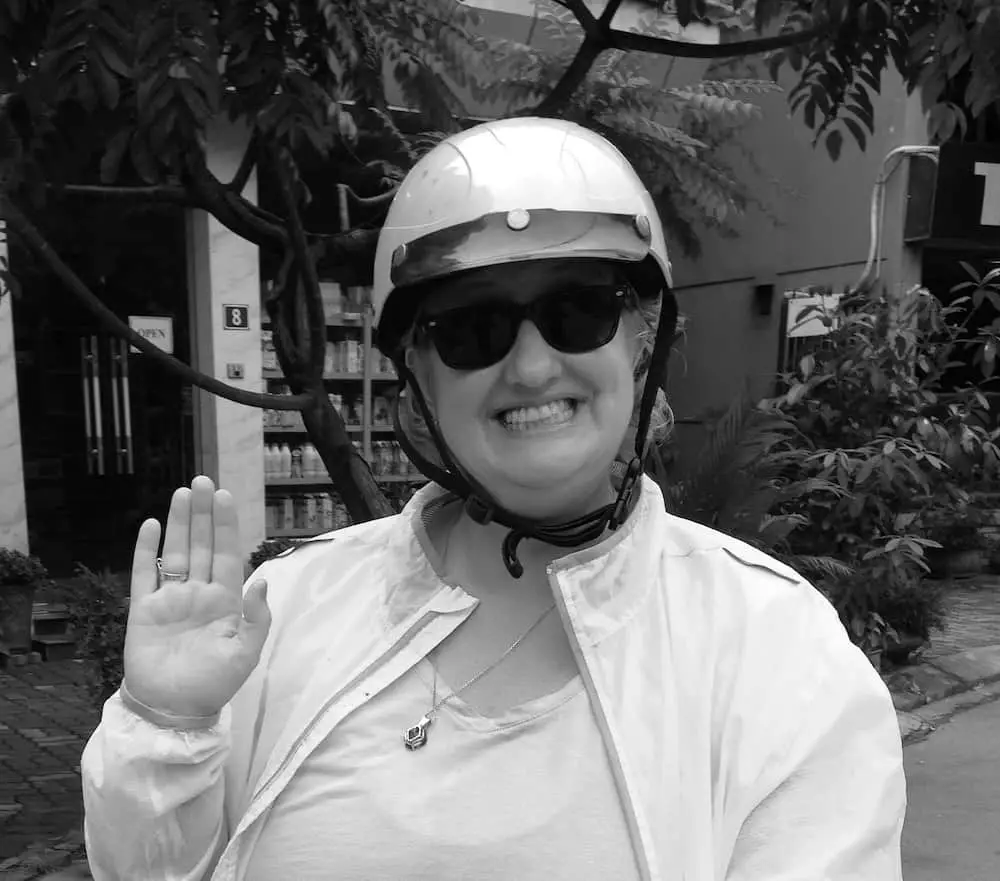 "A Bus On A Dusty Road" explores the essence of embracing a globally inspired existence while weaving together the narratives of remarkable individuals encountered on this transformative journey. This captivating tale encapsulates the essence of travel, international lifestyles, diverse culinary experiences, oceanic voyages, historical explorations, and captivating visual escapades.

– Anita L. Hummel
My Story – A Bus On A Dusty Road
For over three decades, I have embarked on a remarkable odyssey worldwide, immersing myself in the vibrant cultures of Asia, including China, Vietnam, Thailand, and Hong Kong. As an expatriate, I have traversed every nook and cranny of these lands, pursuing a career in manufacturing exquisite home decor and furnishings through Mondoro.com. This professional pursuit has provided me with incredible opportunities to collaborate with and learn from talented local artisans residing in handicraft villages, both men and women.
However, my passion for exploration predates my life as an expat in Asia. Even in my formative years, the call of adventure resonated within me. As a high school student, I embarked on a transformative journey as a foreign exchange student in Sundsvall, Sweden, where the beauty of cultural exchange unfolded. Throughout college, I nurtured my thirst for discovery by embarking on a summer-long backpacking expedition through Europe and later teaching English in Taiwan.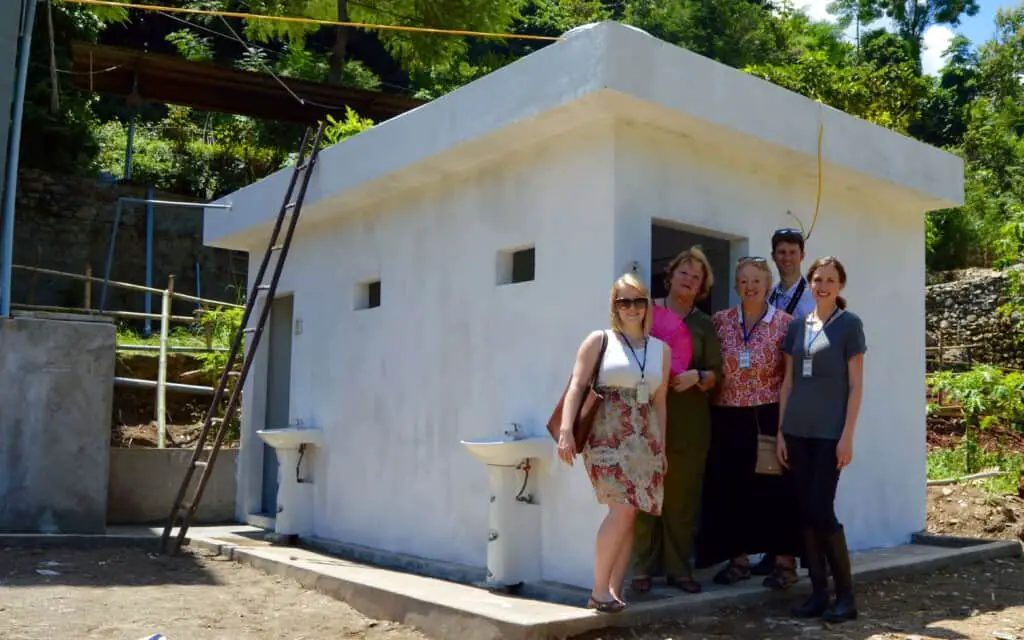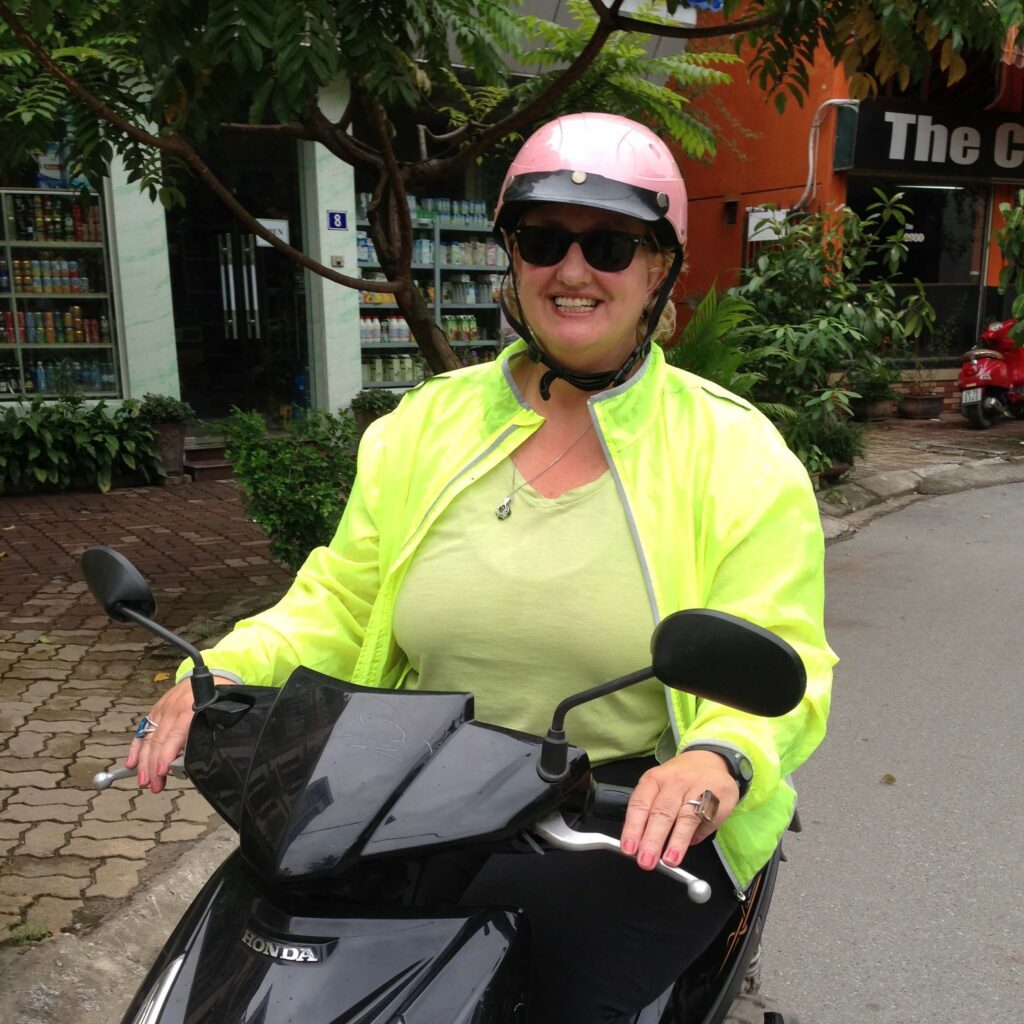 During my time in Taiwan, the allure of China beckoned me. Driven by a deep desire to experience its wonders firsthand, I diligently saved my earnings from embarking on a soul-stirring backpacking journey across the vast landscapes of China.
In addition to my passion for travel, I have also cultivated a love for sailing. As an active Milwaukee Community Sailing Center member, I have embraced the serenity and excitement of navigating the open waters.
Within the pages of "A Bus On A Dusty Road," my extraordinary chronicles come to life. It is a testament to the transformative power of travel, transcending geographical boundaries and embracing a life enriched by diverse experiences. It delves into the exhilaration of working while wandering; the realities faced as an expatriate, the joy of savoring global gastronomy, and the profound significance of unraveling one's familial heritage through travel. This narrative celebrates the essence of being a global citizen, unencumbered by borders or limitations, and embracing the world's boundless opportunities.
Fun Facts About Anita Hummel
Graduated from Brigham Young University in International Relations.
Has an MMLCBLA which is a lot of letters for a Master's in Law, Chinese Business Law (Open University of Hong Kong)
Co-authored a book.
Guest speaker at various university and MBA programs.
Anita can be seen most days riding her Honda scooter around Hanoi.
Founded Project Sprouts, a grassroots charity organization that helps impoverished schools and students in North Vietnam.
Lived in Sundsvall, Sweden, during part of High School.
Spent one summer backpacking Europe.
Spent another summer backpacking in China.
Taught English in Taiwan for a summer.
Anita does a morning master's fitness swim class but is still not a very good swimmer; she has to wear fins to keep up with the other swimmers.
Has an MSc, Master in Strategic Planning from Edinburgh Business School (Scotland)
Is a Doctorate Candidate in Strategic Planning.
Loves a life of travel and adventure.
On the Global Board of BYU Management Society.
I rode a camel and discovered it was not as comfortable as it looked in the movies..
Has been an ex-pat for over 30 years.
Has studied Chinese, Vietnamese, and Swedish; knows enough in each language to get around and get in trouble.
An artist who loves to paint funky pictures of dogs, cats, and women of culture.
Spends many Saturday mornings cycling with friends around the countryside of Vietnam.
Has cycled Ragbrai, the annual bicycle ride through the USA state of Iowa, and discovered Iowa is not flat.
I cycled between BYU, which is from BYU Provo, Utah, to BYU Idaho and learned it was a crazy thing to do.
Loves any good BBC murder mystery.
Is a News Junkie.
Loves YouTube.
Anita took flying lessons in Hong Kong.
Is a Foodie who loves good and exciting food.
Comes from a family of six girls and a home with one bathroom.
Certificate of Completion from the PGYC Basic Sailing Course, Puerto Galera, Philippines
I love to sail.
An active member of Milwaukee Community Sailing Center.
Actively taking sailing courses to improve my sailing – learning to sailing is a journey, not a destination.
I love all kinds of history and culture.
I am a hopeless foodie and love all kinds of food.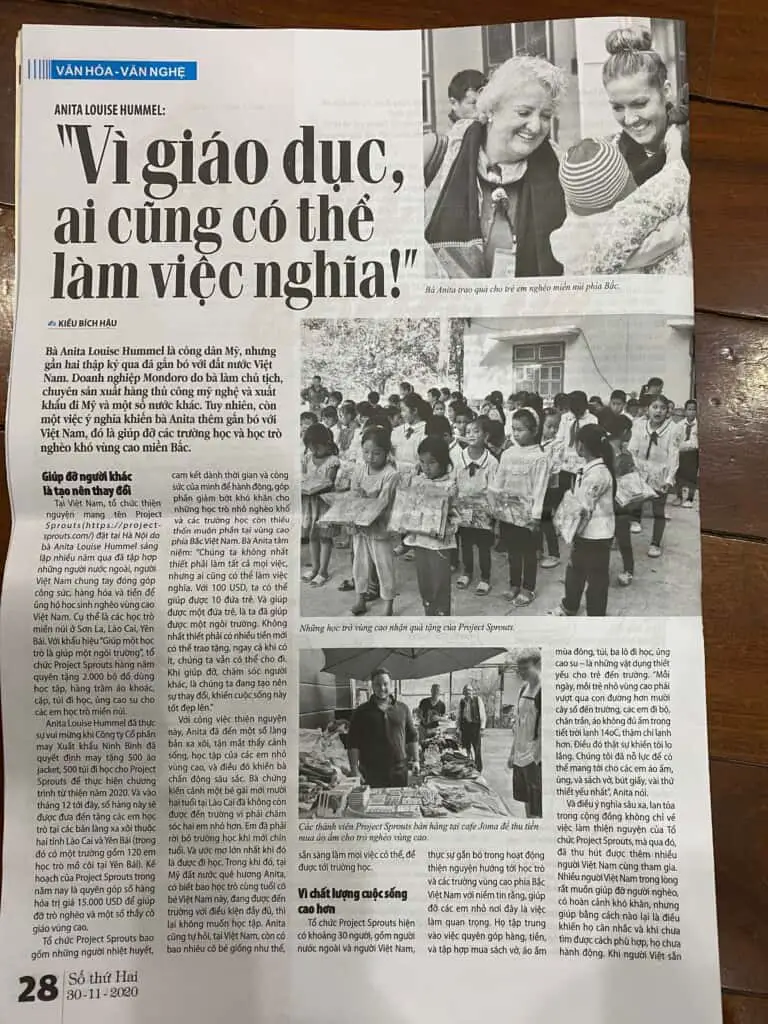 Publications, Speaking, News, Etc.
"Starting & Operating a Business in Thailand," by Anita Louise Hummel and coauthored with Pise Sethsathira, a Law Professor and Legal Advisor to the Thai Government. Published and Printed by McGraw – Hill Book Co – Singapore, 1991.
"Crafting a Life in Asia," an article written about Anita Hummel for the Bridges Alumni Magazine, Volume 2012, Issue 2, a publication of the David M Kennedy Center for International Relations, Brigham Young University, Provo, Utah.
Anita Louise Hummel, "Vì giáo dục, ai cũng có thề làm việc nghĩa!, an article written about Anita Hummel and her charity work with Project Sprouts. Publication of Giáo Duc Thời Đại, a national Vietnamese newspaper about education, November 30, 2020.
Anita Hummel Speaking Assignments and International Workshops:
Seoul, Korea – May 2017, BYU Management Society Asia Pacific Annual Conference – Workshop on Entrepreneurship/Women in Business.
Hong Kong – May 2018, BYU Management Society Asia Pacific Annual Conference – Workshop on Entrepreneurship/Women in Business.
Ulaanbaatar, Mongolia – May 2019, BYU Management Society Asia Pacific Annual Conference – Workshop on Entrepreneurship.
Provo, Utah – October 2019, BYU Management Society Annual Conference – Workshop on Building International Chapters.
Anita Hummel has also been a featured speaker for Brigham Young University Marriott School, the University of Las Vegas, and SCUT (The Southern China University of Technology).
Come Along For The Ride – Subscribe To Our Newsletter