Nestled away on West Burnham Street in Milwaukee. Wisconsin is a hidden jewel of Frank Lloyd Wright's architecture. One block of West Burnham street has some duplexes, and houses were all designed by Frank Lloyd Wright, specifically for the working classes of the time. Today all those structures on West Burnham Street in Milwaukee are still a testimony to this great architect.
Frank Lloyd Wright is considered one of America's finest architects. Even today, his work is being studied and analyzed. One of his favorite projects was to build some small houses that would be comfortable yet affordable. This project was called the American System-Built Homes. For the construction of these homes, Frank Lloyd Wright gave the exclusive rights to Arthur L Richards. Several of these homes were built around the midwestern United States.
Unfortunately, the project did not last long, but Milwaukee, Wisconsin, has one block of these homes. The homes are being restored and cared for. You can tour these homes on West Burnham Avenue in Milwaukee, Wisconsin.
Table of Contents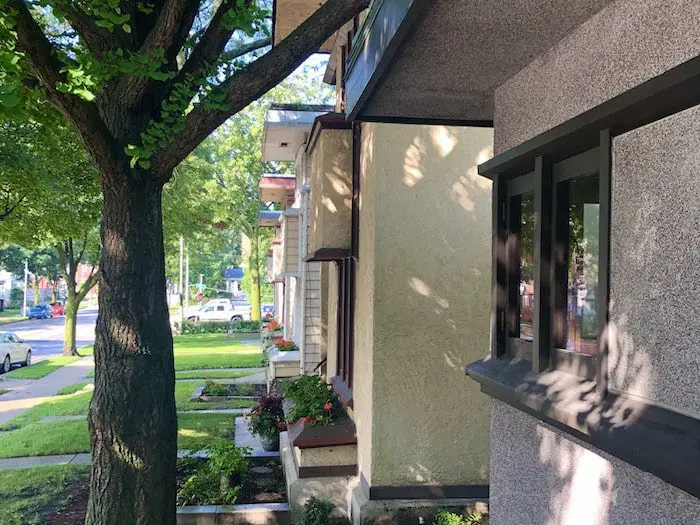 About Frank Lloyd Wright (1867-1959)
Frank Lloyd Wright is an iconic American architect, interior designer, writer, and educator who built over 532 structures. He is said to have designed over 1,100 different structures. He designed houses, offices, churches, schools, libraries, bridges, and many other buildings.
Frank Lloyd Wright, born in 1867, was a native Wisconsinite raised in rural Wisconsin. He studied engineering at the University of Wisconsin. He then apprenticed in Chicago and opened his successful Chicago architectural practice in 1893.
Frank Lloyd Wright was one of his day's most influential architects and designers. He spent over 70 years at the drafting table, creating and designing. He revolutionized the art and architecture of the 20th Century.
Frank Lloyd Wright pioneered what is now known as the Prairie School of architecture. In the late 19th and early 20th Century, the Prairie School of architecture emerged, mainly in the midwestern United States.
The Prairie School style is noted by the use of horizontal lines, and flat or hipped roofs with very broad overhanging eaves. Windows are usually grouped in a horizontal band. Many times leaves and other elements of nature can also be shown, or reference is made to them. The influence of nature can be seen throughout his work.
Frank Lloyd Wright also believed in Usonia, a word that he used to refer to the United States and his vision for the landscape of the United States to include the planning for the cities and the architecture of the buildings. He wanted to see America build new buildings that would then be free from all previous architectural conventions.
This is because Frank Lloyd Wright believed in the beauty of architecture and that buildings should come and be viewed in their surroundings and use materials native to the area. He also believes in an open plan with rooms that would flow and open out to each other. He believed that people's surroundings and how they lived affected their lives.
Frank Lloyd Wright said his design philosophy was:
Frank Lloyds Wright's design has withstood the test of time. He is still considered one of the great architects of all time. The buildings are still relevant and being studied today. People will travel around the United States to see his architectural and design work in person.
Frank Lloyd Wrights Building Designs In Wisconsin
Frank Lloyd Wright designed nearly 150 works in Wisconsin. He built about 60 of those works, and 43 remain standing today. Three of his most important architectural works are in the State of Wisconsin:
SC Johnson Administration Building – The SC Johnson Administration Building brought Frank Lloyd Wright international acclaim in the 1930s.
Jacob I – Jacob I was his first Usonian home and residence for a while.
Taliesin – The Taliesin is considered one of his most iconic works.
Besides designing buildings, Wright also designed furniture, fabrics, art, glass, lamps, dinnerware, silver, linens, and graphic art. Besides, being a designer he was also a writer, an educator, and a philosopher.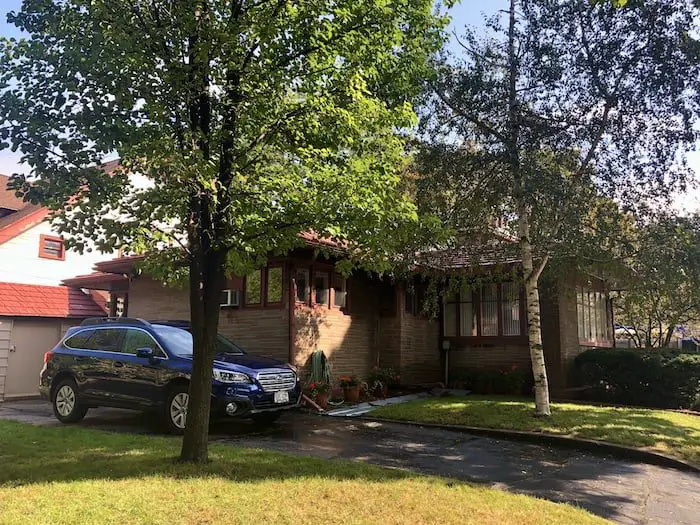 About Frank Lloyd Wright – American System-Built Houses on Burham Street in Milwaukee
Frank Lloyd Wright-designed the American System-Built houses. He had the vision of designing modest yet functional design-driven affordable houses. But for him to have the same details and thoughts as he put in his other homes was also very important to him, such as connecting the occupants to nature. Wright wanted to see that these beautiful, yet functional houses were available to reach a larger public than many of his other homes and building. In fact, in speaking about designing smaller houses, he said:
Frank Lloyd Wright believed in this project so much that his firm produced over 960 drawings. This was the largest number of drawings for any project in the Wright archives.
Wright's American Built System Homes Had Seven Models
Customers who purchase these American System-Built models could choose from seven models of standardized designs. Here are some facts about these homes:
Standardization of the Homes – The homes were standardized, which meant that the lumber could be pre-cut at the factory, which would help to cut down on both waste and labor costs needed for the construction of the homes.
Constructed on-site- Many have called these homes prefabricated, but they are not prefabricated since no parts of the homes were constructed off-site. All the pre-cut lumber and other parts were cut at the factory along with other components. The entire construction of the home was done on the building site. Instead of pre-fabricated, these homes could be considered pre-packaged as all parts were cut off-site while all construction was done onsite.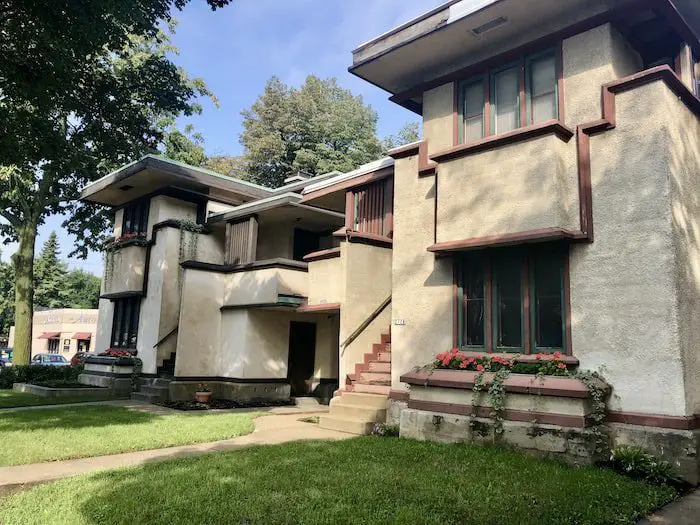 The Richards -Wright Partnership Explained
In 1911, Arthur L Richards contracted for Frank Lloyd Wright to design a hotel in Lake Geneva, Wisconsin. During that time Arthur L Richards learned of Frank Lloyd Wright's American System-Built Homes and gained an interest in the project.
In 1914 Arthur L Richards began construction on six of the American System built homes as demonstration models. At this time, Richards also gained the exclusive rights to manufacture and distribute the homes. By all accounts, they expected these homes to be trendy as Richards got the rights to sell the homes in the United States, Canada, and Europe. The contract between Wright and Richards said they were:
Arthur L Richards sold franchises to market the homes. He only franchised the construction of these homes to approved contractors. Arthur L Richards had offices in both the Milwaukee and Chicago area, Champaign and Decatur, Illinois, and Gary, Indiana. By all accounts, Arthur L Richards was a major manufacturer in his time to have so many offices throughout the midwestern United States.
What is so interesting about this construction method is that the Richards company milled the lumber, then cut the lumber to specifications for the houses. They then packaged all the materials needed for construction, such as the plaster, windows, hardware, and fixtures, and delivered them to the site for construction. Craftsmen were then provided to build the homes. So a customer purchased a design they liked, including the complete home with all pre-packaged materials and construction.
The definition of what Frank Lyold Wright envisioned as a system-built construction he said:
Frank Lloyd Wright and Arthur L Richards expected these homes to be wildly popular, but neither saw the effect World War I would have on their project. In April 1917, the United States entered World War I and all the building materials were diverted to help in the war effort.
This completely stalled new home construction, so Frank Lloyd Wright became disillusioned with Arthur L Richards and sued him for non-payment of royalties and fees. Wright won a judgment against Richards in February 1918. The entire American System-Built houses project came to a complete halt.
Though Frank Lloyd Wright and Richards had an awful ending on this project, they rekindled their relationship years later. In their later years, there was a series of friendly letters they wrote to one another.
Before the American System-Built home project ended, it is believed that over 25 American System-Built Homes were built. Only about 15 are known to have survived. The surviving homes are located in Wisconsin and Illinois. There may still be other Frank Lyold Wright American System-Built homes that have not yet been discovered.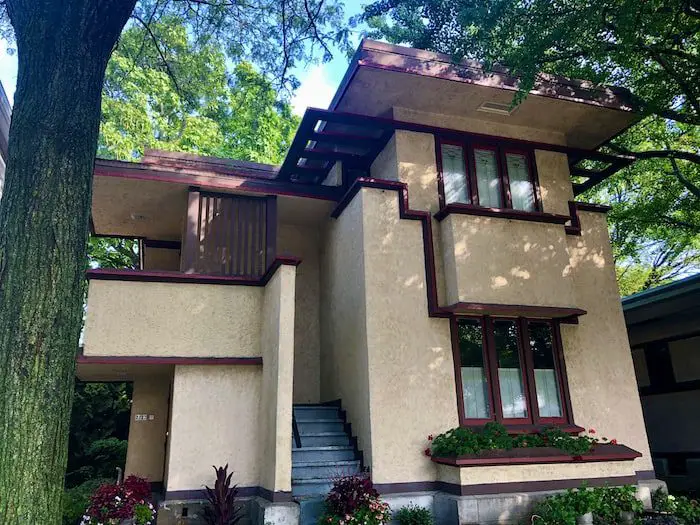 Wright's Burnham Street Historic Homes Importance
Of the 15 surviving Wright – Richards American System-Built homes, 6 are located in one block, on West Burnham Street, in Milwaukee. The homes are located at South Layton Boulevard (27th Street) and West Burnham Street in South Milwaukee.
In the 1917s, these homes were considered at the edge of the city of Milwaukee. To the east, just across South Layton Avenue, is an area known as Milwaukee's old Polish southside. Here you can find many Polish-style houses where both the top and bottom floors have a front door.
A possible reason why Wright- Richards decided to build the American System-Built Houses here is that the Polish community had a very high percentage of homeownership population. But as the Polish in Milwaukee were all working class, usually factory workers, the houses had to be small enough so they could still afford them.
During this time, this area also had the Milwaukee Electric Railway & Light company with streetcar rail lines running near this area. These cars are no longer operating, but during this time, residents could travel as far as West Allis, Hales Corners, Waukesha, and East Troy by rail, so this was an ideal location for these small Wright homes.
We can only guess why Arthur L Richards chose the 2700 block of West Burnham Street to invest in the American System-Built homes, but it was probably due to cost, location, and where they thought the city might continue to grow.
Construction of the homes on the Burnham Block started in October 1915 and finished by July 1916. Richard's company was able to obtain the building certificates for all six of the buildings on the block.
Once the buildings were completed, they went up for sale, but no buyers came forward. So the houses were then rented out. In December 1917, the Rellum Lan Company purchased the houses, and they eventually sold in 1919.
Over the years, the homes have been renovated and altered many times. This includes a porch enclosure, cement-tile roofing, and even metal siding. Also, the interior of the home has been altered with sleeping porches and other plaster surfaces.
In speaking of the Burnham Street historic buildings, it was said:
So these American System-Built Homes are not just a home; to Frank Lloyd Wright and many others, they are a monument and a work of art. They are also a testament to the vision of the great architect that designed them.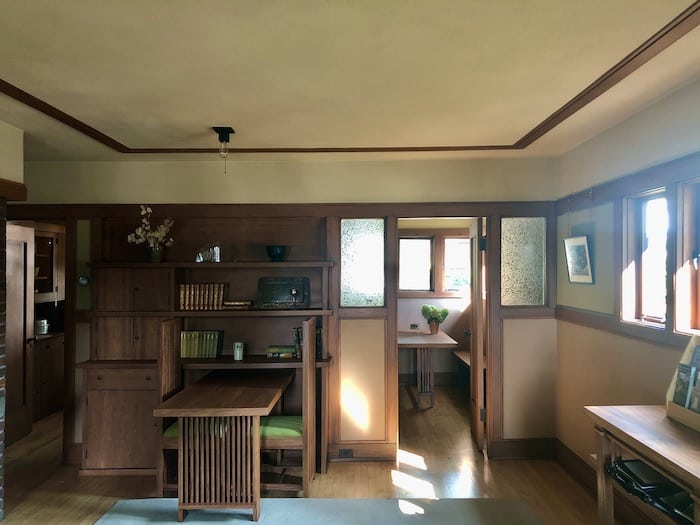 How to visit the Wright – Burnham Street historic home?
One of the great things about the Burnham Street block is that all the homes are literally on one block. It is straightforward to visit the Wright Burnham Street historic homes. Go to 2700 West Burnham Street, near South Layton Boulevard (27th Street).
The restoration of these Wright homes is a labor of love. People who are working on homes or giving tours are volunteers. They do it because they believe in preserving this part of Frank Lloyd Wright's design and Milwaukee's heritage. These homes are on the National and Wisconsin Register of Historic Places and are an integral part of the historic district and history in the City of Milwaukee.
On the Burnham Block, there are the following Frank Lloyd Wright American System-Built homes:
Duplex Apartments – There is a Duplex Apartment on the Burnham Block, also referred to as Model 7a Duplexes, Model C or Model F. There are 4 Units for the Duplex located at 2720-2730 West Burnham Street) Three of the units are identical, the other unit is a mirror image of the others. The second house from the west has been converted into a single-family home and is nicely restored. The single-family home is now rented out. You can click here to find out how to rent it on the Homeaway website.
Small House – The small house is called Model B2 or Cottage B. This house is located at 2714 West Burnham Street.
Bungalow – The Bungalow is also called Model C or Cottage A. This house is located at 1835 South Layton Boulevard. This house was resurfaced with precast stone veneer, so the exterior of this home is not the original.
You can see all the homes from the outside, but not all the homes have been restored. If you want to see some of the insides of the homes and learn a bit more about these homes, you will need to take a tour.
To tour the American System-Built homes, you need to go to 2714 West Burnham Street. This is the place where the tours will start.
Here is some information on the tours:
Tours are usually on the weekends. Friday, Saturday, and Sunday. There are also some tours on Thursday, but a reservation is required for any Thursday tours.
Tours start every half an hour. To find out the exact dates and times and to book your tour, you can visit the Wright In Milwaukee website by clicking here.
Cost of the tours is 15 USD – The cost of the tour is 15 USD. Children under 16 are free with a parent.
Tours last 30 to 45 minutes.
Tours include two buildings – The tour includes two buildings which are the Small house at 2714 West Burnham Street and a two-family home.
The homes are not handicapped accessible.
There is also a small gift shop with some Burnham Block Merchandise.
By visiting these homes, you are also ensuring that this work of restoration of these American System-Built homes can continue. To find out more about how to visit the Burnham Street historic homes, you can go to the Wright In Milwaukee website by clicking here. The organization also has a Facebook page that you can Wright In Milwaukee by clicking here.
You are welcome to also email the Wright in Milwaukee organization at info@WrightInMilwaukee.org, or you can try to telephone them at +1-414-368-0060 with any questions you may have,
Taking the tour is an integral part of experiencing and seeing these houses. Not only are the docents giving the tours extremely knowledgeable, but the restored homes are beautiful. This is a great way to learn more about the great architect Frank Lloyd Wright and his passion for these small houses called the American System-Built Homes.
Frank Lloyd Wright gave us all a great gift when he designed these small houses on West Burnham Street. The Wright in Milwaukee organization and the City of Milwaukee have worked to ensure the homes stay standing as a monument to this great architect. It is a treat to go through these homes and see the vision Frank Lloyd Wright had for this project he loved so much.
At A Bus On A Dusty Road, we talk about everything about travel, life, and ex-pat living. We are all about "Living Life As A Global Citizen." We explore social, cultural, and economic issues and travel.
We would love to have you be part of our community. Sign up for our newsletter to keep up-to-date by clicking here. If you have any questions, you can contact me, Anita, by clicking here.
Listen to our Podcast called Dusty Roads. You can find it on all major podcast platforms. Try out listening to one of our podcasts by clicking here.
Subscribe to our A Bus On A Dusty Road YouTube Channel with great videos and information by clicking here.
Related Questions
Why Do Frank Lloyd Wright Buildings Have Low Ceilings?
Frank Lloyd Wright believed in compression and expansion when designing his buildings. Some spaces were lower to give a feeling of compression, and others were higher to feel expansive. But Frank Lloyd Wright was also notorious for basing the scale of his ceilings upon his height, which he recorded on his passport as 5 feet and 8.5 inches tall.
Click here to read Why Do Frank Lloyd Wright Buildings Have Low Ceilings?
How Tall Was Genghis Khan And Other Facts
No account speaks of Genghis Khan's height or his appearance, but most records describe him as tall, strong, and with a mane of hair and a long flowing beard. During his lifetime, men were not very tall, so if Genghis Khan were even 5' 11" or 6' tall, he would have been considered very tall if he was even taller than that, he could have been considered almost a giant.
You can find out more by reading our blog, How Tall Was Genghis Khan, And Other Facts, by clicking here.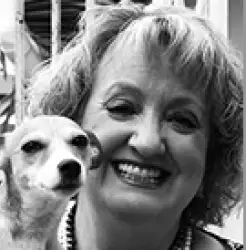 Latest posts by Anita L Hummel
(see all)