These Vietnamese vegetarian spring rolls are filled with a lot of great ingredients. The vegetarian fresh spring rolls all taste amazing with the Vietnamese dipping sauce recipes.
To Go Straight To The Vietnamese Vegan Fresh Springrolls With Vietnamese Dipping Sauces Recipe and Video – Click On The Link Below:
Jump to Recipe
Table of Contents
CNN Travel rates Vietnamese fresh spring rolls as one of the top 50 foods globally; when you try these fresh spring rolls, you will understand why they are so popular.
To learn more about Vietnamese fresh spring rolls and why some people call them salad rolls or summer rolls, read our blog Vietnamese Fresh Spring Rolls Vs. Salad Rolls Vs. Summer Rolls by clicking here. This blog is filled with information about these wonderful Vietnamese fresh spring rolls.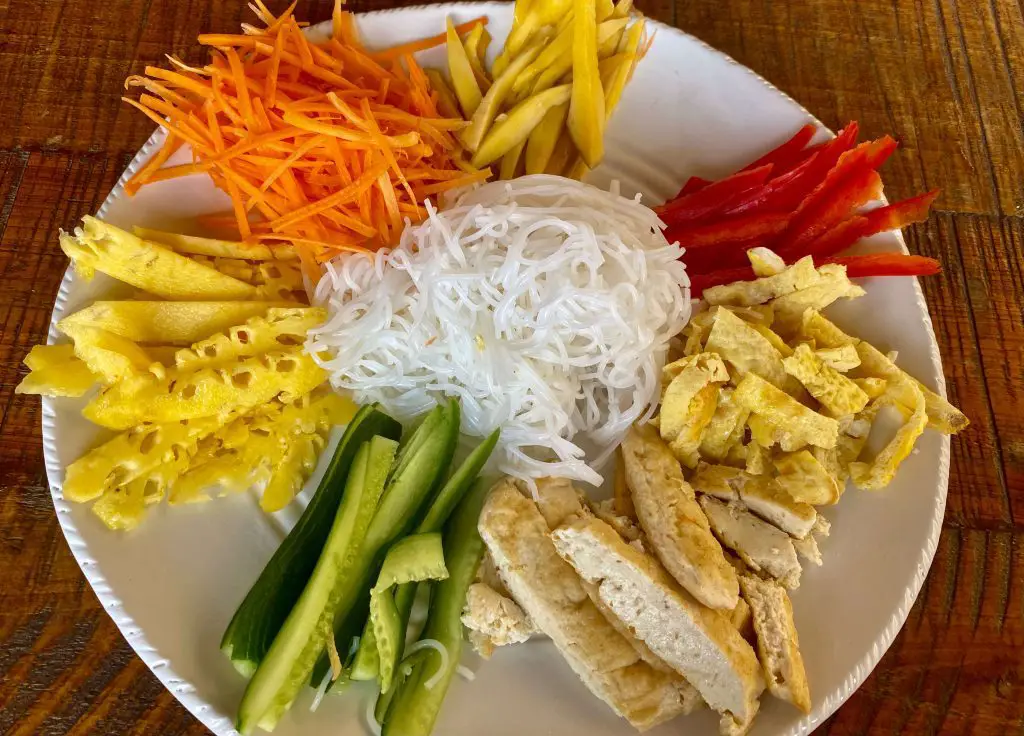 About The Ingredients for Vietnamese Vegetarian Fresh Spring Rolls
One of the rules for Vietnamese cooking is there are no exact measurements; this is very true of these spring rolls. The amounts we have listed you can add to or take away from as you want.
You can take out certain vegetables if you do not like certain vegetables. If there are others you really like, you can add them in. Throughout Vietnam, you will find variations of these fresh spring rolls.
When making these Vietnamese fresh spring rolls, there are a few things for you to remember:
Fresh Ingredients – Vietnamese only use fresh ingredients in their foods. So all the foods for these spring rolls are fresh – usually bought in the morning at the market and then eaten that same day. You can get most vegetables and fruits at your local grocery store.
Fried Egg – There is a fried egg in this recipe. We beat the egg and then cook it very thin, like a crepe, and then cut it up into long thin slices.
Fried Tofu – These spring rolls also have some fried tofu. Like the eggs, you should fry up the tofu and cut it up into long thin pieces so they can roll easier in the rolls.
Fresh Herbs – Vietnamese use only fresh herbs such as mint and cilantro. Also, you can put in some Vietnamese or Thai basil. South Vietnam will use more Vietnamese basil than North Vietnam.
Cut Up Vegetables and Fruits – You will notice that all our fruits and vegetables are cut up into long thin slices. This is the best way to cut them, so they roll easily.
Rice Noodles – We can buy fresh and cooked rice noodles in Vietnam. Those not in Vietnam must buy the dried version and boil and cook it. Follow the instructions on the packet. We suggest buying a Vietnamese brand; go to your local Asian grocery store to see what they have.
Rice Paper – There are many kinds of rice paper but get a Vietnamese brand. Again many grocery stores now carry this or buy it from your local Asian grocery store.
Here are some of our suggestions for other fruits and vegetables you can add to these rolls: bean sprouts, apples, mushrooms, spinach, avocados, yellow peppers, green peppers, and cabbage would also work well inside these fresh spring rolls.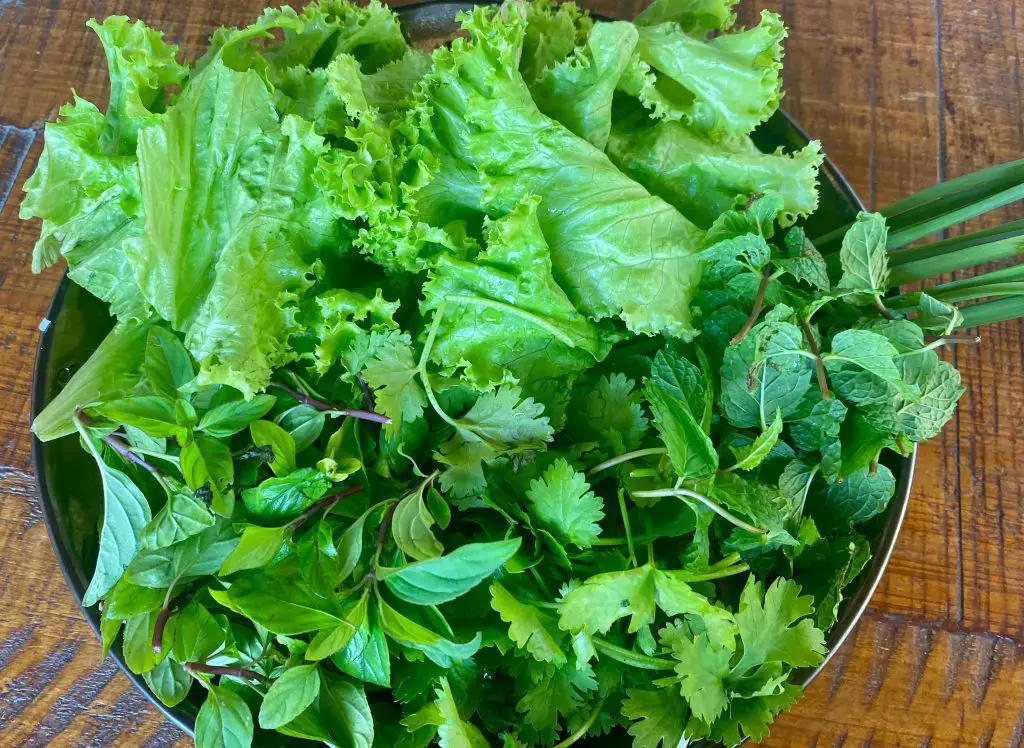 Tips For Rolling Your Fresh Spring Rolls
Here are a few tips to help you to roll your spring rolls. You can watch our video and also see how we roll them here in Hanoi, Vietnam. This video was filmed and taken in my home in Hanoi, so sometimes you can hear some of the sounds of Hanoi -it is all part of being authentic and showing your authentic Vietnamese foods and recipes.
Tips for rolling your fresh spring rolls:
Wet Cloth – Use a wet cotton cloth. We used some cotton napkins. This will help the spring roll wrapped wet but not too wet. It will also allow you to roll it easier.
Brush on the water – We use a kitchen brush to brush on the water to the rice spring roll skin. The trick is that you do not want over wet it, or the skin will break easily. If you watch our video, you can see how little water Suu puts onto the skin.
Lettuce and herbs are first – When you roll a spring roll, the lettuce and herbs are first. From our video, just a small amount was used at the very top of the fresh spring roll wrapper.
Fruit and Vegetables – Fruit and vegetables are next. If you watch the video, you can see just a few pieces are put on.
Add fried egg and tofu– Next, add the fried egg and tofu and tuck it under. Make sure as you do this that you are holding the roll tightly.
Noodles – Finally, add some noodles on top.
Fold in the Sides – Fold in the sides. You should not need water, but you can add a bit if you do.
Roll Tightly – Then roll the spring roll tightly and close.
Do not overstuff – One error a lot of people make is that they try to overstuff the spring roll. Do not overstuff it, or it will not roll correctly.
Do not over-wet – The spring roll's fruits, vegetables, and other ingredients have water. For this reason, the roll will start to get wet, so you do not need to over-wet it, or the skin will break apart.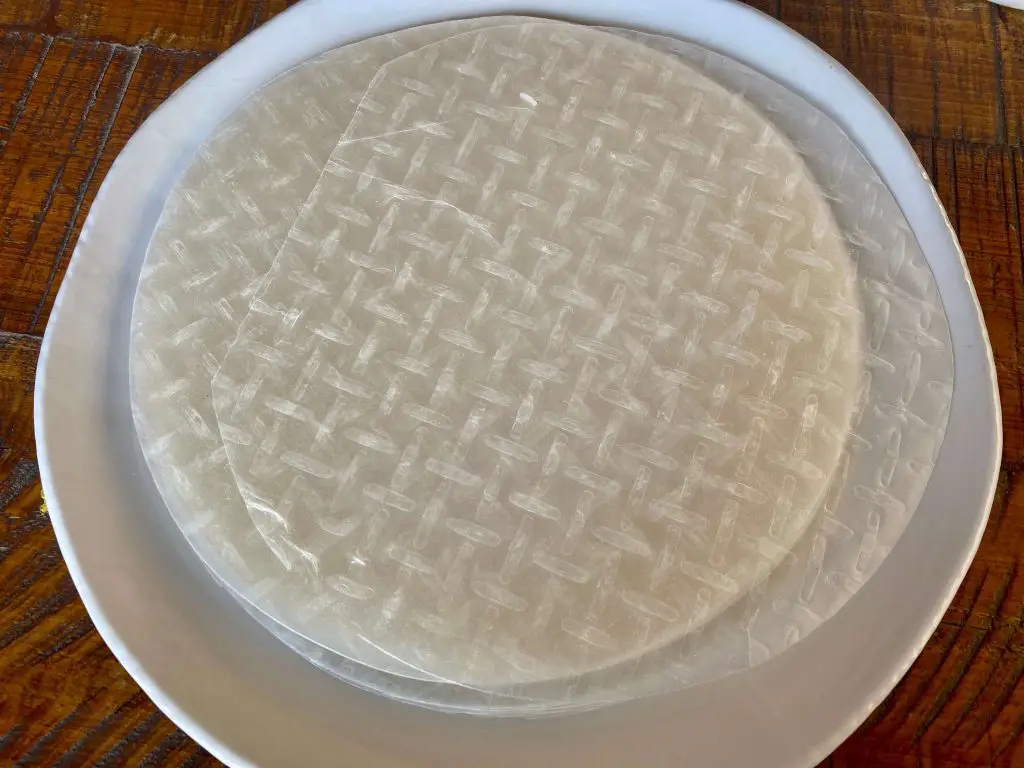 Vietnamese Spring Roll Sauces:
We have a recipe for two dipping sauces. One sauce is used in North Vietnam, and another is the popular southern peanut sauce. You can make one or do like we do, make both.
I love these sauces so much that I will mix them when I eat my fresh spring rolls. I find the flavors go together very well.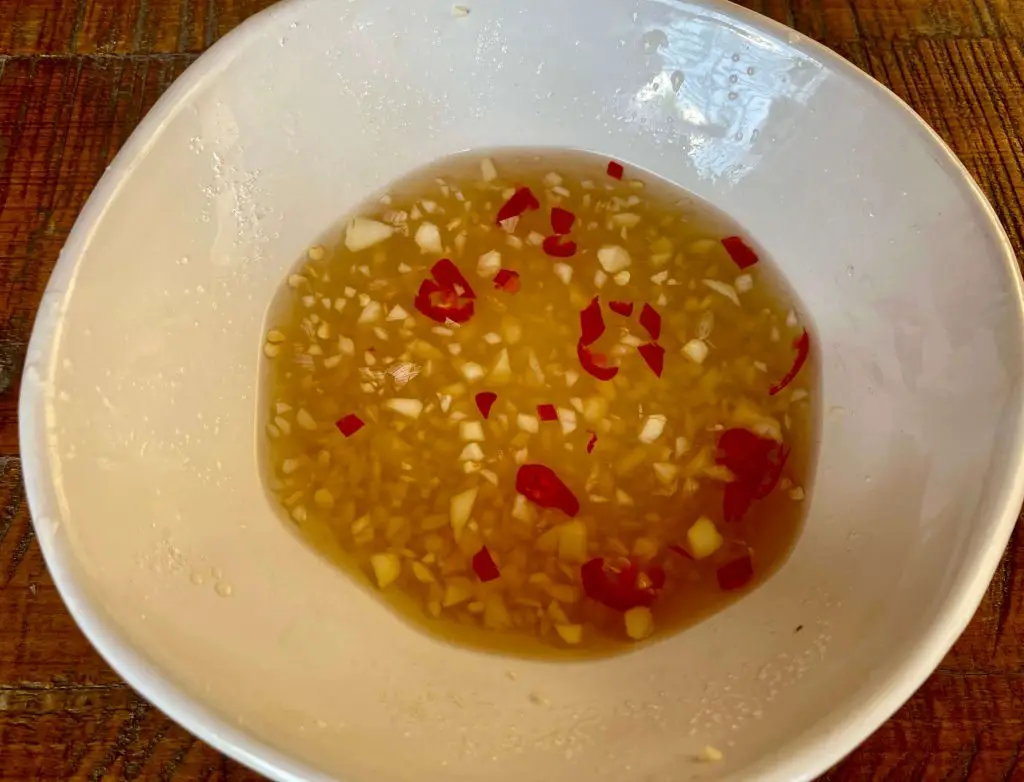 Here are the differences between these two fresh spring roll dipping sauces:
Nước Chấm Vietnamese Spring Roll Sauce
Nước chấm means sauce in Vietnamese, and this fish sauce mixture is used a lot in Vietnam. The sauce comprises fish, water, lime, garlic, red chili peppers, and sugar. You can top off the sauce with ground pepper just before serving.
This sauce is used for many Vietnamese dishes, particularly in North Vietnam. In fact, in North Vietnam, fresh spring rolls are always eaten with this dipping sauce.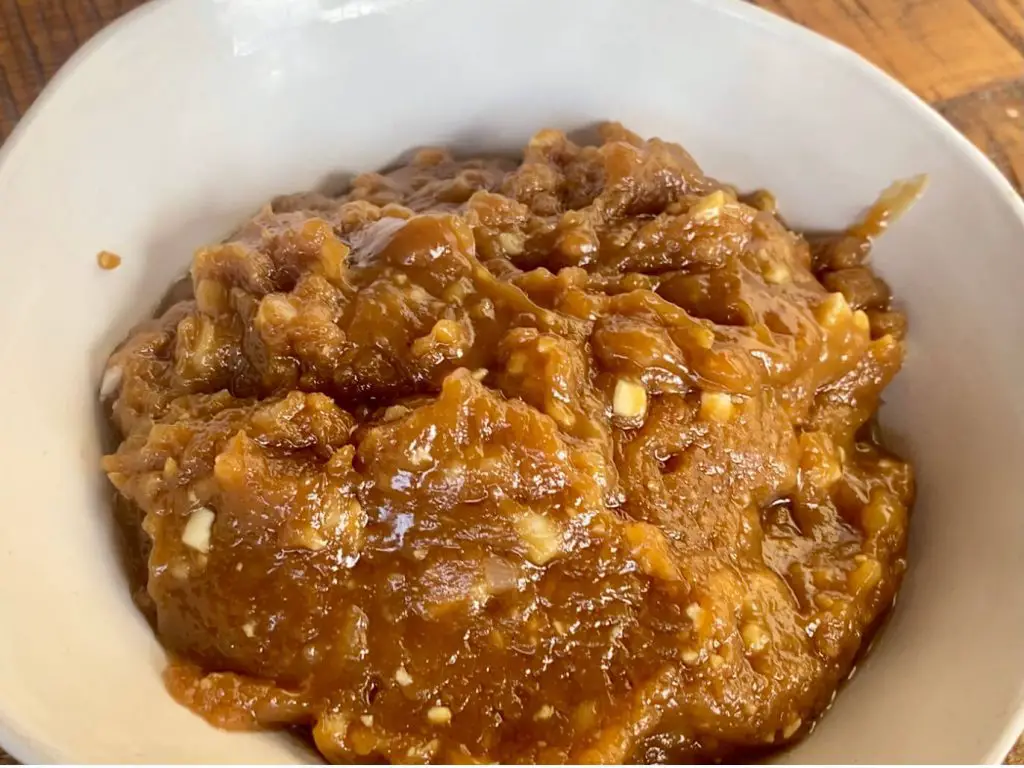 Nước Chấm Vietnamese Peanut Sauce
The Nước Chấm Vietnamese Peanut Sauce is a sauce used in South Vietnam to eat fresh spring rolls. This sauce needs to be heated up and cooked, but it is a great dipping sauce for the spring rolls and probably most Westerners' favorite.
In our recipe, we used smooth peanut butter and then added freshly ground peanuts for a topping. This gave the sauce a nice crunch.
Other Spring Roll Versions
We have made several other versions of this same spring roll. Each of them has a recipe and video.
Here are some of our other versions of these wonderful Vietnamese fresh spring rolls and a link to the recipe:
Keto Version Of The Fresh Spring Rolls
We realize that many people now are eating keto foods. The good thing is you can have a lot of the taste and flavor of these fresh spring rolls while eating on a keto diet.
To make a keto version of these spring rolls, here are our suggestions:
Eliminate Rice Noodles – You can eat these without the rice noodles. They will also taste great. Add in some bean sprouts or even cabbage instead.
Keto Fruits And Vegetables – You can try to add keto-friendly fruits and only use keto-friendly vegetables.
Wrap With Lettuce – instead of the rice paper, wrap the spring roll with lettuce instead. Wrap them as you eat them.
Use Monk Fruit Sugar – For the sauces, use Monk Fruit sugar instead of sugar to make it a sugar-free sauce.
Coconut Oil – Use coconut oil for the peanut sauce or cooking.
Peanut Butter – Use a sugar-free keto peanut butter, then add a bit of monk fruit sugar if you want to sweeten the peanut sauce.
Hoisin Sauce – Make your own keto hoisin sauce or use a keto-friendly soya sauce.
Vietnamese Vegetarian Fresh Spring Rolls With Vietnamese Dipping Sauces Recipe
RECIPE FOR 4 SERVINGS, 2 SPRING ROLLS PER SERVING AS APPETIZER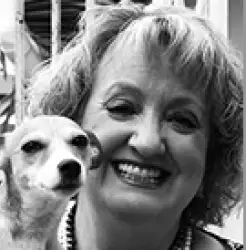 Latest posts by Anita L Hummel
(see all)