I have long been a fan of all kinds of chicken salads. There is something magical about a chicken salad you can eat in the summer with bursts of flavors.
Yellow curry is a delightful Thai curry that derives its vibrant yellow color from including turmeric. Infused with the distinct flavors of yellow curry, this chicken salad offers a wonderful medley of tastes. Adding raisins and cashew nuts further enhances flavor, creating a harmonious blend of sweet and nutty notes. The resulting combination is a salad that bursts with an array of delightful flavors, making it a true culinary delight.
Table of Contents
Exploring The Vibrant Flavors Of Asia: The Allure Of Yellow Curry

Thai cuisine is renowned worldwide for its vibrant flavors, aromatic spices, and diverse curries. Among the three major Thai curries, the famous yellow curry stands out with its distinctive color and delightful taste.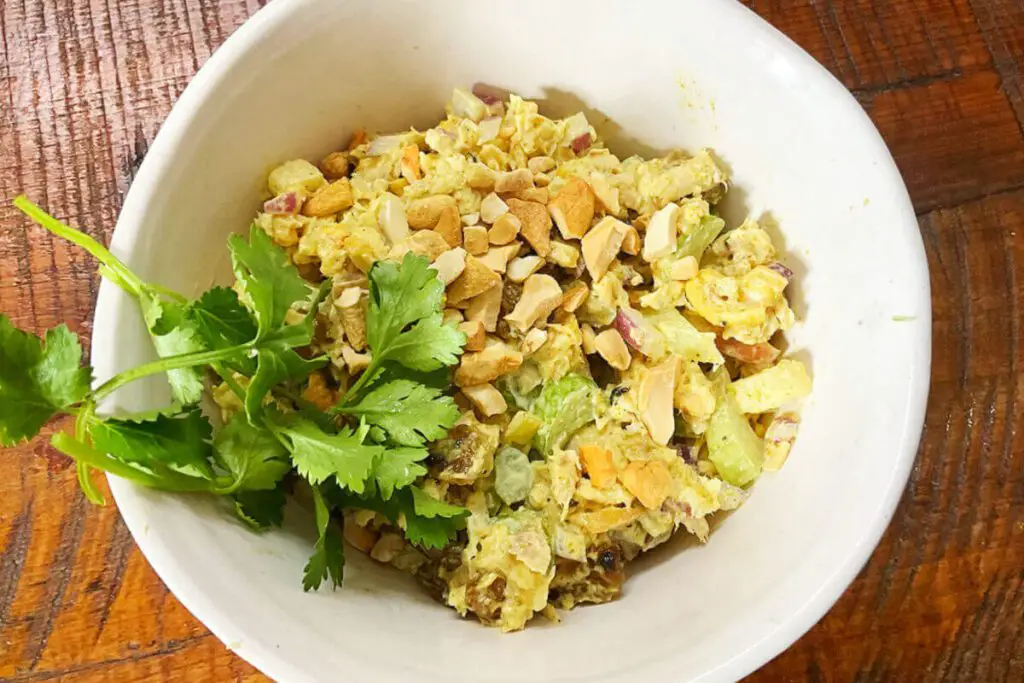 Combining a harmonious blend of spices and aromatic ingredients, this mild yet flavorful curry has captured the hearts and palates of food enthusiasts around the globe. The flavors of yellow curry are perfect for this Chicken Curry recipe.
The Essence Of Yellow Curry
Like its red and green counterparts, yellow curry incorporates a medley of spices such as turmeric, coriander, cumin, lemongrass, kaffir leaves, garlic, galangal, and other aromatic additions. These ingredients combine to create a complex and well-balanced flavor profile that characterizes Thai cuisine.
What sets yellow curry apart from its counterparts is the addition of turmeric, which gives the dish its vibrant golden hue and a subtly sweet undertone.
What Is Turmeric?
Turmeric, scientifically known as Curcuma longa, is a vibrant flowering plant belonging to the ginger family, Zingiberaceae. Native to the Indian subcontinent and Southeast Asia, this perennial herbaceous plant is treasured for its rhizomes, which are widely utilized in culinary applications.
Known for its distinctive warm and bitter flavor, turmeric powder boasts a profile reminiscent of black pepper, while its earthy aroma carries a hint of mustard. These characteristics contribute to its widespread use in various cuisines, including yellow curry, as it adds depth and complexity to various dishes.
The turmeric also gives the yellow curry a distinctive yellow color.
Mild And Fragrant Aroma Of Yellow Curry
One of the distinguishing features of yellow curry is its mildness. Unlike the fiery spiciness of red and green curries, yellow curry relies on fragrant and lightly sweet curry powder as its main flavor component.
This milder nature makes it an excellent choice for those who prefer a more subtle heat in their dishes or are just starting to explore curry flavors. The delicate flavors of yellow curry allow the other ingredients in a dish to shine through while still adding an incredible depth of flavor.
The Perfect Pairing: Yellow Curry Chicken Salad Recipe
Yellow curry's mild and aromatic profile makes it an ideal ingredient for various dishes, from curries to soups and stir-fries. One delightful way to enjoy the flavors of yellow curry is through a curry chicken salad.
This salad is a refreshing and satisfying combination of tender chicken, crisp vegetables, and a creamy dressing infused with the flavors of yellow curry.
About Making The Yellow Chicken Curry Salad
When preparing the delectable yellow curry chicken salad, here are a few key points to keep in mind:
Chicken Choice – This recipe utilizes rotisserie chicken, which offers convenience and a rich flavor. However, you can use chicken breast or any other chicken cut into small pieces. Some stores, like Costco, offer pre-cut rotisserie chicken, saving time and effort.

Yellow Curry – Yellow curry can be found in most supermarkets, usually in the spice aisle.

Raisins – This dish incorporates raisins, which lend a touch of sweetness to the curry. If you don't have raisins, consider dried craisins as an alternative. These will add sweetness and impart even more flavor to the curry.

Cashew Nuts – Our recipe includes cashew nuts, contributing to the dish's authenticity and texture. If you're not fond of cashews or have none available, peanuts, pecans or toasted/candied walnuts can be used as alternatives.

Apple And Celery – The yellow curry salad features the crispness of apples and the refreshing crunch of celery. These ingredients add a delightful texture and balance to the overall salad. For the apple, we like the Granny Smith apple for this salad.

Light Brown Sugar – This curry recipe calls for light brown sugar, providing subtle sweetness. If you prefer alternatives or want to reduce sugar intake, you can experiment with options like brown monk fruit sugar, honey, or maple syrup.

This is a salad that is served cold. So you can keep it in your fridge for a few days. We recommend that if you keep some in the fridge, you do not put in all the nuts; put the nuts in just as you are ready to serve the salad again.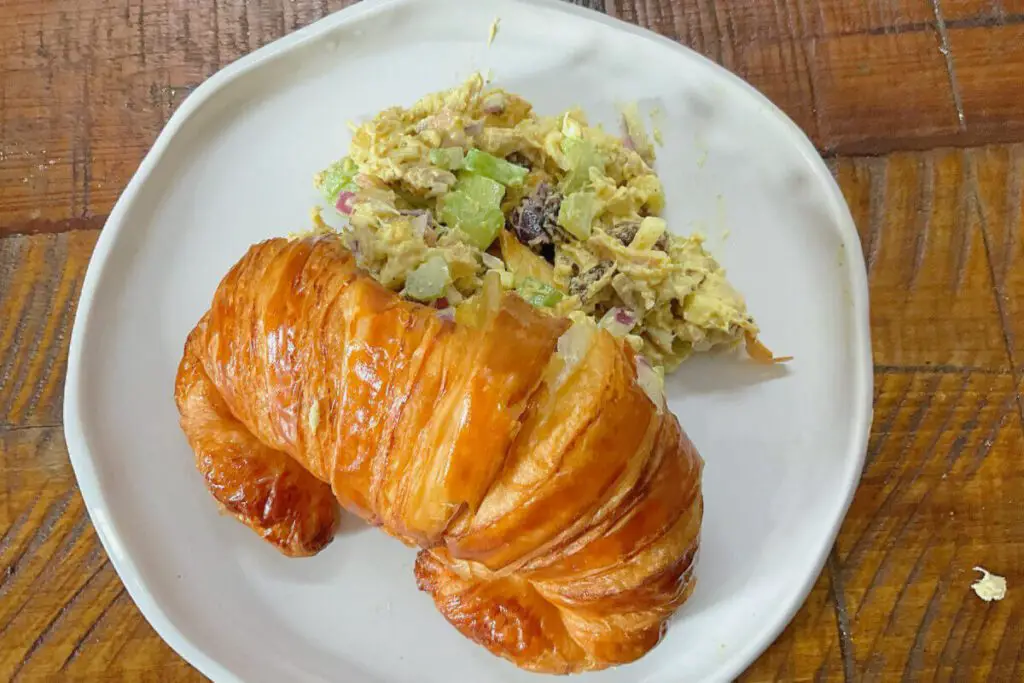 Also, put in between two pieces of bread or a croissant. This makes a great salad and salad sandwich.
Remembering these points, you can tailor the yellow curry chicken salad to your taste preferences and dietary needs, ensuring a flavorful and satisfying culinary experience.
Yellow Curry Chicken Salad Recipe