This is a delicious Madagascar Fried Chicken. It is a very traditional fried chicken that is easy to make. I heard about this dish from the Washington Post newsletter and found the recipe in Book Bibi's Kitchen.
What makes this chicken so good is that it is simple to make. You can marinate the chicken ahead of time and cook it as you need it. You should only use fresh ingredients and cook it in coconut oil to get the full flavor. Madagascar is an island off the southeastern coast of Africa, known for it delicious food.
Table of Contents
About Madagascar

Madagascar, an island off the southeastern coast of Africa, is a land of incredible biodiversity, cultural diversity, and unique cuisine. The island is a land of cultural infusion, and this is shown in this fried chicken dish that could also be made in many other parts of the world, including in Asia.
Here are some essential things to understand about Madagascar and what makes it such a unique place".
Madagascar Is A Biodiversity Hotspot

Madagascar's separation from the Indian subcontinent over millions of years resulted in its remarkable biodiversity. With approximately 90 percent of its plant and animal species found nowhere else on Earth,
Madagascar has earned the status of a biodiversity hotspot, ensuring the island has some unique flora and fauna.
Madagascar's Cultural Fusion And History
The history of human habitation in Madagascar is a tapestry woven with diverse influences. The island was first populated by migrants from Southeast Asia, later joined by people from East Africa and the Arabian Peninsula.
It could be these Southeast Asian immigrants that help to bring things such as ginger to the island. It is believed that ginger came from China and India and has been grown for over 5,000 years; ginger is a significant ingredient in Chinese cooking.
These distinct cultural groups initially remained separate but eventually united in the eighteenth century. This cultural fusion of Madagascar's identity has provided some challenges, but each cultural group would have brought unique flavors and spices.
Geography And Climate Of Madagascar

Covering an area of 228,900 square miles, Madagascar is one of the world's largest islands. The island has geographical features, from the densely populated eastern highlands to the sparsely inhabited western plains.
The island's climate varies depending on location, with a wet season from November to April and a cooler, drier season from May to October with the southwestern region, characterized by year-round dryness.
Economic Potential Of Madagascar Explored

While Madagascar faces economic challenges, it possesses significant potential for growth. The country boasts abundant natural resources such as coal, uranium, and bauxite.
Agriculture and fishing form the backbone of the economy, with extensive arable land and potential gas and oil reserves. Of course, Madagascar is one of the world's top suppliers of food commodities such as vanilla, ylang-ylang, and cloves.
Many of the essential spices we use for cooking or baking come from Madagascar.
Madagascar Cuisine

The diverse cultural influences on Madagascar have deeply impacted its cuisine. The cuisine of Madagascar has unique flavors, ingredients, and cooking techniques that make Malagasy cuisine a delightful fusion of Southeast Asian, East African, Arabian, and European flavors.
Akoho Misy Sakamalao (Chicken Thighs with Garlic, Ginger, and Coconut Oil) is a simple recipe showcasing Madagascar cuisine's aromatic and flavorful nature.

Madagascar is a treasure trove of natural wonders, cultural diversity, and gastronomic delights. Its isolation and rich biodiversity have made it a unique destination for adventurers and nature enthusiasts.
However, the challenges of preserving its fragile ecosystem and promoting sustainable economic development remain. By appreciating the remarkable aspects of Madagascar, including its biodiversity, cultural heritage, and cuisine, we can contribute to raising awareness and supporting the island's sustainable future.
So, join us on this virtual journey to Madagascar, and let the aromas and flavors of its cuisine transport you to the vibrant and enchanting island.
Madagascar Fried Chicken Thighs – Akoho Misy Sakamalao Recipe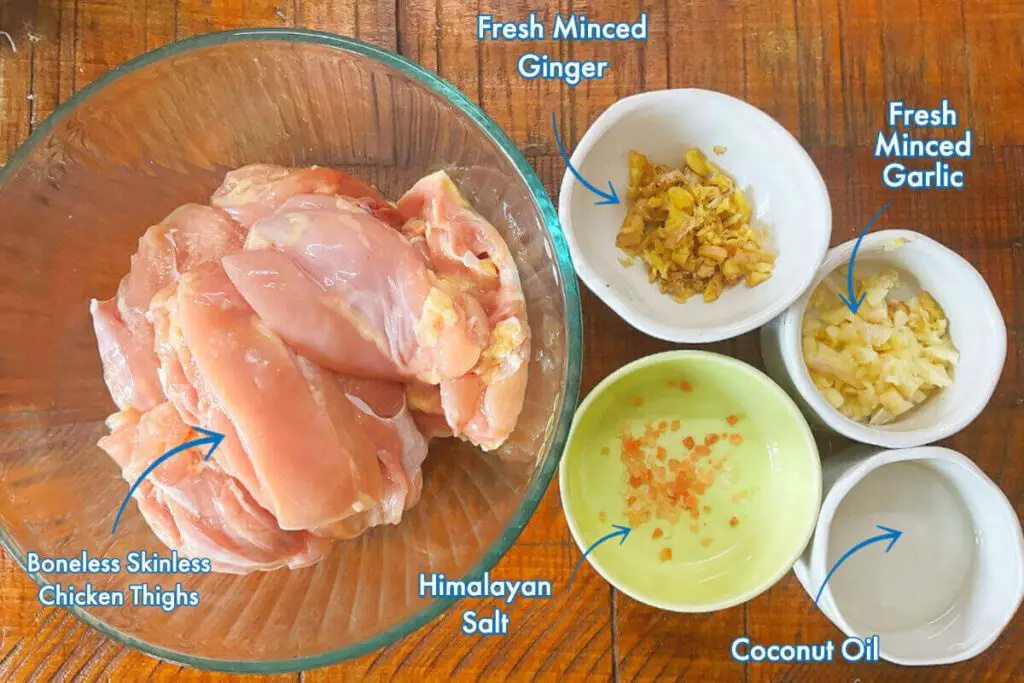 This Madagascar Fried Chicken Thigh is a straightforward recipe yet packed with flavor. Here are a few things we recommend when making the recipe:
Use Fresh Garlic And Ginger – We do not recommend using garlic or ginger in a tube or jar, but take the time to cup fresh garlic and ginger. It does not take that much time but will make a world of difference for the flavor and freshness of the chicken. It would be best if you minced up the garlic and ginger.

Marinate The Chicken – We recommend it be marinated overnight or for about 24 hours. We sometimes make this beforehand, then marinate the chicken and cook it in coconut oil. We add coconut oil to the marinate.

Salt – Use a salt that is coarse salt, such as sea salt, pink Himalayan salt, or kosher salt. Do not use regular table salt for this recipe.

Coconut Oil – You fry the chicken breasts n the coconut oil. Do not skip this step, as the coconut oil will add more flavor to this chicken.
We suggest you serve the chicken with rice and a fresh green salad. We like to eat it with brown rice and a simple green salad with balsamic vinaigrette.