I grew up with a Swedish mother and a Swedish grandfather who owned a bakery in Stockholm. Whenever my Swedish grandmother, Mormor, visited us from Stockholm, she baked up a storm. One of our family's favorite treats, especially during Christmas, was the Swedish Kanelbullar, known as Bullar or Cinnamon buns.
I've always been a big fan of cinnamon buns, but this recipe holds a special place in my heart. The dough has a touch of cardamom, and the top is adorned with Swedish pearl sugar, which can be found at a Swedish store or online. If you can't find pearl sugar, powdered sugar icing, like the one commonly used on cinnamon rolls, can be a good substitute.
Table of Contents
What Is Swedish Kanelbullar?
Kanelbullar, or cinnamon buns, are a staple at Swedish coffee parties. During the golden age of home baking, these parties would become celebrations of sweet yeast bread, small cookies, filled pastries, and cakes.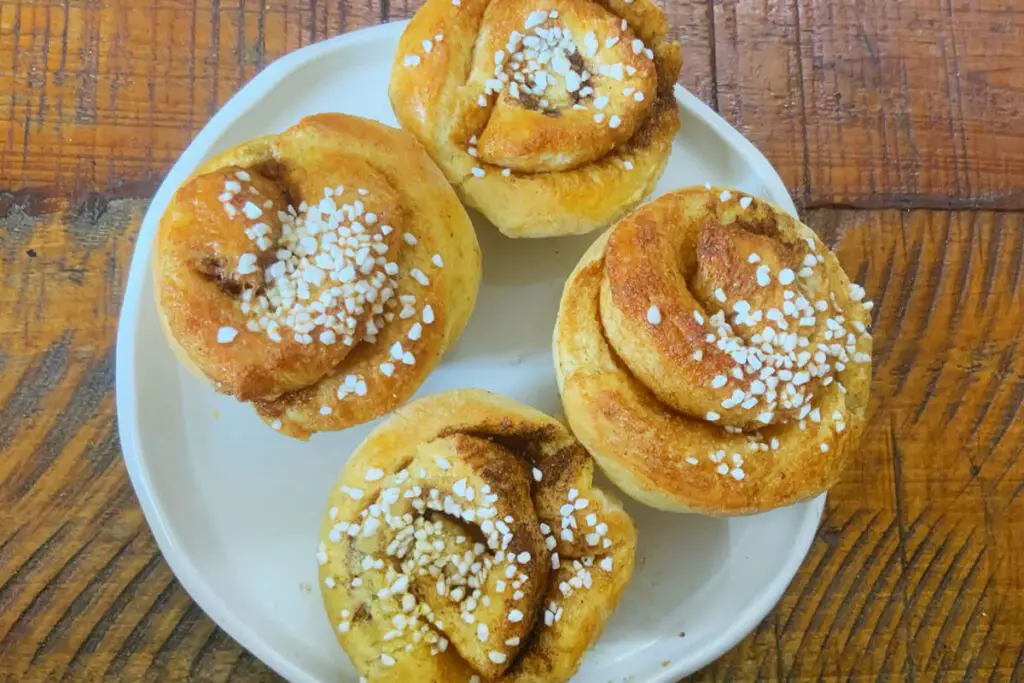 This recipe is just one of many Swedish Kanelbullar or Swedish Cinnamon Roll Recipes. It is a tried and true recipe, as it is from our family's cookbook.
It is a recipe we have made for years and continue to make, especially during Christmas. Cinnamon rolls are a tradition that is very important to Sweden.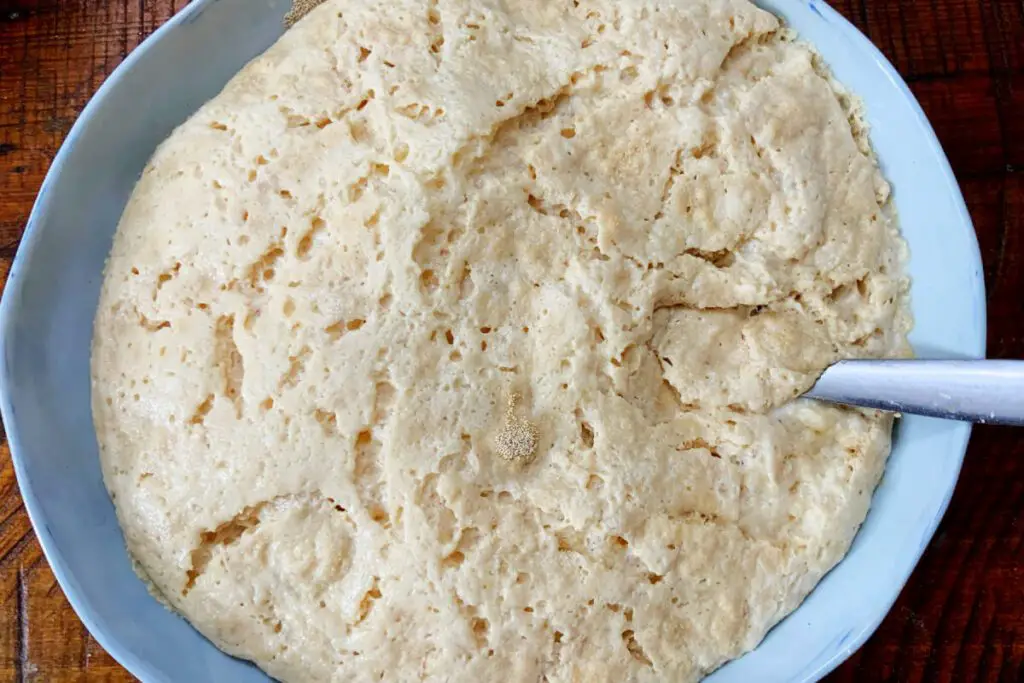 The tradition of making kanelbullar or cinnamon rolls still lives on in Sweden. If you're invited to someone's home for coffee, you can always expect to be served a cinnamon bun, a cookie, or a slice of cake – usually homemade. And at cafes, delicate little cookies compete with those oversized American muffins.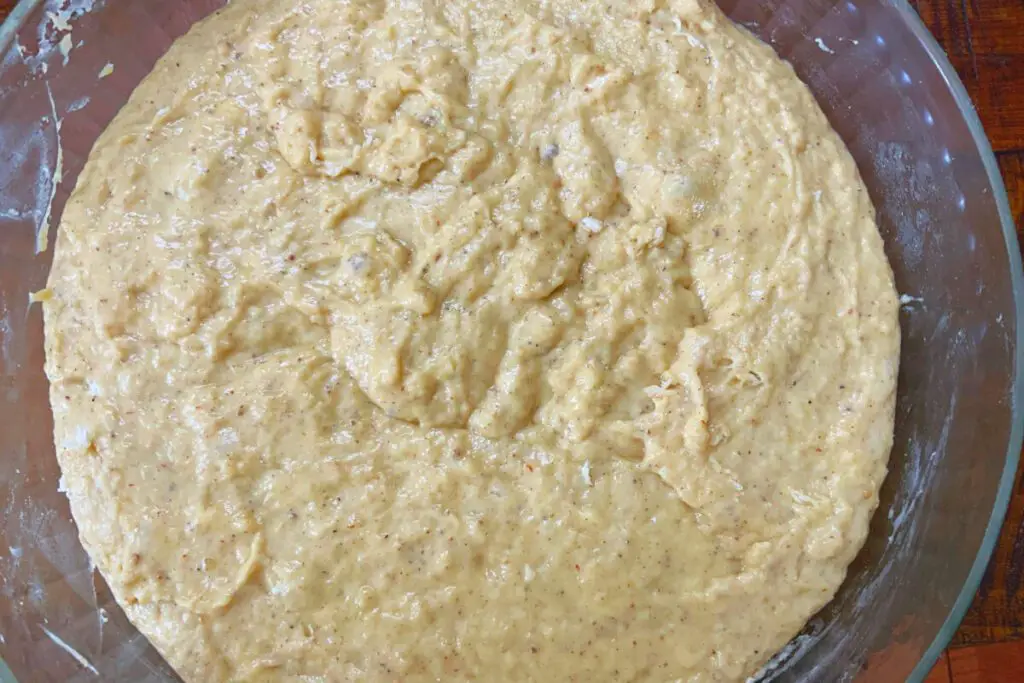 But at the heart of all this is the enduring Swedish cinnamon bun known as Kanelbullar, the Swedish tradition of "Fika."
The Importance Of A Swedish Fika
The concept of enjoying coffee, buns, or cakes while socializing has a specific word in Swedish: fika. Fika is a social phenomenon, a legitimate reason to set aside a moment for quality time.
It can happen at any time, whether in the morning or evening. Fika can be enjoyed at home, work, or a cafe. It can be shared with colleagues, family, friends, or even someone you're getting to know.
It's a tradition observed frequently, preferably several times a day.
What The Swedish Fika Is About
The concept of fika goes beyond a regular coffee break; it is deeply rooted in Swedish culture and holds significant importance in daily life. It's not solely about the coffee or the sweet treat; instead, it emphasizes the precious time spent connecting with others.
While a typical office coffee break may revolve around continuing work discussions, fika takes on a more relaxed and informal atmosphere. It serves as an opportunity to engage in conversations beyond work, bridging gaps between departments and hierarchical structures.
Fika – Socializing And Slowing Down Is Important
In a Fika, your specific food isn't always the primary focus. What truly matters is that you dedicate time in your daily life to slow down, savor a cup of coffee or hot chocolate, and indulge in a Swedish cinnamon bun or kanelbullar, or any other treat of your choice.
The essence of Fika lies in taking a moment to unwind, engage in meaningful conversations, and connect with another person without distractions like phones, computer screens, or television.
It's a time for socializing, cherishing the company of others, and relishing the pleasure of good food. Ideally, the treats enjoyed during Fika are homemade, just like this kanelbullar or cinnamon bun recipe.
What Is Swedish Pearl Sugar?
The recipe requires Swedish pearl sugar, created by compacting sugar crystals to form larger, round particles that maintain their shape during baking. Unlike the more significant Belgian pearl sugar, mainly used in Belgian Liège waffles and melts into the dough, Swedish pearl sugar retains its form.
This unique characteristic makes it an ideal final embellishment for various baked goods, adding a delightful finishing touch.
A brand that we like and use is called Lars. This can be found online or at some grocery stores. But the reason why we like the Lars sugar is because it is Swedish
Why Use Cardamom In The Swedish Cinnamon Bread Dough?
One notable aspect of the dough recipe is the addition of Cardamom. Cardamom is a commonly used spice in Swedish bread. Despite its widespread recognition as a spice, describing its flavor can be challenging.
This is due to its remarkably intricate taste profile, which harmonizes well with sweet and savory dishes. Ranked as the third most costly spice globally, surpassed only by saffron and vanilla, Cardamom has gained significant renown, earning the moniker "The Queen of Spices."
Its aromatic presence can be found in various culinary creations, ranging from Indian curries, Vietnamese food to Scandinavian bread.
What Makes This Recipe Work?
This recipe is effective due to the harmonious blend of sweet and savory flavors achieved by including Cardamom in the dough. This combination contributes to its enduring appeal as a timeless classic.
Additionally, using rock sugar instead of powdered sugar provides a level of sweetness that strikes a perfect balance, unlike specific overly sweet American-style cinnamon rolls.
Kanelbullar – Swedish Cinnamon Rolls Recipe