All the Pleasure and Decadents of Ice Cream But Without the Guilt
I love ice cream and chocolate, but I am also trying to cut sugar out of my life. So I thought why not combine both chocolate and coconut to make decadent, creamy yet flavorful sugar-free ice cream?
This decadent homemade sugar-free chocolate coconut ice cream combination is out-of-this-world. The 72% chocolate gives a nice rich flavor, while the coconut milk adds an amazing creamy texture. The perfect combination. The best part is we use monk fruit sugar so our ice cream is 100% sugar-free.
Table of Contents
Enjoy this guiltless pleasure. It has a great blend of global tastes from the East (coconut) and West (chocolate).
About Our Fresh Ingredients Best Sugar-free Homemade Chocolate Coconut Ice Cream Recipe
This recipe is loosely based on a Ben & Jerry's recipe. I say loosely based on their recipe as I love Ben & Jerry's ice cream, but I find I am changing their recipes (sorry Ben & Jerry). I take out sugar, change the sugars, or in this case, I change the milk to coconut milk.
One of the things I do believe about ice cream is that to make great ice cream you must start with quality ingredients. The perfect ice cream has very simple, yet fresh ingredients.
Here are the ingredients we use in this decadent sugar-free chocolate coconut ice cream:
72% Dark Chocolate – We only use 70% to 72% dark chocolate or even sometimes 85% dark chocolate. Most people consider these chocolates healthy, but any other chocolate or milk chocolate would also be too sweet. If you do not want to use 72% chocolate, you can use unsweetened chocolate and add more monk fruit sugar to taste. In this recipe, we use 20 ounces of the Trader Joe 's One Pound Plus 72% Chocolate bar, but any dark or unsweetened chocolate would work.
Unsweetened Cocoa Powder – This recipe is so great because we are also using high-quality unsweetened cocoa powder. Make sure you get yourself a good quality cocoa powder as you really want this recipe to have a nice full chocolate flavor.
Eggs – Some people worry about fresh eggs in their ice cream. I have tried ice cream without eggs, and it just does not seem to have the same consistency or taste. I will put my eggs immediately in the chocolate when the chocolate is hot and melted so the eggs can get heated, thus slightly pasteurized. (See the video). You can also use pasteurized shell eggs or pasteurized egg substitutes.
Coconut Milk – We use one full can of coconut milk for this recipe or about 1 1/2 to 1 3/4 cups of coconut milk. It does not need to be precise. We used one standard can of coconut milk. We cooled our can of coconut milk by putting it in the refrigerator before putting it in the ice cream mixture so that it was put in cold and not hot.
Cream – Use a good quality cream for your ice cream. The cream in ice cream is important. If there is not enough cream in your ice cream, then it is really not ice cream, but it is ice milk or worse yet ice water.
Monk Fruit Sugar – For this recipe, we are using monk fruit sugar which is a 100% natural, zero-calorie sugar sweetener. You can learn more about monk fruit sugar by reading about it below.
Salt (optional) – A tad of salt can enhance the chocolate flavor. But this is optional as some people want to cut their salt intake which is OK – then skip this.
Vanilla (optional) – For this recipe, we did not use vanilla as we had the coconut flavor, but if you like vanilla, feel free to put it in. Normally we use a lot of vanilla in our ice cream.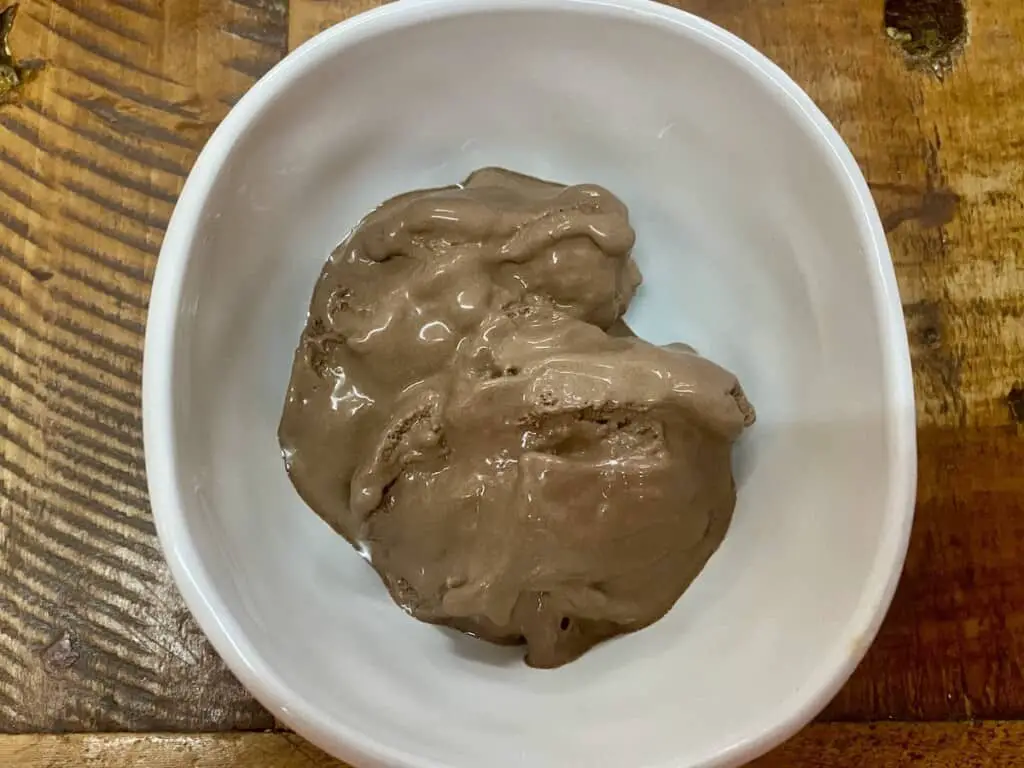 About Sugar-free Homemade Ice Cream
This ice cream will not be the same as storebought ice cream, nor is it meant to be. First of all, all the ingredients are fresh, and there is no chemical in them to regulate so that the ice cream has certain texture.
We recommend making this ice cream soon after serving or eating it. Here are a few things to note about it:
Homemade ice cream will melt faster than other ice creams – This ice cream will melt faster than other ice creams. Just the way that homemade ice cream does.
In the freezer, this ice cream will freeze solid – When you freeze this ice cream in the freeze, it can get rock-hard solid. The reason is that regular white sugar keeps the ice cream softer in the freezer than it would be with monk sugar. This is why we suggest you freeze the ice cream by serving size if you want to have individual servings.
All fresh ice creams will be a soft products. And in the case of this ice cream, freezing, will make it rock solid because we are using monk fruit sugar.
The monk fruit sugar does not react the same way to the ice cream if you used cane sugar (see below) or regular sugar. When you freeze this ice cream overnight, it tends to be very hard and then will defrost quickly but unevenly. That is in many ways the nature of homemade ice cream and in particular this sugar-free ice cream.
In speaking about this issue, Ben & Jerry said it best in their homemade ice cream book when they said:
About Using An Ice Cream Maker
You will need an ice cream maker to make this ice cream. We use a Cuisinart, and it is the best investment we ever made. We use it all the time to make ice cream. We love this Cuisinart Ice Cream Maker. You can buy it at Walmart.com by clicking here.
You can check out the full selection of Walmart's Cuisinart Ice Cream makers by clicking here. If you do not have an ice cream maker and you want to make great homemade ice cream then make the investment to get a good ice cream maker.
I never buy ice cream anymore as I find homemade ice cream tastes better, and it is effortless to make.
Watch our video below on how we made this decadent sugar-free chocolate coconut ice cream delight!
The Best Sugar-free Chocolate Coconut Ice Cream Recipe
Download your free copy of our recipe by clicking on the link below:
The Best Sugar-free Chocolate Coconut Ice Cream Recipe
All the Pleasure and Decadents of Ice Cream  – But Without the Guilt 
Serving – 1 Quart of Ice Cream 
Ingredients:
2 ounces of dark chocolate 
1/3 cup unsweetened cocoa powder
1 can coconut milk (about 1 1/2 cups to 1 3/4 cups coconut milk) 
1/2 cup to 3/4 cup monk sugar. (If you want it sweet, use 3/4 cup if you do not want it so sweet, use 1/2 cup) 
2 large eggs
1 cup heavy or whipping cream
Salt (optional)
Vanilla (optional) 
Directions:
Crack the eggs and quickly beat them 
Melt the 20 ounces of chocolate in the microwave (stir constantly) or on double boilers on the stovetop. 
As soon as the chocolate is melted put the eggs into the hot mixture and mix together quickly. 
Then add the egg and chocolate mixture to the cocoa powder, monk sugar, and coconut milk, then blend together.  Add in the cream as the final ingredients and then blend them all together.  Do not over-blend.  
Cover and refrigerate the mixture for about 1 to 3 hours or until very cold or even longer. It needs to be very, very cold.
Transfer the mixture to the ice cream maker and follow the manufacturer's instructions. 
We strongly suggest that you serve the ice cream almost immediately after making it since, due to the nature of the monk fruit sugar during freezing overnight, the ice cream mixture can freeze very solid
Additional Note: Our ice cream recipe only uses natural ingredients. There are no preserves. Because of this, it can melt faster than some other kinds of ice cream that may have chemicals added to it to help it not melt quickly or retain its shape. An added benefit of our all-natural homemade ice cream recipe.
What is Monk Fruit Sugar?
I admit that I love sugar and anything I make I do not want it to taste sugar-free or have a really bad after taste. That is why I really love monk fruit sugar and have used monk fruit sugar in this recipe. If you are like me and trying to cut out sugar, monk fruit sugar is like a gift from the gods. Or as some Chinese say – the fruit of the immortals.
Monk fruit sugar is from a small green round melon fruit that is grown on a vine in China and Thailand. The scientific name is siraitia grosvenorii.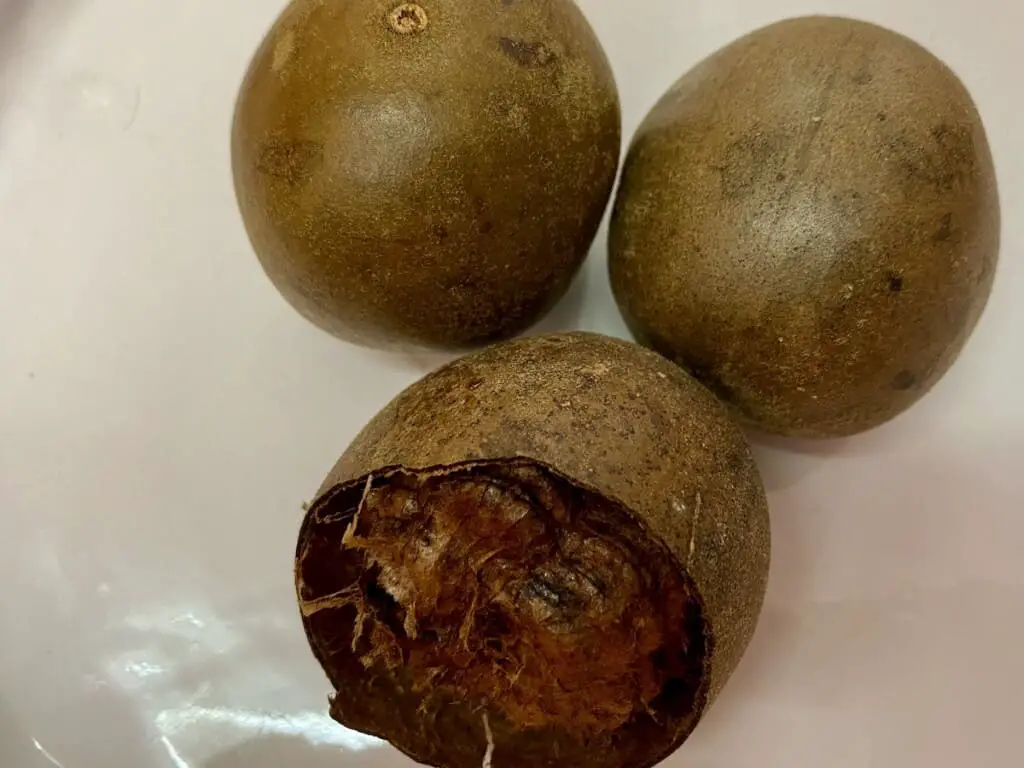 A Bit of Monk Fruit History
It is always good to know a bit about anything you are putting into your mouth.
Dr. George Weidman Groff was a professor at Lingnan University in Guangdong. China in the early 1930s. He was up in Guilin Province in China to do an agricultural survey when he came across the monk fruit or as the Chinese call it "luo han guo" (罗汉果) which translated means monk fruit. Dr. Groff has been looking for this monk fruit for quite some time. He had heard about this mysterious fruit.
The monk fruit is first known to appear in Chinese records during the 13th century when some Chinese monks discovered the fruit in the Guilin area of Guangxi Province, China. As the monk fruit is quite difficult to grow it never made it into the mainstream of Chinese medicine.
These 13th Century Chinese monks understood this monk fruit was something special. it was able to sweeten their food while at the same time having special healing properties. In traditional Chinese medicine, monk fruit was used for a cough and sore throat. I was told by my Chinese staff that they use monk fruit to make soup if they are getting a sore throat or cold.
The monk fruit was also thought to be an aid to help with longevity and long life, hence also the name of the immortals' fruit. One reason many call monk fruit the immortals' fruit is because some believe it gives them longevity. In the part of China where the monk fruit is grown and used, many residents in the locality live to be over 100 years old.
These 13th Chinese monks and the people in this area gave the monk fruit its name. In Vietnam, the fruit is called "quả la hán" which means Buddhist fruit or longevity fruit.
In 1937 the National Geographic Society gave a grant to Dr. George Weidman Groff, to go into the heartland of Guangxi Province, China to find this mysterious monk fruit. He was able to obtain some photographs of the fruit and brought back some samples to the National Geographic Society in the United States.
Even though monk fruit has been part of Chinese medicine for thousands of years, the sugary commercial version is quite new to the market. This is because the monk fruit has some interfering flavors that rendered the monk fruit completely useless to be used as a sweetener or sugar alternative. The Japanese started to look at how they could extract sugar from the fruit. And in 1995, Procter and Gamble patented a process to get rid of these interfering flavors so the sugars from the fruit could be extracted and be used.
It was not until much later that the monk fruit could actually be grown commercially and processed into the monk fruit sugar that we have today.
To learn more about monk fruit and how it is processed into sugar you can watch this very informative video by Lakanto. I use their brand of monk fruit in this ice cream recipe.
Reasons Why We Love the Monk Fruit Sugar
Here is the reason why we love the monk fruit sugar:
Zero Calories – Monk Fruit has zero calories. This is similar to other sugar substitutes like Stevia.
Natural Sugar – Monk fruit is considered a natural sugar as the sugar is extracted from an ancient Chinese fruit called the monk fruit.
No bad aftertaste – Some sweeteners have an aftertaste to them. No matter what you do, you always know it is a sweetener, and things do not taste as good as real sugar. I find that monk fruit does not have a bad aftertaste.
Sweeter than sugar – Monk fruit is about 100 to 300 times sweeter than sugar, so I just need to use a bit of it. Even if the package says you can use it 1:1 as regular sugar, I still find the natural taste of it sweeter than regular white sugar.
Gluten-Free – Monk fruit is 100% gluten-free.
Vegan – Monk fruit is also 100% vegan.
Non-GMO – Lakanto's monk sugar is not genetically modified, which makes it a great natural choice for a sugar substitute.
Healthy sugar alternative – If anyone has ever eaten sugar-free candy as I have, then the bloating about an hour or so later. gas and diarrhea will start; you know that not all sugar-free alternatives are equal and some are just downright unhealthy. I have never had this problem with the monk fruit, so I find it to be a very good healthy sugar-free alternative. The reason is that monk fruit obtains its sweetness not from its natural sugar but because of the natural antioxidants it contains. 
Where To Buy Monk Fruit Sugar
There are many places you can buy monk fruit. Many grocery stores and online platforms now carry it. We like to buy it from Walmart.com as they offer a very good price. You can find out more about buying monk fruit sugar from Walmart.com by clicking here.
Other White Sugar Alternatives
Rarely do I make our ice cream with white sugar. If we do not use a sugar-like monk fruit sugar here are two other sugars I also use:
Cane Sugar – Cane sugar is a sugar that is produced from sugarcane. It is still sugar but less refined and better for you than regular white sugar. I like to use cane sugar in my ice cream as it gives it a kind of almost caramel taste. If you do not want to use monk fruit sugar you can consider using sugarcane for the same proportions.
Coconut Sugar – Coconut Sugar is another kind of sugar that is extracted from coconuts. Unlike white sugar coconut sugar does contain some nutrients so it is thought to be slightly better for you than white sugar.
Both cane and coconut sugars are better than regular white sugar for your health, but they also both have calories. Whereas, monk fruit sugar has zero calories.
Disclaimer: I am not a doctor nor a monk fruit sugar expert. If you are not sure about using monk fruit as a sugar substitute or in your food, ask your doctor or health care provider.
I made this recipe as an experiment. I was driving home from my morning swim one day and I got to thinking about ice cream. I thought of how much I love ice cream – especially in the heat of summer – but I did not eat it due to the sugar content. Then the thought came across my mind that I should try to use monk fruit sugar (zero-calorie sugar) with coconut milk to make an ice cream treat.
When I first tasted this sugar-free chocolate coconut ice cream, I was pleasantly surprised and thought WOW – what a decadent and interesting combination -without the guilt of ice cream that is filled with sugar. Enjoy!
At A Bus On A Dusty Road, we talk about history, travel, life, sailing, and ex-pat living. We are all about "Living Life As A Global Citizen." We explore social, cultural, and economic issues and travel.
We would love to have you be part of our community. Sign up for our newsletter to keep up-to-date by clicking here. If you have any questions, you can contact me, Anita, by clicking here.
Listen to our Podcast called Dusty Roads. You can find it on all major podcast platforms. Try out listening to one of our podcasts by clicking here.
Subscribe to our A Bus On A Dusty Road YouTube Channel with great videos and information.
Related Questions
How Do I Make The Spicy Thai Beef Salad Recipe (Yam Nuea)?
Thai food is known around the world for its spicy taste, freshness, and magical flavors. The recipe of this spicy Thai Beef Salad (Yam Nuea) is a perfect example of this. The reason why Thai food is constantly rated as one of the top foods in the world is that Thai food has some of its influences and roots in Indian, Chinese, and even Portuguese food.
To see the recipe and also watch our video on how to make this salad by checking out our blog Spicy Thai Beef Salad Recipe (Yam Nuea) by clicking here.
How Do I Make The Vietnamese Cucumber Peanut Salad?
This is a wonderful Vietnamese Cucumber Peanut Salad Recipe. It is filled with fresh ingredients as Vietnamese will go to the market each morning to buy their vegetables for the day. It can be common to see them coming home each morning with a bundle of fresh vegetables on their bike or motorcycle. This Vietnamese Cucumber and Peanut Salad uses mainly fresh cucumbers and bean sprouts as the main ingredients. This is salad is a great choice for a fresh summer salad.
To download the recipe and watch our blog on how to make this salad by reading our blog Vietnamese Cucumber and Peanut Salad Recipe -Nộm Dưa Chuột by clicking here.