Vietnamese love fresh vegetables. This dish for a Vietnamese Cucumber and Peanut Salad uses a lot of fresh vegetables as their main ingredients.
Vietnamese will go to the market each morning to buy their vegetables for the day. It can be common to see them coming home each morning with a bundle of fresh vegetables on their bike or motorcycle. This Vietnamese Cucumber and Peanut Salad use mainly fresh cucumbers and bean sprouts as the main ingredients. This is salad is a great choice for a fresh summer salad.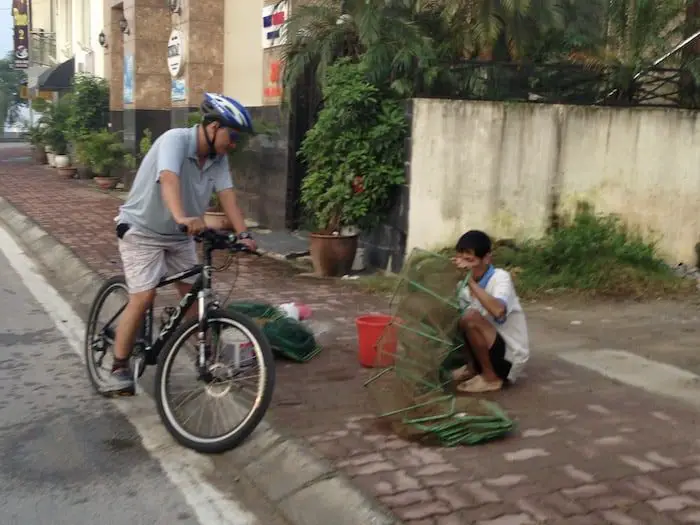 Vietnamese Food is About Eating Fresh
One of the great things about Vietnamese food is how fresh the food always is. Most Vietnamese will buy their food each day at the local market. So when we say that food here is fresh, we mean it is really fresh as it was just brought out of the fields that very morning.
That is why if you are ever traveling the streets of Vietnam in the early hours of the morning, you will see farmers on their motorbikes bringing their produce to market. This is because people expect their food to be fresh.
When cooking Vietnamese food, this is the one thing you need to realize that Vietnamese food is meant to have fresh ingredients. This cucumber peanut salad is a great example of how important fresh food is. All the main ingredients are fresh vegetables.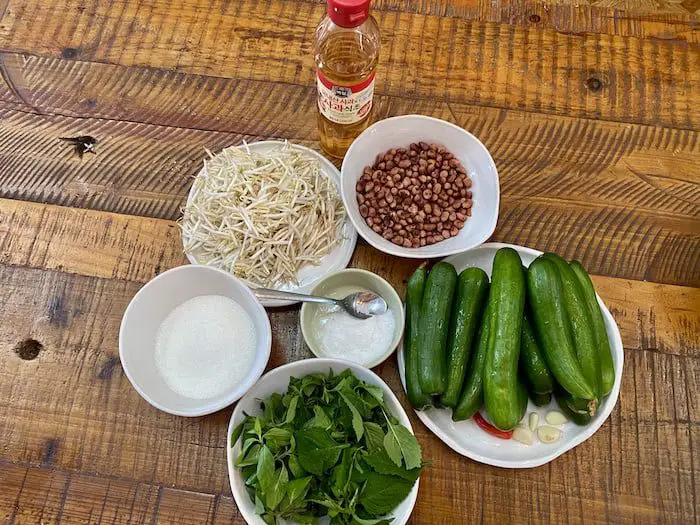 The Ingredients of the Vietnamese Cucumber and Peanut Salad
The ingredients of this Vietnamese Cucumber and Peanut Salad consists of very few ingredients. The ingredients used for this Cucumber and Peanut salad are:
Cucumbers – The main ingredients are cucumbers. The Vietnamese cucumbers we are using may be smaller than cucumbers in other areas of the world. Just use the smallest cucumbers you can find or any fresh cucumbers you have.
Bean Sprouts – Bean Sprouts are another staple of Vietnamese food and are used a lot in many Vietnamese dishes. Bean Sprouts must be fresh and should not be canned or frozen. A canned or frozen bean sprout will take the taste and crunchiness out of the bean sprouts.
Fresh Mint – Fresh mint is an herb the Vietnamese use a lot. Again this can not be dried, it should be fresh. I know in some parts of the world mint grows wild, so even that kind of fresh mint that is safe for you to eat should be fine to use in this dish. The fresh mint gives it a very nice flavor.
Fresh Vietnamese Oregano – This may be much harder to find as this is a herb that is found a lot in Vietnam but unless you grow it specifically for Vietnamese food you may not find it. You can try to use a Fresh Sweet Marjoram, or if you cannot find that, this dish would probably be Ok with just the fresh mint.
Peanuts – We actually buy fresh peanuts then we will cook them and smash them up. Peanuts that are already cut up or processed should be fine.
Fresh Garlic – Use fresh garlic. I know there is some garlic in a jar or garlic paste but it just does not taste the same as fresh garlic. Take the time to peel, smash, and chop the fresh garlic. If you watch our video you can see how quickly this can be done. Do not skip on this step as fresh garlic makes a difference in the taste of the dish.
Fresh Red Pepper or Chilli – This is a very small red pepper that is quite hot to taste, but again having the fresh red chili makes a difference. The dried will not work.
Sugar – This is just regular granulated white sugar that you may use to make cookies with.
Salt – It is good if you can use a more natural salt as a sea salt since Vietnam produces and uses a lot of sea salt.
Apple Cider Vinegar – You can use any kind of Apple Cider Vinegar.
The Vietnamese Cucumber Peanut Salad Recipe
You can download the Vietnamese Cucumber Peanut Salad recipe by clicking on the link below
Watch Our Video that Gives You a Step-by-Step Guide on how to make the Vietnamese Cucumber and Peanut Salad. Click on the link below:
Vietnamese Cucumber and Peanut Salad –nộm dưa chuột
Serves 6 people 
1 kilo or 2.20 pounds of fresh cucumbers
300 grams or .66 pounds of  bean sprouts
50 grams or 1.76 ounces fresh mint 
50 grams or 1.76 ounces fresh Vietnamese oregano or fresh sweet marjoram would also be good.   
150 grams or 5.25 ounces  peanuts (cut up into small pieces) 
1/2 cup white sugar
1 Tablespoon  salt
6 cloves fresh garlic (you can add more if you like a more garlic taste) 
1 fresh red pepper (chilli)
1/4 cup apple cider vinegar
Peel and thinly slice the cucumbers and then after they are cut up add 1 tablespoon salt and 1/2 cup of sugar with 1/4 cup apple cider vinegar.  Mix well together.  
Then add the fresh bean sprouts into the cucumber mixture,  Mix together well. 
Put the bean sprouts and cucumber mixture into the refrigerator to chill for about 30 mins.  
Cut up the peanuts, fresh mint, fresh oregano and fresh chili. 
Once the cucumber mixture is fully chilled then add the peanuts, fresh mint and fresh oregano to the cucumber mixture.  Mix all together.   
The salad is now ready to be eaten.  It is best served immediately after it has been prepared. 
Feel free to omit the fresh oregano..  The fresh mint is always nice as it give it a very nice and fresh taste.
Note on Vietnamese dishes
Like most Asian cooking, cooking measurements do not need to be exact.   Feel free to add and adjust the quantities as per your preferred taste and preference.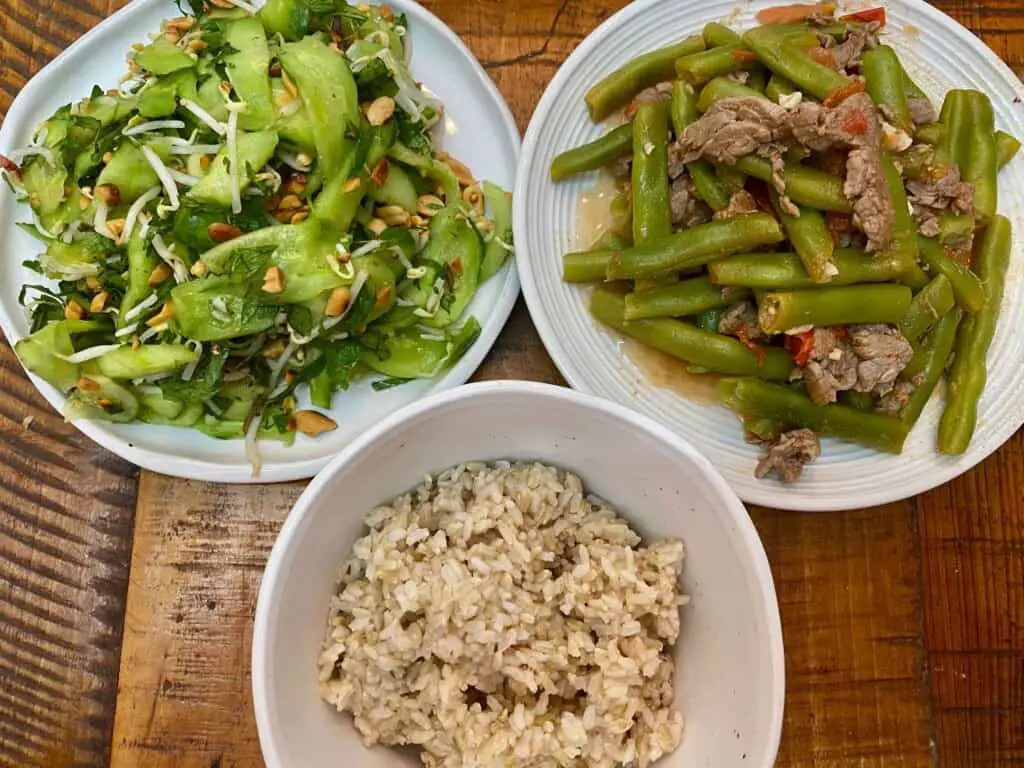 Serve with Stir-fry Beef, Green Beans and Tomatoes
We will normally serve the Vietnamese cucumber salad with stir-fry beef, green beans, and tomatoes. To find out how to make the Vietnamese Stir-fry Beef, Green Beans and Tomatoes you can check out our blog Vietnamese Stir-fry Beef, Green Beans and Tomatoes Recipe (Đỗ Xào Thịt Bò) or click here.
We love how fresh Vietnamese food. This makes cooking Vietnamese food as a great healthy addition to your cooking experience.
Related Questions
How Do You Make Fried Vietnamese Spring Rolls (Nem)?
Vietnamese spring rolls have no fixed recipe as many parts of Vietnam the families will use their own recipes. So we will share with you our own special Vietnamese Spring Roll or Nem Recipe that we use. We also have a video to show you how to mix, roll, fry, and eat the Vietnamese spring rolls.
You can watch the video and also find out recipes by checking out our blog Fried Vietnamese Spring Rolls (Nem), What You Need to Know by clicking here. We also include a video that gives you a step-by-step guide on how to make this dish.
How Do I Make Vietnamese Bun Cha?
Bún Chả is a Vietnamese food dish that is thought to have originated in North Vietnam. It is made from rice noodles, grilled pork, salad, and a special Bún Chả fish sauce mixture. By following our easy steps, it is a dish that you can learn to make and serve in your own home.
To find out more about how we make Vietnamese Bun Cha, you can read our blog The Vietnamese Bun Cha Food Dish, All You Need To Know by clicking here.