It may surprise many when they go to Scandinavia to find that Christmas is celebrated on December 24, not December 25. December 25 can be a quiet day in these countries.
Norway, Denmark, and Sweden celebrate Christmas on December 24 because Christmas day was permanently reserved as a holy day. The Scandinavians also celebrate on the eve of a holy day and not on the holy day itself. Many Scandinavians would attend a church service mass on Christmas morning.
Table of Contents
Scandinavian Celebrations On December 24th
Scandinavian traditions celebrate their holy days on the eve before what is known as the holy day. For example, Midsummer is not celebrated on Midsummer day, but it's celebrated and Midsummer's eve.
All Saints Day it's celebrated on the day, but the day before, they put candles on the graves of those who have passed on – they do it on the eve of All Saints Day.
Christmas Eve is one of the oldest holidays celebrated throughout Scandinavia, and it is celebrated on Christmas Eve and not on Christmas day. That is because the day is usually reserved as a Holy day or a day of worship.
Even though many Scandinavian do not attend church, they continue to adhere to these traditions. Christmas Eve is an example of these traditions, as in most Scandinavian, it is celebrated on December 24.
That is quite a common practice throughout Europe. In Germany, for example, Christmas Eve is also the day when the families all gather together and exchange gifts.
Christmas Day Is Traditionally A Holy Day In Norway, Sweden and Denmark
When my mother was a child in Stockholm, Sweden, she remembers attending a church service on Christmas Day. Christmas Day was a tranquil day. She said most of the music on the radio was always classical music. It was also a very simple day, and they ate leftover food. It was not a day to visit anyone or have parties but a quiet day at home.
Because of this tradition, Denmark, Norway, and Sweden will have their Christmas parties on December 24 and sometimes even the day after Christmas or December 26, but they do not have them on December 25. That is because Christmas day is traditionally a holy day.
Christmas Day And A Swedish Church Service
December 25 was traditionally considered a holy day in Norway, Denmark, and Sweden. They would start the day by attending a church service early in the morning.
Even though I grew up in Milwaukee, Wisconsin, I spent many Christmas mornings getting up early to attend a church service in Swedish at a church near my home. In Swedish, this church service is called "Julotta."
This church service was held in Sweden on December 25 at 7 am. Sometimes the services would be held as early as 4 am. Many of the services started at 4 am because they believed the service should begin and end before dawn arrived.
Even though I am not Lutheran, I have always enjoyed attending the Swedish mass or Julotta service on Christmas day. I found it was a great way to start Christmas day.
Christmas Day was also one of the most important days to attend church in the olden days. The ride to church would be a festive one. We have some old pictures of our relatives, including my mother, taking a sleigh and riding to the church on Christmas morning.
In Sweden, December mornings are dark and cold. They would be lots of candlelight to light the way. That made for an extra beautiful ride in the quiet of Christmas morning as Swedes and other Scandinavians got up to attend church.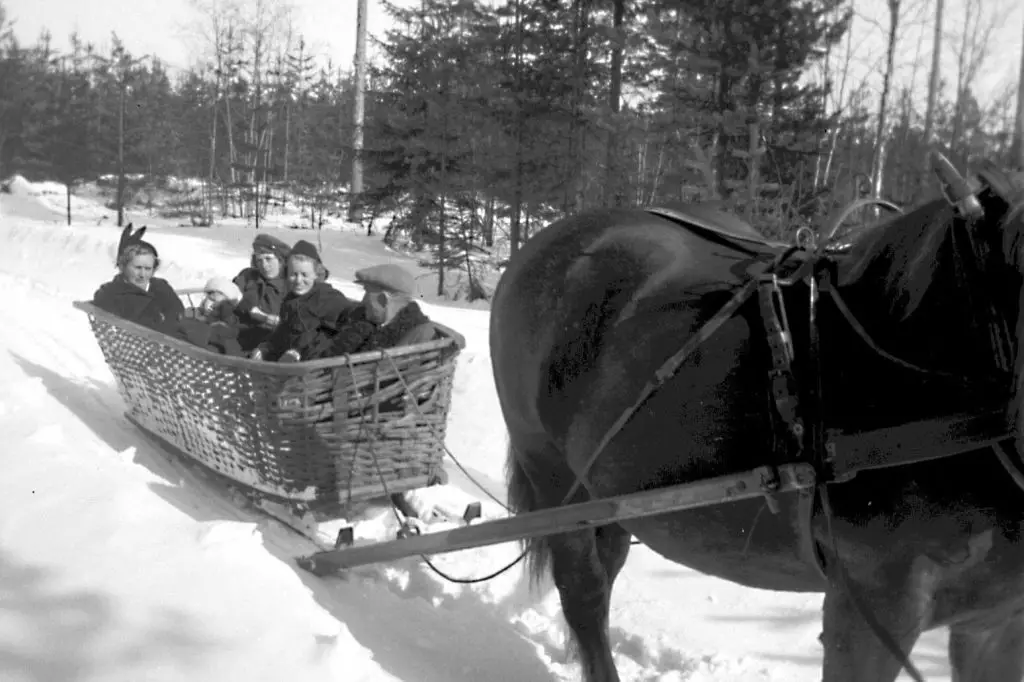 The ride to church in the Christmas sleigh happened slowly so that you could see all your neighbors on the way to church; the ride home was the opposite. The person who could get home from this Christmas service first would be the first one that would have the harvest in the following summer.
We can only imagine the mad dash that everyone made to get out of the church and get home. They would run out the door to be the first person to be home so they could say that their harvest would be the first in the following year. How much fun that must have been to see the sleighs racing through the snow in the morning moonlight.
Bells Ring Out In Norway On Christmas Eve
In Norway, Christmas Eve celebrations start at 5 pm; the Christmas bells will ring out to signify the start of Christmas Eve. Most people will have dinner and Christmas celebrations with family or friends.
Because this is such an important holiday for the Norwegians, most restaurants and pubs will close on Christmas Eve. The streets usually are tranquil as most people are home celebrating.
Dancing On Christmas Eve For a Scandinavian Christmas
In many Scandinavian homes, they celebrate Christmas Eve with a large dinner. My family always had a massive buffet with all kinds of Swedish food.
The celebrations would start as we turn on the Christmas music and dance around the tree. Yes, it is common for families and friends to hold hands and dance traditional dances as you sing along with Christmas songs.
Father Christmas Visits The Family On Christmas Eve
As they finish up the dancing, they will hear a loud knock on the door. Father Christmas has brought presents for the children. He will distribute them to the children on Christmas Eve.
There is no magic, no cookies, and milk left for Santa Claus, no Santa Claus climbing down the chimney.
Instead, an older male member of the family and uncle, a dad, or a grandpa will dress up in traditional red or white clothes and distribute the gifts.
There is something very magical about celebrating Christmas on Christmas Eve and reserving Christmas as a quiet day of reflection. You gather as a family on the 24th, and then on the 25th, you can reflect more upon what Christmas means.
At A Bus On A Dusty Road, we talk about everything about travel, life, and ex-pat living. We are all about "Living Life As A Global Citizen." We explore social, cultural, and economic issues, including Christmas celebrations worldwide.
We would love to have you be part of our community. Sign up for our newsletter to keep up-to-date by clicking here. If you have any questions, you can welcome to contact me, Anita, by clicking here.
Listen to our Podcast called Dusty Roads. You can find it on all major podcast platforms. Try out listening to one of our podcasts by clicking here.
Subscribe to our A Bus On A Dusty Road YouTube Channel filled with great videos and information by clicking here.
Related Questions
4 Tips To Preparing Your Own Family History Trip and Travel
Before you decide to travel to your Ancestor's hometown, there are some things you should do to make sure your family history tour is successful. First, you must research as much genealogy as possible before you travel. You should then do some local research on the areas you are traveling to; map out what places you should visit. Also, take some time to study the maps of where you are traveling.
To learn more, you can read our blog on 4 Tips To Preparing Your Family History Trip and Travel by clicking here.
Why Is Family History Important? 11 Reasons Why
Family history is important because it can help us connect to our living and dead family. It gives us a core identity of who we are. Family histories can teach us about perseverance, forgiveness, love, heartache, compassion, and sacrifice. Our family histories also teach us about humanity and help us discover faith and God.
By clicking here, you can discover more by reading our blog Why Are Family History Important? 11 Reasons Why.