Are you ready to have your taste buds tantalized? Then it's time to introduce you to the delectable world of Thai cuisine! Our delicious recipe for homemade vegetable (or chicken) yellow curry is sure to be a flavor sensation. With its velvety-smooth sauce, warm and spicy aromas, and colorful combination of vegetables – this traditional dish can now be part of your regular cooking repertoire.
The yellow Thai curry is the sweetest of all three basic Thai curries. We love this yellow Thai curry as it is sweet but with has a hint of spice. Best of all this curry is made with all fresh ingredients. We will show you how to make this curry at home 100% from scratch.
To Go Straight To the Thai Vegetable (Chicken) Yellow Curry and Video – Click On The Link Below:
Jump to Recipe
Watch our video on how to make this Thai Chicken Vegetable Yellow Curry completely from scratch.
Click on the link below
Table of Contents
Made 100% from Scratch with Fresh Ingredients
To make delicious Asian food, you need to make the food using only fresh ingredients. Most Asians will shop on the same day for the food they eat.
One of my complaints about so many Asian restaurants in other parts of the world, like the United States, is the restaurants will try to save money or time by making food with frozen vegetables. Using frozen vegetables never tastes the same as using fresh vegetables and ingredients in your Asian food and cooking.
You can download your FREE PDF of the Thai Vegetable Chicken Yellow Curry recipe by clicking on the link below: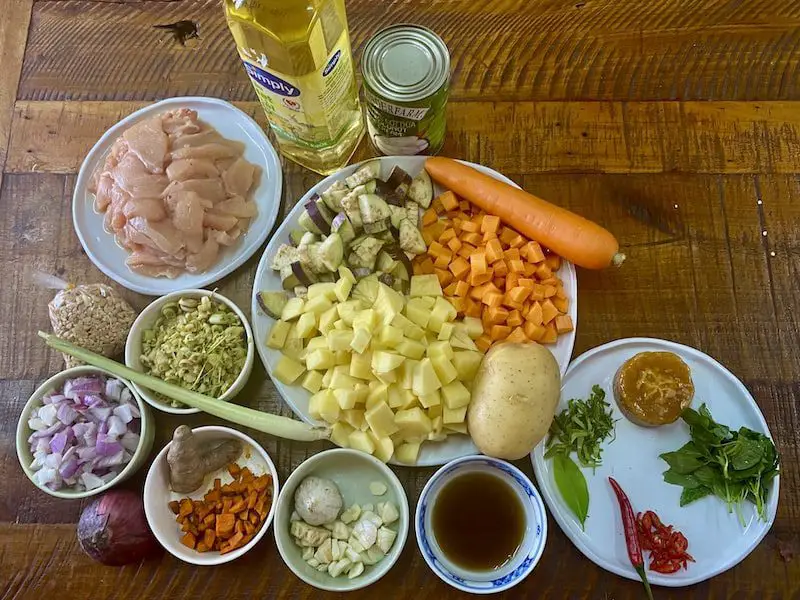 Here are a few things about the Thai Chicken Vegetable Yellow Curry and the ingredients we use to make the curry:
Yellow Curry – You can use this yellow curry recipe and add any vegetables you want to it. A general rule is 1/3 meat to 2/3 vegetables for Asian food. Good Asian food always has more vegetables than meat in it. You can find out more about what vegetables go well with what kind of meat but check out our blog What is the Asian Stir-fry Cooking Method? by clicking here. We have a chart that shows what kind of meat goes with what kind of vegetable.
Local Asian Grocery Store – If you want to cook very good and authentic Asian or Thai food, then shop at your local Asian grocery store. Most good Asian stores will have most, if not all, of these ingredients fresh. Many times these Asian markets have food that is fresher and cheaper than the regular supermarket store.
Cutting Up The Vegetables and Meat – The vegetables and meat should be cut up into very small pieces. This allows it to cook much faster. But also when you are pounding the curry paste it is easier to pound if everything is cut up into small pieces.
Turmeric Root – We use fresh turmeric roots. It is a root vegetable like ginger but not the same as ginger. Many Asian grocery stores should have fresh Turmeric root. If you have to buy a lot of turmeric root and you only need a little for this recipe, it will freeze well. I have seen fresh turmeric root for sale on Amazon. If you can not find fresh turmeric, you can use powdered turmeric spice.
Kaffir Lime Leaves – This is something you may only find at your local Asian grocery store. They should also freeze quite well so you can use them for your next curry. You can also find them on Amazon by clicking here.
Palm Sugar – We use palm sugar in this recipe. It usually comes in small rolls. You should find this at your local Asian market, but if you cannot, you can use cane sugar or white sugar. Start with about 1/2 cup of each, and if you want it sweeter, you can add a bit more. You can also find palm sugar on Amazon We recommend this brand and kind of palm sugar as it is more authentic, click here to find out more.
Fish Sauce – Fish sauce is a staple for Vietnamese and Thai food. This should be quite easy to find. Many supermarkets now carry it, and the Asian Grocery store should also have it. Try to find a Thai or Vietnamese brand. This is a Vietnamese brand you can find also on Amazon.
Vegetable Oil – You need to use vegetable oil to make this recipe. Do not use Olive Oil as Olive Oil does not well in Asian food, particularly Thai curry. It will change the taste of the curry.
Vegan or Vegetable Version – This curry does very well as a vegan or vegetable version. The only milk used in this is pure coconut milk. To make this recipe vegan or a vegetable curry, cut out the chicken from the recipe and add more vegetables. Vegetables such as green beans and cauliflower also do very well for this recipe. Also, try squash and sweet potatoes. The great thing about this basic recipe is that you can experiment and add whatever vegetables you want or prefer to the curry paste. In Thailand, a lot of Thai curries will always have eggplant in them.
Red Chilies – Those red chilies are hot and spicy. Even if you take the seeds out, they are still spicy. That is why we put to use between 1 to 6 red chilies. Use as many as you like for your spices. If you want it a really spicy curry, try for 6 or even more red chilies if you want just a bit of spicy 1 may be enough. These red chilies should be fresh and not dried. Again, a good Asian Grocery store should have them. We have also put ours in the freezer, and they do fine if stored in the freezer. If you are looking to buy these online, consider getting a variety of these green and red chilies as then you can use the green to make the Thai green chili and can freeze both of these. You can find out more by clicking here.
Peanuts – I added peanuts to my curry, but this is not necessarily authentic Thai, but I happen to really like peanuts in a yellow curry. So if you like peanuts as I do, you can go ahead and add them in.
Coconut Milk – Only use coconut milk which is pure coconut milk. An
Asian or Thai canned coconut milk should be good. If you are interested, check out this coconut milk that you can buy on Amazon.
Make-Ahead, Freeze and Reheat – This is a great recipe that you can make ahead of time and reheat. It does really well frozen, and as a recipe, you can reheat it for a quick meal when you do not have a lot of time to cook.
Spice Pounder or Mortar and Pestle set – If you are planning to cook Asian food and in particular Vietnamese or Thai food, invest in a Mortar and Pestle Set. You can find these quite easily on Amazon, like this set we have found.
Thanks to my dear friend Vong for helping me with this recipe. She was the one who guided me on how to make Thai Curry 100% from scratch. She also educated me about Thai curries. Vong is from Lao but has also lived in Thailand.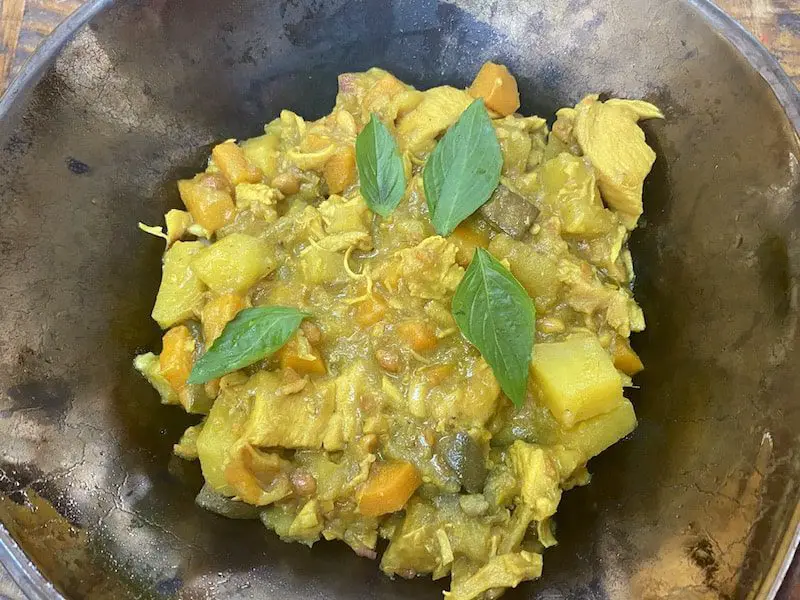 Thai Yellow Chicken Vegetable Curry Recipe
Serves 4 as a meal with rice. Serves 6 with other items being served