This is one of our all-time favorite keto cookies. We love these cookies because they taste like a cookie treat, even though they are 100% keto cookies. These cookies taste just that good.
To Go Straight To Keto Shortbread Cookies and Video – Click On The Link Below:
Jump to Recipe
Our Best Keto Shortbread Cookies use straightforward ingredients. In fact, this recipe is inspired by an actual shortbread cookie recipe, but we changed it to make it a ketogenic cookie. We add some almond pieces to give the cookies an added crunch. These cookies freeze well; we keep ours in the refrigerator.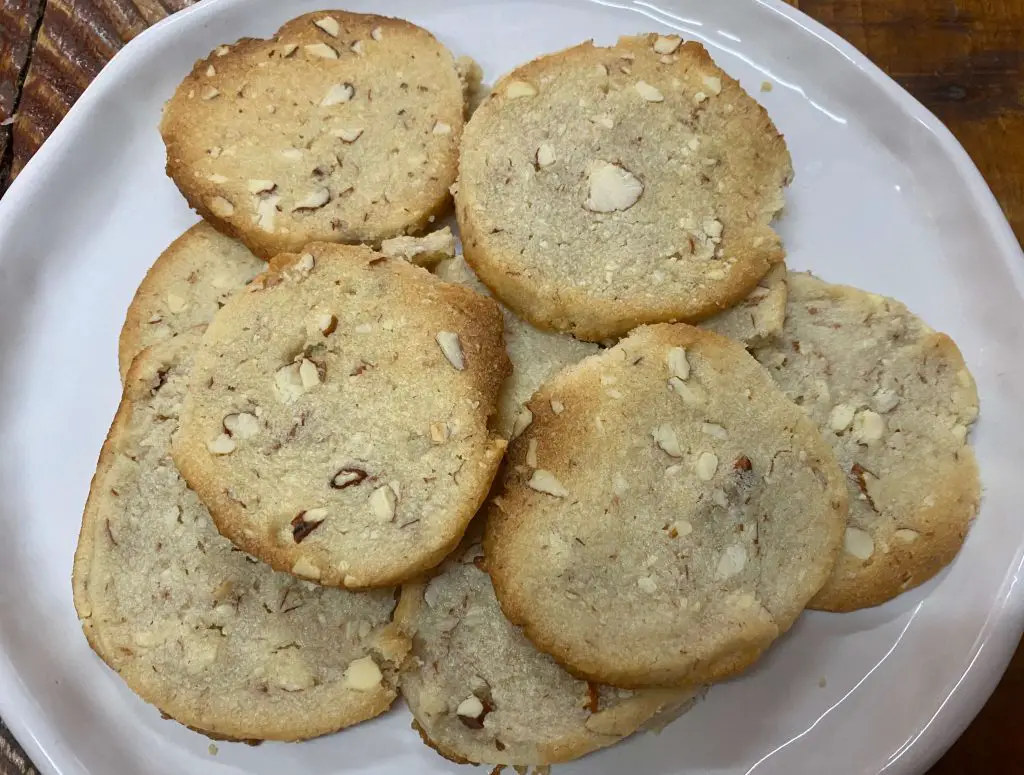 About Making These Keto Shortbread Cookie
One of our goals in making this keto cookie was that we do not want the cookie to taste like a ketogenic cookie. We want it to feel like a real cookie treat. We want to give you all the flavor of a cookie without any of the carbohydrates and sugar. We try to substitute or use other ingredients to make the food taste and look like non-keto food.
Here are some of the things that we did to change this recipe to make it a keto cookie treat:
Changed To Almond Flour – We really like Almond flour. We feel it helps make this cook taste really great. In fact, many times, I do not even notice the difference between a cookie with almond flour and regular flour. One of the big differences I have found is the almond flour cookies can break apart a bit more, but that is a small price to pay for a great ketogenic cookie. We love this kind of Almond Flour; you can find out more by clicking here.
Use Monk Fruit Sugar – We really love monk fruit sugar. We find it works well in most recipes. We recommend Lakanto Monkfruit Sugar; this is one of our favorite monk fruit sugars. You can find out about Lakanto Monkfruit sugar by clicking here.
We Crush Our Own Almonds – We crush our own almonds as I personally like how all the pieces are of different sizes. If you want to buy Almonds so you can crush them yourself, click here to see our choice. You can consider these diced almond pieces by clicking here. If you do not like almonds, you can also consider using pecan pieces. Here are some pecan pieces you can consider to buy by clicking here.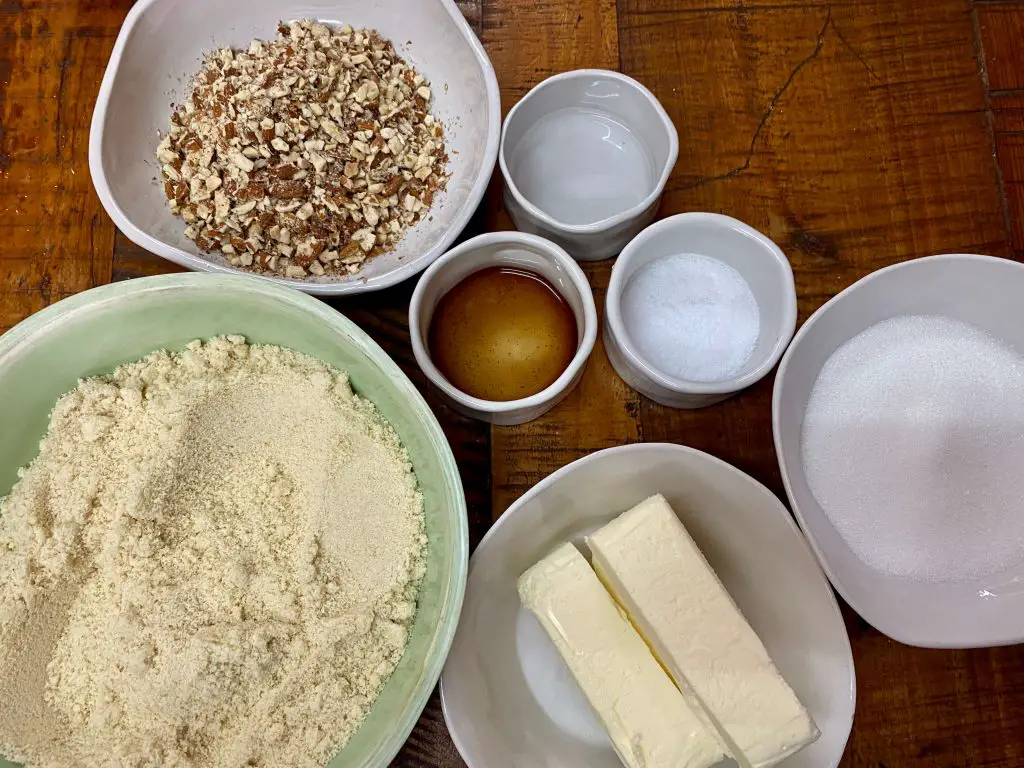 The Keto Shortbread Cookie Basic Ingredients
Like any good cookie, you should use real ingredients. Here are some of the fresh ingredients we used:
Butter – Use real butter and not fake butter or margarine. This recipe should only be made with good quality butter. We actually make them with a high quality French butter.
Vanilla – Use good quality vanilla. We really love Mexican Vanilla, so try to buy good quality as this Blue Cattle Truck Trading Co. We have used a lot of their vanilla. You can find out more by clicking here.
Water – We add some water into the batter at the end to ensure everything will mix really well.
Salt – If you like a cookie with a bit of a salty taste, do not be afraid to add more salt. Most of the time, I will add extra salt to this recipe.
Tips to Baking the Best Keto Shortbread Cookies
We have made these cookies and experimented with these cookies a lot. Here are some of the tips for things we have found that really work for us.
Things to remember for the best keto shortbread cookies:
Start with mixing the butter, sugar, and vanilla – It is best to start to cream together the butter, monk fruit sugar, and vanilla.
Add in flour and salt – Then add in the almond flour and salt. You may find it is a bit dry at this stage but mix it as well as you can.
Add in some crushed nuts (optional) – If you want to have some crushed nuts in your cookie then at this stage you can add some in,
Add some water – At the very end, we will add a bit of water, start with 1 Tablespoon, and add other Tablespoons as needed. The idea is to help it be wet so that it will roll well.
Roll out into a log – We find it easier to roll this out in a log. This makes it easy to cut the cookies after they have been frozen. We use plastic wrap for our log, but also find that the baking parchment paper also works well.
Freeze the cookie dough – We will put the cookies in a freezer until they are hard. If you want you can leave them there overnight and bake them the next day. The freezing of the cookies makes it easy to cut the cookie dough.
Do Not Over Bake – Do not over bake the cookies. I find these cookies taste better when they are not over baked. You should bake them at 350 degrees for about 8 to 10 minutes or until slightly golden on the edges.
Store in a freezer or refrigerator – We find that these cookies store very well in the freezer or refrigerator.
The Best Keto Shortbread Cookies Recipe