Vietnam has become a trendy place to travel, as many travelers have discovered what a wonderful place to visit. Tourism and arrivals of foreigners are increasing every year. It is expected tourists will continue to rise significantly over the coming years.
Visitors coming to Vietnam must organize and look at a Vietnam travel visa before entering Vietnam. There are several ways to obtain a Vietnamese visa 1) through the Vietnamese Embassy, 2) online through an agent, or 3) a visa at the border. In some circumstances and for some nationalities, Vietnam also offers visa-free exemptions.
Table of Contents
Most of what I am writing about in this blog applies to Vietnamese Tourist visas or basic Vietnamese business visas where you are coming in to do some work for a few days or a week. A work permit in Vietnam is not the same as a tourist visa. The company you are working for should be able to help you get a working permit.
Vietnam is constantly changing its visa policies. Many times the authorities will change them without any notice. Before you go to Vietnam and get a visa, please talk to the Vietnamese authorities to get the most current visa information.
What Do You Need To Know About The Vietnamese Travel Visa?
Almost every visitor to Vietnam must ensure they have a valid visa to Vietnam before they can enter the country. The airlines check this very carefully and will usually not allow you to get on the plane if you do not have a proper visa. So having a proper visa or documentation is very important, and you must check carefully before traveling to Vietnam.
To get a Vietnamese Visa, you must ensure you have the following:
Your passport must be valid for at least 6 months. You must have a passport that is valid for at least 6 months. If it is under 6 months, you will probably be denied a Visa until you can get a new passport.
Enough pages in your passport – You must also have enough pages. Please note that a Vietnam Visa will take up an entire page of your passport. So you must have at least two full-page free, one for the visa and one for the entry and exit stamps. Having at least a couple of empty pages would be better, so there is no question or problem when you get to Vietnam.
Fill out your forms with a blue or black pen – Fill out your forms for a visa with a permanent blue or black pen. Do not use a red pen or a pencil. Make sure you also write as clearly and thoroughly as possible so that they can read the forms and do not have to come back to you as they cannot read the form or essential information is missing. This will make the time to get a visa much longer than it should be.
Proper Size Passport Photo – Make sure you have an adequate passport photo with the required background. Check the visa applications carefully.
Visa Regulations in Vietnam Can Frequently Change
In Vietnam, the regulations governing travel are subject to frequent and sometimes rapid changes, which can shift from day to day and week to week. We strongly advise thorough research and vigilance regarding the latest travel restrictions and visa requirements before planning your visit to Vietnam.
I have witnessed situations at the airport where individuals arrived with invalid visas, and despite their appeals, Vietnamese authorities compelled them to return to their point of origin.
Therefore, it is imperative to meticulously verify your visa status before boarding a flight to Vietnam. It's worth noting that even some airlines may not have comprehensive knowledge of these regulations, and potential issues may not become apparent until you arrive in Vietnam.
How To Get A Vietnamese Travel Visa?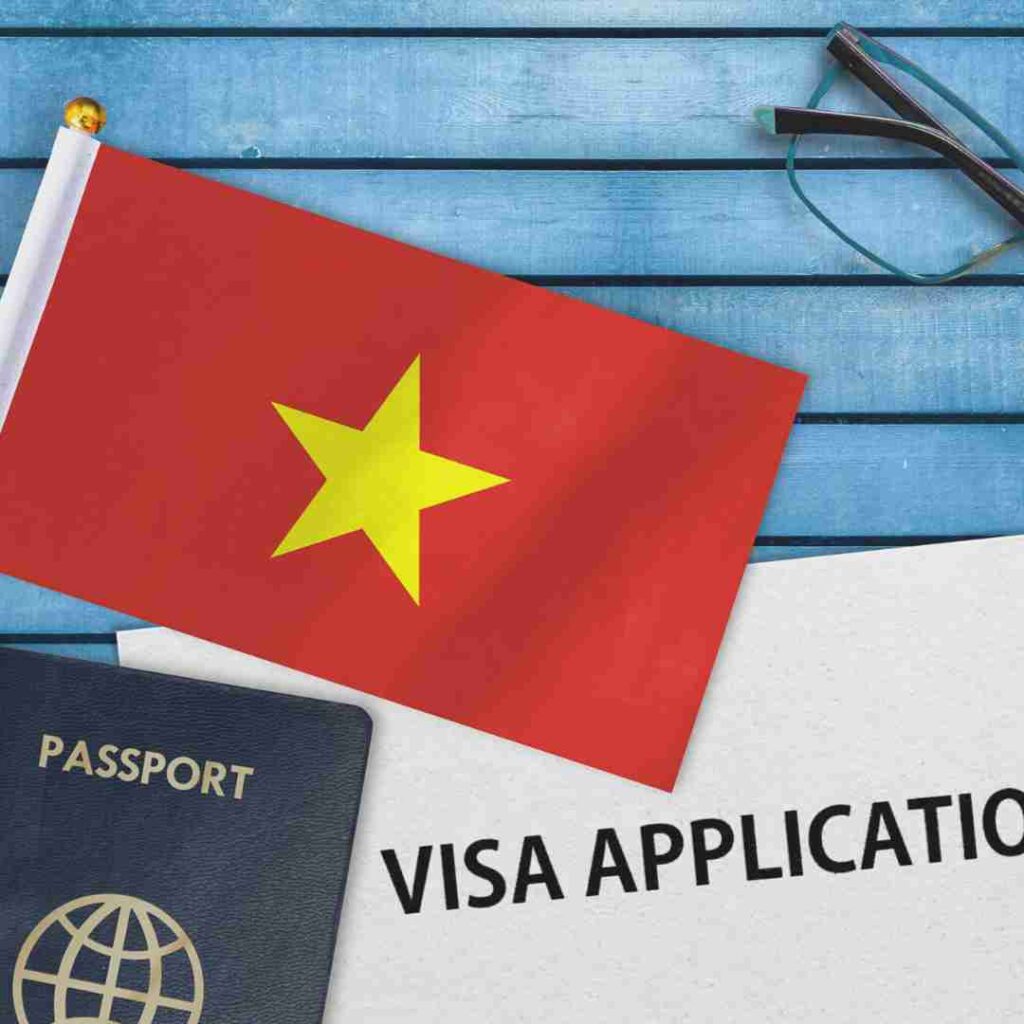 There are a few ways to get a Vietnam visa before traveling to Vietnam. Here are the ways:
Visa from a Vietnam Embassy or Consulate Aboard. – The Vietnamese Embassy will issue a Vietnamese Visa. The time it takes to issue the visa will depend greatly on the Embassy or the Consulate. For the Vietnam Embassy in the United States, you can click here to go to their website. The Embassy has some specific instructions on how you can get a visa from them.

Visa Service – If you want to have a visa in hand before you go to Vietnam but do not want the hassle of dealing directly with the Vietnamese Embassy, you can also use a 'Visa Service to help you get a visa. Most countries will have this kind of service, but one that does this in the United States is API. You can find out more about their service by clicking here. Recently in Vietnam, they have cracked down on some of these visa services so make sure you choose one that is approved by the Vietnamese embassy.

Vietnamese Visa on Arrival. – Vietnam offers a Vietnamese visa on arrival at an international airport. Many people now use this method. You apply for your visa online and pay a fee. Then you get your visa when you arrive at the airport. To learn more about the regulations on obtaining a visa on arrival, see our section below called "Vietnamese Visa on Arrival.
Vietnamese Travel Visa Exemptions
Some people are exempt from having to get a Vietnamese visa. They are:
Diplomats and Official passports will need to apply for a Visa but do not need to pay the fee. Generally, they should apply directly to the Vietnamese Embassy. And through other official channels.

Former Vietnamese Nationals and their spouses and children – If the US or another foreign national was born in Vietnam, they could be exempt from paying for a visa. This will also be extended to their children and their spouses. But this must all be handled before you travel to Vietnam. You can read more about what documents you will need and what you must submit by clicking here to see this page on the U.S. Vietnamese Embassy Website. Here is the list of the Vietnamese Embassies in each country; you can view the website by clicking here. If you are Vietnamese or your parents were Vietnamese, we strongly suggest that you contact the Embassy directly about this kind of special visa.

APEC (ABTC) Card Holders – Some members of the Asia Pacific Economic Cooperation do not need to pay some Visa Fees. But there are other rules about the length of your stay and when and how often you can travel back and forth using the APEC card. For example, you can only come back after you have been out of Vietnam for 30 days. So if you have a business here and need to go in and out frequently, this would not be a good option for you as there are restrictions on how often you can go in and out. You can read more about this by clicking here. Before using this option, I also strongly advise that you check with the Vietnamese Embassy in your home country to be sure of this, as, in my experience, things in Vietnam can sometimes change quickly, and you do not want to be caught off guard.
Vietnam Allows A Visa-free Status On Some Tourist Visas For Some Countries.
Vietnam has an agreement to allow some country nationals and its citizens to have a visa-free status on a tourist visa for a certain amount of days of entry. Please note this is not a business visa exemption but a tourist visa exemption. If you come here on business, you should still get a business visa. Of course, you will need a valid passport that is valid for at least 6 months for you to enter Vietnam.
Here are the countries' nationals that are allowed to come in visa-free:
| | |
| --- | --- |
| Countries | Maximum Days of Stay |
| Chile | Less than 90 days |
| Cambodia | Less than 30 days |
| Indonesia | Less than 30 days |
| Kyrgyzstan | Less than 30 days |
| Laos | Less than 30 days |
| Malaysia | Less than 30 days |
| Singapore | Less than 30 days |
| Thailand | Less than 30 days |
| Philippines | Less than 21 days |
| Belarus | Less than 15 days |
| Denmark | Less than 15 days |
| Finland | Less than 15 days |
| France | Less than 15 days |
| Germany | Less than 15 days |
| Italy | Less than 15 days |
| Japan | Less than 15 days |
| Norway | Less than 15 days |
| South Korea | Less than 15 days |
| Spain | Less than 15 days |
| Sweden | Less than 15 days |
| United Kingdom | Less than 15 days |
| Russia | Less than 15 days |
| Brunei | Less than 14 days |
| Myanmar | Less than 14 days |
As things can always change quickly in Vietnam, I strongly advise that before you travel to Vietnam from one of these countries on a visa-free tourist visa, you call the Vietnamese Embassy in your home country to ensure that nothing with the Tourist Visa exemption has changed. You can find a list of Vietnamese Embassies worldwide by clicking here.
Make Sure You Have A Proper Vietnam Travel Visa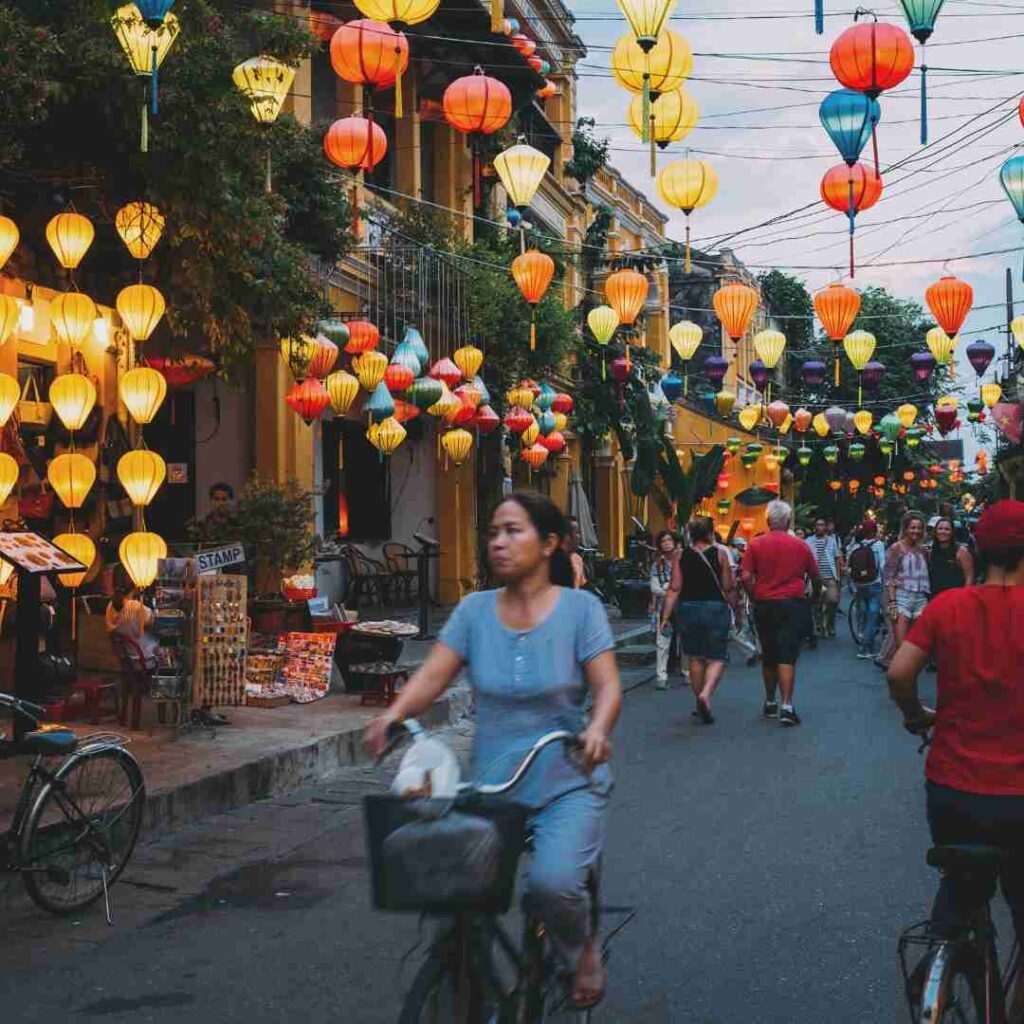 Before you travel to Vietnam, you must ensure that your visa is valid and all the paperwork is in order. I have known people who have gotten on an airplane to Vietnam and been turned away at the border because their paperwork was not in order or their visa was invalid.
You must make sure of the following with your visa:
Visa is Valid – Your visa must be valid, or you must be from a country that allows you to come on a visa-free tourist visa.

The date is confirmed – You must also be sure the date is confirmed and not past or over, or you are too early. I have also known people who were denied entry because of this.

6 Month Validity and Pages left in the passport – You must have a valid passport for at least 6 months, and there must be pages left in the passport. If you are close to this 6-month mark or have only 1 page left, I would get a new passport or get in new pages to be safe.

Make sure your passport is not damaged or looks invalid in any way – Make sure your passport is not damaged or looks invalid. It is always good to keep your passport safe and clean. I like to keep mine in a passport case.
Vietnamese Travel Visa On Arrival
Vietnam offers a service where you can get a visa at the border. This is a very convenient way to get a visa. But the visa must be approved before you come to Vietnam.
Many Vietnamese agents offer this service online. I understand there have been incidents where some agents have stolen personal details from their clients.
We have never had this experience, but we use a company called Vietnam Visa Tour and have never had a problem with them not getting the visas we needed promptly or any issues with stealing information or the visa itself.
I have had friends who were not allowed back into Vietnam as the visa companies issued a fraudulent visa. Before choosing a Vietnamese agent to help you with the visa, I would read the reviews to see if there are any major complaints or bad reviews.
I find getting a visa at the border convenient, and we also recommend this a lot to our friends and customers. If you choose to get a visa at the border, please note all the other visa requirements as the passport being valid, having at least 6 months validity, and other information also apply.
Normally when you get your visa approval letter from the agent, there may be a list of other names you do not know on the letter. You can ignore those as that is a common practice, as they will get the visa approval for a group of people all at once.
This will not affect your visa in any way. The only thing you need to be concerned about and check is that your name and information are correct and that the letter has the red stamp on it and is signed.
You will also need to ensure that before you board the plane, you have the following with you:
Copy of your visa approval letter – If you are getting a visa at the border, you must bring a copy of your visa approval letter. Without this letter, you probably will not get on the plane if you cannot show the proper approval letter. You need to have the approval letter printed and not just a digital copy with you. 

Vietnam Visa Application Entry Form – You need to fill out a Visa form to give to the Visa desk when you arrive with your passport and visa letter. Most Visa agents should give you a copy of this form that you can print and fill out. You will give the visa counter this form when you submit your visa application.

Passport-sized Photo – It is good if you can bring a passport-sized photo. If you do not have one, they will charge you to take your photo, so it will save you the hassle if you have one.

United States Dollars For The Visa Fee – It is best to have United States Dollars for the Visa stamping fee you must pay at the airport. I have found it is best to have the exact change, so there is no problem. You cannot use a credit card at the border, so come prepared to pay in cash.
Chinese citizens cannot get a visa on arrival. If you have any questions or want to know if this has changed, please get in touch with the Vietnamese Embassy or consulate in China. All Chinese visitors should have a valid visa before trying to enter Vietnam,
The visa on arrival counter is not the same as the Vietnamese immigration. When you get your visa on arrival, you need to do the following steps:
Step 1 – Line up to submit your passport, visa letter, and other paperwork. First, you must line up at the counter to turn in your passport, visa letter, visa application entry form, and other paperwork. Sometimes these lines can get long if several planes have arrived simultaneously.

Step 2 – Wait – You must wait for your name to be called. Depending on how many people there are, this can take 10 or 30 mins. It depends on how busy they are; most airports I have seen in Vietnam have seats you can sit down to wait.

Step 3 – When your name is called, pick up your passport and pay the stamping fee – When your name is called, go to the counter they called your name from (not the same counter you turned your passport into) to pick up your passport and then pay the stamping fee. They will give you an official receipt. Also, check your visa to make sure all is in order.

Step 4 – Go through immigration – When you get the visa at the border, you still need to go through the immigration process. There is no express line for those who got their visa, so you must wait with everyone else.

Step 5 – Check your stamp – Once you leave the immigration queue, check to ensure your stamp, visa, and everything else is in order.
No matter where you travel in Vietnam, you must show them your passport and visa stamp and be registered with the police to stay overnight. A hotel will always ask you for a copy of your passport, and they will usually take a photocopy of your passport page and the visa. Even if you stay with a family member or friend, they should register you with the police.
Which Airports In Vietnam Allow You To Get A Vietnam Travel Visa At The border?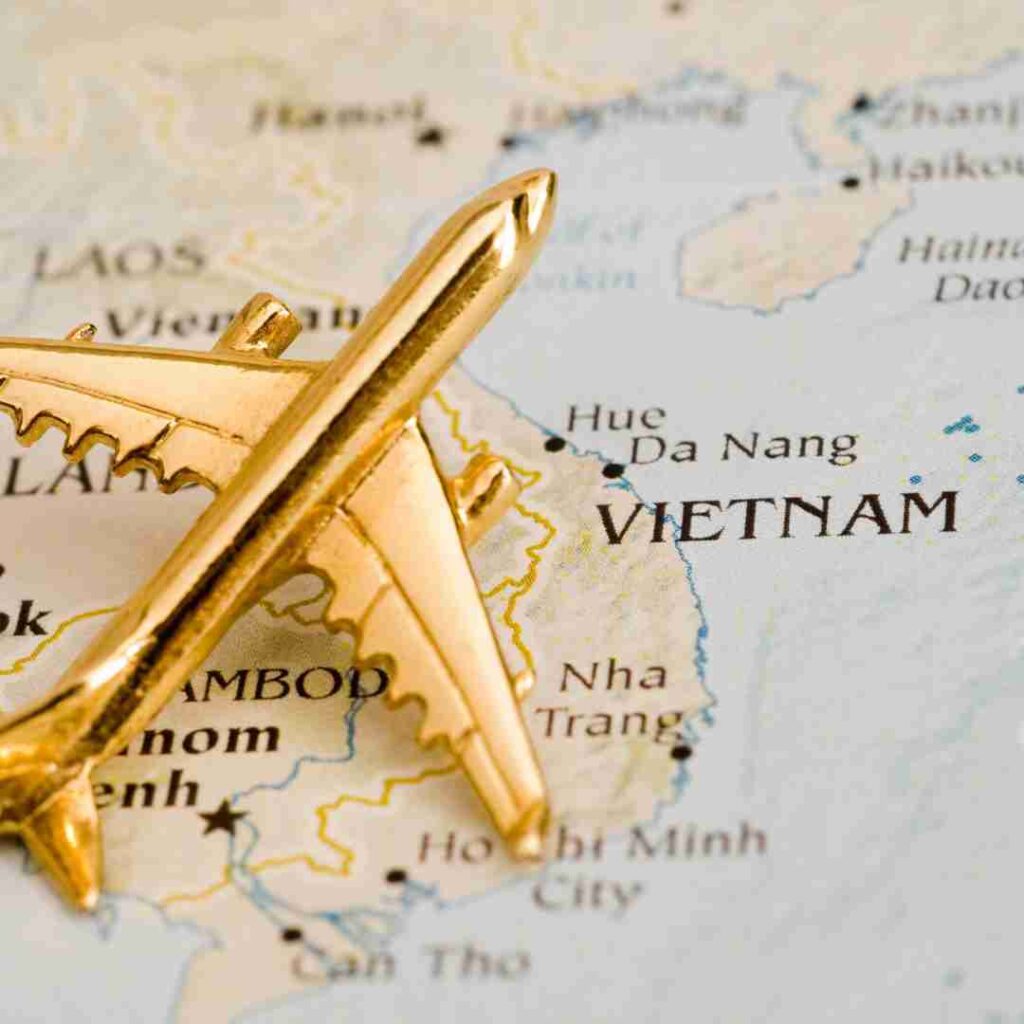 Only 4 airports in Vietnam allow you to get a visa at the Vietnam border. The airports are:
Tan Son Nhat International Airport – Ho Chi Minh City
Noi Bai International Airport – Hanoi
Da Nang International Airport
Cam Ranh International Airport (Nha Trang)
Vietnam will frequently change its policies and procedures, so please check the authorities' information regarding what airports allow visas.
Traveling To Vietnam Via Overland Borders
If you are traveling to Vietnam through one of the overland borders from Lao, Cambodia, or China, you must have your visa organized before crossing the border. You cannot get a visa on arrival at the border.
Any travel overland to Vietnam will need to be sure to get your required visa before you travel into Vietnam. You will not be allowed to come in without it.
Never Overstay On Your Vietnam Travel Visa
Some foreigners think it may not be a big deal if they overstay their Vietnamese visa. But in Vietnam, this can be a huge problem. You could have a hard time getting out of the country or have to pay a fine, or you could be blacklisted from coming back in. So it is best not ever to overstay your Vietnam visa.
If something has happened here as you are in the hospital, you had to stay there longer than expected, then talk to the hospital about this before you are ready to leave Vietnam to help you with this. If you deal with it before you leave Vietnam, it is usually Ok, but if you go to the border hoping no one will notice, you will be in trouble.
If you do get sick when you are in Vietnam, you can click here to read our blog about Guide to Emergency Medical Care in Hanoi, by clicking here:
How To Travel Anywhere in Vietnam
Upon arriving in Vietnam, you'll discover a truly enchanting destination for your travels. We highly recommend exploring the country from either its northern region down to the south or vice versa, ensuring you immerse yourself in the captivating countryside along the way.
If you're seeking efficient ways to navigate Vietnam, we suggest referring to the Book a Way website. This platform offers valuable insights and clear guidance on traveling between various locations within the country. To learn more about their services, simply click on the link provided below.
Vietnam is a beautiful place to visit. It is truly a fantastic country that continues to see a significant increase in visitors yearly. To ensure the most enjoyable journey, take the first correct steps to enter Vietnam with the proper visa and documentation.
At A Bus On A Dusty Road, we discuss travel, life, and ex-pat living. We are all about "Living Life As A Global Citizen." We explore social, cultural, and economic issues and travel.
We would love to have you be part of our community. Sign up for our newsletter to keep up-to-date by clicking here. If you have any questions, you can contact me, Anita, by clicking here.
Listen to our Podcast called Dusty Roads. You can find it on all major podcast platforms. Try out listening to one of our podcasts by clicking here.
Subscribe to our A Bus On A Dusty Road YouTube Channel filled with great videos and information by clicking here.
Related Questions:
Is Vietnam safe to travel?
Vietnam is not only a wonderful place to travel but is also usually very safe. There are some precautions that all travelers should take, like watching out for pickpockets or some other petty crimes.
To find out more, you can read our blog entitled, Is Vietnam Safe to Travel, Alone, What You Need to Know by clicking here.
Where should I travel to when I get to Vietnam?
There are so many amazing places to travel to when you get to Vietnam. This list is incomplete, as there are so many amazing places to see. But here are some of my favorite places to visit in Vietnam:
Hanoi is – Wonderful quaint city with streets that are always bustling. This is also a foodies' paradise.
Ho Chi Minh is – The heartbeat of Vietnam in that it is the largest city in Vietnam. Outside the city, the Mekong Delta is very nice.
Hoi An – is located in the Central part of Vietnam, and this is the sister city to Danang, but it is a bit more quaint than Da Nang. Lots of great old temples in the area and wonderful beaches.
Ha Long Bay – Truly not to be missed to see the amazing mountains coming out of the ocean. Go into some caves or even kayak under some of the mountain formations,
Sapa or Hill Tribe Areas – One of my favorite things to do and see in Vietnam is the vast number of ethnic minorities and their amazing culture.
To discover more about traveling to Vietnam, you can read our blog, Insiders Guide – 32 Tips for First-Time Travelers to Vietnam, by clicking here.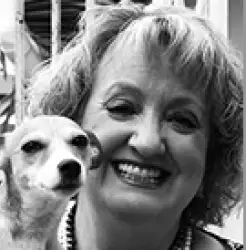 Latest posts by Anita L Hummel
(see all)