Vietnam is a wonderful country. More and more people are beginning to discover Vietnam's magnificent land and culture.
Vietnam is also a wonderful and exciting country to visit. For a first-time visitor to Vietnam, we have compiled 32 Vietnam travel tips for the first-time traveler to Vietnam. These 32 travel tips will help ensure you have the best trip possible.
Our 32 travel tips to help you have the best trip possible:
Tip 1 – Make sure you have a proper visa to visit Vietnam
The first thing you need to do is to ensure you have a proper visa to get into Vietnam. Most countries require a visit. To find out if you will need a visa for your visit here, it is best you contact the Vietnamese Embassy of your home country or read our blog entitled Vietnam Travel Visa, What You Need to Know Before You Go by clicking here. This blog goes into further detail on all the different ways you can obtain a Vietnamese Travel Visa.
If your schedule is flexible as to how many days you will stay in Vietnam. I would ensure you get a visa that will allow you some extra time here, as Vietnam is truly an amazing place to travel and visit.
Tip 2 – Learn about the Vietnamese culture before you go
Before you go to Vietnam, learn a bit about Vietnam's culture and heritage. Not only will it give your trip so much more meaning, but you will also understand what you are looking at and why when you visit Vietnam.
I love to watch movies and feel that you can learn a lot about history and culture with the right movies. Some of my favorite movies about Vietnam are:
Indochine (1992) – This is a wonderful French film that is based on the life of a French Plantation owner in Vietnam and her adopted Vietnamese daughter. This film takes place during the French colonial era of Vietnam.
Good Morning Vietnam (1987) – This is a classic film about Vietnam during the Vietnam war era.
Heaven and Earth (1993) – An Oliver Stone film that is based on the life of a Vietnamese woman during the Vietnam war, Shows that all sides really suffered during the war.
Three Seasons (1999) – This is a movie that shows the forces of change that were taking place in Ho Chi Minh. This film explores the past, present, and future of Vietnam.
Though most of these films are now older, many still show Vietnam's history and suffering. This will help you better understand Vietnam today.
Tip 3 – Learn about 'Vietnam's History before you travel to Vietnam
Take the time to learn about Vietnam's history before you travel to Vietnam. If you can understand the history, then you will understand that Vietnam was under the Chinese for about a thousand years. so when you see the Chinese style writing on an old building, you will understand why.
Two blogs that we recommend you read about the history of Vietnam are below.
After reading both of these blogs you will know a lot about Vietnam's history. As I read the history of Vietnam, one thing that stands out to me is how much the Vietnamese suffered and how much they endured.
If you are in particular interested in the Vietnam or America War as it is called in Vietnam. There is an outstanding and complete PBS documentary series by Ken Burns and Lynn Novack called The Vietnam War. You can buy the DVD by clicking here, You can also watch it free with a Netflix subscription or buy it on Amazon to watch on Amazon Prime. You can also read or listen to the book by Geoffrey Ward on which the Vietnam War PBS documentary series was based. You can buy the book by clicking here.
Tip 4 – Understand your medical care options before you travel to Vietnam
No one wants to get sick, especially if they are on holiday to another country. but just in case, it is good to understand your medical care options in case you get sick or injured in Vietnam. You can read our blog entitled Guide to Emergency Medical Care in Hanoi, which will give you some suggestions or places you can contact for Medical care along with an overview of some of the medical care in Vietnam. You can read the blog by clicking here.
Tip 5 – Get a Rabies shot and ensure other vaccinations are up-to-date
The Centers for Disease Control and Prevention (CDC) recommends getting some vaccination shots and having all your routine vaccinations up-to-date before you travel to Vietnam. You can read their directive by clicking here.
Here are the shots they recommend:
| | | |
| --- | --- | --- |
| All Travelers | Most Travelers | Some Travelers |
| Measles | Hepatitis A | Japanese Encephalitis |
| All Routine Vaccinations (see below) | Typhoid | Hepatitis B |
| | | Malaria |
| | | Rabies |
The CDC lists the routine vaccinations as the measles-mumps-rubella (MMR) vaccine, diphtheria-tetanus-pertussis vaccine, varicella (chickenpox) vaccine, polio vaccine, and your yearly flu shot.
I would also add rabies to the All Travelers list, as I had a dog nip me on the leg while walking down the street. I was not hurt very badly, but the Vietnamese owner of the dog could not show me the booklet that showed their dog was rabies-free and had a rabies shot.
Because of this, I had to get a series of rabies shots here in Vietnam. It is possible to get the shots here, but it will take time from your trip for you to do it here. Also, finding the rabies shot was not that easy, I had to go to a special clinic.
If you are out in the countryside, you may need to rush back to Hanoi or Ho Chi Minh to get the shot, so I suggest you also be sure your rabies vaccinations are up-to-date when you travel to Vietnam. Not all dogs here are rabies-free.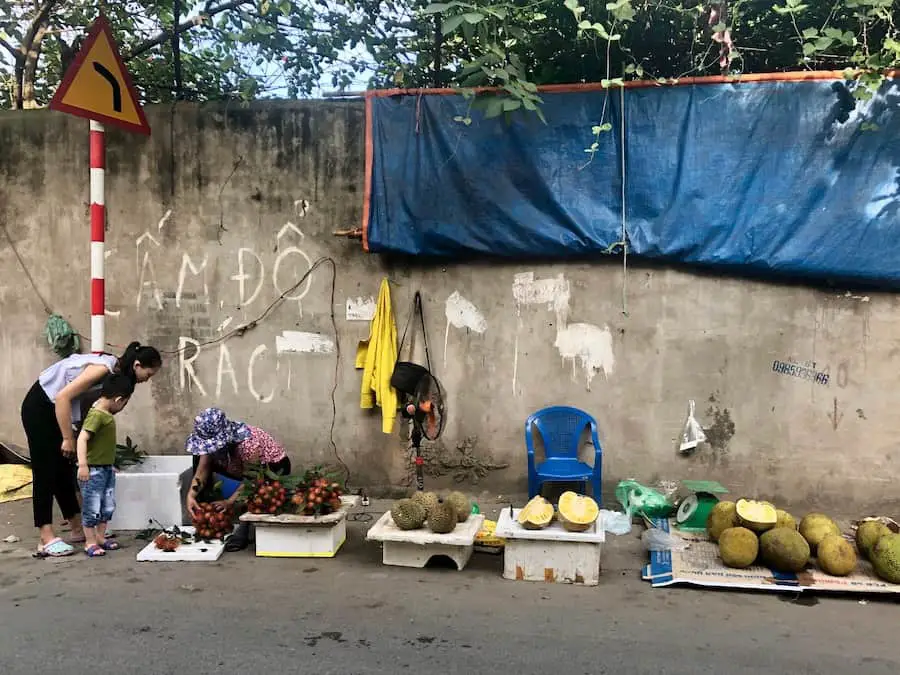 Tip 6 – Vietnam is a relatively safe country to travel
Vietnam is a relatively safe country to travel around. The Vietnamese are also very friendly and helpful. The main thing you need to be concerned about when you travel around Vietnam would be things like pickpockets or petty crimes.
You can read our blog entitled Is Vietnam Really Safe to Travel Alone. What You Need to Know to find out more information and tips on how to be safe during your Vietnam travel, please click here to read the blog.
Tip 7 – Transport from the airports in Vietnam is easy
When you arrive at any of the International Airports, it is quite easy to get a taxi. Most airports have a taxi stand right outside the airport terminal.
As you walk out of the International terminal, Hanoi has a taxi stand right to the left. Just follow the signs or ask someone where the taxis are.
People may come to you and ask you if you want a ride. I would not take a ride from them as you are sure who they are.
If you want to use a private car service then download the Grab App and get a Grab taxi to take you. That way the price is already set for you and know the driver is a Grab driver. You can download the app by clicking here.
Many times the taxis will try to tell you what price they will charge, I find this happens especially if it is late at night and they figure you may have no choice but to accept their price. When this happens, I may then go to another taxi or I will insist that they will turn on the meter and I will just pay the meter fee.
For those drivers that try to get me to pay more, I usually do not tip them. But, if I feel the driver has been very good or helpful, I will give them a small tip.
Tip 8 – Understand the currency of Vietnam
When you change 100 USD into the Vietnamese currency, which is the Vietnamese Dong, you will become a millionaire. 100 USD is about 2,300,000 dong. So when you get the Vietnamese money exchanged you will get this huge wade of cash that may seem like a lot.
Below are listed the Vietnamese bills you will get and their approximate USD and Euro value. These amounts are just estimates as, like all currencies, the exchange rate can change frequently.
A great app to download so you can check the exchange rates on your phone or Ipad is Xe.com. You can download the Xe-Com App by clicking here.
The bills from the Vietnamese currency from smallest to largest and what their approximate value is:
| | | |
| --- | --- | --- |
| Vietnamese Currency Value | Approximate USD Value | Approximate Euro Value |
| 1,000 Dong | 0.04 Cents | 0.038 Euros |
| 2,000 Dong | 0.08 Cents | 0.077 Euros |
| 5,000 Dong | 0.21 Cents | 0.19 Euros |
| 10,000 Dong | 0.43 Cents | 0.38 Euros |
| 20,000 Dong | 0.86 Cents | 0.77 Euros |
| 50,000 Dong | 2.15 USD | 1.94 Euros |
| 100,000 Dong | 4.30 USD | 3.99 Euros |
| 200,000 Dong | 8.61 USD | 7.77 Euros |
| 500,000 Dong | 21.53 USD | 19.43 Euros |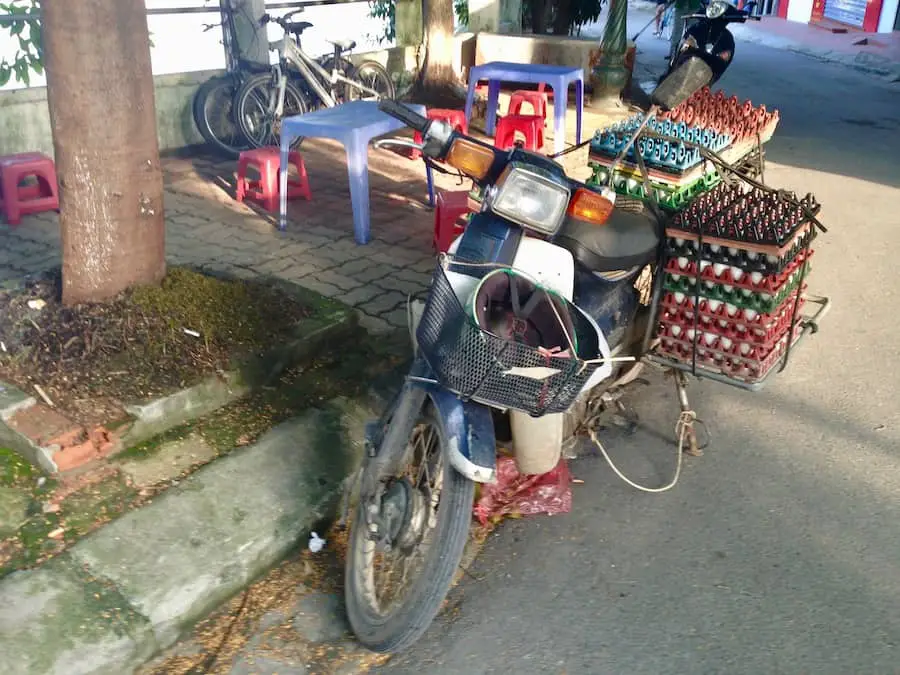 Tip 9 – There are many banks and ATMs in Vietnam so withdrawing or exchanging money is easy.
Vietnam has a lot of foreign banks and many ATMs. It is usually easy to withdraw money from ATMs. There are usually several ATMs at all International airports. There are also money exchange places at the airport. Hotels will also usually change money.
Besides the hotels, there are a lot of western banks in Vietnam. If you are unsure where to go to exchange money, you can ask your hotel where the nearest bank is or simply have them exchange the money for you.
Tip 10 – You can usually buy a phone card at the airport in Vietnam
There is usually a stand at all the international airports that will sell you a phone or wifi card. I like to do this whenever I travel so that I have a local number and can use the local wifi. When you get out of immigration check around for a sign that says "Sim Card" or "Phone Card.'
Tip 11 – Each place you stay will need to register you with the police and show your passport in Vietnam
When you come to Vietnam, each place you stay at the hotel will need to take a copy of your passport and visa. They will usually photocopy it.
This is because they need to show this to the local police in the area. Know that this is a common practice and nothing to be alarmed about.
Tip 12 – Traffic is hectic throughout Vietnam
Traffic here in Vietnam can be very hectic. Motorcycles can go all over the road, and people will even go the wrong way down the road or ride on the sidewalks. If you are planning to drive or ride a motorcycle or bicycle here, you need to understand that traffic can generally be very hectic here.
But even though traffic is hectic many of the drivers do look for people who are coming down the street or who are out on the road. But some drivers will also drive extremely close to you, which can be very scary or go very fast.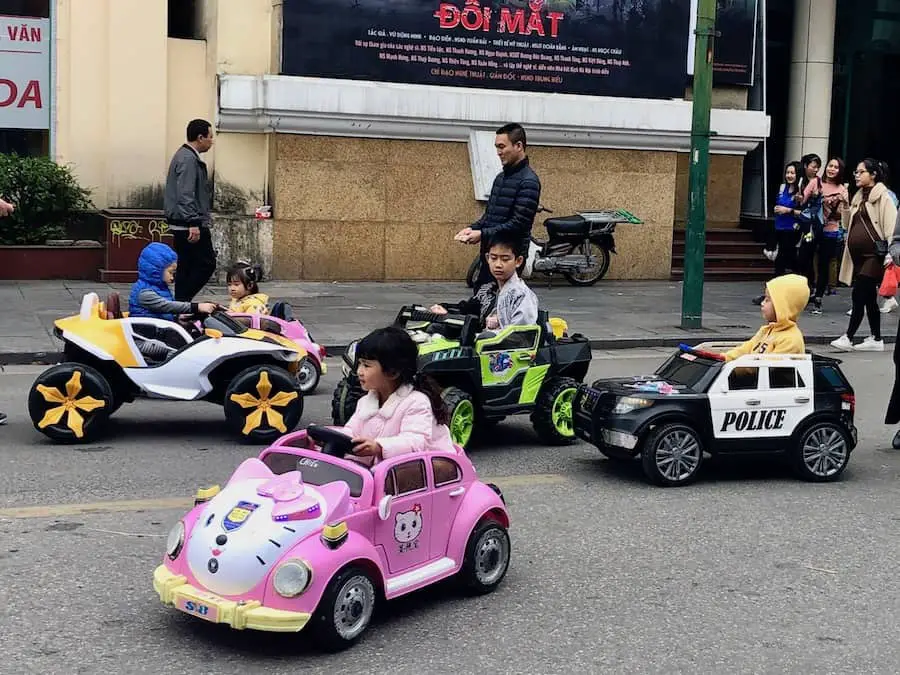 Tip 13 – Be careful when you cross the road in Vietnam
Wait until a traffic light is red instead of jumping out into the traffic. But also know that many cars and motorcycles may go right through a red light.
When you cross the road in Vietnam, be careful as I have known people who have gotten hit as they tried to cross the road here. When you see the road is open for crossing, look around and ensure that there is room and space for you to cross the road. Also, try to use the marked crosswalks or overhead walkways.
Tip 14 – Transportation is easy in Vietnam
Getting around Vietnam is quite easy. Airports, trains, and buses can go a long distance. Some of the buses like the minibusses that go up to Sapa, have large seats, so the ride is quite comfortable. Airlines are usually quite good. Many of the planes are flown by western pilots.
There are also a lot of taxis, buses, motorcycle taxis, and car rental services in the cities. An app that a lot of people use is Grab, as you can order a car, motorcycle, or taxi. You can download the Grab App by click here. Vietnam did have Uber, but now Uber and Grab have combined their services.
Tip 15 – The Vietnamese are very nice
The Vietnamese are generally very nice, making traveling here a very nice experience. Of course, there is always exception, but in all my years of traveling around Vietnam, I have found people to be very helpful and kind.
If you fall off your bike, which has happened to me a few times, random Vietnamese strangers will run over to ensure I am OK and not hurt. If you need directions, they are usually very helpful with directions.
Tip 16 – Weather can change quickly in Vietnam
The weather in Vietnam can change very quickly. You may wake up in the morning, and it is hot and sunny outside, but before noon the temperature drops, and a huge monsoon rain has started. So be prepared for the weather to change. Have an umbrella or rain poncho or clothes that you can quickly layer.
Because the weather changes so quickly, you see that every motorcycle usually has a rain poncho in the cabinet under the motorbike seat. The reason is that they know the weather can change quickly.
Tip 17 – Ha Long Bay, Vietnam is worth it seeing.
Ha Long Bay is worth going to see. There are a lot of tour companies that offer a tour to Ha Long Bay. You can choose from a day tour to a few days tour. But whatever amount of time you choose to take, Ha Long Bay is worth going to see.
Tip 18 – Sapa Vietnam is great to visit.
One of my favorite things to do in Vietnam is to see Ethnic minorities. Sapa is a great place to see how a large part of the population in Vietnam lives. One of the main minorities in Sapa is the Hmong. Many tour companies offer tours to see some of the Hmong villages.
A travel guide in Sapa that we recommend is Ethos Travel. They have a lot of great tours. You can find out more about their tours by clicking here. They not only have tours in Sapa but in also some very remote areas outside Sapa.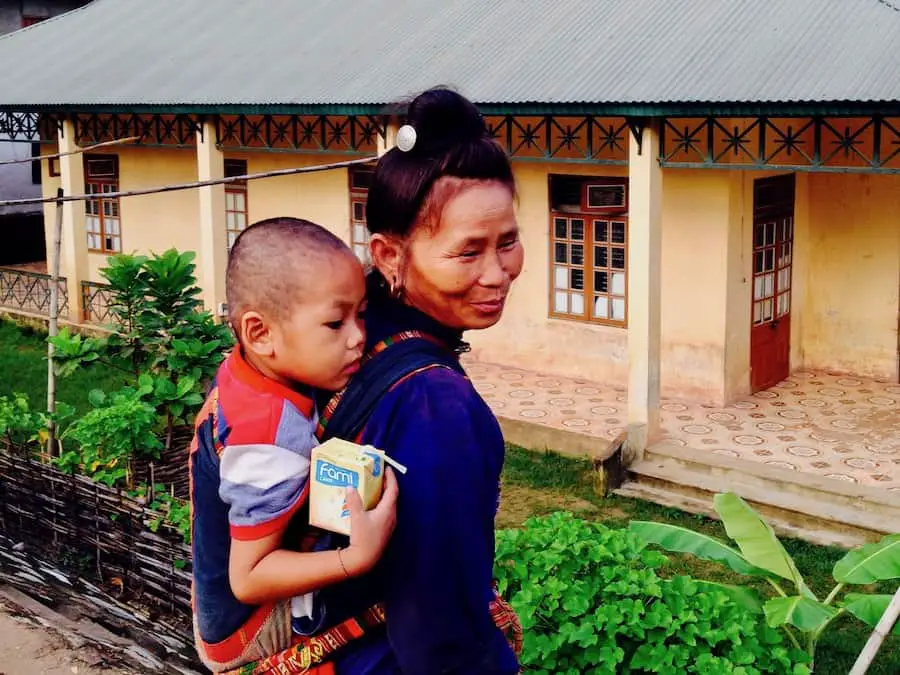 Tip 19 – For a great beach holiday, try Hoi An, Vietnam
But Hoi An also has a fabulous old town that is filled with wonderful restaurants and shops. So when you are done with a day at the beach, you have a fabulous old town to also see some of Vietnam's culture.
To fly to Hoi An you will need to fly to Danang. Danang is also a great beach, but my favorite beach is in Hoi An. Hoi An has a lot of great hotels and a very nice beach
Tip 20 – For a sleepy kind of beach holiday, go to Quy Nhon Vietnam
If you want to see a sleepy beach town in Vietnam, go see Quy Nhon. This area has a lot of the original round basket boats and a lot of fishing vessels. It is not as built-up or touristy as Danang or Hoi An.
If you are interested to learn more about these amazing round basket boats in central Vietnam, you can read our blog called What Are the Round Basket Boats You See In Vietnam? You can read about these round basket boats by clicking here.
Tip 21 – Hanoi is the cultural center of Vietnam
Do not miss traveling to Hanoi, as Hanoi is the cultural center of Vietnam. Hanoi has an amazing Opera House that is a replica of the Paris Opera House. Weekly you will find amazing shows being performed at the Opera House.
There is also an old bridge in Hanoi called the Long Bien bridge that was built and designed by Gustave Eiffel, who also built the Effiel Tower in Paris.
Hanoi also has art galleries, old french buildings, and old quarters with a lot of old french shophouses and cafes everywhere. It is a great cultural center.
Tip 22 – Hanoi Vietnam has some great museums.
As Hanoi is the cultural city of Vietnam, the city is also filled with many great museums. Here are three of my favorite not to be missed museums:
Hoa Lo Prison Museum – This museum can sometimes be quite dreary as a lot of the museum is about how the French treated the Vietnamese. But there is a museum section dedicated to the American pilots who were also there during the war. Every American and French national should go there to understand more about Vietnam's history. The US Senator John Mc Cain's flight suit is in the museum.
Vietnam Museum of Ethnology – The museum of ethnology is fascinating to go see. The collections there may change from time to time, but one thing that never changes is that they have some actual examples of some of Vietnam's many ethnic minority houses.
Vietnamese Women's Museum – The Vietnamese Women's Museum is also worth seeing. They have a lot of great exhibits that show the culture of Vietnam and in particular, the women of Vietnam; They also have a lovely gift shop.
Tip 23 – Ride the golf cart or rickshaw in Hanoi Vietnam
One of the best things to do in Hanoi is to experience Hanoi on the level that many Hanoians see it every day by riding a golf cart or rickshaw through the streets of downtown Hanoi. This is a great way to get a feel for the city and see Hanoi's old quarter.
The old quarter in Hanoi is filled with wonderful old townhouses and streets that are named for the past traders that used to be on the street as Hang Bac Street (Silver Street). Hang Gai Street (Silk Street) and Hang Dao Street (Pink Blossom Street). The Old Quarter is worth going to and seeing by walking around the area and the streets by golf cart and rickshaw.
Tip 24 – Go see a Vietnamese water puppet show
The water puppet show is part of Vietnam's history and culture. As this is a part of Vietnamese culture and history, do not miss seeing one of the many water puppet shows.
To learn more about the Vietnamese water puppet show, you can read our blog on Is the Vietnamese Water Puppet Show Worth Seeing? You can read more about the Vietnamese water puppet show by clicking here.
Tip 25 – Try Ice Cream In Vietnam
The eating of ice cream is an essential part of the Vietnamese food scene. In Hanoi, on most days during the summer, you will see people lined up at local ice cream shops to eat some ice cream.
Just walk around Hanoi near the Hoan Kiem lake area or Truc Bac Lake, and you will find many ice cream places. Try out where the locals are eating ice cream and try the local ice cream for a new adventure.
Tip 26 – Vietnam is a haven for foodies
Vietnam, especially Hanoi is a haven for foodies. There are so many great restaurants in Hanoi to try. It is so popular that almost all tour guides will offer street food tours.
Also, here are some great places to go to eat:
Quan An Ngon Restuarant – is at 18 Phan Boi Chau Street in Hanoi. They have women who cook all the traditional Vietnamese food, so you can walk around and see what is being cooked up. There are a few Quan An Ngoc restaurants, but this one is the most interesting.
KOTO Restaurant – at 44 Tay Ho Road, Tay Ho, Hanoi. This restaurant is also a training restaurant where they train street or underprivileged people so they can work in excellent restaurants or hotels. This is an excellent group to support and a very worthy cause. They have delicious western and Vietnamese food.
Bun Cha Huong Lien – This is also known as the Obama Bun Cha restaurant as Pres Obama ate there with the CNN celebrity chef Anthony Bourdain. They are located at 24 P Le Van Huu, Phan Chu Trinh, Ha Ba Trung, Hanoi, Vietnam.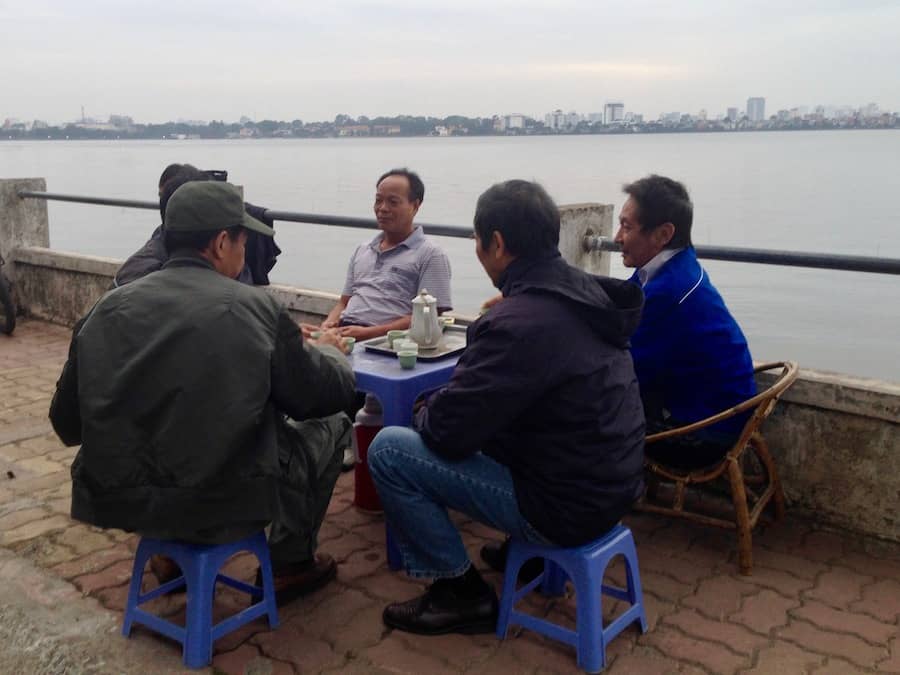 Tip 27 – Vietnamese Coffee is famous
Vietnamese love coffee, so the streets are filled with many coffee shops. You can also purchase a lot of coffee beans here.
There are many local coffee shops in Hanoi, but one of the more interesting ones is Cong Coffee, which has local coconut coffee.
Tip 28 – Visit some handicraft villages outside Hanoi Vietnam
Outside Hanoi are many handicraft villages. Many of these families have produced their handicrafts for hundreds of years. In these handicraft villages, the skills and craft have been passed down from father to son.
The most famous handicrafts villages to visit outside Hanoi are:
Lacquerware village – Lacquerware has been a Vietnamese handicraft for hundreds of years. To learn more about Vietnamese lacquerware, you can read this blog about How to Manufacture Vietnamese Lacquerware, you can read the blog by clicking here.
Bat Trang (Ceramic) Village – Across the Red River of Hanoi is the old ceramic village of Bat Trang. They have a main street filled with shops and many small ceramic manufacturers. There is also a large outdoor market where most vendors sell their products. You can take a tour to visit there or you can go there on your own and wander the streets.
Vạn Phúc Silk Village – There is also a silk village outside Hanoi that has been producing silk for many years. Interestingly, this handicraft village has taken the old wooden handlooms and put motors and jacquard punch cards on them so they can weave intricate jacquard patterns. The villages have some machines you can go to see.
Many local tour companies offer tours to handicraft villages around Hanoi and Ho Chi Minh.
Tip 29 – Ho Chi Minh is the largest city in Vietnam
Ho Chi Minh is the largest city in Vietnam, so it is, in many ways, the mainstay of Vietnam. A lot that happens in Vietnam happens in Ho Chi Minh. As it is also in the South and further away from the main seat of the Vietnamese government, some also feel it is freer, hipper, and more exciting than Hanoi. One thing for sure is that it has a lot more people and traffic.
Like Hanoi, this is a place to visit and experience. Here you will find the iconic Rex and other hotels where many Americans watched the war unfold from their rooftops. There are also a lot of museums but many of them have to do a lot with the Vietnamese War. If you like old military planes and other things, this is the place to go.
Tip 30 – Go see the Cu Chi Tunnels outside Ho Chi Minh, Vietnam
It is worth a trip outside of Ho Chi Minh City to see the Cu Chi Tunnels. These tunnels show the determination and ingenuity of the Vietnamese people.
During the war, the North Vietnamese army had built an entire community underground in these tunnels. They even had meeting rooms, hospitals, and schools. This also allowed them to disappear and move undetected by the American soldiers.
Today you can visit these tunnels, and crawl into them, and see firsthand what it was like to be in these tunnels. It is worth the trip to go out to see the tunnels and to see this essential piece of history.
Tip 31 – A trip to the Mekong Delta is interesting.
One of my favorite tours is a trip to the Mekong Delta. Once you get out to the Mekong Delta, usually you will travel by a long tail boat to see the Mekong delta area. The Mekong Delta is over 40,500 square kilometers (15,600 square miles), so it encompasses a large part of South Vietnam. The Mekong Delta is a series of waterways that eventually empty into the sea.
This area is also rich with many different interesting species of wildlife and flora. The area is a wonderful place to see some of the countryside or life out on the delta, from the people that live in the water in the delta region to a lot of the wildlife that inhabits it. When you travel to the delta region you really get a feel for some of the jungle life in Vietnam.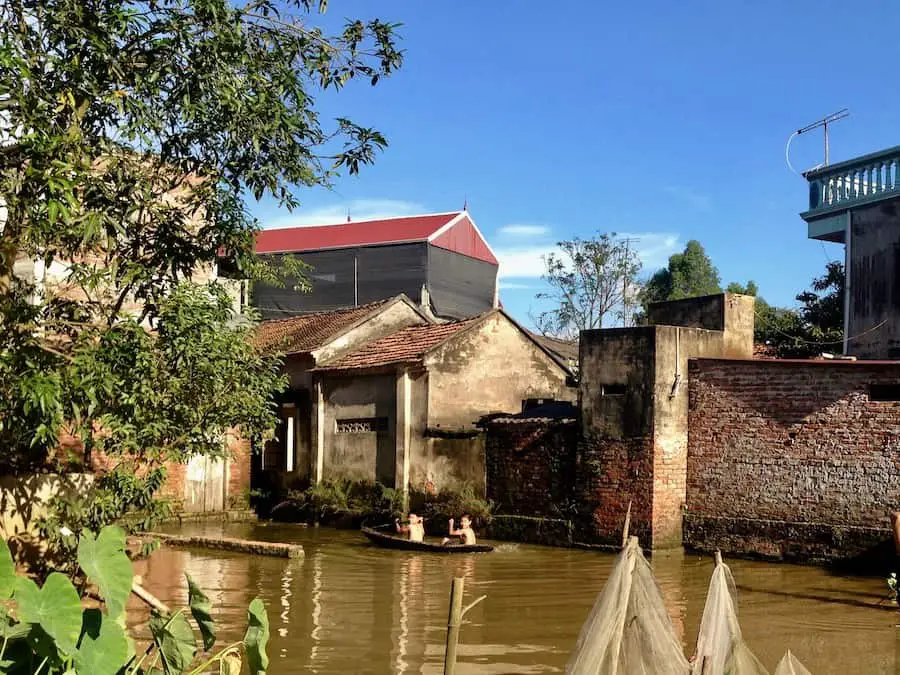 Tip 32 – Get out into the countryside of Vietnam
Many people come to Vietnam and only really see the major cities. But do not miss out on the countryside as the countryside can be fascinating. Get out to see how rice is planted or some wonderful flower fields. Also, see how the Vietnamese bury many of their ancestors near the rice fields.
The beauty of Vietnam cannot be seen in full until you have gotten out to see some of the amazing beauty of the countryside.
Vietnam is a wonderful country to travel to. Not only is traveling in Vietnam safe, economical, and culturally interesting, but the country also has amazing landscapes, history, and people to discover. It is no wonder that time and time again, it continues to be one of the top tourist destinations in the world.
Vietnam is definitely worth a journey. And once you come here, you will fall in love with the country and want to return. I know I did.
At A Bus On A Dusty Road, we talk about travel, life, and ex-pat living. We are all about "Living Life As A Global Citizen." We explore social, cultural, and economic issues and travel.
We would love to have you be part of our community. Sign up for our newsletter to keep up-to-date by clicking here. If you have any questions, you can contact me, Anita, by clicking here.
Listen to our Podcast called Dusty Roads. You can find it on all major podcast platforms. Try out listening to one of our podcasts by clicking here.
Subscribe to our A Bus On A Dusty Road YouTube Channel with great videos and information by clicking here.
Related Questions:
What is cheaper to travel to Vietnam or Thailand?
Overall from hotels, food, and other travel expenses, Vietnam would be cheaper to travel to than Thailand. But as Bangkok has a major International airport, you may find your flights to Bangkok are cheaper than, say, Ho Chi Minh or Hanoi. But this will probably also change as Vietnam continues to get more popular with more tourists coming here. I have found some great deals from the United States to Vietnam. You just need to check for the deals.
Should I visit Thailand or Vietnam?
Both countries offer a lot of amazing culture and countryside. If you can, I would try to visit them as they are so different. In Thailand, you will see a lot of amazing Buddhist temples with the monks walking about the streets for their morning alms.
In Vietnam, you will see some truly amazing countryside and places you cannot find anywhere else. It is a country that has such a rich culture and amazing people.
So if you can, visit both countries.