I recently took a trip to Mongolia.  I thought Mongolia would be in the middle of their spring weather, but I was wrong.   The first day I got there, I looked out the window of my hotel room and found that Ulaanbaatar was blanketed with at least 5 inches of snow. 
If you are traveling to Mongolia during the springtime, you need to be prepared for snow and cold weather. Mongolia can still be cold during the springtime season, and in fact, it may even snow. If you are also be traveling to Mongolia during the springtime, you need to be sure to pack carefully for a variety of weather.
Table of Contents
Below is a list of items I wish I had packed and brought with me during my springtime trip to Mongolia and why I wish I had brought each of them.
For Mongolia Travel Pack Good Quality Hiking Boots
I did not pack any good quality hiking boots as I felt they would be too heavy to put into my suitcase. So instead I brought with me a pair of tennis shoes and also my keen sandals. Neither one of these held up very well in the snow, cold, and mud.
I wish I had packed excellent quality hiking boots in my suitcase. Something like some Keen waterproof hiking boots would have been great.
Traveling To Mongolia Dress In Layers
If you will go to Mongolia in the springtime, definitely bring warm clothes and be prepared that it could snow. Even in mid-May, when I was there, it snowed. Though the snow did not last on the ground, the mornings and evenings could be chilly, and the snow left many places filled with mud.
Bring clothes you can layer. I stayed the night in a Ger (Yurt) in the Gobi desert, and right before I was to go to bed, they came in and put coal in the stove that was in the middle of the ger. I was so hot. I felt like I was in a sauna and thought I would die from the heat and how hot I was. I started to sweat, so I started to take off some of my warmer clothes.  
Within two hours, I was suddenly freezing. The brutal cold came on all of a sudden so I was glad I had clothes I could easily layer on and off.
So when you travel to Mongolia, you need to bring warm clothes, but you also need to be smart about the clothes you bring and not have just one heavy jacket.  Instead, have clothes that can be layered.  Even if you need to wear two sweaters, a shirt, and a light rainproof jacket, you can then take off the layers when you are hot or put them back on again when you get cold.
I also found that during the daytime the weather was very nice and pleasant. But, the mornings and evenings in the desert could be cool or even cold. That is another reason why I would only pack clothes that you could easily layer.
For Mongolia Travel Pack A Warm Large Scarf
For my Mongolia travel I did bring a cashmere scarf with me, and thank goodness I did as it came in handy. Don't worry if you forget to bring a scarf, as you can easily pick one up in Ulaanbaatar; one of the major exports of Mongolia is cashmere.
The reason I highly recommend having a scarf is that a scarf can help to keep you warm.  I had a large scarf so I could also use it on my bed to keep me warm during the night.  When I was cold or the wind was blowing, I wrapped it around my neck or my face to keep the wind out. 
Whenever I travel, especially if I travel out in the middle of nowhere in Asia, I always have a scarf with me. Having that scarf can make a difference between me being comfortable or instead being miserable.
For Mongolia Have A Good Quality Battery Pack To Charge All Your Electronics
When you stay the night in a Ger in Mongolia, you may find that all your electricity will come from a car battery charged using solar power. This is really a great way to use solar energy, but it also means there may or may not be enough electricity to run your lights and charge up all your electronics.
I wish I had an excellent-quality battery pack with me that would charge up all my electronics. The main issue with this is if you are traveling with a battery pack, you must be sure the airlines will accept them. I know when I travel through China, they always pull out my battery pack and check it.
As many passengers will go through China to fly to Mongolia, they will need to pass through the China Aviation screening. According to the China Travel Guide, China's Civil Aviation regulations will only allow you to carry on one battery pack that is 100 watts and I know from personal experience that they check this very carefully and will normally ask you to pull out your battery pack so they can check that it passes this regulation.
Traveling To Mongolia Pack A Good Quality Lightweight Flashlight
Face it, when you stay in a Ger, it will not be luxury unless you are in one of the fancy ones with indoor plumbing. Those are not really traditional Gers, but more a hotel set up to look like a Ger.
The Ger I stayed in did not have any indoor plumbing. The toilet was a basic hole in the ground on the other side of the Ger camp. Our toilet did not even have a door on it, so there was no privacy.
If you need to go to the bathroom in the middle of the night, you will need to go out of your Ger and find the outhouse. For these necessary nighttime excursions, a nice, bright but lightweight flashlight comes in handy.
For these necessary nighttime excursions to the outhouse, I wish I had this LED Waterproof Flashlight. A flashlight is a necessity when you are traveling in Mongolian. One evening we needed the flashlight in Ulaanbaatar; we got back to our hotel after dinner and found that the hotel had no electricity.
Pack Bathing Towelettes For Your Mongolian Trip
When you stay in a Ger, the water supply will be limited. If personal cleanliness is important to you, as it is to me, this may be a problem for you, as it was for me.
There will be some water, but you will not be able to take a bath or even a real shower. You may be able to find a private spot somewhere to pour a bottle of drinking water over your head.
I brought with me some towelettes, but having some bathing towelettes as these Alley Rinse-Free Bathing towelettes come in very handy. I like to be clean, and when there is really not a good alternative, using a towelette of some sort to stay and feel clean can really make a difference in your own personal hygiene.
Consider Traveling With An Anti-theft backpack
Parts of Mongolia are still impoverished, so there is no surprise there can be pickpockets and others in many of the major tourist spots and other locations. You can read our blog, Is Mongolia Safe to Travel? This blog helps you understand places you should be very cautious about when traveling in Mongolia.
I recommend that anyone traveling to Mongolia have an anti-theft backpack. I recommend Pacsafe as they have some great-looking travel bags that are all anti-theft. I have one of their bags, and what I love about it is that it does not look or feel like an anti-theft bag. You can see their bag selection by clicking here.
Traveling to Mongolia was and is an amazing experience. It is something I think anyone who loves nature and loves a good adventure should do. I would also encourage them not to miss staying out with a real nomadic family in the desert as It is an experience you would never forget.
Related Questions
What is a Mongolian Ger?
A Mongolian Ger is a round tent that is held up by wooden poles. It is usually covered in felt or skins. The Ger allows the nomadic herders to move their Ger a few times a year, so they can move to where their herds can find better grazing land.
How often does a Mongolian Nomadic herder move his Ger to a new location?
It depends upon their herds and areas they can find to find good grazing land. We stayed with the nomadic family told us they moved their Ger and their entire camp and herds four times a year – Winter, Spring, Summer, and Fall.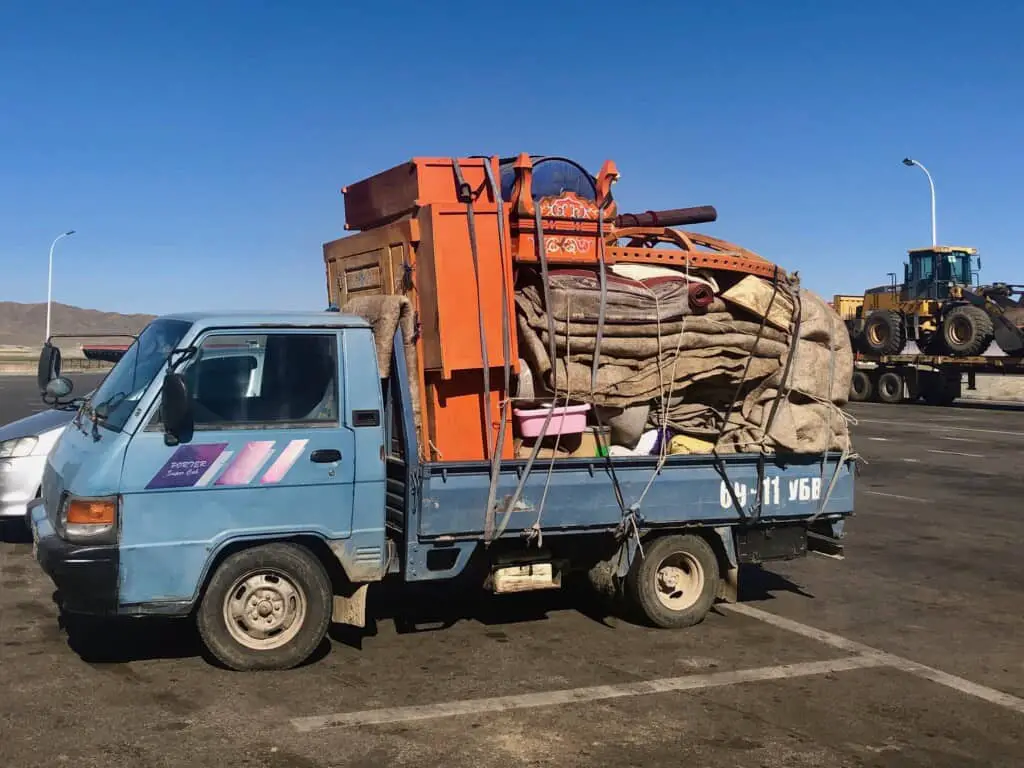 How do the Mongolian nomadic herders move their Gers?
Today most of the Mongolian nomadic herders will move their Ger's by a large flatbed truck. They will pack up the entire Ger and put the Ger plus all their furniture and personal belongings on the truck's back to move it to their next herding location.
I would love to go to Mongolia, but not sure where to start.
Mongolia is not like a lot of other countries that you may have visited. You could probably go there a take some local buses to get into some of the cities, but to really know where to go and to stay in a Ger you will need some guidance. I would recommend that you look for a good travel agent to help you and give you some options according to your budget. I used New Milestone Tours and found them to be excellent. You can click on this link and contact Adiyabold at New Milestone Tours and tell him, Anita sent you.