I wanted to purchase a one-way ticket from Singapore to Hanoi to help me complete my journey back to Hanoi, Vietnam, from a visit to the United States. Purchasing a ticket online from an airline should be effortless, but not with Singapore Airlines. It took me hours of my time to get them to respond.
It took me an entire day to purchase a straightforward ticket with Singapore Airlines. Their website did not work; they took out my payment from my credit card three times but never issued the ticket. It took me over 2 hours and 30 minutes of waiting on the phone to get anyone to talk to me about my ticket.
Table of Contents
Singapore Airlines' customer service sucks, shocking for an airline with so many high ratings and travel awards. The truth is that their customer service does not deserve a 5 -star rating; I would barely give them a one-star.
Buying a Singapore Airline Ticket Online Is A Terrible Ordeal
Trying to buy a Singapore Airlines ticket is a terrible ordeal. I went online to sign up for an account, but there were many issues with their website.
Here are some of the issues:
Singapore Airlines Took Money Out Of My Account Three Times But Never Issued A Ticket
Yes, you got it. Singapore Airlines took the cost of my airline ticket out of my account three times but never issued me a ticket. Their system never even told me they took the money out until I called my bank to ensure it was not blocking the transaction.
When I called my bank, they informed me that the transaction had gone through three times already, and as I was talking to my bank, the Singapore Airlines system sent me an email to ask to complete my booking and pay them a fourth time. Seriously? Someone needs to fix their website.
I got all my money back, but it was a stressful ordeal!
Singapore Airlines Website Did Not List My City In Wisconsin For Me To Register
Even more comical with this airline is that they asked about my country, state, and city when I tried registering for an account. When I looked at the city list they gave for Wisconsin, it did not include my town of New Berlin, outside Milwaukee, Wisconsin. If an airline requires that you put in a city name from a drop-down menu, they need to list all the cities there or allow people to write in the correct town.
Singapore Airlines Would Not Allow Me To Adjust My Name
Even more crazy was when it came time for the checkout, I could not adjust my name to reflect what my bank had on the card. The system was forcing me to use the name of the ticket as the purchaser's name.
What would happen if someone else was purchasing this ticket for me? That would seem to be impossible on the Singapore website. I have never seen this on any other airline websites.
Change Email Password Request Never Came
I had to try to register a few times on their site with different email addresses. Thank goodness I have a few email addresses to try to do this.
For my Gmail account, which I first tried to use for my ticket, I tried many times to ask the system to send me a new password after I verified my account. Well, the password request never came. I checked the junk box and all kinds of places on the internet, but it simply never came.
The funny part is that even though I could not get a new password reset or online for that account, they still charged me for two tickets under that account.
Singapore Airlines Has Terrible Phone Support, Which Really Sucks
No customer should have to wait on the phone for more than an hour to talk to any airline representative to find out information about their ticket. I had to wait over 2 hours, but all their phone numbers did not work.
Here are a few reasons why their customer support in the United States is so bad:
Phone 1 800 742 3333 does not work – I called the phone 1 800 742 3333 many times, and each time the number rang twice, I got a busy signal. I get it if an airline is busy, but having a number that will not ring through is just nuts.

Phone 1 833 727 0118 – I called United and asked them to help me find another number for Singapore Airlines in the United States. They kindly gave me this number which worked but I had to wait on the phone for over 2 hours or longer to try to talk to someone.
It took Singapore Airlines Customer Service 2 hours And 28 Minute To Answer My Call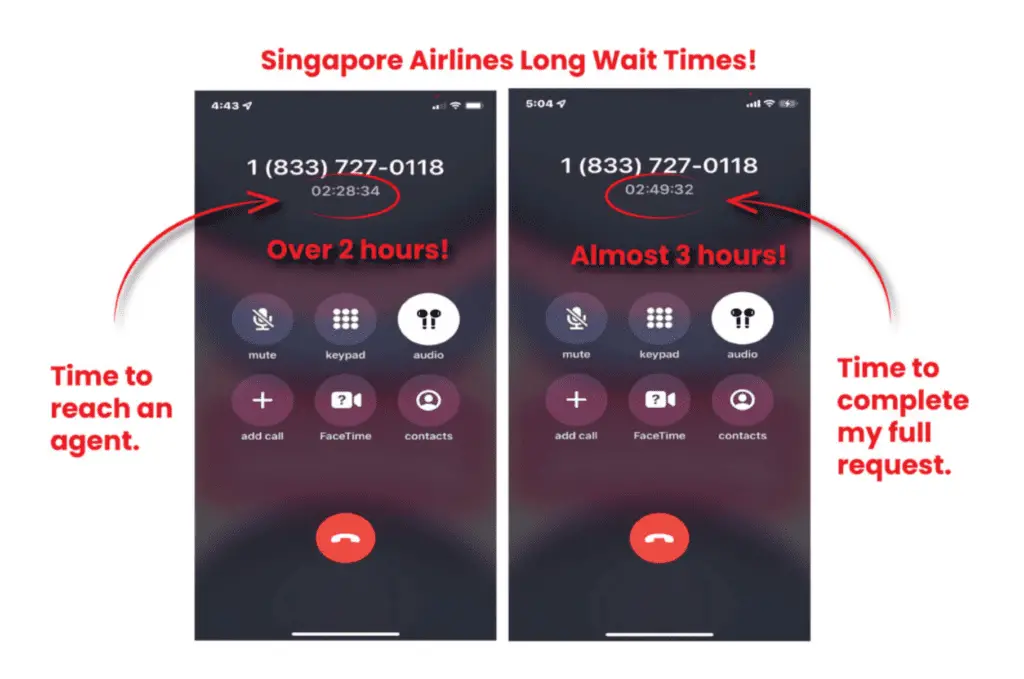 When I called Singapore Airlines 1 833 727 0118 in the United States to figure out the charges and my ticket would not be issued online, it took them exactly two hours, twenty-eight minutes, and thirty-four seconds to answer my call.
I get it that COVID and the pandemic have stressed companies, but having such long wait times on the phone is unreasonable for any company – especially an airline with a 5-star service rating. In my opinion, there is no reason any company should have such poor customer service that one phone number they provide will not ring through. On the other number, you have to sit on the phone for over 2 hours to talk to the customer service representative.
To put this all into perspective, handling my entire request and getting my ticket straightened out and issued my ticket only took twenty minutes and ninety-eight seconds. Still, it took me over 2 hours and 30 minutes to get an answer or even talk to someone.
Kris, Their Chat Bot Sucks
When you are on the phone waiting for customer service, they ask people to go to their website – which did not address my concerns or solve my issue and ask their bot Kris to help me. I found trying to work with Kris utterly useless.
I asked Kris to give me some information, and some of the pages and links they sent to me had 404 errors. These were pages on the Singapore Airlines website, so their bot Kris is supposed to help customers give them information, yet the Kris bot sent me to Singapore airline website pages that did not even exist.
I fail to see how that is helpful for anyone.
To be a 5-star airline, Singapore Airlines needs to do something about its total lack of customer service, the website, Kris the bot, and the long wait time to reach someone to talk to. Expecting any customer to wait over two and a half hours on the phone to issue a simple ticket is customer service that sucks!
At A Bus On A Dusty Road, we talk about everything about travel, life, and ex-pat living. We are all about "Living Life As A Global Citizen." We explore social, cultural, and economic issues and travel.
We would love to have you be part of our community. Sign up for our newsletter to keep up-to-date by clicking here. If you have any questions, you can contact me, Anita, by clicking here.
Listen to our Podcast called Dusty Roads. You can find it on all major podcast platforms. Try out listening to one of our podcasts by clicking here.
Subscribe to our A Bus On A Dusty Road YouTube Channel filled with great videos and information by clicking here.
Related Questions
What You Should Know Before Traveling Alone?
Traveling alone to explore a new destination is a fantastic experience. But before you travel, you should do things such as doing your homework to know all about your destination. You must also check out all the legal and visa requirements to ensure no issues with your travel plans. And finally, have at least the first few days of your travel planned out.
By clicking here, you can discover What You Should Know Before Traveling Alone?
How Can I Travel Alone and Make Friends?
When traveling to a new place and you do not know anyone, it may seem overwhelming to think about traveling alone, especially if you are a woman traveling alone. This can be especially true for Cambodia, with a violent and checkered past.
I have traveled alone to Cambodia many times and have always felt safe. But whenever you are traveling alone to any country, especially if you are a woman traveling alone, there are some precautions that you should take.
You can read our blog, Is Cambodia Safe For A Solo Female Traveler to Travel Alone, by clicking here.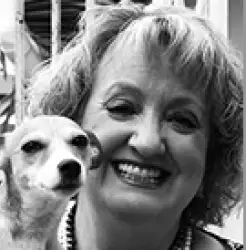 Latest posts by Anita L Hummel
(see all)