Anyone looking to publish a website will usually look at how I can earn an income on that website. They will first look at getting an ad provider onto the site.
Ezoic is a great ad provider for your website, as the Ezoic team is invested in you and your success. Unlike Adsense, if you need help and support, the Ezoic team is always there to ensure success as a publisher. Ezoic will invest in your success by providing you with many additional features that Adsense does not offer.
Table of Contents
If you are interested in learning more about how Ezoic can help you, click the link below to sign up with a special offer to join Ezoic.
My 11 Reasons Why Ezoic Beats AdSense for Publishers Ad Programs
AdSense has been the go-to advertisement solution for websites and publishers looking to monetize their content over the years. But using Ezoic instead of AdSense has helped improve my websites in countless ways.
Here are my top 11 reasons why we feel Ezoic always beats AdSense as a publishers ad provider:
Ezoic Is Invested in Helping You
One of the things I love about Ezoic is that they are there to help me; I feel like they are invested in me and helping me succeed as a publisher. I am not a technical person, so I have appreciated the team at Ezoic and their investment in me and helping me grow and understand a lot of the technical aspects of placing ads on my website.
When I started looking at advertising, I signed up for Google AdSense like everyone else. I have to admit I found this very cumbersome, and I found it very difficult to find information on the web that I could understand about how to use Google AdSense.
On the other hand, Ezoic gave me an onboarding technical expert who helped walk me through what I needed to do to get ads on my site. They discussed many basics with me, such as placements, sizes, and revenue. I found this extremely helpful for someone who is not very technical.
I feel like Ezoic invested in my success as one of their publishers. On the other hand, I felt like AdSense did not care because they have so many publishers that they do not need to provide the same services.
Ezoic Gives Great Support Compared to Adsense
When I started with AdSense, I reached out to them to ask for technical support. Finding genuine technical support to help me with my AdSense and to help answer some fundamental questions was very challenging. AdSense is not set up to help a non-technical person like me.
Publishers who understand ads, ad placements, and revenue probably find working with AdSense very easy. But as I had never worked with ads for my website before, I found it all cumbersome and challenging.
On the other hand, Ezoic gave me some great support. I love that I could talk to an actual human being face-to-face and online and ask the questions I wanted.
I also love that someone at Ezoic was willing to walk me through their system and show me the different parts of the Ezoic system and software to understand how to use it properly. This helped me with my overall learning, and I appreciate the support Ezoic gave me.
Ezoic Earnings Will Beat Adsense
For any publisher, one of your primary concerns is how much you can earn with your website and with the ads on your website. But it is known throughout the industry that Ezoic earnings will beat AdSense almost all the time.
Here are some reasons why Ezoic's earnings will beat Adsense:
Ezoic Uses AI – Ezoic will use the latest technology, including AI, to scan your website and look at how to ensure your users have the best experience possible. In other words, they are actively testing your website to ensure that your users have the best experience that they can. One of the benefits of AI is that as machine learning improves, so will your ad Revenue and your website users experience.

Better EPMV – Anyone working with ads understands EPMV is what you will earn per 1000 page views. Generally speaking, between Ezoic and AdSense, your EPMV can be up to 2 to 3 times higher with Ezoic than with using Adsense.
Ezoic's Premium will Give You Better Quality Advertisers
When you reach a certain threshold on Ezoic, they will usually invite you to join their Premium service. This service will cost you a bit of money each month, but at the same time, you'll be guaranteed to make that money back and usually plus more.
When Ezoic asked me to join the Premium service, I was the first kind of skeptical. Why should I pay to have better advertisers on my website? But I have to say it was one of the best decisions I made because since I joined Ezoic Premium, I have also seen an increase in my overall monthly ads revenue.
But more than that, one of my websites is my main company website. Initially, I was skeptical about putting ads on my blog, but I decided to try it. I like the idea that Premium advertisers are better quality advertisers.
As the Premium advertisers are better quality advertisers, this helps also to give my websites more creditability as those better quality advertisers are willing to invest in putting their ads on my site.
Ezoic Offers Great Additional Features When Compared to AdSense
The great benefit of Esoic vs. AdSense is that Ezoic offers you many additional features that you may not fully get on your AdSense account. This is one of the great benefits of the Ezoic publisher platform.
I love the Ezoic features so much that I rarely look at my Google accounts and go directly to Ezoic to find all my data. Here are a few features of Ezoic that I love:
Big Data – Ezoic has a Big Data feature that allows the publishes to go deep into their data. You can see everything from what kind of weather it was when people visited your website, where they are from, and who they are. Big Data can help you to be able to dig deep into what helps to make your website successful.

LEAP – LEAP is a program that Ezoic rolled out that helps publishers view the performance of their websites. It will show your core vitals and tell you what you can do to improve them. LEAP shows how Ezoic is invested in many aspects of its publisher's success.

TESTING – Ezoic also allows you to do a lot of testing for your site, your ad placements and other aspects of your website. The ability to test aspects of your website means that your success as a publisher is in your own hands, and you can test and check things out to see what is best for you and your website.
You Can Still Earn Adsense Income With Ezoic
One of the major benefits of using Ezoic is that you do not need to choose between Ezoic and AdSense. I am earning income with both Ezoic and Adsense on my websites.
If Ezoic does not have an ad provider for a certain spot on my website, then it will automatically turn that spot over to Adsense, who will see if they want to put an ad on that page. In reality, I am still earning money with Ezoic and AdSense simultaneously.
I get all the benefits that Ezoic offers while still earning a bit of money with Adsense.
Ezoic Has Great Technical Support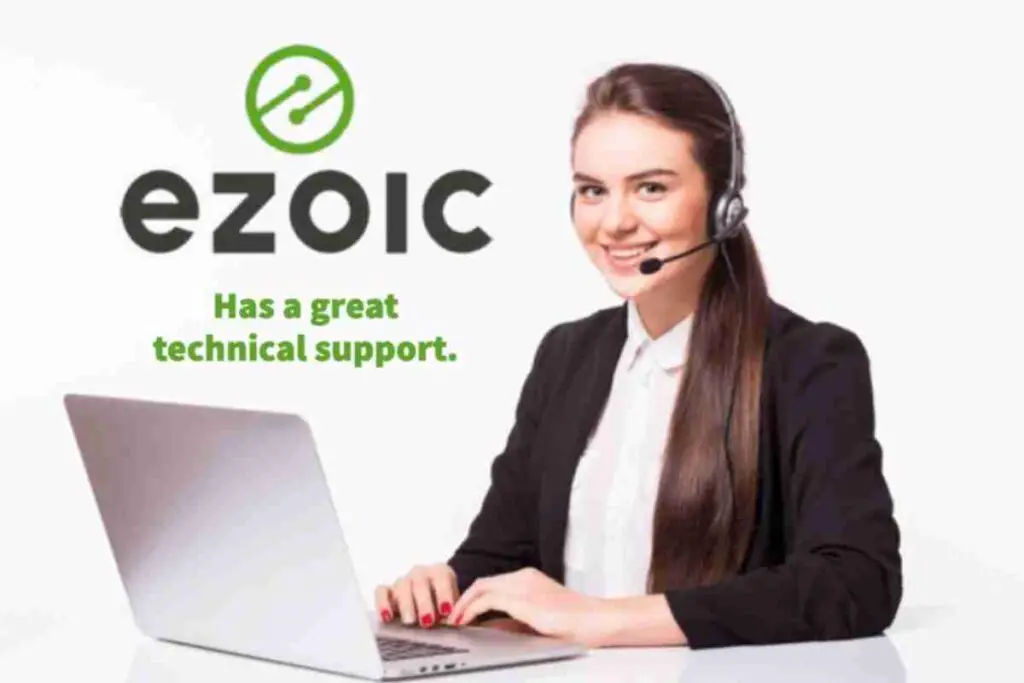 Ezoic has some great technical support, and I love that if I have a problem, they will help me. Their technical support quickly answers and helps me solve my issues.
Many people are on technical blogs, groups, and forums as experts in AdSense. Many of these same people in the media are willing to help you with your questions, but I have found it so much easier to talk to my account or technical representative to help me solve any of these issues or problems I have,
Brings In Experts To Help Ezoic Publishers
I have attended Ezoic webinars, where they have brought in Google experts and others to help the publishers. I have always appreciated this and the fact that these webinars help the Ezoic publishers succeed. I love that many of these webinars allowed me to ask these experts about specific questions I had.
I believe that Ezoic will invest to bring in these experts shows how Ezoic is invested in helping its publisher succeed. They are willing to bring in experts to enable them to become better publishers and earn more ad revenue.
AdSense and Google, of course, do have a lot of information on the web, but I have not found it to be as personal or as relevant to me as a publisher as what Ezoic is offering.
Ezoic Has A Great Team Of Professionals
I have appreciated everyone that I have worked with on the Ezoic team. They have a great team that is invested in helping you succeed.
I have felt like everyone I have met there is genuinely interested in my success and seeing me succeed as a publisher. Blogging or publishing can seem a bit lonely, and you are unsure if your actions make a difference. I have found it helpful to talk to Ezoic and discuss my concerns.
I have found that the Ezoic team is here to support me and help me see that I am heading in the right direction.
I love working with Ezoic's team; Ezoic has shown me that publishing is a team effort.
Ezoic Offers Some Free Training
When you get onto the Ezoic platform, you'll also see many extra things, including free training. Ezoic's primary goal is to help you succeed and be successful as a publisher, so they also offer some online courses and training.
I have not found the same training and support with AdSense. In AdSense, you are pretty much left to figure it out yourself.
Any Publisher Can Join Ezoic
The great thing about Ezoic is any publisher can join. You do not need a minimum page views threshold to enter the Ezoic platform.
Even though there is no minimum number of page views required, we recommend joining the Ezoic platform so that you are sure that your blog has at least 1000 more page views and at least 60 blog posts.
Blogs and blogging take time, so we recommend getting great content up on your website and then looking for income and ads if you want to see success.
Join Ezoic Today!
You will get a special deal by joining Ezoic for your website advertising needs with the link below. As a publisher, you will not regret being able to join Ezoic and be part of such a great team that is invested in your success as an online publisher.
Click on the button below to claim your special offer to join Ezoic.
At A Bus On A Dusty Road, we talk about everything about travel, life, and ex-pat living. We are all about "Living Life As A Global Citizen." We explore social, cultural, and economic issues and travel.
We would love to have you be part of our community. Sign up for our newsletter to keep up-to-date by clicking here. If you have any questions, you can contact me, Anita, by clicking here.
Listen to our Podcast called Dusty Roads. You can find it on all major podcast platforms. Try out listening to one of our podcasts by clicking here.
Subscribe to our A Bus On A Dusty Road YouTube Channel filled with great videos and information by clicking here.
Related Questions
Is Ezoic Premium Worth It? My Experience
Ezoic offers some of their more experienced publishers a premium service. To use this service, you must be invited by Ezoic. I have been on the Ezoics premium service for several months and have found it increases my overall ads earning income.
By clicking here, you can discover Is Ezoic Premium Worth It? My Experience.
Is Ezoic Worth it? 9 Reasons Why We Love Ezoic
There are many reasons we love Ezoic, but a few of them are that Ezoic is easy to set up, and they are great to work with. Ezoic also takes websites of any size and will still pay you a decent amount of ePMV or views per 1,000 pages. We find Ezoic also offers excellent support to their publishers.
To learn more, you can read our blog on Is Ezoic Worth it? 9 Reasons Why We Love Ezoic by clicking here.