I've had the unique opportunity to visit the Great Wall of China. During my travels throughout China, I've witnessed various sections of this iconic structure, from its pristine parts to deteriorating ones.
However, regardless of the condition of The Great Wall, what consistently resonates with me is the sheer monumental testament the Great Wall represents to human ambition and resilience. Honestly, until you stand before the Wall, you can't fathom its grandeur and the extent of human perseverance it embodies. Let's delve deeper into the marvel that is the Great Wall of China.
Table of Contents
The Great Wall Of China: A Monumental Testament To Human Endeavor
The Great Wall of China, often heralded as one of human history's most impressive architectural feats, is not just a wall. It symbolizes resilience, innovation, and a testament to the human spirit.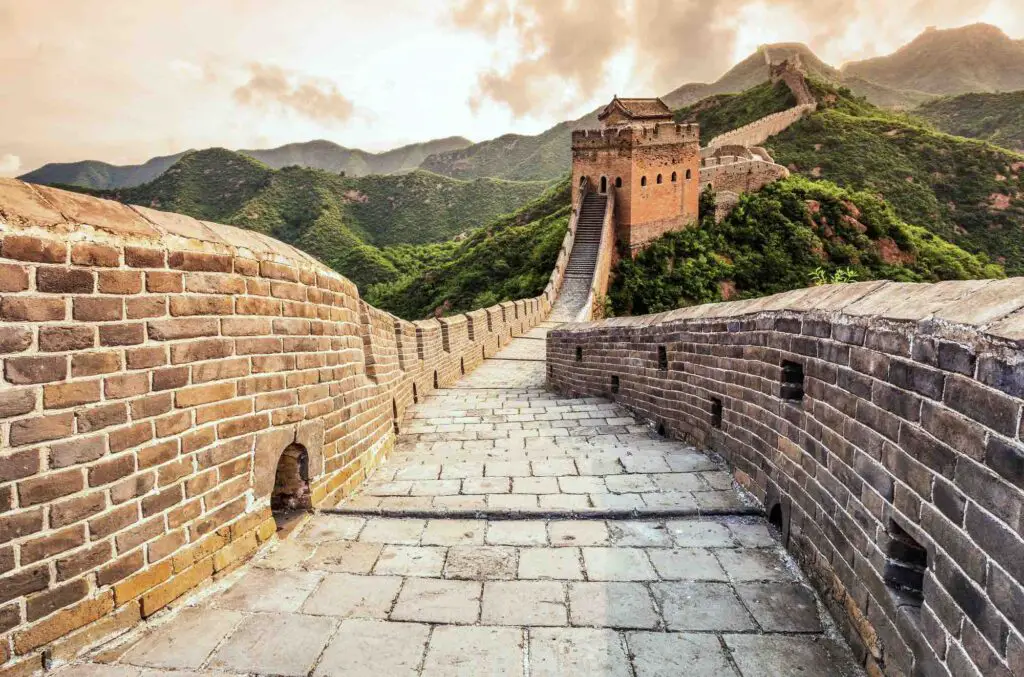 Stretching over 13,000 miles, it winds across deserts, mountains, and grasslands, vividly depicting China's rich history and undying spirit to protect its people and culture.
Origins And Construction Of The Great Wall
Contrary to popular belief, the Great Wall is not singular but an amalgamation of walls and fortifications built by various Chinese dynasties over several centuries.
Its origins can be traced back to the 7th century BC during the Warring States period when individual states built walls to defend their territories. However, today's most extensive and well-preserved sections were constructed during the Ming Dynasty (1368–1644 AD).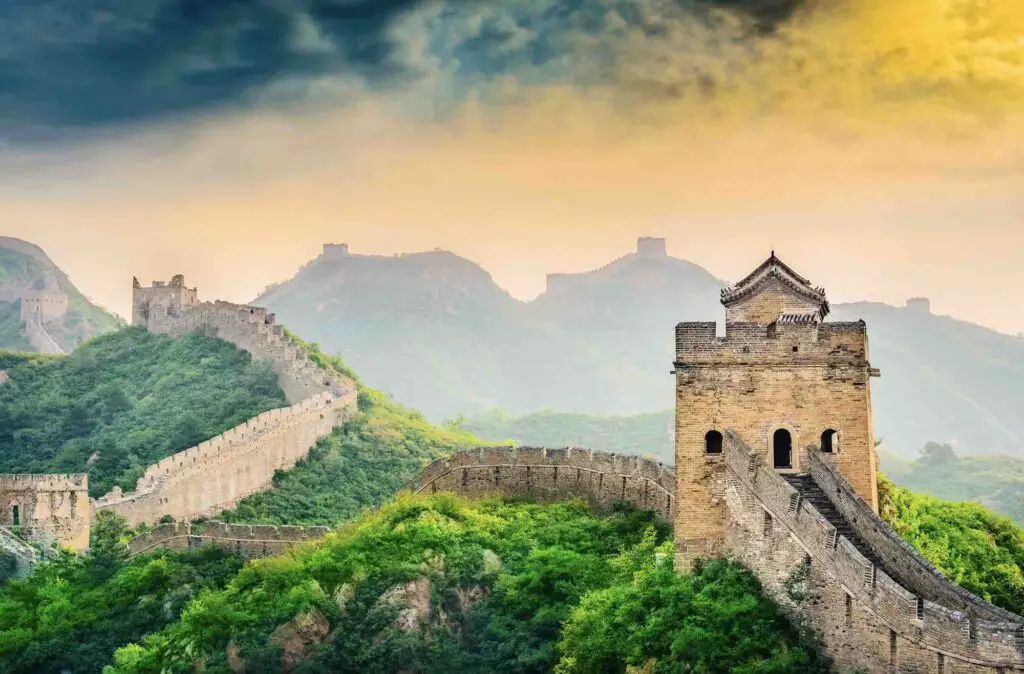 Made chiefly of tamped earth, wood, and stones in the earlier periods, bricks were later introduced as a primary building material during the Ming dynasty. Contrary to popular depictions, the Wall is not uniform and presents different features and structures, reflecting the diverse terrains and the building techniques of the times they were constructed.
Purpose Of The Great Wall
The primary objective of building the Great Wall was defense. It was a deterrent to nomadic tribes and potential invaders from the north, especially the Mongols.
The Wall was equipped with beacon towers to send signals in case of an enemy approach, watchtowers for active defense, and fortresses where troops could be stationed.
However, beyond defense, the Wall had other significant purposes. It facilitated trade and travel, especially along the ancient Silk Road. It also served as a means of border control, allowing the Chinese to regulate trade and immigration on the Silk Road.
Cultural And Historical Significance Of The Great Wall
The Great Wall of China is a monument to China's historical periods, from the Qin Dynasty's unification efforts to the Ming Dynasty's protectionist policies. It embodies the sweat, blood, and spirit of countless laborers, soldiers, and administrators who contributed to its construction, many of whom are said to be buried within the Wall's structure.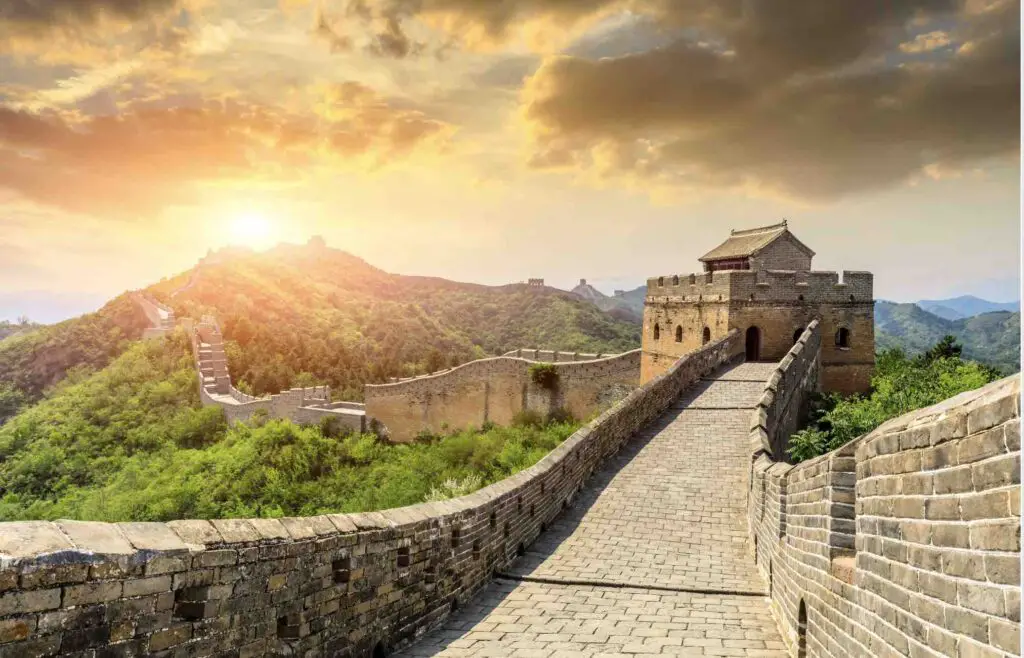 Furthermore, the Wall represents a cultural tapestry of myths, legends, and stories. Tales of love, sacrifice, and bravery are ingrained in its long and winding structure, giving it a character far beyond a mere fortification.
Modern-Day Recognition Of The Great Wall
In 1987, UNESCO recognized the Great Wall of China as a World Heritage Site, cementing its position as an invaluable piece of global heritage. Today, sections of the Wall near Beijing, such as Badaling and Mutianyu, have been restored and are popular tourist destinations.
Visiting the Wall provides a palpable experience of stepping back in time and connecting with centuries of history.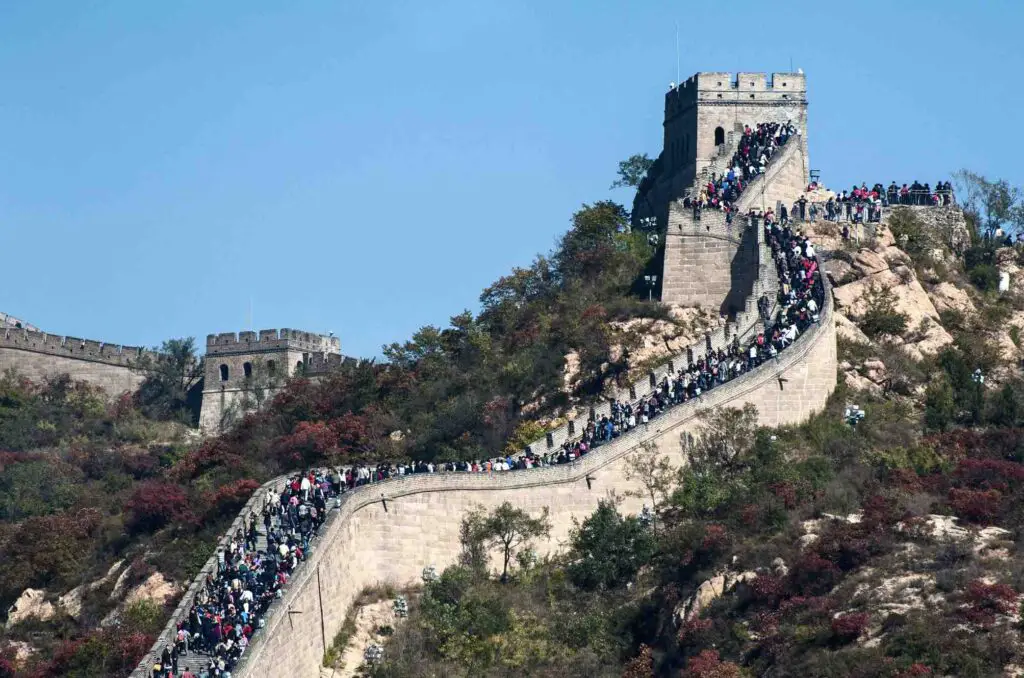 However, preservation remains a concern. Large sections of the Wall are deteriorating due to natural erosion and human activities. Conservation efforts are underway, but the vastness of the structure makes it a challenging task.
The Great Wall of China is not merely a wall but a narrative of human tenacity, foresight, and an undying spirit to survive and thrive. It offers an insight into China's heart and soul, providing a window into its past and a beacon for its future. As we look at this grand structure, we are reminded of the timeless human endeavor to protect, create, and persevere.
50 F.A.Q. About The Great Wall Of China
1. What is the Great Wall of China?
The Great Wall of China is a series of fortifications built to protect ancient Chinese states against raids and invasions.
2. Where is it located?
The Wall is primarily located in Northern China, extending from the east coast to the west coast.
3. How long is the Great Wall of China?
It's estimated to be around 13,170 miles long, including all of its various branches.
4. When was it built?
Construction began in the 7th century BC, and various dynasties added to it up to the Ming Dynasty (1368–1644 AD).
5. Why was it built?
The primary purpose was to defend against invasions, particularly from nomadic tribes from the north like the Mongols.
6. Who built it?
Various Chinese dynasties, starting from the Warring States period, contributed to its construction.
7. How long did it take to build?
Over 2,000 years, with various dynasties contributing to its construction and renovation.
8. Is it visible from space?
Contrary to popular belief, it's generally not visible from low Earth orbit without aid.
9. What materials were used in its construction?
The Wall was made from earth, wood, bricks, and stones depending on the region and availability of materials.
10. Who were the main enemies it was designed to repel?
The Wall was primarily designed to defend against the Mongols and other nomadic tribes.
11. Are there different sections of the Wall?
Yes, including famous ones like Badaling, Mutianyu, and Jinshanling.
12. Which section is the most visited?
Badaling is the most visited section due to its proximity to Beijing.
13. Is every section of the Wall in good condition?
No, while some sections are well-preserved, others are dilapidated or have disappeared.
14. How wide is the Wall?
It varies, but the width can range from 15 to 30 feet.
15. How tall is the Wall?
The height varies, ranging from 15 to 26 feet.
16. Is the Wall a UNESCO World Heritage Site?
Yes, it was designated in 1987.
17. What does the Wall symbolize?
It symbolizes China's strength, resilience, and ingenuity.
18. Is it a popular subject in Chinese folklore?
Yes, it often features in myths and stories, such as the tale of Meng Jiangnu.
19. Is the Wall depicted in art and literature?
Yes, extensively in both Chinese and global culture.
20. Is it a Chinese national symbol?
Absolutely, it is one of the most potent symbols of China's historical and cultural heritage.
21. Can it be visited by tourists?
Yes, certain sections are open to the public.
22. How many people visit the Wall each year?
Millions of people, including both domestic and international tourists.
23. Is it difficult to walk on the Wall?
The difficulty varies by section, some are challenging due to steep climbs and deteriorated conditions.
24. Are guided tours available?
Yes, both private and group tours are available.
25. What should tourists bring with them?
Comfortable walking shoes, water, snacks, and sun protection are recommended.
26. Is the Great Wall endangered?
Parts of it are deteriorating and are at risk due to natural and human factors.
27. Are there restoration efforts?
Yes, both government and non-governmental organizations are involved in preservation efforts.
28. Is it illegal to remove bricks from the Wall?
Yes, this is considered an act of vandalism and is punishable by law.
29. How is the local community involved in its preservation?
Local communities are often involved in conservation efforts and tourism-related activities.
30. Can individuals contribute to its preservation?
Yes, some organizations accept donations and volunteer work for restoration projects.
31. Was the Great Wall effective in preventing invasions?
Its effectiveness varied. While it did serve as a deterrent, it was not entirely impenetrable.
32. Did the Great Wall serve other purposes?
Yes, it also served as a means of border control, allowing for the imposition of duties on goods.
33. Did many people die while building it?
Yes, it's estimated that hundreds of thousands, possibly millions, died during its construction.
34. Is the entire Great Wall a single, continuous structure?
No, the Wall consists of multiple sections and fortifications.
35. Was the Wall built by slaves?
It was primarily built by soldiers, peasants, and prisoners.
36. Are there any famous watchtowers?
Yes, such as the Simatai, Jiayuguan, and Zhengguan.
37. Is the Great Wall sometimes referred to by another name?
In China, it is often called "The Long Wall" (Chángchéng).
38. Are there underground sections?
No, but there are trenches and other defensive features.
39. Were weapons developed specifically for the Wall's defense?
Yes, various types of weapons and strategies were used to maximize its defensive capabilities.
40. Is there a best time to visit?
Spring and Autumn are generally the best seasons to visit.
41. Does the Great Wall appear in movies and TV shows?
Yes, it has been depicted in various forms of media.
42. Do modern military defenses use principles from the Great Wall?
While technology has evolved, some basic principles of fortification are still relevant.
43. Is it used for any modern purposes?
Aside from tourism, certain sections are sometimes used for cultural events and ceremonies.
44. Do people run marathons on it?
Yes, the Great Wall Marathon is a popular event.
45. Is it used in political discourse?
Occasionally, it is cited as a symbol of either division or strength.
46. Has it ever been 'breached'?
Yes, there have been instances where enemies have managed to go past the Wall.
47. Is it earthquake-resistant?
Some sections have survived earthquakes, but it's not uniformly earthquake-resistant.
48. Are there any famous poems or sayings about the Wall?
Yes, many poems and proverbs, both ancient and modern, focus on the Wall.
49. Has it influenced the construction of other walls globally?
While it may not have directly influenced other walls, its significance as a feat of engineering is globally acknowledged.
50. How does the Great Wall of China continue to captivate imaginations today?
Its historical significance, architectural grandeur, and enduring resilience make it a subject of global fascination and study.
At A Bus On A Dusty Road, we talk about everything about travel, life, sailing, and ex-pat living. We are all about "Living Life As A Global Citizen." We explore social, cultural, and economic issues and travel.
We would love to have you be part of our community. Sign up for our newsletter to keep up-to-date by clicking here. If you have any questions, you can contact me, Anita, by clicking here.
Listen to our Podcast called Dusty Roads. You can find it on all major podcast platforms. Try out listening to one of our podcasts by clicking here.
Subscribe to our A Bus On A Dusty Road YouTube Channel filled with great videos and information by clicking here.
Related Questions
How Much Does The Great Wall Of China Weigh?
If you calculate the approximate number of bricks and the weight of each of those, the Great Wall of China would weigh over 50,000,000 tons. The Great Wall is considered the heaviest continuous structure on the face of the earth. As so many bricks were used to build the wall, if you put all the bricks side by side, it would go around the equator about 36 times.
By clicking here, you can discover How Much Does The Great Wall Of China Weigh?.
Are There Dead Bodies Inside The Great Wall Of China?
Bodies would not have been buried right into the wall, but they could have been buried in the earth near and even under the wall. They would not have put them right into the wall, as it would have caused structural damage when the bodies decomposed. The bodies are probably buried right by the wall, under some stone, and other slabs.
You can learn more by reading Are There Dead Bodies Inside The Great Wall Of China? by clicking here.
How Long Did It Take to Build the Whole Great Wall of China?
The Great Wall of China took over 2,000 years to build. The building span many Chinese Dynasties or for about 22 centuries. The construction of the wall ended in the Ming Dynasty in 1644. The Great Wall is one of the most significant human-made construction projects globally; the Great Wall is over 21,196 kilometers or 13,171 miles. There are over 25,000 watchtowers scattered throughout the Great Wall structure.
To know more about How Long Did It Take to Build the Whole Great Wall of China? by clicking here.