Soy sauce is an essential Asian condiment that has been around for centuries. The use of soy sauce In Asia food dates back over 1000 years.
Soy sauce is not gluten-free, as soy sauce is traditionally made with soybeans and wheat. A Japanese soy sauce called Tamari is gluten-free as the soy sauce uses no wheat in the production process. Many companies are now producing gluten-free certified soy sauce.
Table of Contents
Is Soy Sauce Gluten-Free?
Soy Sauce is not gluten-free as soy sauce is made with soybeans and wheat. Traditionally the way soy sauce is made with half soybeans and half wheat. The primary ingredients of a traditional soy sauce are:
Soybeans – Soybeans are a legume native to East Asia and are widely grown around the region. Soybeans have a variety of uses, including soybean sauce.
Wheat – A roasted wheat is then used to make the soy sauce.
Water – Water is placed in with the soy sauce.
Salt – Salt is also used, so the soybeans and wheat are brimmed in the water and salt solution.
Cultured Mold – The soy sauce is mixed with a cultured mold such as aspergillus. What kind of cultured mold is used can differ for different soy sauces. 
As you can see from the ingredients list, soy sauce is not gluten-free. But there are some brands and types which are gluten-free.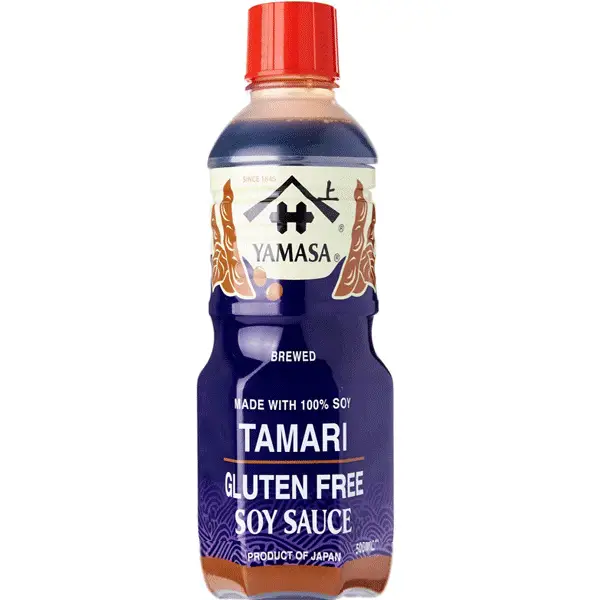 Japanese Tamari Soy Sauce
Japanese Tamari soy sauce tamari is a traditional soy sauce produced as a by-product during the production of miso paste. Unlike any conventional soy sauce, it contains no wheat and is made with a higher volume of soybeans.
This soy sauce has a rich texture and thicker sauce as it is made with main soybeans. Any soy sauce that has the Tamari name should be gluten-free.
Here are some of our favorite Japanese Tamari and gluten-free soy sauce brands: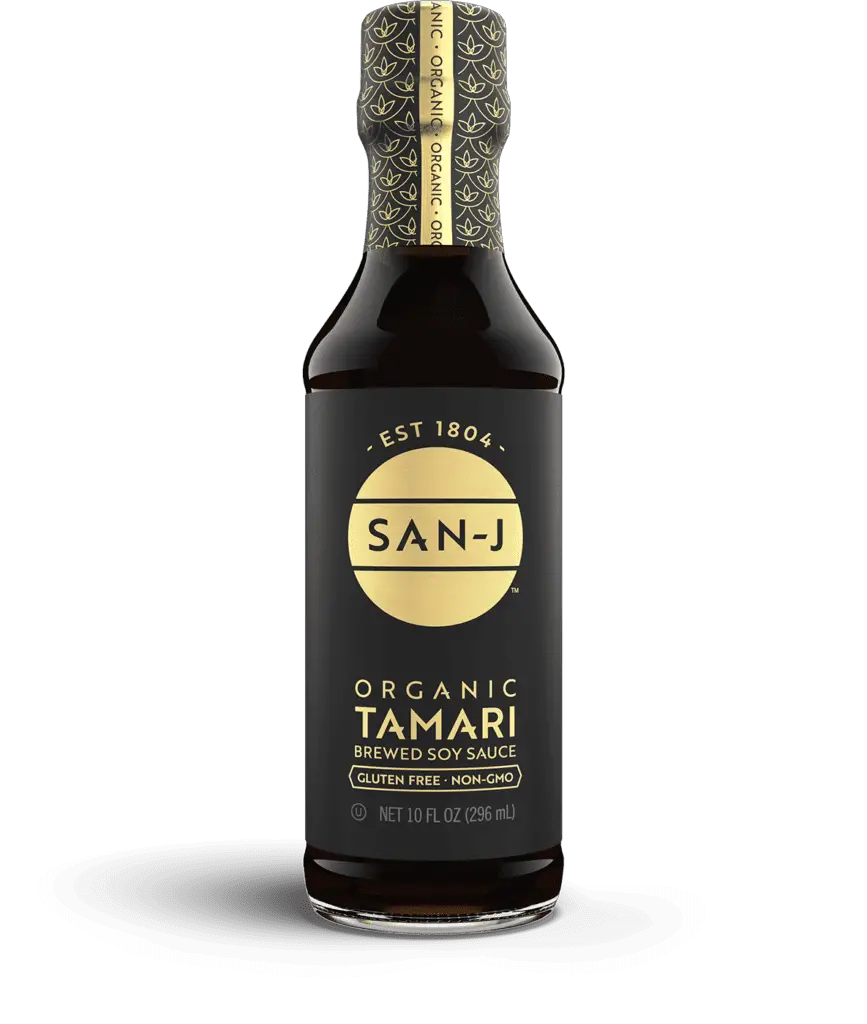 San-J Organic And Regular Tamari Soy Sauce
San-J has a lot of Tamari soy sauces. Tamari soy sauce contains no wheat and has a rich and smooth flavor.
San-J Tamari soy sauce is made in the traditional method, where their soy sauce can be used and processed for up to 6 months. The San-J company has been brewing tamari soy sauce for over 200 years, or eight generations of the family.
As San-J Organic and Regular Tamari soy sauce are gluten-free, it is a perfect choice for many people. They also have a reduced-sodium gluten-free soy sauce for those who want to reduce their sodium intake.
San-J is certified gluten-free by the Gluten-Free Certification Organization (GFCO). San- J will also test its products to ensure they are certified gluten-free.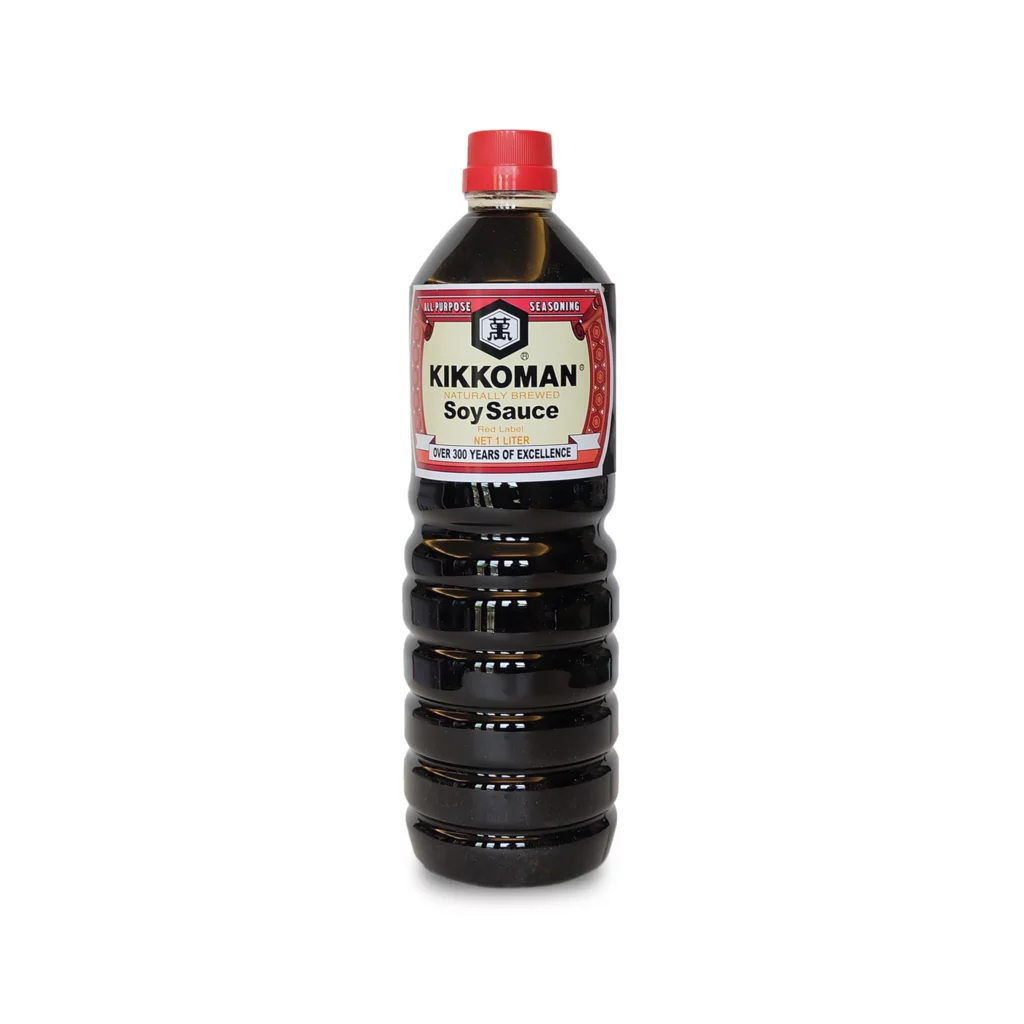 Kikkoman Soy Sauce
Kikkoman soy sauce is the household brand name for soy sauce. Most of the soy sauces they sell are not gluten-free as they contain wheat, but they offer an array of gluten-free soy sauce products.
Like San-J, their Gluten-Free products are also certified by the Gluten-Free Certification Organization. Kikkoman soy sauce is also a great gluten-free option if you want a gluten-free soy sauce.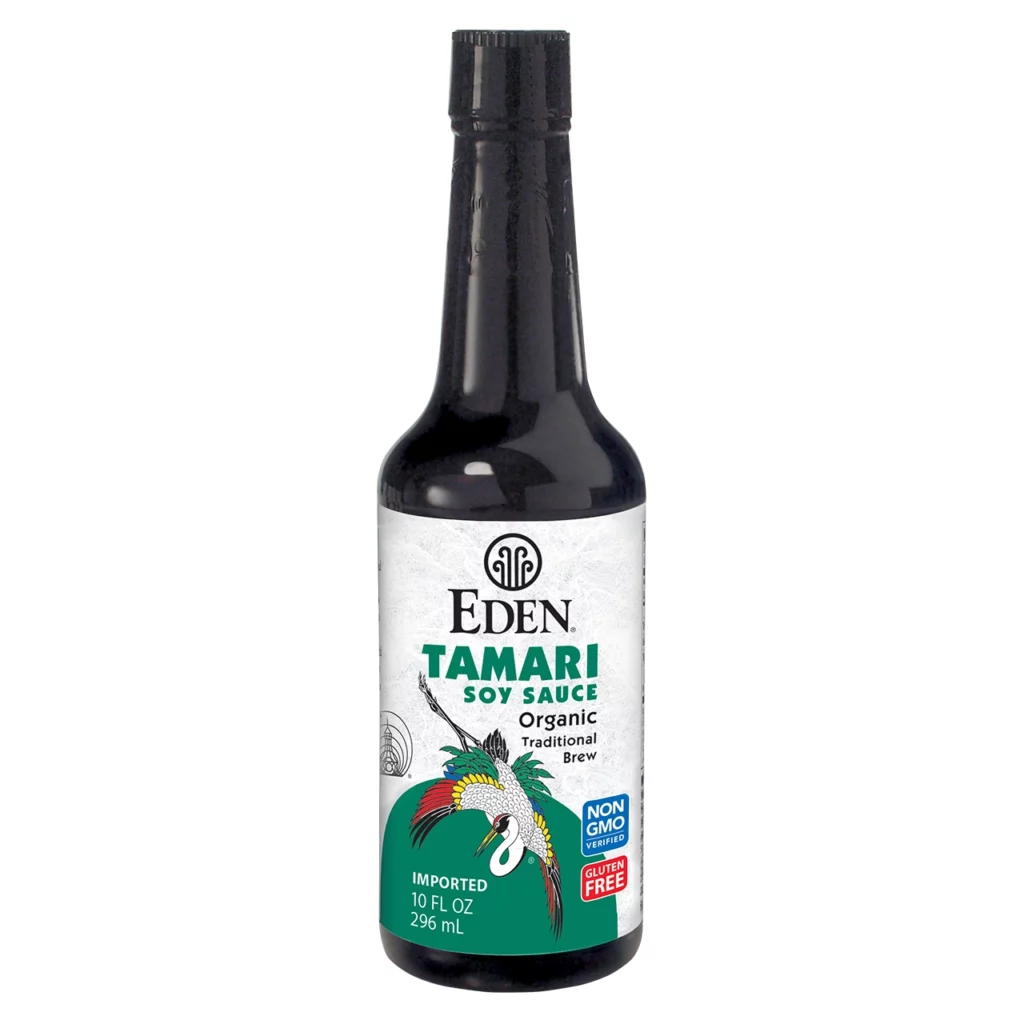 Eden Tamari Soy Sauce
Eden also has two different organic tamari-style gluten-free soy sauces. One of them is made in the US, and one in Japan.
The Tamari soy sauces produced in Japan vs. the USA are slightly different, so you should try the Eden soy sauce imported from Japan if you want the more authentic Japanese soy sauce.
Eden products can be purchased online.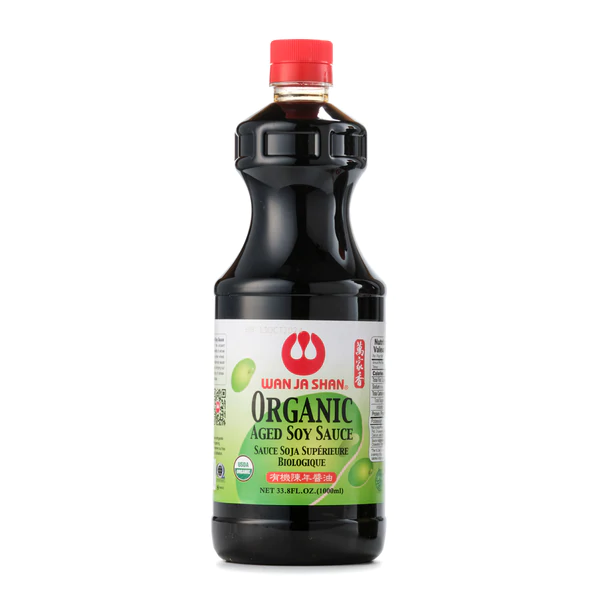 Wan Ja Shan Soy Sauce
Wan Ja Shan is a Taiwanese company, but their soy sauce is brewed in New York. The company makes regular, lower-sodium soy sauce and wheat-free tamari soy sauce.
Wan Ja Shan says that they produce their soy sauce in the traditional method, which means they are fermented and aged for up to a year before being bottled and marketed.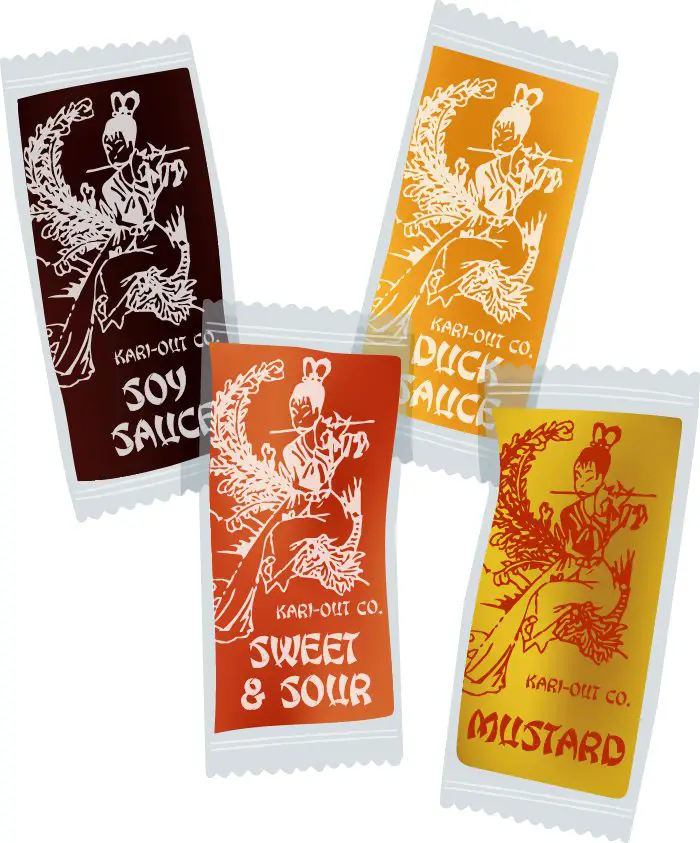 Kari-Out Soy Sauce Packets
Kari-Out specializes in all kinds of products for carry-out food burns. They have some sauces, including gluten-free soy sauce in carry-out packets, as part of their program.
The company president Paul Epstein and his daughter Lily have celiac disease, so they know what it means to need gluten-free soy sauce.
Today most soy sauce company brands have gluten-free and low-sodium versions. It should not be a problem to go to the soy sauce section in most major stores in the United States and find an array of soy sauce products labeled as gluten-free.
If you can not find what you are looking for, go to your local Asian grocery store and tell them you want to buy a Tamari soy sauce. The Japanese verified tamari soy sauce is all gluten-free as the soy sauce is not made with any wheat.
At A Bus On A Dusty Road, we talk about everything about travel, life, sailing, and ex-pat living. We are all about "Living Life As A Global Citizen." We explore social, cultural, and economic issues and travel.
We would love to have you be part of our community. Sign up for our newsletter to keep up-to-date by clicking here. If you have any questions, you can contact me, Anita, by clicking here.
Listen to our Podcast called Dusty Roads. You can find it on all major podcast platforms. Try out listening to one of our podcasts by clicking here.
Subscribe to our A Bus On A Dusty Road YouTube Channel filled with great videos and information by clicking here.
Related Questions
Koi Fish Symbolism And Meaning Defined
Many Koi Fish swim in a pond near my house in Hanoi, Vietnam. The Koi fish were put there purposely as a sign of good luck. The Koi fish have many symbols, from their color to the fish itself. The fish can bring you positive energy, good luck, and fortune. That is why the Koi fish remains prevalent in Asia and worldwide.
By clicking here, you can discover Koi Fish Symbolism And Meaning Defined
Soy Sauce Ingredients, MSG, And Other Facts
Soy sauce is when soybeans, wheat, water, and salt are fermented with a culture mold for a few months to a few years. Two basic methods are used to produce soy sauce: the traditional and chemical methods.
By clicking here, you can discover Soy Sauce Ingredients, MSG And Other Facts.
What Soy Sauce Do The Japanese Use?
Japan has a variety of soy sauces that they have used for centuries. Today the most popular soy sauce is Koikuchi. At least 80% of all soy sauce produced in Japan is Koikuchi soy sauce. But even the Koikuchi soy sauce comes in various types and grades according to its content and how they are produced.
By clicking here, you can discover What Soy Sauce Do The Japanese Use?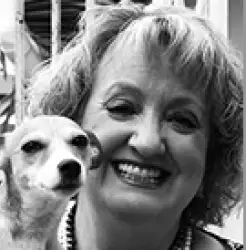 Latest posts by Anita L Hummel
(see all)