I have sailed on both keelboats and dinghy sailboats. They can be great sailboats to learn on, but they are not precisely the same.
A keelboat is a sailboat with a keel and ballast and is very difficult or almost impossible to tip over. A dinghy is a smaller sailboat that does not have a keel or ballast but usually has a centerboard that can be removed. Both are good boats to learn to sail on; to understand which one is best, you must determine what kind of water and weather conditions you will be learning to sail in.
Table of Contents
Keel Boat Vs. Dinghy Sailboat
Ahoy sailors! If you're new to the sailing world and trying to decide which type of boat is right for you, look no further – we're here to help! Keelboats and dinghy boats are both popular options for learning how to sail.
There are a lot of similarities between them, but also some important distinctions that can make all the difference in your sailing experience. We'll take a close look at keel boats versus dinghies so that you can decide which one may be best for your sailing needs.
What Is A Keel Sailboat?
A keel sailboat is a sailboat that has a keel-fixed appendage on the bottom of the hull. The purpose of the keel is to help provide sideways resistance needed to counter the force of the wind on the sails.
The keel will also have a ballast that is usually lead or iron; the ballast will help to balance the force of the wind that will cause a sailboat to heel or lean over when you are sailing.
A keel sailboat is usually over 20 feet long and can be as large as a yacht or above 200 feet. I sail an Ensign Keelboat. The Ensign sailboat is about 22 and 1/2 feet long and weighs about 3,000 pounds; even in hefty winds, the Ensign Keelboat is impossible to tip over.
A keelboat will have the main sail and a jib sheet for sailing.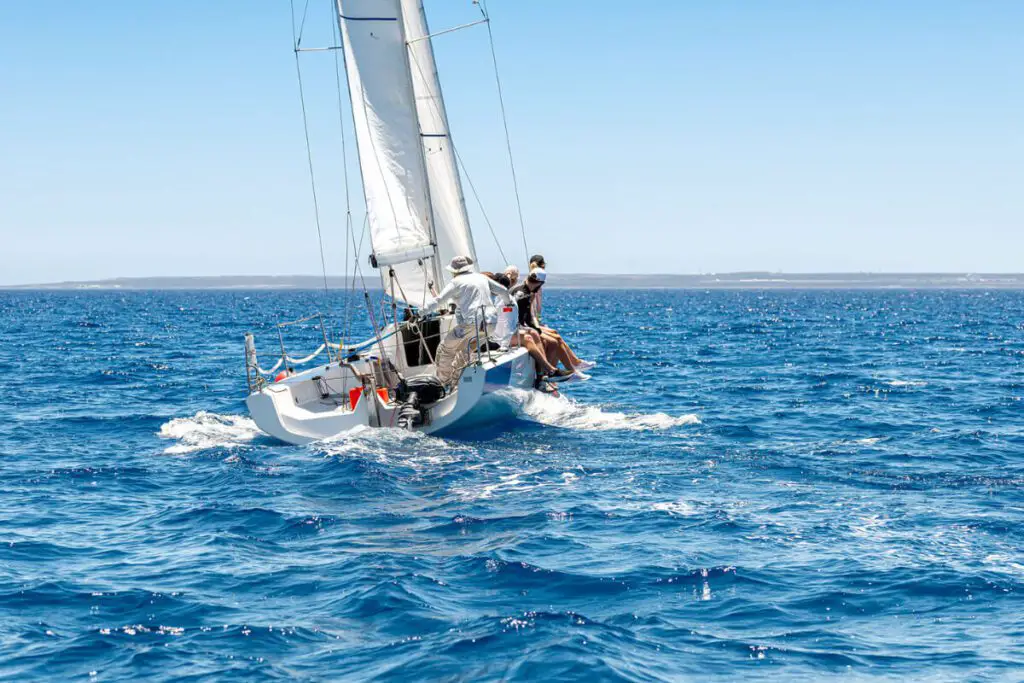 The Ensign keelboat is a perfect boat to learn on as it is small enough that you can get a feel for the wind when sailing, but it is also safe to sail. The keel sailboat can easily hold an instructor and at least two or three students.
Because of the keelboat's weight and size, the boat needs at least two people to sail it properly, and it is tough to tip over even in hefty winds. You can not capsize a keelboat because the ballast in the keel is designed to keep the boat from toppling.
The boat can still heel in heavy winds, and you may even take in a bit of water, but it isn't easy to tip over or capsize a keelboat.
What Is A Dinghy Sailboat?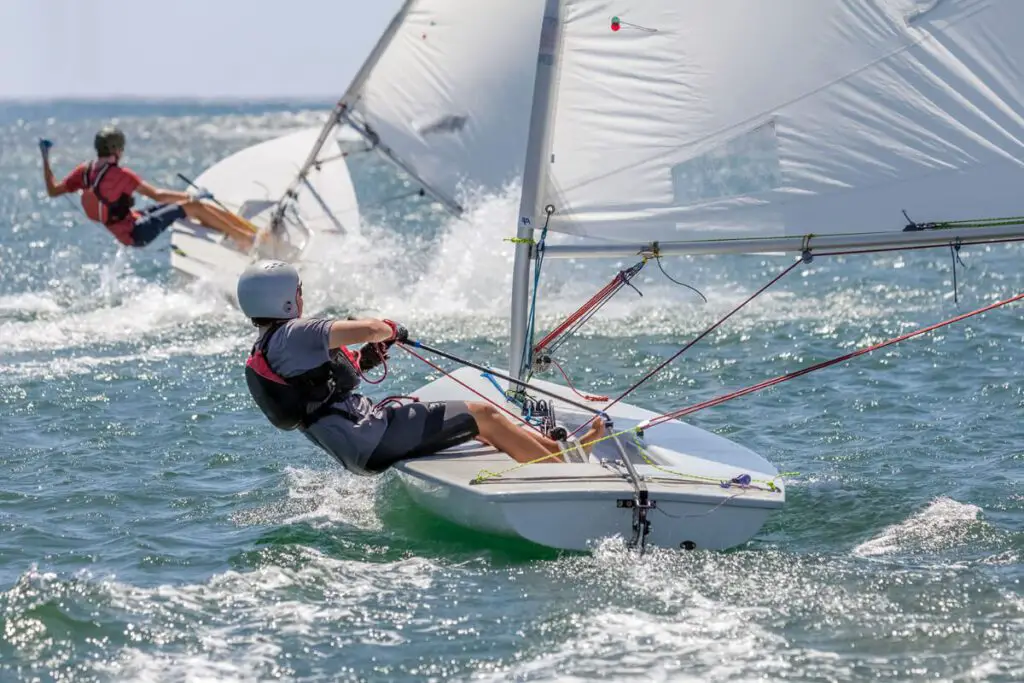 A Dinghy sailboat is much lighter and smaller than a keel sailboat. A dinghy sailboat is usually smaller than 20 feet and does not have a keel or ballast. Most dinghies are 9 to 16 feet or 3 to 5 meters long.
A dinghy will have a centerboard, and as the centerboard can be put in and out of the boat, you can transport a dinghy easier than a keelboat.
Because the dinghy has no keel or ballast, it can also tip over or capsize easier, especially in strong winds. And a dinghy will usually have just one sail, which is the main sail.
Because a dinghy is a small boat, you can sail a dinghy by yourself and without a crew.
Learning To Sail On A Keel Sailboat Vs. A Dinghy Sailboat
I have taken sailing lessons on both a keel sailboat and a dinghy sailboat. Many good sailors have learned to sail on both of these boats.
I learned to sail on a dinghy in the warm waters of the Philippines. The dinghy was a perfect boat to learn to sail there as the wind was excellent but not super strong; we sailed a lot in a bay or island area.
For a dinghy, we also had to learn how to capsize the boat as it was possible that a significant wind could hit and the ship would capsize. But as we were in some island areas, we never sailed too far from shore.
If you are learning to sail in a lake or an area like I did in the Philippines, the dinghy is the perfect boat to learn to sail on, especially if you do not have very high winds.
I have also sailed with the Milwaukee Community Sailing Center on Lake Michigan on Ensign Keel sailboats. The Ensign boat is perfect for Lake Michigan as the winds can frequently change.
We will sail in conditions where the winds suddenly become very heavy, and we must find a way to get safely back to port. The Ensign is an excellent boat for those conditions as the ships do not capsize and can handle heavier winds.
Also, as the Ensign has a jib sail, it can require more skill than a dinghy that usually has a main sail. It also means that to sail an Ensign, you need at least two people to sail the boat, as one must work with the tiller and the main sail, and another handles the jib sail.
Learning to sail on either a dinghy or a keelboat is good. If I were learning to sail on a relatively calm lake or a calm ocean bay, a dinghy would be good to learn to sail on.
But If I was learning to sail in heavier winds or wind conditions that can frequently change, as, on Lake Michigan, I feel the keelboat is the better boat to learn to sail on.
At A Bus On A Dusty Road, we talk about travel, life, sailing, and ex-pat living. We are all about "Living Life As A Global Citizen." We explore sailing, social, cultural, and economic issues, and travel.
We would love to have you be part of our community. Sign up for our newsletter to keep up-to-date by clicking here. If you have any questions, you can contact me, Anita, by clicking here.
Listen to our Podcast called Dusty Roads. You can find it on all major podcast platforms. Try out listening to one of our podcasts by clicking here.
Subscribe to our A Bus On A Dusty Road YouTube Channel with great videos and information by clicking here.
Related Questions
What Is Jibing In Sailing? Steps To A Proper Controlled Jibe
A jibe in sailing is when the boat moves with the stern through the wind. In a jibe, the stern will move through the wind. Like any sailing maneuver, when you have a crew, the helmsman or the captain steering the boat needs to adequately communicate with the crew about what is happening so that they know; this is especially true when jibing.
By clicking here, you can discover What Is Jibing In Sailing? Steps To A Proper Controlled Jibe.
What Is Tacking In Sailing? Steps To A Proper Tack
Tacking is when you move the boat's bow into the wind to turn the boat's direction. It is a very common maneuver that all sailors must learn to master. But with any sailing maneuver, there are proper steps; you must know to do a good and safe tack.
By clicking here, you can discover What Is Tacking In Sailing? Steps To A Proper Tack
What Is The Sailing Term For "No Wind"?
The term calm or becalm is used to describe sailing with no wind. In ancient times, the sailors also used the word Tide Over to indicate that there was no wind, so they were Tide Over or stuck without being able to sail.
By clicking here, you can discover What Is The Sailing Term For "No Wind"?