The Ao Dai dress in Vietnam has long been a symbol of Vietnamese women's clothing. But the Vietnamese Ao Dai dress was designed in the early 1900s.
Before the early 1900s, Vietnam did not have the Ao Dai as we know it today. In fact, like many things in Vietnam, there were times in Vietnamese history when dress and clothing were used as a political statement or to separate one part of Vietnam from another.
Table of Contents
Vietnamese Clothing Before The 18th Century
China ruled Vietnam for over 1,000 years, so it is not surprising to learn that some Vietnamese clothes, like the Mandarin collar, would have some Chinese influences. The Chinese style of the Mandarin collar and even the loose-fitting clothing influenced Vietnamese clothing.
Women's clothing and politics have long gone together in Vietnam. For centuries Vietnamese peasant women would wear a halter top under a blouse or coat with a skirt.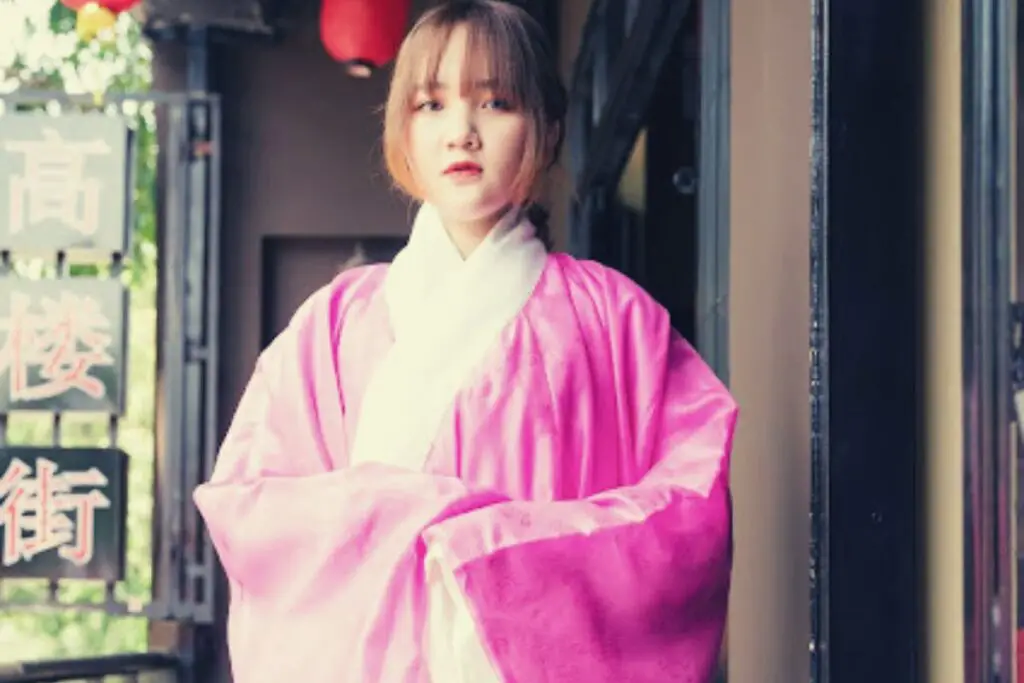 To show they were not peasants, the aristocrats would wear a robe known as an "Áo giao lĩnh." The Áo giao lĩnh was a cross-collared robe worn by the Vietnamese before the 19th Century. The Áo giao lĩnh were worn by the noble class and were very similar to Chinese clothing worn at the time.
Clothing was used to separate people into different classes. Just by the dress they wore, you could tell what class of people they were from – the working class and peasants or the noble class and those with money. Using clothing this way would have been common in Vietnam and most of Asia.
Nguyen Court Clothing Decrees Of The 18th Century Divides North And South.
In the 17th and 18th Centuries, Vietnam was divided into north and south, with the Nguyen Lord ruling in the south.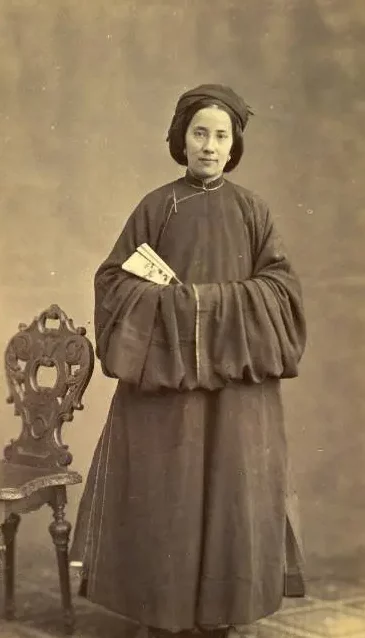 In 1744, Lord Nguyen Phuc Khoat of Hue decreed that men and women in his court needed to wear trousers and a gown with buttons down the front. This gown was the start of the first type of early Ao Dai. It was said that the Chinese Ming Dynasty clothing influenced Lord Nguyen Vietnamese-style gowns; you can see Chinese features in the designed gowns.
The clothing Nguyen decreed also distinguished the southern people from the northern people. In the north, the court people still wore the Áo giao lĩnh with long skirts.
19th Century – Unifies Vietnam Clothing With The Ao Dai
In the 19th Century, Vietnamese clothing started to become more standardized. Emperor Minh Mang (1820 to 1841) started standardizing the clothing style throughout Vietnam; there was no long and northern and southern clothing style distinction.
Emperor Minh Mang decreed that the Vietnamese wear what was then known as the Ao Dai. He made a decree that the Ao Dai should be the national dress for all regions of Vietnam that were under his rule.
The Ao Dai became the daily clothing for the Vietnamese people. But the Ao Dai they had was not the same as the Ao Dai you see in Vietnam today.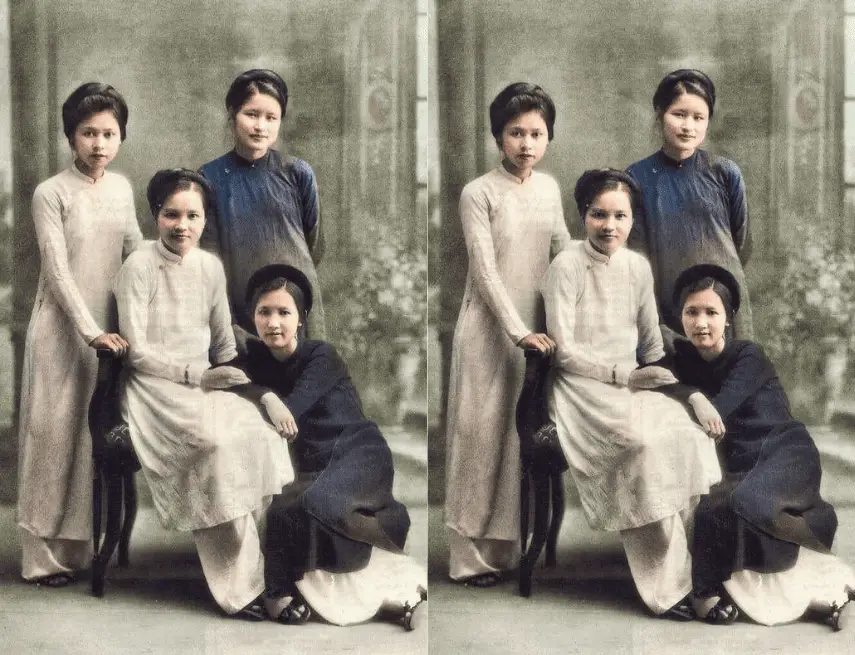 The Vietnamese wore what was known as the áo ngũ thân (five-part dress) as the dress had two flaps sewn together in the back, two flaps sewn together in the front, and hidden or what they called a "baby flap" hidden under the main front flap.
When you looked at the gown, it appeared only to have two flaps with slits on both sides, but in reality, it had five different flaps. If we compare this to the modern Ao Dai, the front and back flaps are much broader; the fit is much looser, and the gown could be worn much shorter.
The gown would also have a high collar and was buttoned up in the same fashion as the modern ao dai. With the high mandarin color, you can see the Chinese influence on the Vietnamese Ao Dai, so many westerners may confuse it with the Chinese dress known as Cheongsan.
Old Gabriel Veyre Film From Hanoi, Vietnam (1899 to 1900).
An exciting place to see the clothing of everyday Vietnamese people during the French colonial era was this rare footage that was found of the French filmmaker Gabriel Veyre (1871 to 1936). Gabriel Veyre traveled throughout French Indochine and took this film sometime between April 1899 and March 1900.
Gabriel Veyre was known to produce over 39 films during his visit to French Indochine. These films were commissioned by the French government to be shown at the 1900 Paris Exposition.
Veyre must have had one of the first video cameras in Vietnam to capture life on the streets of Hanoi. We can see in this film children and others running around as two French women, the wife and daughters of the French governor-general Paul Doumer toss coins at them.
Looking at this film, you can see some Vietnamese clothing during this time, particularly this áo ngũ thân (five-part dress). Their clothing is much more loose-fitting and shorter than the Ao Dai's clothes as the Vietnamese wear today.
A short film by Gabriel Veyre that has survived today (early 1900s Video)
This film is fascinating since not only do we get a glimpse of what Vietnam was like during this time, but we can also see the contrast between what the French wore and the Vietnamese wore and how very different their clothing was.
You can also clearly see the Chinese influence in Vietnam as they are standing outside a building that looks like an old French shop house in the old quarters of Hanoi, and there is Chinese writing on the outside of the buildings.
Also, we can see that the men, women, and children all had on the same kind of loose-fitting shorter Ao Dais, and some looked to even have on a skirt that would have been more of the fashion for North Vietnam.
Traditional Vietnamese clothing before the Ao Dai dress differed greatly from what many may think. This small film by Gabriel Veyre gives a glimpse into Vietnamese clothing during that period.
If you are traveling to Hanoi, Vietnam, one of the best places to discover more about Vietnamese fashion and women's lives in Vietnam is the Vietnamese Women's Museum. This boutique museum gives you a glimpse into Vietnam and the lives and fashion of Vietnamese women. You can learn more about the museum by clicking here.
At A Bus On A Dusty Road, we talk about everything about culture, travel, life, sailing, and ex-pat living. We are all about "Living Life As A Global Citizen." We explore social, cultural, and economic issues and travel.
We would love to have you be part of our community. Sign up for our newsletter to keep up-to-date by clicking here. If you have any questions, you can contact me, Anita, by clicking here.
Listen to our Podcast called Dusty Roads. You can find it on all major podcast platforms. Try out listening to one of our podcasts by clicking here.
Subscribe to our A Bus On A Dusty Road YouTube Channel filled with great videos and information by clicking here.
Related Questions
14 Things To Understand The Vietnamese Culture
Vietnam is a magical country to visit or live in. The Vietnamese people are kind, generous, and inviting to foreigners. But anyone planning a visit to Vietnam should understand some things about Vietnamese culture.
By clicking here, you can discover 14 Things To Understand The Vietnamese Culture.
Is the Vietnamese Water Puppet Show Worth Seeing?
Every visitor to Vietnam should go to see the Vietnamese Water Puppets show. This water puppet show is very much a part of Vietnamese culture. The water puppets are also a rich part of Vietnam's history.
By clicking here, you can discover Is the Vietnamese Water Puppet Show Worth Seeing?
Is Vietnam Really Safe To Travel Alone?
Vietnam is a very safe place to travel alone, but with any country you are visiting, there are a few things you should know about Vietnam and how to ensure you are safe during your travels.
To find out more you can read our blog on Is Vietnam really safe to travel alone? What you need to know, by clicking here.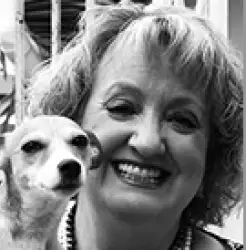 Latest posts by Anita L Hummel
(see all)