Vietnam is a wonderful place to live and visit. Over the last few years, the popularity of Vietnam as a tourist destination continues to grow Many tourists want to go out to the countryside in North Vietnam to explore the mountains and other remote areas. But with all kinds of travel, there is a chance that you can get hurt or get ill during your trip.
If you get an illness or injury while traveling in North Vietnam, you can go to a Government (Public) Hospital, but you will find that the conditions of the hospital are not up to western standards of medical care. You should instead consider getting down to Hanoi to have a doctor in one of the Expat Medical clinics or hospitals check you out. If the Hanoi clinics or hospitals are not able to help you with your medical needs, then you may need to go to another Southeast Asian country or go home.
Table of Contents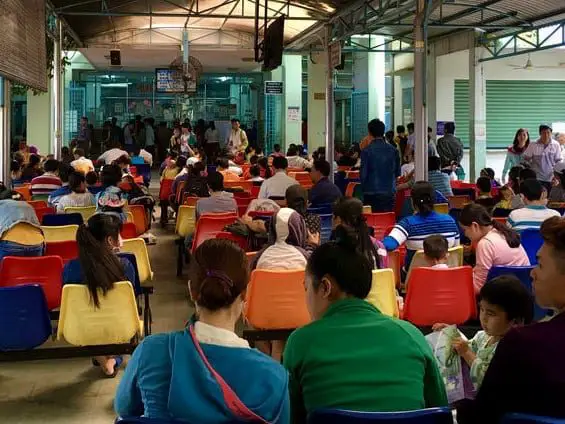 What To Do If You Get an Illness or Injury In North Vietnam?
If you get hurt or ill while traveling in North Vietnam, the first thing you need to assess is how serious it is and how badly hurt you are. Most areas of Vietnam will have a local hospital, but these hospitals are usually not up to western medical standards. But if it is a simple issue, they may still be able to help you.
For example, a friend took a young Hmong girl to a local hospital in Lao Cai near Sapa as her leg was hurting her. The doctor diagnosed it as a leg infection and sent her home with antibiotics.
Months later, it did not get better, so they went back again and told her nothing was wrong. Finally, they took this young girl to Hanoi to one of the better hospitals and discovered she had bone cancer. Because it was not caught early enough, the cancers started to spread.
I have heard a lot of stories like this where the local government hospitals completely misdiagnose an illness or injury so that then the person who has the illness or injury then ends up in a very bad state or condition as they did not get the proper diagnosis in the first place.
In truth, this same thing can also happen in the west or other hospitals, but many of these local hospitals do not have the trained staff or equipment that some of the larger hospitals have. And in many cases, hygiene and other care are not up to the western standard.
Understanding the Vietnamese Government (Public) Hospitals.
I have been inside many of the Vietnamese Government (Public) Hospitals to visit people who are ill or sick. These hospitals are usually extremely crowded. If you choose or need to stay in a Vietnamese Government Hospital, then here are a few things you need to be aware of during your stay:
Many patients in one room – There are usually many patients. It is usually not just you and a roommate, but it could be you and 6 or 8 other patients and all their relatives. There may even be two patients on one bed as they lack beds. There are single rooms or rooms with fewer people, but those rooms are usually tough to get as many people also want to have those rooms.
Rooms are not divided necessary by disease or illness – If you broke your leg, you could be put in a room with someone with another disease. You will not necessarily all be in the same room with the same disease or injury. You may pick up a cold or bronchitis from your hospital roommate.
The room may or may not have air-con – The room may or may not have air-con. If you are a foreigner, chances are they will get you in a room with air-con, but there is also a chance they can be full, and you are in the hospital in the heat of the summer without any air-con or fan. For many hospitals getting a room with air-con can be very difficult as there is such a limited number of rooms with air-con.
Family members will stay the night in the room and sleep with the patient – Not only will you have other patients in the room, but you will also have family members sleeping on the same bed as the patient. So the rooms can be extremely crowded.
All kinds of food will be brought in – Vietnamese hospitals are unlike you find in the states or other places where you order off a menu, and no other food is allowed or supposed to come in. Most of the time, family members and friends bring food for the patients. The hospital has food for the patients but not for the family members. So there could be a ton of food and smells that you are not sure what they are.
The nursing staff is non-existent or very limited – Do not expect to have a nurse come running every time you call. This is why the family members are there to help the patients, as there is a very limited or non-existent nursing staff.
Bathrooms will be shared – You will share a bathroom with many people. It may or may not be in the room, or it could be down the halls somewhere.
English will be limited – The use of English will be minimal. So if you do not speak any Vietnamese, it may be very difficult to even communicate with your doctor about your treatment.
If a government hospital sounds very dismal, well, it can be. In truth, many Vietnamese, if they have a choice, will go to a private hospital or clinic if one is available.
I had a friend who was hurt in a motorbike accident. She was in a lot of pain and was not sure where to go to find a doctor, so they asked a taxi driver to take them to a hospital.
The driver took them to a large government hospital. The hospital took X-rays and told her that it was not serious; all she had was some bruising, and they gave her some painkillers, bandaged her up, and sent her home.
A day later, she was in so much pain that she asked the hotel if there was another doctor she could see. The hotel sent her to the Hanoi-French Hospital. Once there, more X-rays and tests were conducted and they found out she had two broken ribs, a broken back, and a host of other injuries. She ended up staying over 2 weeks in the hospital as her injuries were so serious.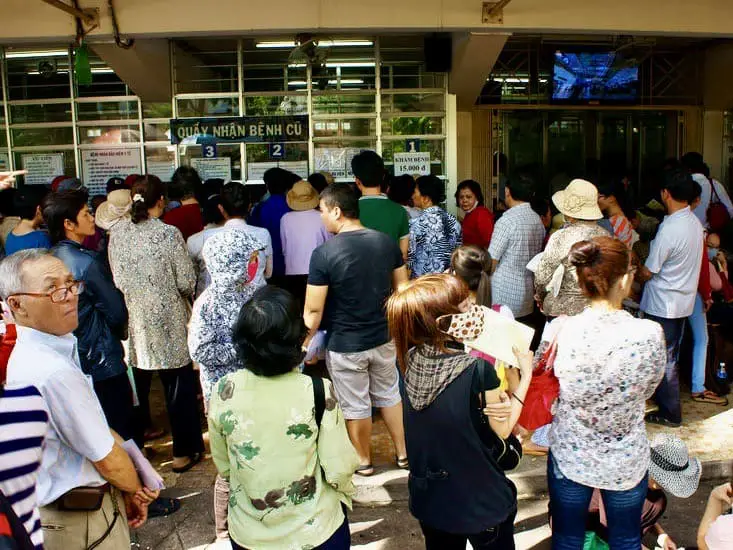 What To Do If You Get Hurt When You Are Traveling Outside Hanoi?
If you get hurt while traveling outside Hanoi, there are a few steps you can take.
Access how badly hurt you are: If I broke a wrist, I would probably get to the local hospital and then have them wrap it up and stabilize it so I could get back to Hanoi. The local hospitals should have X-ray machines so they can take an X-ray. When you pay for an X-ray in Vietnam, you can take the X-ray with you. So I would get an X-ray and then bring the X-ray down to Hanoi to see a doctor at one of the better private hospitals.
Get down to Hanoi as soon as you can – Get down to Hanoi to see a doctor as soon as you can. When you are in Hanoi, go to either the Raffles Clinic or Family Medical Plan Clinic (see the information about each clinic below). Alternatively, go direct to either the Hanoi – French Hospital or Vin Mec Hospital (see address below)
You can read about medical care in Hanoi by checking out the blog. Guide to Emergency Medical Care in Hanoi, Vietnam by clicking here.
Where to Find Good Medical Care in Hanoi, Vietnam?
Here is where you can find good medical care in Hanoi, Vietnam. Hanoi has two clinics that most foreigners go to and two hospitals that also serve a lot of foreigners.
Medical Clinics Located in Hanoi:
There are two clinics located in Hanoi that most foreigners will go to get adequate medical care. The clinics are the Raffles Medical Clinic and the Family Health Plan Clinic.
Raffles Medical Clinic
Raffles Medical Clinic – 51 Xuân Diệu, Quảng An, Tây Hồ, Hà Nội 700000, Vietnam Tel: 02439340666 – 02436762222 (24/7 Emergency Care Email: hanoi_reception@rafflesmedical.com
The Raffles Medical Clinic used to be the SOS Clinic in Hanoi but changed to the Raffles group. It is located in the heart of Tay Ho, or the Westlake area of Hanoi. So if you are staying in that area or close to that area, it is quite easy to get to the Raffles Medical Clinic.
Raffles is a Singapore-based group, but they have offices throughout Asia. Besides their clinic in Hanoi, they also have clinics in Ho Chi Minh and Vung Tau, Vietnam. They are usually open from 8 am to 8 pm daily, but they also provide support for 24 hours of emergency care.
Their doctors and nurses all speak English. Some of the doctors are foreign doctors, but most are Vietnamese. The Raffles Medical clinic is behind the Syrena Center on Xuan Dieu Road. You can follow the signs to the Raffles Medical that will show you to go down the ramp and behind the Syrena Center to get to the Raffles Medical clinic. You can also show the security guards at the Syrena Center the address and name of the Raffles Medical clinic, and they can point you in the right direction.
Family Medical Practice
Family Medical Practice – Hanoi, 298 I Kim Ma Street, Van Phuc Compound, Ba Dinh District, Hanoi, Vietnam Tel: +84 24 3843 0748, Fax: +84 24 3846 1750,
Email: hanoi@vietnammedicalpractice.com, Family Medical Practice Emergency Number: (024) 3843 0748 (24/7 Emergency Care)
The Family Medical Practice Clinic has been in Hanoi for many years and has a very nice facility not too far from the DaeWoo Hotel or the Lotte Centre. The Family Medical Practice also has full-service clinics in Ho Chi Minh and Danang.
Their facility is a bit larger than the Raffles Medical clinic and has many more western doctors and specialists. I have gone to them to see some of their specialists and get my annual medical check-up. I found them to be excellent and competent. Their normal operating hours are Monday to Friday from 8:30 am to 5:30 pm and Saturday from 8:30 am to 12:30 pm. They give 24-hour emergency care.
Hospitals Located in Hanoi
There are two main hospitals in Hanoi that you should go to if you are hurt. The hospitals are the Hanoi- French Hosptial and the Vin Mec Hospital.
Hanoi – French Hospital
Hanoi – French Hospital, 01 Phuong Mai Street, Dong Da District, Hanoi, Vietnam, Emergency Hotline Hanoi- French Hospital: (84-24) 3574 1111, Hanoi-French Hosptial Tel: (84-24) 3577 1100, Email: contact@hfh.com.vn
The Hanoi- French Hospital has been established for quite some time and has quite a few foreign and Vietnamese doctors, including many French-trained doctors. The hospital does a lot of operations and has many medical experts on site.
Vin Mec International Hospital
Vin Mec International Hospital – Hanoi, 458 Minh Khai, Hai Ba Trung, Hanoi, Vietnam, Telephone – 0243 9743 556
Vin Mec International Hospital is one of the newest private hospitals in Hanoi. This hospital is new and has a lot of updated medical equipment. There are 4 VinMec International Hospitals in Vietnam; besides the one in Hanoi, there are Vin Mec hospitals in Ho Chi Minh, Da Nang, and Nha Trang, Vietnam.
Like the Hanoi-French Hospital, the VinMec International Hospital also has a mixture of foreign and highly skilled Vietnamese doctors. Also, like the Hanoi- French Hospital, many Vietnamese doctors have been trained overseas.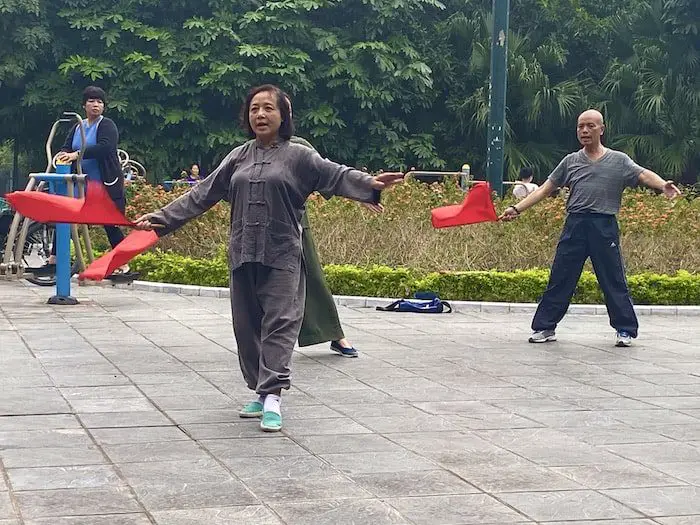 What If Your Illness or Injury is Serious?
If you are seriously injured or ill, you have a few options you should consider:
Get back home to get the care you need. – As soon as you can travel, then get back home to see your doctor and get the care you need. This way, there would be no question about the quality of your medical care.
Go to Thailand, Singapore, or Hong Kong for your medical care. Many foreigners who need specific tests or better medical facilities will go to 'Bangkok, Thailand, Singapore, or Hong Kong. So if going home is not an option or the flight is too long for you to be able to handle returning home, then going to another one of these Asian countries may be your best option.
If you get injured somewhere in North Vietnam, your best option is to try to get back to Hanoi as soon as possible to go to a clinic or hospital in Hanoi, If the Hosptial or Clinic in Hanoi is not able to give you the care that you need then you should either try to go home or go to Thailand, Singapore or Hong Kong or another country that can help you with your medical needs.
Other Related Questions About Health In Vietnam
What are the most common diseases in Vietnam?
According to the Borgen Project, the most common diseases in Vietnam are:
Chikungunya – This disease is rare in America but is shared in Vietnam. Due to Vietnam's high humidity rate and mosquitoes, this disease is spread through mosquito bites. The symptoms are that you will get flu-like symptoms like fever, joint pain, fatigue, and nausea. This disease is rarely fatal.
Rabies – Many dogs in Vietnam are not vaccinated against rabies, and Vietnam has had over 900 deaths due to rabies in the last decade. Rabies is transferred to humans when bitten by a dog infected with the rabies virus. Anyone traveling to Vietnam or Southeast Asia should have their rabies vaccination. You can read our blog on Why you need a Rabies Shot Before Traveling to Southeast Asia by clicking here.
Japanese Encephalitis – Japanese Encephalitis is a disease caused by mosquito bites, but this disease can be deadly, unlike Chikungunya. Travelers to Vietnam for more than a month should get a Japanese Encephalitis vaccination,
Typhoid Fever – Typhoid Fever is still common throughout Southeast Asia. It is spread through unclean food and water or an infected person. Antibiotics and vaccinations are available to treat and prevent typhoid in Vietnam. Still, the best action is eating at clean restaurants, washing your hands frequently, and avoiding very unclean areas.
Tuberculosis (TB) – Tuberculosis is one of the most common diseases in Vietnam, and it is estimated that annually Vietnam has about 17,000 Tuberculosis deaths. Tuberculosis is most commonly contracted from people's coughs, sneezes, or even just a discussion, and without treatment, tuberculosis can be fatal.
When traveling to Vietnam or even around Southeast Asia, take precautions to prevent getting these common diseases.
Are Vietnamese people healthy?
Many Vietnamese are very healthy as the Vietnamese food diet is filled with many fresh fruit and vegetables. Many Vietnamese also do not eat much sugar or processed foods compared to the western diet. But diabetes and other diseases have increased in Vietnam over the years as people have continued to live a more sedentary life than in the past.
At A Bus On A Dusty Road, we talk about travel, life, and ex-pat living. We are all about "Living Life As A Global Citizen." We explore social, cultural, and economic issues and travel.
We would love to have you be part of our community. Sign up for our newsletter to keep up-to-date by clicking here. If you have any questions, you can contact me, Anita, by clicking here.
Listen to our Podcast called Dusty Roads. You can find it on all major podcast platforms. Try out listening to one of our podcasts by clicking here.
Subscribe to our A Bus On A Dusty Road YouTube Channel with great videos and information by clicking here.
Related Questions
What Is The Vietnamese Propaganda Art?
Propaganda posters first started in the Soviet Union and then spread to other socialist countries like Vietnam. For many years, posters have been an important part of the Vietnamese art scene. You can still see the propaganda art posters around Vietnam.
You can discover more by reading our blog Vietnamese Propaganda Art, All You Need To Know by clicking here.
Who Built the Long Bien Bridge in Hanoi, Vietnam?
The Long Bien Bridge in Hanoi, Vietnam, is an iconic bridge that was designed by the great architect Gustave Eiffel. The bridge has a long history and is an important part of the history of French rule in Vietnam. It was a target of bombings by the American forces during the Vietnam War. Today you can ride a motorcycle, bicycle, or walk across the Long Bien bridge.
You can learn more by reading our blog Who Built the Long Bien Bridge in Hanoi, Vietnam? by clicking here.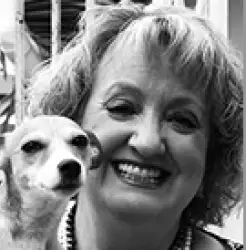 Latest posts by Anita L Hummel
(see all)