One of my favorite musical performances is when there is a musical performance that includes some bamboo instruments. The bamboo musical instruments produce a very unique and interesting sound.
Bamboo grows throughout Asia. Many Asian cultures have bamboo instruments as part of their traditional music. Vietnam is one country whose traditional music uses a lot of bamboo musical instruments. This is because Vietnam's ethnic hill tribe minorities use bamboo musical instruments in their music.
Table of Contents
Bamboo Is A Familiar Asian Symbol
When most people think of bamboo, they usually will think about Asia. This is because bamboo is truly an Asian symbol. This is because, throughout Asia, some form of bamboo is grown.
If you want to learn more about the bamboo plant, you can read the blog Bamboo – An Auspicious Plant For Your Home by clicking here. In this blog, you can learn all about bamboo and why bamboo is so important in Asia.
Bamboo has many uses in Asia, from food to scaffolding for building construction to even traditional musical instruments. In almost all countries around Asia, you can find some kind of musical instrument made from bamboo.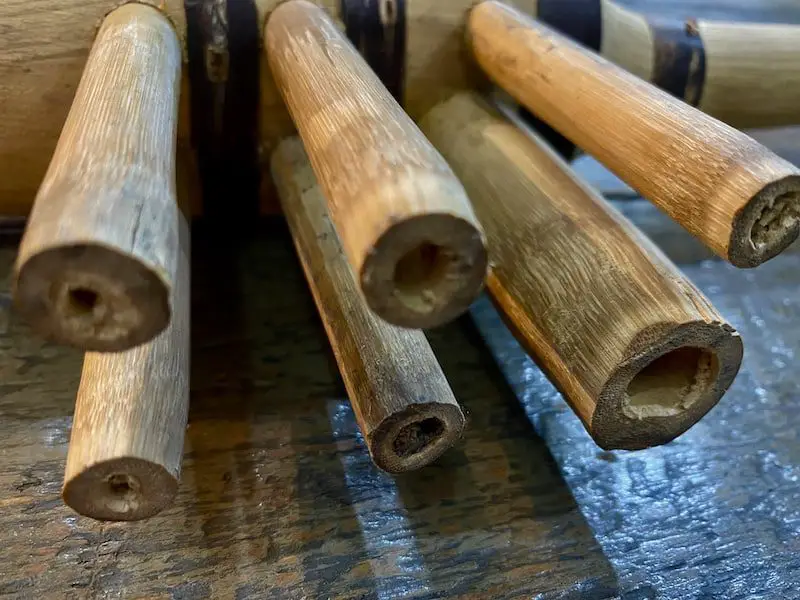 The Bamboo Used to Make Vietnamese Musical Instruments
Many cultures around the world, make and use bamboo musical instruments. For example, the bamboo flute is one of the most recognized and also one of the oldest and most simple musical instruments around the world.
Vietnam has not only a bamboo flute but also many other bamboo instruments. Because of the nature of Vietnam's bamboo, Vietnam's bamboo musical instruments are unique and can give off a unique sound.
This is because Vietnam's climate is conducive to making musical instruments out of bamboo. The Chinese and Philippine bamboo is generally thicker and has more closely spaced knots. Their bamboo will give off a lower and more opaque sound.
But the bamboo in Vietnam can produce a more pure and echoing sound. This is because bamboo is thinner and has fewer knots than another bamboo. This helps the Vietnamese bamboo musical instruments to be unique with a unique sound.
The Vietnamese have long used bamboo to create musical instruments as the instruments give out a distinctive musical sound and voice. These simple bamboo instruments are played at family and other communal events and festivals. In recent years bamboo musical instruments have also been performed in venues as the Hanoi Opera house with National Orchestras and choirs.
Types of Vietnamese Bamboo Instruments.
In Vietnam, bamboo makes three significant kinds of musical instruments. The three kinds are 1) wind musical instruments, 2) string musical instruments, and 3) percussion.
Generally speaking, the Vietnamese flute and panpipes are made of bamboo trunks. A panpipe is also called a syrinx. It is a wind instrument made of bamboo of various lengths tied together in a row and then blown across at the top. Each length will produce a different note and sound.
The Hmong in Vietnam uses a panpipe for their music which is made out of bamboo. The panpipe has holes in it in certain parts of the bamboo to give off different sounds. You would play the panpipe similar to how you may play a playing a flute or clarinet.
But not just bamboo is used for the bamboo musical instruments, but also bamboo leaves are used to create a sound. And bamboo is used to make bells, drumsticks, and castanets, also known as clackers.
Vietnamese Ethnic Hill Tribes and Bamboo Musical Instruments
Many of Vietnam's ethnic minority hill tribes have long used bamboo for their musical instruments. Some minorities in the Central Hill tribes of Vietnam will use bamboo for their two-string fiddles or their 16-string zither. Also, they have a monochord.
It can be said that almost all the ethnic groups in Vietnam have some form of traditional bamboo musical instruments that they use for their music. This is how important bamboo musical instruments are to the culture and traditions of Vietnam's Ethnic minority groups.
One reason why bamboo instruments are used so much is that they are simple yet, at the same time, can give off some distinctive sounds and music. Dr. Nguyen Thi Hoa Dang, a Vietnamese musical and bamboo musical expert in speaking of the bamboo musical instrument and Vietnam's 54 ethnic minority groups, has said:
Where to Hear the Bamboo Instruments Performance?
One of the best places to hear bamboo musical instruments performances is at the Hanoi Opera House. There have quite a few of performances there with some bamboo instruments.
Visiting the Hanoi Opera house is a treat in itself. You can find out more about the Hanoi Opera House schedule and what shows they have by clicking here.
You may also see some performances that include bamboo instruments if you visit the hill tribes. This is because many ethnic hill tribes will use bamboo instruments for their music.
One of my favorite conductors and bamboo musicians is Dong Quang Vinh, an amazing Vietnamese conductor, and bamboo musician. Here is a great video he has produced that talks about these amazing instruments.
The bamboo musical instruments are amazing musical instruments that produce some amazing sounds. Being able to hear these instruments in person is a real treat.
We recommend that to find out more about bagpipes and other related instruments, you visit this very informative site of Wiebe Stodel's Encyclopedic Dictionary of International Terminology of Bagpipes and related instruments by clicking here.
At A Bus On A Dusty Road, we talk about travel, life, and ex-pat living. We are all about "Living Life As A Global Citizen." We explore social, cultural, and economic issues and travel.
We would love to have you be part of our community. Sign up for our newsletter to keep up-to-date by clicking here. If you have any questions, you can contact me, Anita, by clicking here.
Listen to our Podcast called Dusty Roads. You can find it on all major podcast platforms. Try out listening to one of our podcasts by clicking here.
Subscribe to our A Bus On A Dusty Road YouTube Channel with great videos and information by clicking here.
Related Questions
What are the Hanoi Old Quarters?
Hanoi's Old Quarters has a rich and varied history as it has long been the center of commerce in Hanoi and Vietnam. The Old Quarters uses the name of 36 Streets. Even though there are more than 36 streets in the Old Quarters area, they call it 36 Streets due to the 36 guilds or crafts that were once sold there. Streets are named for the different products they once sold. One of the best ways to see the Old Quarters is by the Electric Bus or Golf Cart.
You can find out more about Hanoi's Old Quarters by reading the blog Hanoi's Old Quarters, Touring By the Electric Golf Cart by clicking here.
What Are Some Things to Do in Vietnam?
Vietnam is also a wonderful and exciting country to visit and is a fantastic place to travel. For a first-time visitor to Vietnam we have compiled 32 Vietnam travel tips for the first-time traveler to Vietnam. These 32 travel tips will help ensure you have the best trip possible in Vietnam.
You can read the blog on 32 Tips for First Time Travelers to Vietnam by clicking here.