The Vietnamese cucumber salad is a Vietnamese salad that you will find on the dinner table of many Vietnamese families. It is a straightforward salad to make that is filled with fresh ingredients.
To Go Straight To Vietnamese Cucumber and Peanut Salad and Video – Click On The Link Below:
Jump to Recipe
You can watch our video on making the Vietnamese Cucumber Peanut Salad by clicking on the link below.
The Ingredient List of the Vietnamese Cucumber and Peanut Salad
The Cucumber and Peanut Salad consist of very few ingredients, yet the salad is bursting with flavor.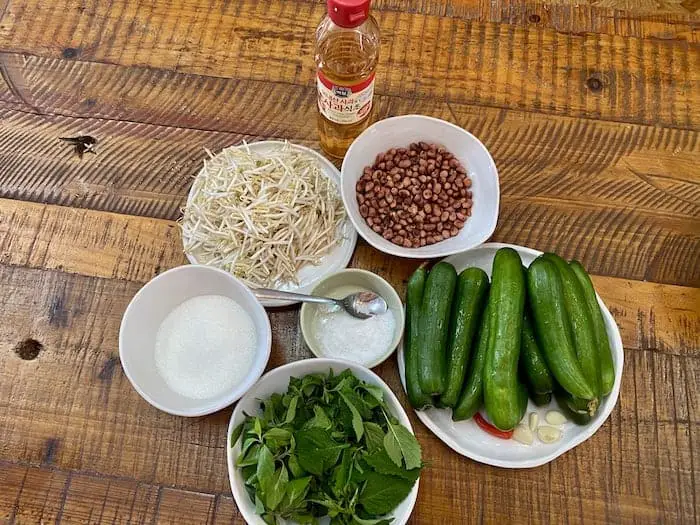 The ingredients used for this Vietnamese Cucumber and Peanut salad are:
Cucumbers – The main ingredients of this salad are fresh cucumbers. The Vietnamese cucumbers we are using may be smaller than cucumbers in other areas of the world, but any fresh cucumber will work.
Bean Sprouts – Bean Sprouts are another staple of Vietnamese food and are used in a lot in Vietnamese dishes. The bean sprouts must be fresh and can not be canned or frozen. A canned or frozen bean sprout will take the taste different and not have the freshness required for this salad.
Fresh Mint – Fresh mint is a herb the Vietnamese use a lot. Again this can not be dried mint but must be fresh mint. I know in some parts of the world mint grows wild, so even that fresh mint can be used in this dish. The fresh mint gives this salad a very nice flavor.
Fresh Vietnamese Balm – Kinh Gioi – or Vietnamese Lemon Mint – This is a Vietnamese herb which is a kind of mint Most people will not be able to find it easily so you can always just use more fresh mint.
Peanuts – We actually buy fresh peanuts then we will cook them and smash them up. Peanuts that are already cut up or processed should be fine.
Fresh Garlic –Only use fresh garlic. I know there is some garlic in a jar or garlic paste but it just does not the same taste as fresh garlic. Take the time to peel, smash, and chop the fresh garlic. If you watch our video you can see how quickly this can be done. Do not skip on this step as fresh garlic can make a difference in the taste of this salad.
Fresh Red Pepper or Chilli – This is a very small red chile that is quite hot to the taste. This should be fresh as the dried will not work taste the same.
Sugar – This is regular granulated white sugar that you may use to make cookies with. Sometimes the Vietnamese may use a more natural sugar like cane sugar, so cane sugar is also fine to use if you prefer that.
Salt – It is good if you can use a more natural salt like sea salt.
Apple Cider Vinegar – You can use any kind of Apple Cider Vinegar.
You can download the Vietnamese Cucumber Peanut Salad recipe by clicking on the link below: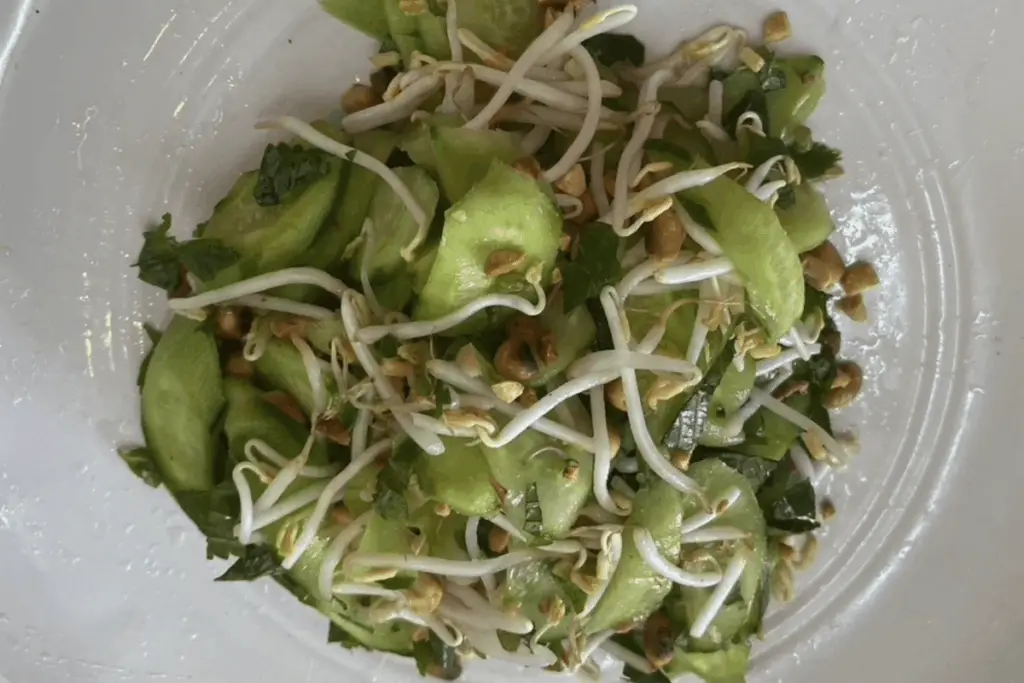 Vietnamese Cucumber and Peanut Salad Recipe -Nộm Dưa Chuột
Serves 6
Note on Vietnamese dishes –
Like most Asian cooking, cooking measurements do not need to be exact.   Feel free to add and adjust the quantities as per your preferred taste and preference.