People who come to Vietnam; may be surprised to see that Vietnamese food uses a lot of peanuts and some cashew nuts. It is surprising to know that neither one of these nuts are native to Vietnam.
Both the peanuts and cashews nuts were introduced to Asia by Portuguese and Spanish traders. The peanut is native to South America, while the Cashew nut is known to be native to Brazil. Neither one of these nuts is native to anywhere in Asia, yet today they are essential ingredients in Asian cooking, especially Vietnamese dishes.
Vietnamese food uses many nuts, especially peanuts, in their cooking. Without these nuts, Vietnamese food would not taste the time.
Both the peanut and the cashew nuts have a fascinating history of how they found their way to the Vietnamese dinner tables.
Portuguese Traders and The Peanuts
The peanut grows in tropical and subtropical regions throughout the world. But the peanut is native to the western hemisphere or South America. It is thought that the peanut spread across the globe when Spanish and Portuguese explorers discovered how versatile the peanut was and started to carry it on its ships as food to trade.
Portuguese traders introduced the peanut to China in the early 17th century or during China's Ming Dynasty. The peanut was first introduced to Fujian Province at the start of the 17th century; by the end of that century, it had spread to other parts of China.
The Chinese ruled Vietnam for over 1,000 years. When they ruled Vietnam, they brought them a lot of foods and cooking techniques; we can assume it was the Chinese who also helped ensure that Vietnamese cuisine included nuts in their dishes as peanuts.
American missionaries were said to have introduced the Virginia peanuts in the middle of the 19th century. I have always found it fascinating to see signs advertising boiled peanuts when you drive through states like Georgia. Almost identical boiled peanuts are found in both China and Vietnam.
Peanuts are a food source found throughout Asia; today, peanuts are considered a staple in many Asian dishes, especially Vietnamese cuisine. In Vietnam, you usually find peanuts in all kinds of Vietnamese salads and the peanut dipping sauce for the southern Vietnamese spring rolls.
Peanuts are such an essential part of Vietnamese food that you would almost think that it was a food that was native to Vietnam. The Vietnamese have adopted many foods that are not native to Vietnam.
The Spanish and Portuguese traders also introduced other crops to China and Asia, including sweet potatoes, maize, potatoes, peppers, tomatoes, pumpkins, and tobacco. Many of these crops are now considered staples in Asia and Southeast Asia cuisine.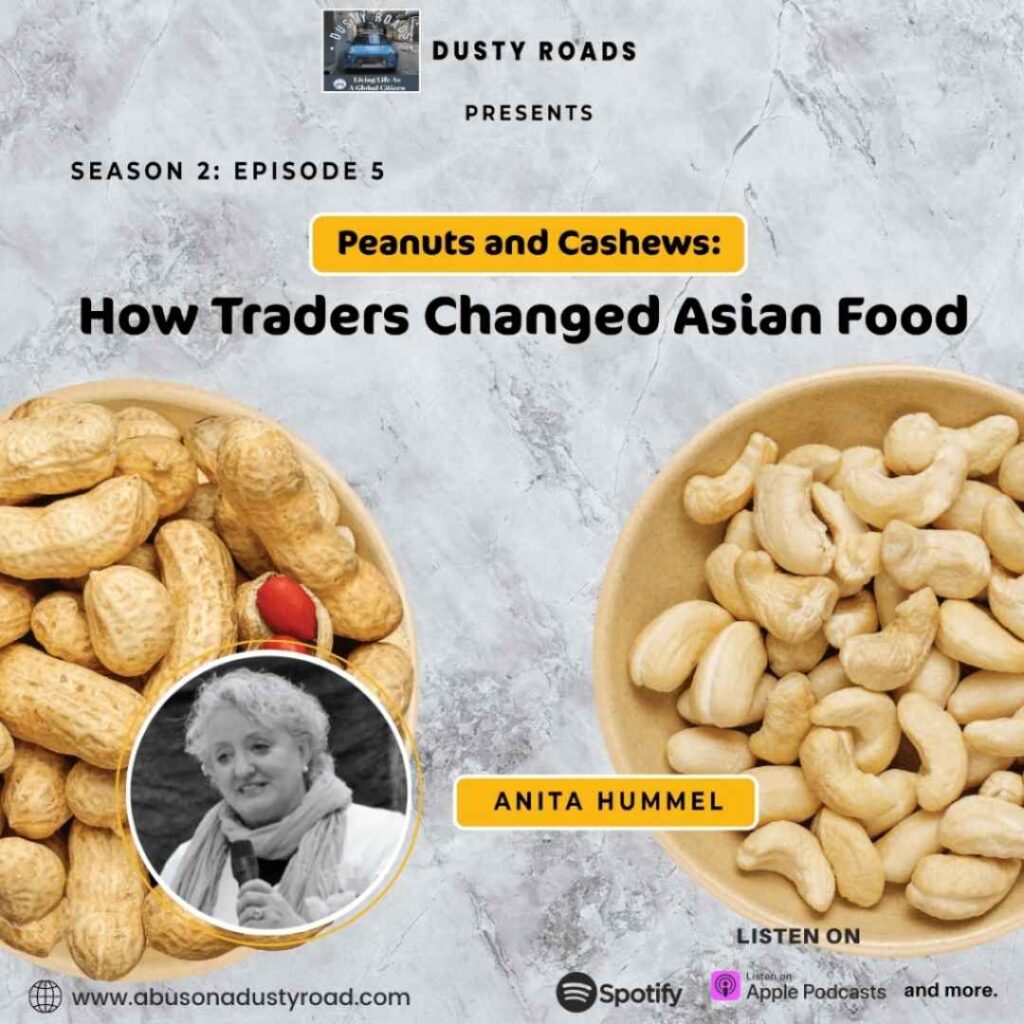 The Cashew Nut And India
The cashew nut is another nut that you will find in Vietnam and China. Though I must say that it seems the Chinese will use cashews in the stirfry's a bit more than I have seen in Vietnam. Many of the Vietnamese dishes tend to favor peanuts.
In all the stores here in Vietnam, you can find cashew nuts that are locally grown. It has always been considered one of the staple nuts of Vietnam and most of Asia.
But even though you can find cashew nuts throughout Vietnam, they are a lot more expensive than the peanut. That may be why many Vietnamese prefer to eat peanuts in their dishes instead of the more expensive cashew nut.
The cashew is a nut that is native to Northeast Brazil. During the 16th century, the Portuguese traders introduced cashews to India and some Portuguese colonies in Africa, such as Mozambique. For centuries ago, the adventurous Portuguese sailors came down the Indian coast and brought with them this wonderful tree known as the cashew.
It was from there that the cashew took its deep roots in the coastal region of India.
The Vietnamese have taken so much to this cashew nut production that today Vietnam is considered the king of the global cashew nut producers. Vietnam is said to be producing 3 to 4 times more than India, which is astonishing because India has always been known to be the home in Asia of cashew nut production.
This is an excellent example of how adaptive Vietnamese food has been to bring in many new vegetable nuts and other things into their cooking. The Vietnamese food of 300 years ago is not the same as it is today.
Over the years, the Vietnamese have refined their food and adopted ingredients such as peanuts to continue to add to the taste and the allure of Vietnam's delicious cuisine.
You would like to learn how to make the Vietnamese peanut dipping sauce, and you can find out more here.
This dipping sauce goes with the spring rolls, and here are all of the different recipes of the Vietnamese spring rolls.
Here are some of our other versions of these delicious Vietnamese fresh spring rolls and a link to the recipe:
At A Bus On A Dusty Road, we talk about all things to do with travel, life, and ex-pat living. We are all about "Living Life As A Global Citizen." We explore social, cultural, and economic issues and travel.
We would love to have you be part of our community. Sign up for our newsletter to keep up-to-date by clicking here. If you have any questions, you can welcome to contact me, Anita, by clicking here.
Listen to our Podcast called Dusty Roads. You can find it on all major podcast platforms. Try out to listen to one of our podcasts by clicking here.
Subscribe to our A Bus On A Dusty Road YouTube Channel filled with great videos and information by clicking here.
Related Questions
Vietnamese Peanut Dipping Sauce Recipe (Sốt Bơ Đậu Phộng)
The Vietnamese peanut dipping sauce is a popular dish to eat with the Vietnamese fresh spring rolls. The classic Vietnamese peanut dipping sauce is full of nutrients, taste, and flavor. Not only is the Vietnamese Peanut Dippin Sauce delicious, but full of nourishment.
To learn more, you can read our blog on Vietnamese Peanut Dipping Sauce Recipe (Sốt Bơ Đậu Phộng) by clicking here.
Vietnamese Cucumber and Peanut Salad Recipe -Nộm Dưa Chuột
The Vietnamese cucumber salad is a Vietnamese salad that you will find on the dinner table of many Vietnamese families. It is a straightforward salad to make that is filled with fresh ingredients.
By clicking here, you can discover more by reading our blog Vietnamese Cucumber and Peanut Salad Recipe -Nộm Dưa Chuột