Many people who love to travel want to travel with some meaning to their travel. Heritage travel is a great way to add meaning to your travel.
Heritage travel is about immersing yourself in another culture, time, or place. It is about reconnecting to your past, present, and future. The correct way to travel with heritage travel is to make sure you take the time to research and plan your journey.
Table of Contents
What is Heritage Travel?
Heritage travel is about connecting and experiencing life in the past, present, and even the future. The National Trust for Historic Preservation defines heritage travel as:
Many people see heritage travel as only visiting historical sites, but the truth is that it is much more than just visiting historical sites. It is about travel connecting you to your past, present, and future.
Whenever my family traveled, it was because there was some meaning to our travels. We were going to see a relative we had not seen in a while, go to a place with historical or cultural significance, or experience something we had not experienced before.
This could be why my definition of heritage travel is:
One of the great things about heritage travel is that it will help you learn and discover new things about your past, present, or future. Knowing and understanding a place's history allows you to see more of the present and the end of the same place.
Planning your Heritage Travel Trip
One of the most exciting things about heritage travel is planning the trip. To do heritage travel correctly, you also need to take the time to plan and research your trip properly; if you do this, you will have a significant journey.
Here are some tips for planning your heritage travel tip trip:
Research Your Travel Location For Your Heritage Travel
For proper heritage travel, you must also be willing to do the required research. The last thing you want to do is come to a place and have no idea what you are looking at or doing. Not only will it waste a lot of time, but you also lose out on many benefits of the travel experience itself.
Here are some ways that you can do some research for your heritage travel:
Online Research – There's so much information you can now find online. You will be far better off doing that research before you travel than trying to do it while traveling. Check out Wikipedia and online Britannia; blogs can offer great information and personal insights.
Read or Listen to a Book – If you want to immerse yourself in some of the culture or history, there are many great historical books and even novels. These books can give you insight into the people who once lived in the place you are visiting. For example, if you plan to travel to Washington DC, you could read about some former U.S. presidents such as John Quincy Adams, Lincoln George Washington, and others. This will help you understand more about their lives as you visit their memorials, homes, and other places.
Watch A Movie or Video – I have done quite a bit of research about Germany and Scotland, where some of my ancestors once lived. I have found many great YouTube and other videos about history through the eyes of a local person. Stations like PBS also have a lot of great programs, as does the History Channel. If you do not want to read a book or blog, then take the time to watch some videos and learn a bit about where you are traveling.
Study Maps – You can learn a lot about a location by studying the maps of the area. This will help you also figure out where you can go and how you will get there. It can help save you time and money not to backtrack or get lost and miss some important places.
A guidebook that we always like and have used is the Lonely Planet Guide books. One reason I love them is the books are usually filled with a lot of history and local knowledge. Here, you can find some of their North American guidebooks.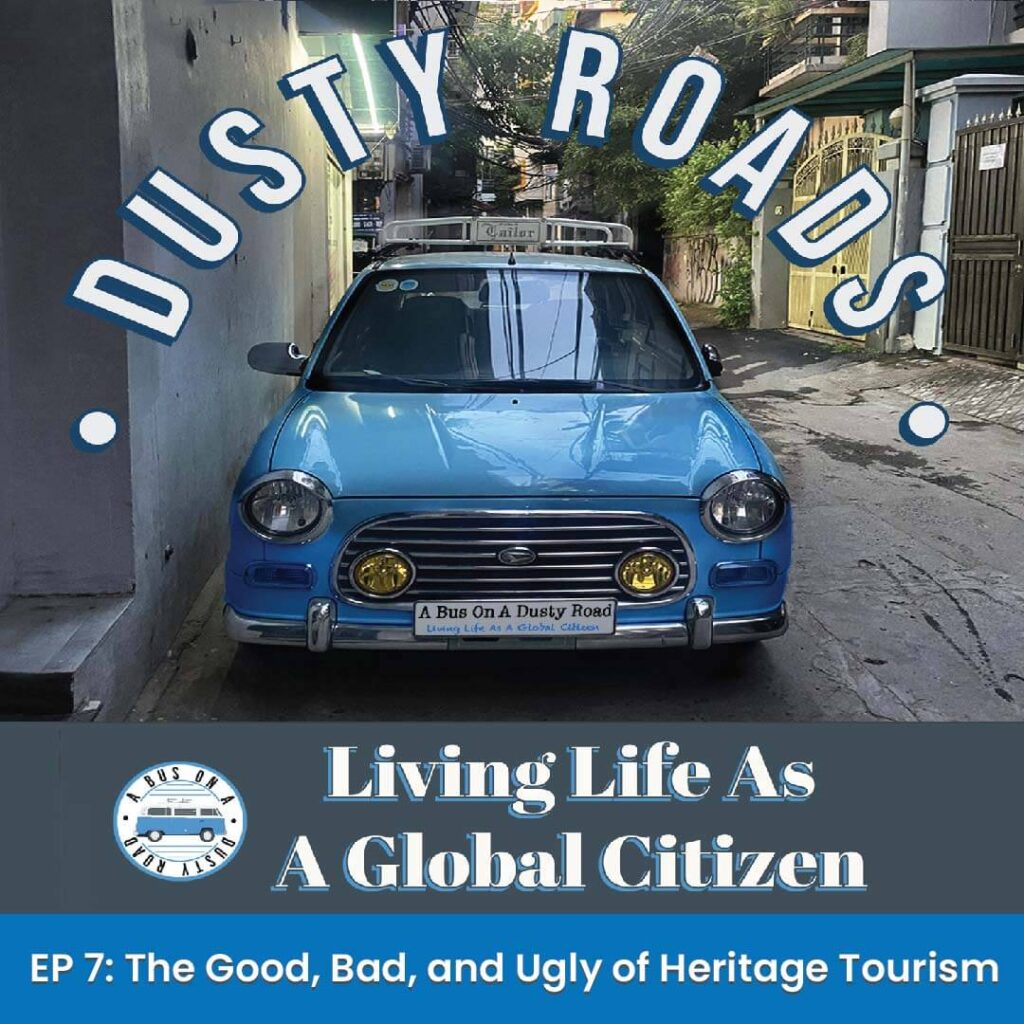 Plan Your Heritage Trip Properly
Wherever you are traveling, especially if you are going to do heritage travel, it is essential that you also take the time to plan your trip properly. This is because you want to ensure you do not waste needless time figuring out what to do when you get to your destination.
Here are some things you can do for your heritage travel planning phase:
Identify The Travel Places – One of the most important things you can do is identify the places you want to travel to and why you want to go there. You can categorize them by:

Must See – These are the main attractions you must see and experience.
On The Way – You may find some places that are on the way that you can stop by to see.
Visit If Time – Places that you will visit if you have the time,
Can Miss – Places that, if you do not have the time, you can miss or not see at all.

In this identification phase, you need to consider your budget and costs. Some things are too expensive, so you may not feel it is worth your time and money. Or, because they are expensive, you may want to be sure you have allotted enough time to see all they offer.

Map The Route – Once you know where you want to go and why you can map the route or how you will travel or get there. I like to organize the route because I may be walking right past or near a place I can stop by even if it is not on my must-have to-visit list.
Know Dates, Hours, and Costs – As part of your planning phase, you also need the understand the dates, hours, and cost for every place you want to visit. Most of us have limited time and resources. Here are some suggestions:

Dates – Some places may be closed for part of the year or on certain holidays. The last thing you want to do is travel to a place to find out it is completely closed down.
Hours – If a place does not allow people in after 3 pm, you probably want to be sure to get to that location in the morning. This is why it is also essential to understand all the openings and other hours.
Costs – Most of us have a limited budget or financial resources. So if you know the costs ahead of time, it can also help you decide if it will be a "must-see" attraction or not.
Travel, especially heritage travel, is a wonderful way to see the world. You get so much out of visiting cultural, historical, and other important sites. Heritage travel is a great way to connect with some of your ancestors who have gone before you and understand more about a country or culture.
We consider ancestry travel a close cousin to heritage travel; both kinds of travel take a lot of research and planning before your journey. If you love to research and plan, then this is the kind of trip that you will probably enjoy.
One of the most exciting things I know for me is the planning and research phase when I travel. I love to study and learn about other places. I love learning about other cultures, places, and people.
At A Bus On A Dusty Road, we talk about everything about travel, life, and ex-pat living. We are all about "Living Life As A Global Citizen." We explore social, cultural, and economic issues and travel.
We would love to have you be part of our community. Sign up for our newsletter to keep up-to-date by clicking here. If you have any questions, you can contact me, Anita, by clicking here.
Listen to our Podcast called Dusty Roads. You can find it on all major podcast platforms. Try out listening to one of our podcasts by clicking here.
Subscribe to our A Bus On A Dusty Road YouTube Channel filled with great videos and information by clicking here.
Related Questions
Why Ancestry Travel is The New and Exciting Travel Trend?
Ancestry travel is a new and exciting way to travel as it helps you discover your family history. The ancestry travel trend has been driven partly by at-home DNA testing, people wanting to travel with meaning, and a new perspective on life. Ancestry travels help you feel connected to the place you are traveling to and your ancestors.
You can learn more by reading our blog, Why Ancestry Travel is The New and Exciting Travel Trend by clicking here.
Why Knowing About Your Ancestor's Homeland Is Important for Ancestry Travel?
Research about your ancestor's homeland is essential to any genealogical travel. It is important you do your research on your ancestor's hometown before your travel to that location. If you are unsure where to look, consider getting a DNA test.
You can learn more by reading Genealogy Travel: Why Knowing Your Ancestor's Homeland Is Important by clicking here.