When you travel to the Cambodian countryside, one of the first things you notice is these beautiful wooden houses raised on stilts. These houses are considered traditional Cambodian houses.
Cambodian or Khmer houses are built on stilts to help protect the houses from floodwaters. The houses also have natural cooling systems that ensure the houses stay cool. The raised houses help keep snakes and other unwanted animals out. Animals such as pigs and chickens can sleep under the house.
Table of Contents
The Cambodian Houses on Stilts
Driving through the Cambodian countryside, you may notice a curious sight: colorful houses raised up on wooden stilts, lining the banks of many of its rivers and lakes. Local communities have been building these traditional homes for centuries, creating an ephemeral landscape that is as beautiful as it is functional.
Cambodian houses are wooden houses that are raised from the ground. The houses on stilts can be raised as high as 3 meters or 9.8 feet off the ground. The floods will not usually affect the main house during the annual flood season.
The farmers can also use the area beneath the house for working or providing shelter for their livestock and other animals. As an added benefit, unwanted critters as snakes, find it harder to enter the main house.
The typical Cambodian or Khmer houses are about 4 m x 6 m (13 feet x 20 feet) or, for a larger version, 6 m x 10 m (20 feet x 32 feet). The basic structure consists of a wooden frame, and the roof is erected before the walls. One or two wooden ladder ramps or staircases provide access to the upper floor.
The simplest of these houses consists of only one room on the upper floor. The room includes rice storage areas, a bedroom for the parents, and a space for their children. Many times the rooms or areas are separated by a textile curtain. Many areas have space or a kind of attic at the roof for rice storage. This house structure is similar to many of the one-room log cabins in America's past.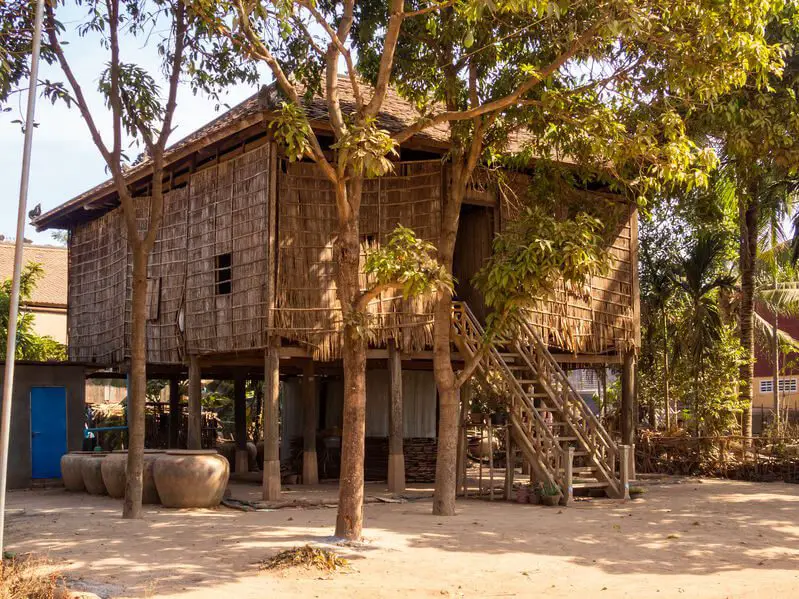 The Roofs and Structures Of The Cambodian Houses
Not all the houses on stilts in Cambodia are the same. Different houses are constructed differently, some of which are constructed according to a specific area.
Here are the different types of roofs and structures of the most common Cambodian Houses on stilts:
Gabled Roof (Phteah Rong Daol)
Hipped Roof (Phteah Pet)
The Khmer House (Phteah Keung) has a bonnet roof or, in Japanese, called shikoro roof.
Battambang Houses (Phteah Rong Doeung)
Natural Ventilation Of The Cambodian Houses On Stilts
These Cambodian houses on stilts have been designed with the thought of natural ventilation. Cambodia can get extremely hot during some months, with temperatures getting up to 36°C (97°F) or 40°C (104°F); during April and May, the heat is incredibly oppressive. Despite this weather's harshness, the old wooden Cambodian-style houses on stilts can be quite comfortable.
Even though these houses on stilts may not have air conditioning or any other electrical appliances, they have been designed with the thought of natural ventilation. The structure's openness ensures that air can flow through the roof and floors, helping to cool down the entire house.
Even though the roofs are different shapes, a common feature in every type of Cambodian house on stilts is a 5 to 10 CM gap on all four sides between the roof and the house. This gap allows for air to be able to flow. Many of these houses also do not have solid walls, but their walls are woven materials; this ensures that air can flow through them.
The floor is usually wooden, so the air can flow up from the floorboards. As the family usually sleeps on the floor, the air from the floor can be cool during the hotter months.
This ventilation works so well because most of these houses are not side-by-side but are located from farm to farm. This helps ensure some breezes are flowing through the house.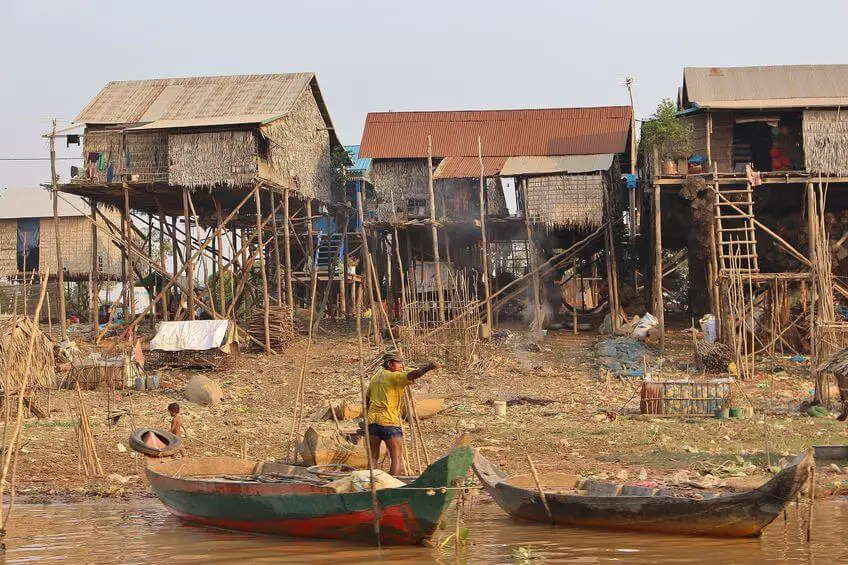 The Layout of The Cambodian Houses On Stilts
The simplest of these Cambodian houses on stilts consists of only one room. The small attic provides a place for rice storage in the loft. On the main floor would be a bedroom for the parents and a space for their children.
These houses are not meant for the family to stay in them all day. The family is usually out in the fields working, and the children are at school. The family is in their homes mainly for their meals and sleeping.
But despite this, here are some of the things that you usually see in most Cambodia Houses on stilts:
Buddha Statue – As most of Cambodia is Buddhist, there is usually a Buddhist statue or shrine somewhere in the main room. To learn more about religion in Cambodia, you can read our blog What Was The Main Religion in Cambodia Before Buddhism? by clicking here.
Television Area – Even though Cambodia is a developing country, having a television is necessary in most households. The area around the television is the most highly used in the home.
Lights – Many houses now have electricity; if they do not, they will have battery-operated electric lights.
Textile Dividers – Textiles will be used to separate different rooms or sleeping quarters. In Cambodia, children are usually separated by gender, with a sleeping area for girls and boys.
Kitchen – The kitchen is usually a tiny house lower than the main house and outside towards the back.
Toilet – These houses usually do not have an indoor toilet though some Cambodians are building toilets attached to their houses. Many of the toilets will often be a pit in the ground somewhere away from the house.
Jars Outside – Most houses will have large jars to collect rainwater that they can use to bathe and for other uses.
The Disappearance of These Houses On Stilts in Cambodia
As Cambodia continues to develop and more people have money, many of these old wooden Cambodian houses on stilts are starting to disappear. There are many reasons for this, but one of them is that people want to live in a more comfortable house and have a house with all the comforts such as air conditioning.
These houses are relatively open in their structure, so they are not designed for air conditioning. You can also understand people wanting a proper kitchen, toilet, and even running water in their house.
Many years ago, when traveling to the China -Thailand border, I had the opportunity to spend the night with family and sleep on the floor of their house on stilts next to their daughters. I was sleeping on the floor and was quite comfortable throughout the night; there was a natural breeze. I also quickly learned that a house on stilts was not a house you could ever oversleep in; before the break of dawn, the rooster was loudly crowing right under my sleeping area.
Anyone traveling to Cambodia, and especially if you are going to make a trip out into the countryside, keep a lookout for these beautiful wooden houses on stilts. These houses are very much a part of the charming Cambodian countryside.
At A Bus On A Dusty Road, we talk about travel, life, and ex-pat living. We are all about "Living Life As A Global Citizen." We explore social, cultural, and economic issues and travel.
We would love to have you be part of our community. Sign up for our newsletter to keep up-to-date by clicking here. If you have any questions, you can contact me, Anita, by clicking here.
Listen to our Podcast called Dusty Roads. You can find it on all major podcast platforms. Try out listening to one of our podcasts by clicking here.
Subscribe to our A Bus On A Dusty Road YouTube Channel with great videos and information by clicking here.
Related Questions
What Is The Cambodian Karma Scarf?
The Cambodian Krama scarf is a gingham scarf that is used not only as a scarf but also as a bandanna, baby carrier, or even a blanket. Traditionally each Cambodian would hand-weave their own scarf in cotton or silk. Many in the western world may recognize the red and white gingham scarf that the Khmer Rouge used when they ruled Cambodia.
You can find out more by reading our blog, The Cambodian Krama Scarf, and The Story Behind This Iconic Scarf by clicking here.
Why Every Cyclist Should Ride Around Angkor Wat Cambodia?
Cycling around the Angkor Was Temple complexes is a great way to see some amazing ancient Cambodian temples. When you cycle around Angkor Wat, you will have the freedom to see Angkor Wat at your own pace and see things that you could never see in a car, bus, or even a tuk-tuk. Every cyclist should have cycled around Angkor Way on their bucket list.
You can discover more by reading our blog Why Every Cyclist Should Ride Around Angkor Wat Cambodia? by clicking here.