One of the greatest ways to see Angkor Wat in Siem Reap, Cambodia is by cycling around the area. The reason is that cycling will give you a completely new view than if you rode in a car or even ina. Tuk-tuk.
Cycling around the Angkor Was Temple complexes is a great way to see some amazing ancient Cambodian temple complexes. When you cycle around Angkor Wat, you will have the freedom to see Angkor Wat at your own pace and will see things that you could never see in a car, bus, or even a tuk-tuk. Every cyclists should have cycling around Angkor Way on their bucket list.  
Angkor Wat is a place that everyone should try to see at once in their lifetime. It has spiritual magic – almost reverence about it.
Why visit Angkor Wat Cambodia?
Angkor Wat literally means the city temple. It is in the town of Siem Reap, Cambodia that is over 200 miles north of the Cambodian capital city of Phnom Penh.
Angkor Wat is one of those places where when you visit it, you stand in awe as to the people in the 12th century who had the fortitude and imagination to be able to build so many magnificent temple structures and buildings in one place. Even if you are not into old Buddhist temples you still have to be impressed by the craftsmanship and work that went into all the Angkor Wat temple complexes.
Angkor Wat, Is a series of Buddhist temple complexes that were built in the 12th Century AD. The temples are spread over 400 acres, which makes it the largest religious monument in the world.
What makes these temple complexes so unique is that even though the area was active in the 12th and 13th centuries and beyond, eventually the temples were grown over by jungles and largely hidden from the rest of the world. Henri Mouhot, a French explorer is credited with having rediscovered the temple complexes in the 1840s.
Visiting Angkor Wat is not free, you must have a ticket to enter Angkor Wat. Tickets can only be purchased
Here is some information on how to purchase your tickets for Angkor Wat Tickets:
Opened from 4:30 am to 5:30 pm every day – Any tickets purchased from third parties like hotels, tour companies or other parties are not valid. So before you purchase any tickets make sure they are really valid.
Can purchase in cash or credit card – Tickets can be purchased in cash (they accept USD, Euro, Cambodian Riel, Thai Baht). Or Credit Card (they accept Discover, Visa, Mastercard, Union Pay, JCB, Diners Club). There is an on-site ATM to withdraw cash.
Daily tickets cannot be purchased upfront – You cannot purchase your daily tickets upfront so the day you want to go you need to purchase your ticket. Tickets purchased after 5 pm are valid for the next day.
You can purchase 3 days or 7 days passes – Besides the daily tickets, you can also purchase a 3-days pass (it is valid from any 3 days out of 10 days) or a 7-day pass ( it is valid for 7 days of 30 days). Check this when you get your tickets as policies can also tend to change.
The address is at Road 60 – The Angkor Wat ticket office is located on Road 60, 4 kilometers away from Siem Reap's town center. Like many things in Cambodia, there are not exact addresses, but all hotels and most taxi or other drivers should know how to get there.
Reasons to Visit Angkor Wat, Cambodia
There are many reasons why you visit Angkor Wat, Cambodia. Here are some of our top reasons. This is by no means a complete list as there are so many reasons why a trip to Angkor Wat is worth the money, time and effort.
400 Acres of ancient temple complexes to explore – Even if you do not want to see all the Temples that Angkor Wat has to offer, there are plenty of temple complexes you can explore around the Angkor Wat area.
An ancient architectural wonder – If you like old buildings and old structures, this should be a must-visit place. These temples were originally built for the Hindu God Vishnu but later became Buddhist Temples. The temples were designed for immortal Gods, so the architects only used the very finest and most long-lasting materials they could find.
A UNESCO world heritage site – In 1992 the Angkor area became a world's heritage site.
Magnificent sunrise and sunsets – looking for a magnificent sunrise and sunset? It truly does not get much better than some of the sunrises and sunsets that you see over the Angkor Wat temple complexes. You can climb a small hill and watch the sunrise or set over the magnificent temple ruins.
Some amazing art and carvings – The temple structures have some amazing art and carvings that you could see anywhere else in the world.
It is the center of the Khmer empire and the jewel of Cambodia – There is no doubt that Angkor Wat is the center of the Khmer empire and is also the jewel of Cambodia I once heard that many Thais were very jealous of Angkor Wat and they wanted it to be part of Thailand. I am not sure how true that is, but I do know that Thailand has nothing of this scale anywhere. That makes this a truly wonderful place to visit.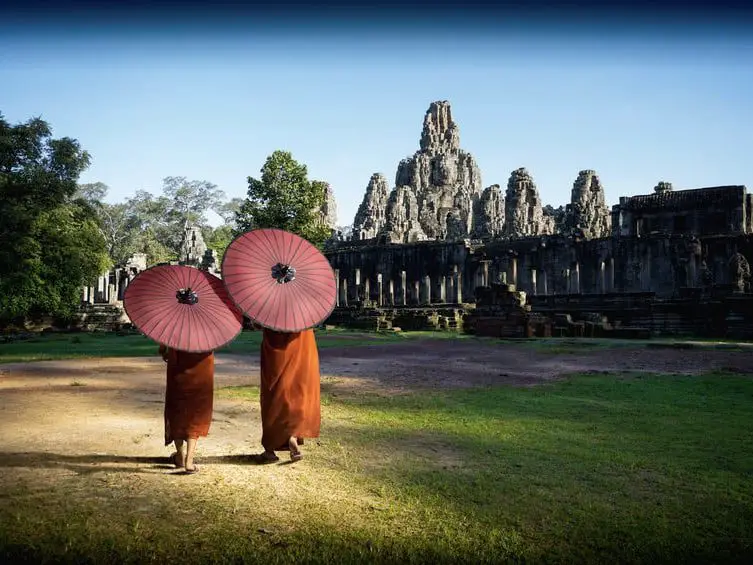 Why cycle around Angkor Wat?
One of the best ways to see Angkor Wat is to get on a bicycle and cycle around the Temple complexes. There is a loop you can do that is about 25 Kilometers so it is an easy ride. The ride from the city to the temples is about 10 to 15 kilometers,
Here is why we love to cycle around Angkor Wat:
See Things from a new level – If you are sitting a van, car or even a tuk-tuk it does not give you the same feel as you will have from a cycle. There is just something about being able to cycle around a place like Angkor Wat and to see it all up close and personal. We have cycled around Angkor Wat and seen monkeys by the roadside looking at us as we cycled past. Or we have had locals wave to us and cheer us on. It just really gives you a point of view that you may not get any other way.
Easy cycling – Cycling is easy in that the roads are relatively flat and so you do not have a lot of hills or climbs. This means that even the most inexperienced cyclists can probably handle the ride.
No need to bring your bike you can rent one – shipping a bicycle on a plane can be very expensive, but the Angkor Wat Area has several places that can rent you cycles. We have found that the cycles they have are generally quite good, especially from the better shops. I would find a shop that has decent cycles. This is not a place you should try to save a few dollars on, get a decent brand like a Giant bicycle and go to a shop that knows what they are doing so they can also help fit you to the bike. Getting a proper fit can make all the difference for your comfort level
Many of the places also rent helmets, locks and other things you need. And the people who are renting you the bikes are usually happy to also help fix you to a bike. If I was doing a lot of cycling, sometimes I would bring my own seat as I have found that was something that would make a difference as to how comfortable I was. The shops we worked with were always happy to help me switch off and on the seats. ]
Cycling around Angkor Wat gives you a lot of flexibility – one of the best things about cycling, especially if you are doing a self-guided tour, is you can then have the flexibility to stop and go as you want to. You will find along the way that there are plenty of public toilets you can stop at and even fruit or fruit juice stands. This way if seeing a lot of temples is not really your thing, you can quickly see the temples but then go on to explore more of the culture of Cambodia.
There are many cycling tour companies – there are many cycling tour companies in Siem Reap, so if you do not want to go on a self-guided tour but want to be on a bike and have a guided tour, you can also take a guided tour.
Where to rent a bicycle or take a bike tour in Siem Reap?
There are many places you are renting a bicycle in Siem Reap. Many hotels can help you to arrange bicycle rentals. So if you do not want to be bothered to have to go around to find a bicycle you can start first to ask your hotel to help you.
Many of the places that have very good bike brands for rent also offer tours of Siem Reap So if you are not sure if you want to do a self-guided tour, you can always join a bike tour.
Here are some bicycle rental companies in Siem Reap. Many of them also have some very good quality bikes that you can rent.
Cavar Biking Siem Reap – They also offer biking tours, or you can rent a bike for a self-guided tour. They have some decent bikes that you can rent anything from a Trek to Giant to a basic city bike with a child's seat. They have a very wide selection. They are located at ST, Taphul, Svay, Dang Kum, Siem Reap, Cambodia, You can call them at +855 70 24 28 15. You can go to their website by clicking here.
Blue Sky Tours – Siem Reap – They have bike tours but should also have bikes you can rent. They are located at Phum Wat Domnak, Salakamreuk Commune, Siem Reap. You can call them at+855 88 419 96 96. You can go to their website by clicking here.
Grasshopper Adventures, Siem Reap – Grasshopper Adventures is a premier travel adventure company in Asia and they do a lot of bike tours, including tours in Siem Reap. They also have bikes for rent. They are located at 586 Street 26, Krong Siem Reap, 17254. You can call them at+855 12 462 165, You can go to their website by clicking here.
Siem Reap Cycling Adventure – Their website is under construction but they are located at Bakheng Road, Krong Siem Reap, Cambodia. You can call them at +855 95 237 498.
Unique Adventure – Siem Reap – They also rent cycles and give some tours. You can find them next to the Naga Guesthouse, Preah Sangreach Tep Vong St, Siem, Reap 17252, You can call them at+855 78 258 758 Unique Adventures was one of the recommended bike rentals for the Angkor Wat Bike4Kids race (you can see the section below about the race.
When you rent a bike, it is really best if you can that you go to the shop and pick out your bicycles and also try to ride a few different bikes This is very important, especially if you are particular on how you want your bike to look and feel.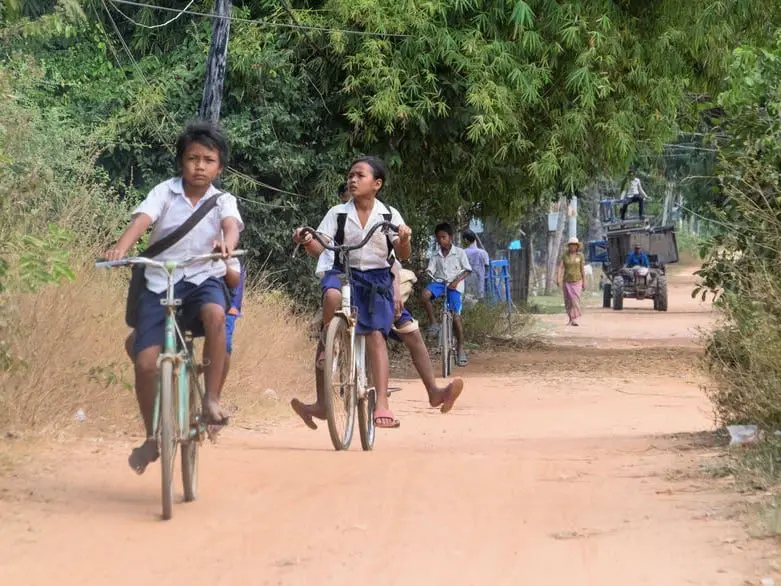 Angkor Wat Cycling Tips
Even though cycling around Angkor Wat is quite easy, there are things that you should be aware of when you are cycling the temple complexes.
Here are some tips about getting to Angkor Wat to start your ride:
Rent a Tuktuk to help carry your bikes if you do not want to cycle from your hotel to Angkor Wat – There are no hotels right at Angkor Wat as the areas are park so you must pay to see the temple complexes. The hotels are in the city of Siem Reap and depending on how far your hotel is you can rent a Tuk-tuk to take you and your bicycles out to the Angkor Wat Area. We have been able to fit 2 bikes and 2 people in some of the older, larger tuk-tuks. There is now some smaller Tuk-tuk so those may be harder to fit 2 people and 2 bikes in. Most hotels would have suggestions on how you do this or may have a way to help you transport your bike to Angkor Wat. This would be a great option for those who do not cycle a lot and are worried about even doing 25 or 30 miles a day.
Cycle to Angkor Wat – if you cycle a lot, then you should easily be able to cycle from your hotel to Angkor Wat, it can be anywhere from 10 to 15 kilometers depending on where you are staying. Cycling to Angkor Wat can also be an interesting ride through many of the streets of Siem Reap.
Tips on what to look out for when cycling around Angkor Wat:
Do not make any sudden moves when cycling – Cars, busses, and motorcycles can pass at a very close distance, probably much closer than what most cyclists are used to – do not make a sudden move to change lanes without looking or letting others know, If you are on a straight course then stay on that course.
Do not swerve all over the road – When I cycle I try to stay as close to the right-hand side of the road as I can. Do not swerve all over the road, even if you joking or having some fun on the road, this kind of behavior is extremely dangerous.
Stay to the right side of the road – Stay to the right-hand side of the road. Even if you have to go on to the side path a bit.
Ride single file – It can be tempting to ride down the road side-by-side, but unless the roads are extremely empty, it is always safest to ride single file and not try to pass each other all the time, but to allow a rider to set the pace and you keep on that pace.
If passing let others know – If you are passing someone, even a motorbike or someone walking on the road, let them know. Many times I will shout out "passing you on your left." Even if they do not know what you are saying they know you are coming and they can hear you.
Angkor Wat Bike-4-Kids Bike Race
One of the best ways to cycle Angkor Wat is to consider to do the Angkor Wat Bike4Kids bike race that takes place annually – usually during the first weekend of December. This race is for a very worthy cause as the Humanity for Children and Women Organization and Union of Youth Federation of Cambodia. Both organizations are the sponsors for the race and the money is being raised to help further their charitable work. The Union of Youth Federation of Cambodia is about helping to train the Cambodian youth to have a brighter future.
Another great cause that the Angkor Wat Bike4Kids also support is the El Nodo Organisation. This organization also focuses on helping children to be able to have a dignified life and in particular they have a program that helps children whose parents are in prison.
The Angkor Wat Bike4Kids gives you a chance to be able to help all these worthy causes, way have a magical experience to cycle around Angkor Wat. You can find out more about the Angkor Wat Bike4Kids bike race by clicking here.
The cycling race will usually offer a choice of a 17 kilometer, 37 kilometers or 117-kilometer course. I have done the 117 Kilometer course a few times, for the course, we went around a loop around the temple complexes about four times.
I have always found the race to be very well organized and extremely user-friendly. They will help you to rent a bicycle, have bike mechanics to help you set your bike up. And the people who are running and attending the race are usually very nice.
One of the best things about this ride is that it starts in the early morning and so as you are cycling you can see the sun starting to rise over Angkor Wat. It really is a magical time to be at the Angkor Wat Temple grounds in the early morning hours before the hustle and bustle of the day start for the crowds to come in. This race offers you a rare chance to be able to experience this kind of almost spiritual silence.
The bike ride entrance fee should also include an Angkor Wat entrance ticket to the Temple complexes for the day of the race. So after you have finished your ride you can still go back to explore some of the magnificent Angkor Wat temple complexes.
Angkor Wat is an amazing place to visit and is really worth the time and effort to get there and this amazing series of Buddhist temples. One of the best ways to see the Angkor Wat temple complexes is to cycle around each of the temples. You can do this as a self-guided tour or use one of the many reputable tour companies or join the Angkor Wat Bike4Kids race each December.
Related Questions:
Can I go by scooter instead of a bicycle when touring Angkor Wat?
There are also many places that will rent an electric scooter or an e-bike. So if you do not want to cycle around Angkor Wat then renting an electric scooter or an e-bike could also be an option.
There are also companies that have tours with Vespas, scooters, and mopeds.
How long does it take to walk around the Angkor Wat temple complexes?
The main route that most people take to see the various temples is about 25 kilometers. But you should be aware that the roads do not have sidewalks or paths and there can be a lot of traffic on the roads especially in the peak visiting hours of some of the temple complexes. You will see everything on the roads around the temple grounds of Angkor Wat from elephants walking for some of the elephant tours to bikes to cars, tour buses, and motorcycles. So if you choose to walk from one temple complex to another, you will need to be cautious when walking on the roads.