With my work at Mondoro, we have worked with Colonial Williamsburg for some of their home decor licensee programs. I have always found Colonial Williamsburg a wonderful place to visit and learn more about America and colonial Virginia's history.
Autumn and spring are wonderful times to visit Colonial Williamsburg. October is an excellent month to visit as many trees are turning color. April and May are also very nice as the flowers are starting to bloom. June is also a good choice if you cannot visit Colonial Williamsburg in the fall or spring. Williamsburg is a historical site worth visiting, as it is the world's largest outdoor living museum.
Table of Contents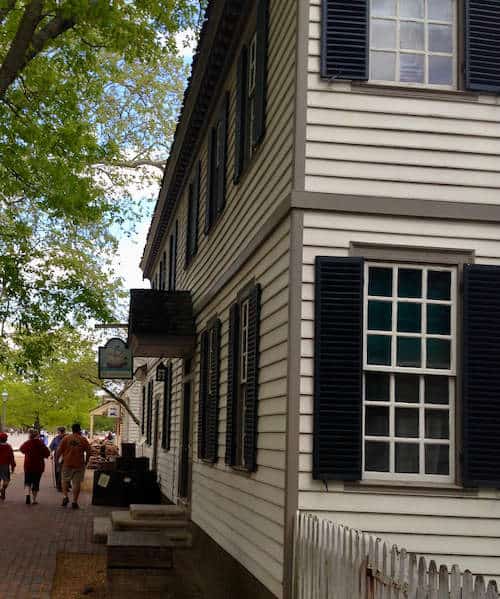 Best Time to Visit Williamsburg, VA – Our Picks
One of the best times to visit Colonial Williamsburg, Virginia, is in the fall. On average, September, October, and November have six days of rain per month. This means you have a good chance that the weather will be nice and pleasant. During this time of year, the humidity tends to be slightly higher (75 to 75% humidity), but Williamsburg's humidity average is always between 73 to 78% humidity.
During September, October, and November, the average temperature range for those three months are a high of 81˚F – 63˚ F (27˚C – 17˚C) and a low of 61˚ F – 39˚ F (15˚C – 4˚C). Of course, the temperature will be more pleasant in early November than at the end of November.
One of the best things about the fall is that the fall leaves, especially in October, will be changing colors. So this will give you the added beauty of Colonial Williamsburg. The fall color leaves peak is usually between October 12-28, but this will change each year based on the Farmers Almanac.
If you cannot travel to Colonial Williamsburg in the fall, another season to consider would be springtime, especially during April and May. During this time, the weather is usually pleasant. Compared to the fall, you have a higher chance of rain and usually higher humidity in the spring. But the flowers should bloom during spring, which makes Colonial Williamsburg very beautiful.
For those traveling to Williamsburg with school-age children, traveling in the fall or spring may not be possible, so you may need to travel in the summer months. You have the highest chance of rain in July for any month of the year. But if you do not mind, some warm rain and hotter weather, these months may also be an excellent time for you to travel to Williamsburg.
May, June, and July give you the most extended average daylight hours per day out of any month of the year. This extra daylight will give you extra time to walk around and see some of the city during the daytime hours.
In winter, Williamsburg gets near freezing, so you may get stuck in snow flurries. Some snow may stay on the ground, or others will turn into a muddy slush.
No matter what time of year you travel to Williamsburg, you must dress like a Virginian. Any person living in Virginian will tell you that the weather can frequently change. Virginia, especially Williamsburg, can experience multiple seasons in one day, so it is best to dress in layers and wear comfortable walking shoes.
Average Weather In Colonial Williamsburg
Below is a chart that will show you the average Fahrenheit and Celsius temperatures for each month, plus the average days per month of rain, the average humidity, and the average sunlight for the Williamsburg area:
Month
˚F Avg High/Low
˚C Avg High/Low
Rain/Snowfall
Per Month
Avg Humidity
Per Month
Avg Sunlight
Per Day
Jan
48˚/28˚
9˚/-2˚
8 days
75%
9.9 hours
Feb
52˚/30˚
11˚/ -1˚
7 daya
75%
10.9 hours
Mar
61˚/37˚
16˚/3˚
8 days
75%
12 hours
Apr
72˚/46˚
22˚/8˚
7 days
74%
13.2 hours
May
79˚/55˚
26˚/13˚
8 days
77%
14.2 hours
Jun
86˚/64˚
30˚/18˚
7 days
74%
14.7 hours
Jul
88˚/68˚
31˚/20˚
9 days
73%
14.4 hours
Aug
88˚/66˚
31˚/19˚
8 days
75%
13.5 hours
Sep
81˚/61˚
27˚/16˚
6 days
76%
12.4 hours
Oct
72˚/50˚
22˚/10˚
6 days
76%
11.2 hours
Nov
63˚/39˚
17˚/4˚
6 days
75%
10.2 hours
Dec
54˚/32˚
12˚/0˚
7 days
78%
9.6 hours
Weather Averages Per Month – Williamsburg, VA
Is Williamsburg, Va, Worth Visiting?
Colonial Williamsburg is worth visiting, especially if you want to understand American colonial history. Colonial Williamsburg is great for history buffs, children, and families. To find out more about visiting Colonial Williamsburg and all the city offers, you can find out more by clicking here.
Williamsburg is important to America's history as it was once the colonial capital of Virginia. Today, Colonial Williamsburg shows us the lives of 18th-century America as no other place does.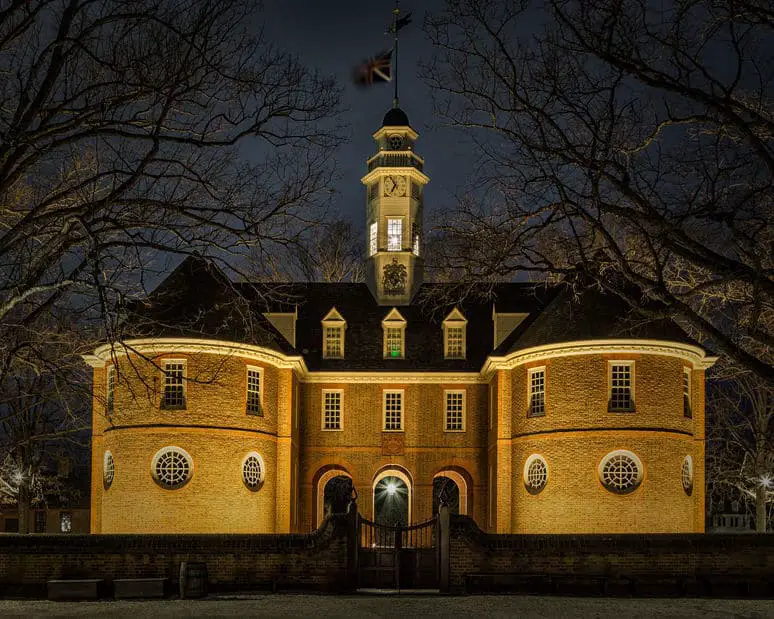 Williamsburg was founded as the capital of the Virginia colony in 1699. It was also one of America's first planned cities, so you will see that it is laid out in a straight and orderly fashion.
Williamsburg also became a center for learning, with the College of William and Mary founded in 1693. The first hospital was established in America for treating mental illness in Williamsburg in 1773. General George Washington assembled his continental army in Williamsburg in 1781
When you visit Colonial Williamsburg, you will walk into 18th-century life in America. Everything from reenactments to pivotal events in our history will take place to show you a bit about many of the early Americans and their way of life.
Throughout Colonial Williamsburg, you'll discover everything about the citizens' daily lives, notable politicians, and figures; you'll hear stories about Native Americans and African-Americans also during this time period. You may even find Thomas Jefferson or Patrick Henry walking about the streets so you can converse with them about America's independence.
Colonial Williamsburg is the world's largest living history museum. Colonial Williamsburg covers over 300 acres where you can witness some of the tradespeople doing their work as they did it in the 18th Century. I have a friend whose husband was Colonial Williamsburg's gunsmith; he was a fantastic craftsman. Because of craftsmen like him, we can learn and live the story of 18th Century America.
Colonial Williamsburg is open 365 days every year. Most historical and trade sites are open from 9 AM to 5 PM. There are even some evening programs.
If you do happen to go to Colonial Williamsburg and the weather is not very good, then you can explore The Art Museum of Colonial Williamsburg or take a tour of the Governor's Palace or the Capital. All of these sites have indoor activities.
You do not need a ticket to walk around Colonial Williamsburg and view the buildings from the outside or go into some taverns, restaurants, or shops. But to go into any of the other buildings, you will need to purchase a ticket.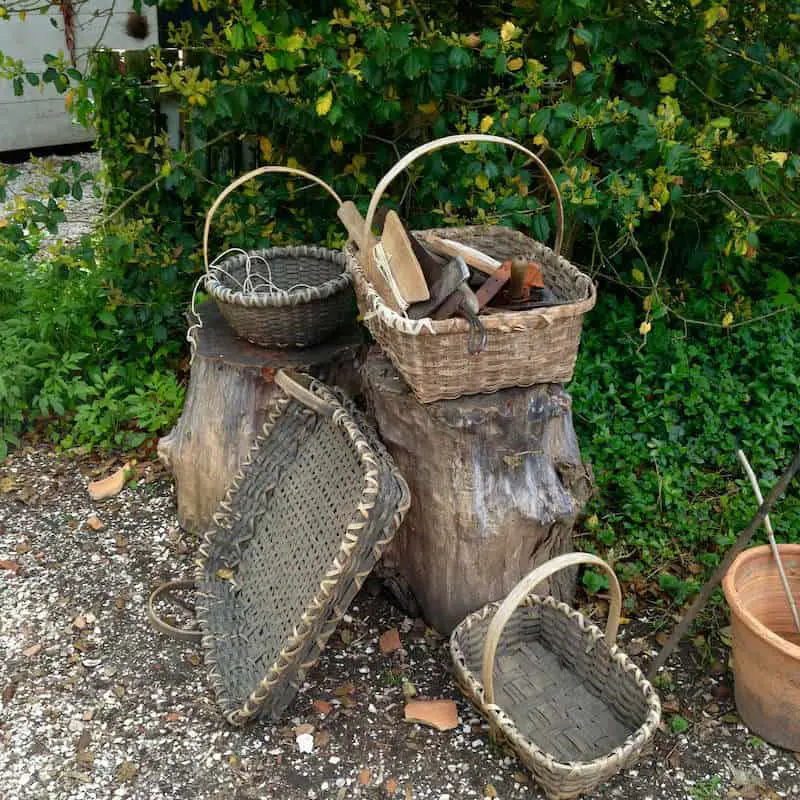 My favorite sites at Colonial Williamsburg are the Governor's Palace, the Court, and the Capital. There is so much you will learn by going into these buildings. Buying a ticket to see all Colonial Williamsburg offers is worth the expense.
The main historic area of Colonial Williamsburg is a mile long and half a mile wide. It is delightful to walk through the streets, stopping at places of interest.
Another delightful thing to do is to go on a carriage or a wagon ride. You will need to buy a ticket to ride a carriage or wagon; it is a fun way to see some of Colonial Williamsburg and how the 18th Century inhabitants saw it.
Colonial Williamsburg is a beautiful historic town to explore. This Colonial Williamsburg living history museum gives insight into 18th-century America and how the city's inhabitants lived during that time.
At A Bus On A Dusty Road, we talk about history, travel, life, sailing, and ex-pat living. We are all about "Living Life As A Global Citizen." We explore social, cultural, and economic issues and travel.
We would love to have you be part of our community. Sign up for our newsletter to keep up-to-date by clicking here. If you have any questions, you can contact me, Anita, by clicking here.
Listen to our Podcast called Dusty Roads. You can find it on all major podcast platforms. Try out listening to one of our podcasts by clicking here.
Subscribe to our A Bus On A Dusty Road YouTube Channel filled with great videos and information
Related Questions
How Can I Find My Family History For Free?
FamilySearch is an entirely free genealogy program that is filled with a lot of great family history data. This program has many great features, but one of its best features is that it is a collaborative program. FamilySearch also has a lot of free data, so it is very easy to use their search tools to find your family history for free.
You can discover more by reading How Can I Find My Family History For Free? by clicking here.
What Things Can We Learn From Our Ancestors?
We learn from our ancestors that family matters, education is important, and change can happen in life so we need to learn to deal with it. We also learn that people only know your story if you write it down and that our family traditions are important. We also learn from our ancestors about compassion, love, and gratitude.
You can learn more by reading What Things Can We Learn From Our Ancestors? by clicking here.