A road trip across the Vietnam-Cambodia border is a must for adventurous travelers. By traversing through both vibrant countries in Southeast Asia, you can soak up some of the most unique cultures and discover mysterious landscapes. If you're planning to cross from Mộc Bài in Vietnam to Bavet on the Cambodian side of this international junction, then you need to know what it takes – have your passport ready!
There are several ways you can go across the border. One is that you take the bus from Ho Chi Minh to Phnom Penh or vice versa. The other way is that you simply walk across the border. Both of these methods are quite easy and straightforward for you to do.
Join us as we take a closer inside look at making sure your cross-border experience is nothing but smooth sailing right down to its successful completion at the legendary Vietnam-Cambodia border!
Table of Contents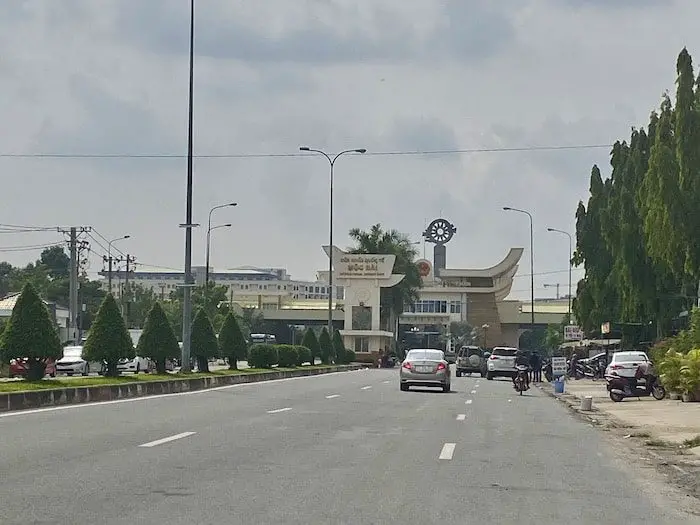 About Moc Bai Vietnam And Bavet Cambodia Border Crossing
Moc Bai Vietnam and Bavet Cambodia border crossing is a popular international transit route connecting the two countries. It allows travelers to experience both nations' beauty, culture, and unique customs.
On the Vietnamese side, the border is called Moc Bai. Moc Bai is in Tay Ninh Province, Vietnam. The Cambodian side of the border is called Bavet in Svay Rieng Province in Cambodia. At the border, you will find many people on both sides who can speak both languages, and some can even speak excellent English.
Surrounding the Moc Bai, Vietnam border, there is really not much around the border area except some small Vietnamese towns. But on the Bavet side or the Cambodian side of the border are a lot of casinos that offer a lot of gambling; it is a kind of mini Las Vegas, Nevada.
I am told that many Vietnamese will come to the Bavet side to gamble. There is a bridge, and a river there that they call the river or bridge of death as several Vietnamese have jumped off it to kill themselves after losing so much with gambling.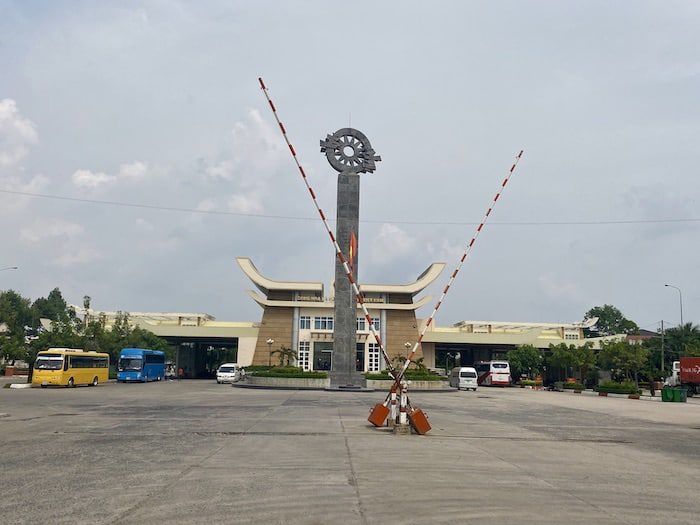 Travel tips for Moc Bai, Vietnam And Bavet, Cambodia Border Crossing
Visiting Vietnam and Cambodia? Make sure to read up on the Moc Bai, Vietnam, and Bavet, Cambodia border crossing before you go!
Cambodia and Vietnam are two of Southeast Asia's most popular tourist destinations. And for a good reason! Both countries offer incredible natural beauty, rich history and culture, and delicious food. If you're planning a trip to both countries, you may cross the border at Moc Bai in Vietnam and Bavet in Cambodia.
The Moc Bai – Bavet border crossing is relatively straightforward, but you should know a few things before you go. Traveling the border is not the same as flying into a country, particularly if you are coming to Vietnam. Here are a few tips and suggestions:
About Getting Your Cambodian Visa at the Bavet border
You can get a visa for Cambodia from Vietnam to Cambodia. Outside the border is a small booth where they give you a visa. You need to fill out a form and pay the visa fee. The entire process is quite easy, quick, and straightforward.
You Cannot Get A Vietnamese Visa at the border.
For Vietnam, you cannot get a visa at the border; if you want to enter Vietnam from Cambodia, you must have a visa. Many bus companies will even check this in Phnom Penh before you get on the bus. The only place in Vietnam you can get a visa upon entry is at the airports. To learn more about this, you can read our blog entitled Vietnam Travel Visa, What You Need To Know Before You Go, by clicking here. If you go to Cambodia and need to enter Vietnam again, you will need to be sure to get a multiple-entry visa.
Vietnamese stamping fee at the Moc Bai border
The last time we crossed the border, we had to pay a 1 USD or 30,000 dong fee. We are unsure what the fee was for as there was no receipt, and immigration did not tell us what it was for.
But this was not just a fee that foreigners had to pay; they also charged Vietnamese the same amount. This was the first time we had ever seen this kind of fee or had any money asked us to pay at the border.
Some bus companies may take care of this fee, so you do not need to worry; others may not. Be aware of this if you are traveling across the Moi Bac- Bavet border after stamping your passport, and before they give it back to you, they may ask for some sort of fee.
Prepare USD Cash For The Moc Bai, Vietnam And Bavet, Cambodia Border Crossing
You will need USD cash for your Cambodian visa, so be sure to have at least 35 USD cash. It would be better if you had 50 to 100 USD cash, as Cambodia will ask for all payments to be made in USD Cash. There is nowhere to change money at the border, nor have I seen an ATM, so you should be prepared and bring the USD cash with you.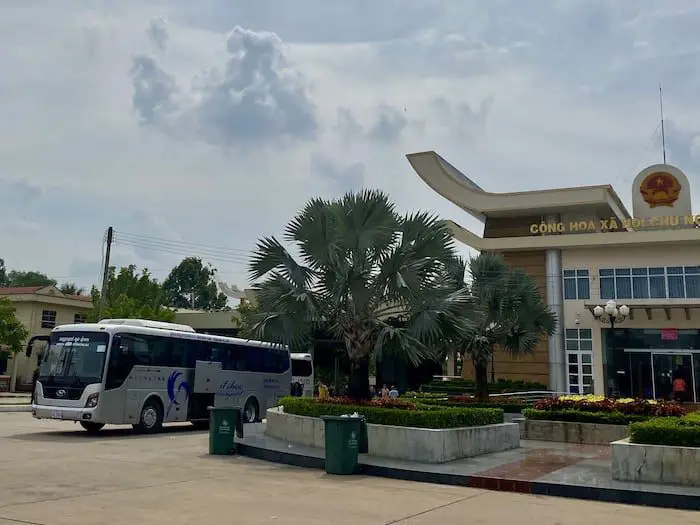 Taking The Bus Between Vietnam and Cambodia
Most foreigners who cross into Cambodia from Vietnam or into Vietnam from Cambodia by land will cross at the Moc Bac – Bavet border crossing. Crossing with a bus company is very easy and relatively straightforward.
Several bus companies operate this route between Ho Chi Minh and Phnom Penh. Many buses leave Ho Chi Minh in the morning and some in the afternoon. There are some overnight buses, but usually, that means you get to the border, sleep there, and then when the border opens, you start into Phnom Penh.
As things at the border change, it is good to talk to people at either Ho Chi Minh or Phnom Penh to find out of anything has changed.
The duration of the ride is about 6 to 7 hours. The time can depend on a lot of things as:
Traffic – Traffic is terrible in Ho Chi Minh, and it just continues to get worse each time I go down there. What used to take 1 or 2 hours can now take 3 or 4 hours. So depending on the traffic, it can take time for the bus to get to the border crossing.
How busy the border is – if the border is bustling, this can also add to your trip. If a few buses happen to come in simultaneously, it can take a few border patrol or customs people working at the border to stamp everyone's passport.
People on the bus – If someone on your bus has a problem of some kind with their visa or passport, or luggage, it can slow down the entire bus.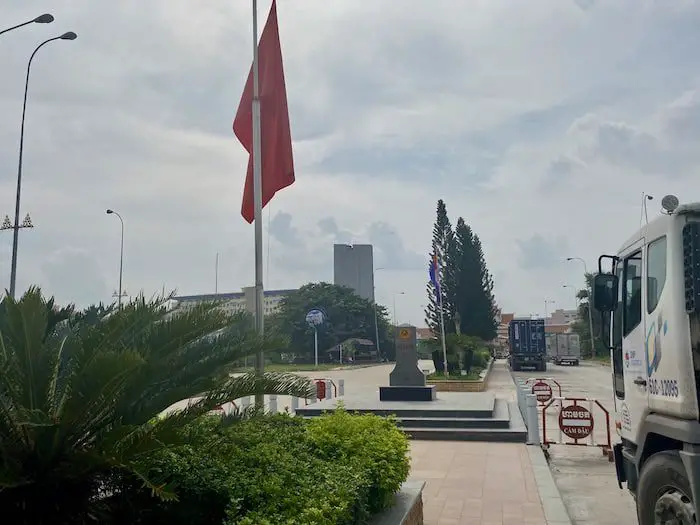 Bus Companies in Ho Chi Minh and Phnom Penh
The major bus companies in Ho Chi Minh that sell tickets to Phnom Penh are listed below. These same bus companies will also run the route from Phnom Penh to Ho Chi Minh.
Giant Ibis Bus – This is the bus company's more expensive, but they also run smaller buses. The cost is about 18 USD. One bus leaves at 8 am from Ho Chi Minh and has only 9 seats, and the other leaves at 9:45 am with just 18 seats. The bus also has free wifi. The advantage, of course, is the border should be quicker with fewer people to process on the bus. You can find out more about them and their schedule by clicking here.
The Sinh Tourist – This larger bus company runs many routes throughout Vietnam and Cambodia. They are cheaper than the other two options at 14 USD. You can find out more about them and their schedule by clicking here.
As bus companies and schedules can change frequently, we suggest you check with your hotel in Ho Chi Minh or Phnom Penh and ask them if they have any suggestions on bus companies to Phnom Penh or Ho Chi Minh.
Things at the border can change, so it is always good to check information before you go anywhere.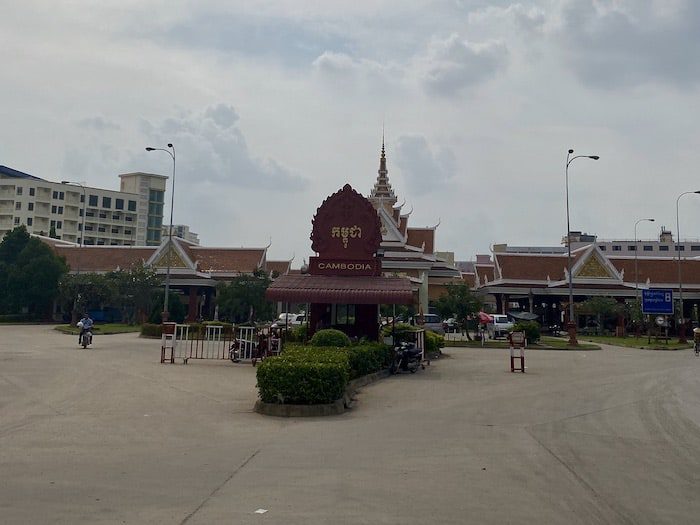 Bus safety travel tips
Here are some bus safety travel tips to help ensure that your travel is safe:
Seat Belts – The better bus companies should have seat belts that work. Many buses in Asia have seat belts, but not all seat belts may work. Wear a seat belt when sitting.
Valuables – Do not put any valuables under the bus in checked luggage. Many people think because they have valuables under a bus that, they are safe, but this may not be the case. Carry them on the bus and keep an eye on them.
Passport and papers – Also, keep your passport and papers safe. I keep my passport way down in my backpack. When you leave customs in Cambodia and Vietnam, you must show your passport and the stamp. So get into the habit of stopping and putting the passport away as soon as you leave this area.
Do not leave things on the bus – When you are going in to get your passport stamped and to go through immigration, it can be tempting for you to want to leave things on the bus. Never leave anything on the bus; take it with you.
For more tips about staying safe during your travels, you can check our blog entitled Is Cambodia Safe to For a Solo Female Traveler to Travel Alone? by clicking here.
Walking across the Moc Bai Vietnam and Bavet Cambodian border crossing.
The way we cross the border is to walk across the border. Many people may not realize this, but you can simply walk from Moc Bai, Vietnam, into Bavet, Cambodia. For example, if you visit the Cu Chi Tunnels, that area is not too far from the Moc Bai border crossing.
The reason we do this is many times, we are working somewhere near the border, or close enough that it would take us 1 or 2 hours to get back to Ho Chi Minh or 1 hour to get to the border, so we choose to go direct to the border. We will have our driver or taxi drive us to the Moc Bai border entrance.
Once you are at the border, many motorcyclists usually want to take our bags from us and carry them on their motorbikes for a fee. We just ignore them and keep on walking into the border crossing.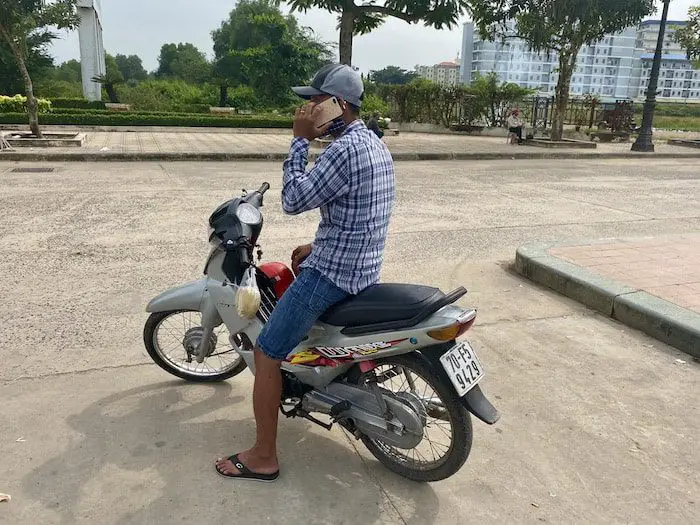 I do not use the motorcyclists because I do not know them, and I do not want my bag to leave my side. I just feel like the safest thing to do is to have my bag with me all the time and not give it to a random person I do not know.
Once inside the border crossing, Vietnam will X-ray your luggage, and then you go through immigration. Before you leave the immigration, another official at a desk will ask you to check your passport and stamp it.
Once you are outside, then you can walk to the Cambodian side. It is pretty straightforward since all you need to do is to walk straight. You can see the Cambodian-style buildings ahead of you, which is also the Cambodian border crossing.
You will see some buses, but many container trucks are waiting to get to the border. There is a bad sidewalk you can walk on, and it can be fun to go to the border area marked by both flags and a small monument.
If you are taking the bus across the border, they will not allow you to walk the border. You will go through Vietnamese immigration, get back on the bus and then get out on the Cambodian side and get through Cambodian immigration before getting back on the bus.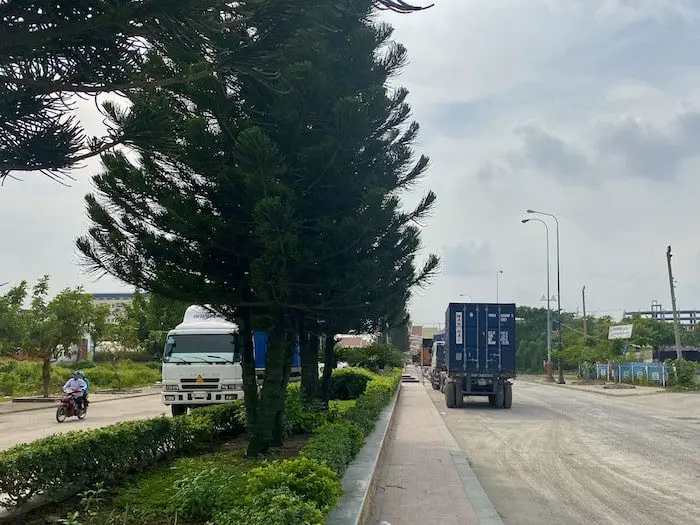 Finding your way to Phnom Penh
Most people who cross by walking the border will want to find their way into Phnom Penh and not stay in Bavet at the border. Bavet does have some hotels if you choose to stay there. The Bavet or Cambodian side of the border has more hotels than the Moc Bai side. The reason is that Bavet has a lot of gambling so it is like a very mini Las Vegas.
If you need to stay at the border area, I would probably choose the Cambodian or Bavet side as there seem to be a lot more choices for hotels on that side of the border.
Many times when we enter the border area, some guys on motorcycles hang about. Sometimes if we tell them we are looking for a ride to Phnom Penh, they will quote us a price. These guys are like agents, and they will help the drivers find a ride back to Phnom Penh.
Drivers from Phnom Penh may drive up to the border every day. They will drive people to the border to drop them off, so they can walk across the border. We have met many people who will cross the border this way, These same drivers want to get back to Phnom Penh with someone they can bring back, so they will wait there at the border for new passengers.
A problem with this can be if you get across the border too late, it may be hard for you to find a ride to Phnom Penh as all the drivers have already left with their passengers. Or if there is just one car left, he may ask for a lot of money to bring you to Phnom Penh. We have found if we get to the border at about 3 or 4 pm, we can usually find a ride to Phnom Penh and still get into Phnom Penh at a decent hour.
The ride to Phnom Penh is on perfect roads the roads to Phnom Penh are less congested and of better quality than many roads from Ho Chi Minh to the border. Traffic is usually pretty smooth sailing and consistent. The drive usually takes about 2.5 to 3 hours. We usually do not hit a lot of traffic until we are about ready to enter the Phnom Penh area.
The ride is quite interesting as you can see many Cambodian countrysides and small towns that you would not normally see. The road is just a two-lane highway, so if you are very nervous about your driver having to pass other cars on a two-lane road, this may not be the ride for you.
The cost we pay for the ride depends on the day and the driver, but a reasonable amount is between 40 to 60 USD for the entire trip. We will usually give our driver a small tip, especially if he has been very good and given us good service.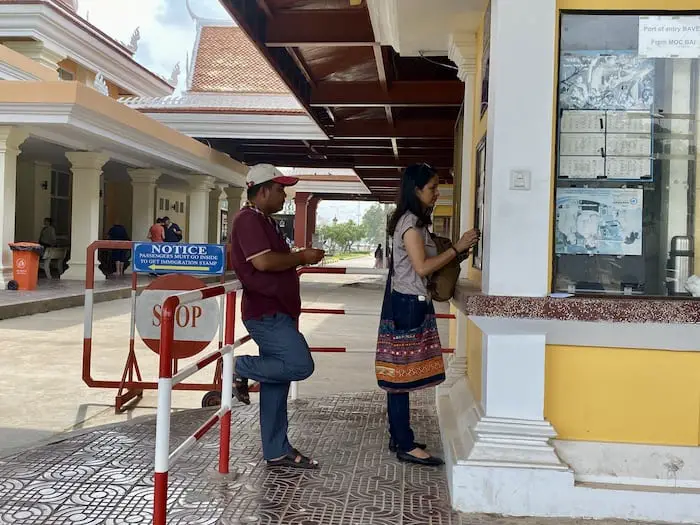 Tips about finding a car and driver to take you to Phnom Penh at the Bavet Cambodia border.
Most people across the border usually go from Vietnam to Cambodia, so much of what I write here will apply if you go from Phnom Penh to Ho Chi Minh.
Here are a few tips to help you get a car and driver to take you to Phnom Penh:
Agent – If you are going to use an agent to help you find a driver, then make sure the agent is doing their job and can speak English to help you talk to the driver. Many drivers will not speak English, so you may need someone to help you.
Cash – Be prepared to have USD cash. You will need to pay the driver in cash. Usually, the driver will pay the agent, but there may be circumstances they do not. Understand beforehand who is going to pay what and what you must pay. Please note the driver will not accept credit cards.
Sim cards – You can get a Cambodian sim card at the border. If you cannot get one there for some reason, then ask your driver to stop in Bavet to help you get one. If you need a phone, you will have one you can use.
Car Safety – We have always been safe in our cars and on our drive, But before you get in a car, you may want to take a quick look at the car itself to make sure it looks safe. You would want a car that has working seat belts and is relatively new, so it will not break down on the way.
Dropping off at the hotel. – Make sure before you get in the car that you let the driver know you want to be dropped at your hotel and not just taken to Phnom Penh, where you will need to take another taxi. If your hotel is far away, you may need to consider having the driver just drop you off, and you then get another taxi. Depending on where your hotel is and how the traffic, this could also add to the cost. If the traffic is horrible, it could take the driver another hour to get you to your hotel once you reach Phnom Penh. This should all be negotiated and decided before you get in the car.
Have the address you want handy – Phnom Penh can have confusing addresses, and many are small boutique hotels. So you should have not only the hotel address but also the phone number as sometimes it can be challenging for these drivers, who mainly drive between Phnom Penh and the border, to find out the location of your hotel. This can also be true on the Vietnamese side because many long-distance drivers may not know the city locations very well.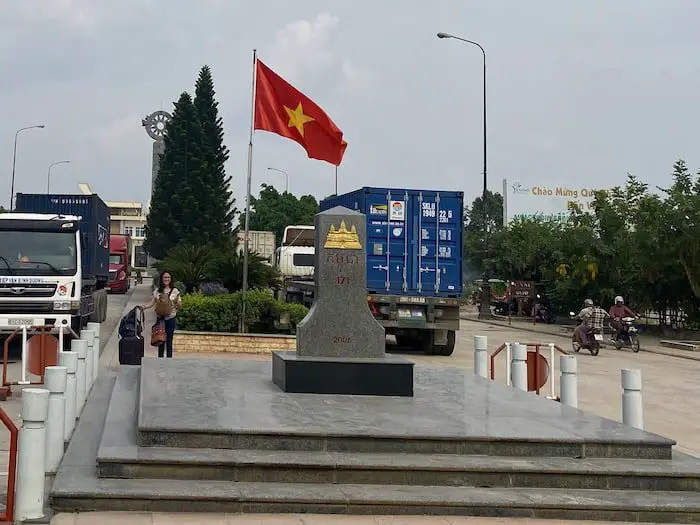 Why Cross the Moc Bai Vietnam and Bavet Cambodian Border This Way?
Many may ask, why would you ever want to cross the border this way? If we are working in Ho Chi Minh or outside the Ho Chi Minh area crossing the border may take the same amount of time or just a bit more than if we have flown in by airplane.
Here are some of the reasons why we cross the border this way:
No delays – It is not uncommon for flights to be delayed in Phnom Penh and Ho Chi Minh. The check-in and security lines can often be very long, so you may need to be at the airport at least 1.5 or 2 hours before a flight. The flight between Ho Chi Minh and Phnom Penh is only 45 minutes, but if the flight is delayed, it could be similar time-wise.
Traffic – Ho Chi Minh and Phnom Penh can be unpredictable. Sometimes from the Phnom Penh airport to my hotel can take over an hour. Also, in Ho Chi Minh, the time can be similar. So if you are working or visiting out near the border and you need to get into Phnom Penh, it may just be easier to walk across the border than to try to go back to Ho Chi Minh to fly out.
Cost – When we travel, 2 or 3 of us are usually traveling. Taking a taxi to the border is usually cheaper than if we purchased three flight tickets.
Time – When you arrive in Phnom Penh or Ho Chi Minh, you must go through the border patrol and immigration. The last time we flew into Ho Chi Minh from Phnom Penh, just getting out of the Vietnamese customs took us over an hour. I did not even need a visa, so I imagine foreigners getting visas at the border had to be there for at least 1.5 to 2 hours. The last time we crossed the border, when we left the Vietnamese side, walked to Cambodia, and got our visa, the process took just under 1 hour. We even stopped to go to the toilet and get a sim card and something to drink. It was all pretty straightforward and pretty smooth.
Crossing the Vietnamese Moc Bai and the Cambodian Bavet border is relatively easy. You can easily take a bus between the two cities or walk across the border. It is also interesting to see some of the countryside of both Vietnam and Cambodia.
Disclaimer – Both sides of the MocBai and Bavet borders can change their policies Many times, they will change them without any notice. Before you cross the border, we recommend that you talk to people who may have an idea if any policies have changed.
At A Bus On A Dusty Road, we talk about travel, life, and ex-pat living. We are all about "Living Life As A Global Citizen." We explore social, cultural, and economic issues and travel.
We would love to have you be part of our community. Sign up for our newsletter to keep up-to-date by clicking here. If you have any questions, you can contact me, Anita, by clicking here.
Listen to our Podcast called Dusty Roads. You can find it on all major podcast platforms. Try out listening to one of our podcasts by clicking here.
Subscribe to our A Bus On A Dusty Road YouTube Channel with great videos and information by clicking here.
Related Questions:
What tourist sites are close to the Moc Bai Vietnamese border?
There are several tourist locations not too far from the Moc Bai border. The Cu Chi Tunnels are about 38 kilometers but as the roads are not very fast roads it will take you about 1 hour in a car or taxi to get to the border gate. The Tan Son Nhat Airport is about 2 hours away if there is not a lot of traffic.
Also in the area is the Tay Ninh Holy See or the (Cai Dai Temple); That temple is about 30 kilometers from the Moc Bai border or about a 48-minute drive.
You could get a car from Ho Chi Minh to take you both of these places in the morning and then to drop you off at the Moc Bai border.
How can I get a Vietnamese Visa in Phnom Penh?
If you plan to cross at the Bavet border into Vietnam, you will need to get your Vietnamese Visa before you cross into Vietnam. A Vietnamese visa is not available at the Moc Bai border crossing. The best place to obtain the visa would be directly from the Vietnamese Embassy in Phnom Penh.
The Embassy of Vietnam in Phnom Penh, Cambodia is located at
436 Boulevard Monivong, Phnom Penh, Cambodia. The Embassy is open Monday through Friday, except for public holidays. To find out more about the Vietnamese Embassy in Phnom Penh, please visit their website by clicking here.