I am fascinated by Northern Sweden, Norway, and Finland. The land has the beautiful midnight sun, but it is also where the three countries meet.
Finland, Sweden, and Norway meet at Lake Goldajärvi, at a location called The Three-Country Cairn. This cairn is in a remote location on the northern border. The easiest way to visit The Three Country Cairn is through the Finnish Sami village of Kilpisjärvi, Finland. One of the best times to visit The Three Country Cairn is in the summer months.
Finland, Sweden, And Norway's Meeting Point
Sweden, Norway, and Finland all meet at The Three-Country Cairn that marks a spot of the official borders or where countries meet. When three countries meet together, this is a geographical feature known as a tripoint. The meeting of Norway, Sweden, and Finland is considered one of the northernmost tripoints in the world.
The border between Sweden, Norway, and Finland was decided in the Strömstad Treaty of 1751. The area marked for the border at that time is a cairn that is about 150 meters from today's Three-Country Cairn.
The borders in this area changed due to wars, and concessions also due to wars. In 1809 Sweden ceded Finland to Russia. Sweden and Russia decided that the new Finland-Sweden border at the north would follow the most northern river.
In 1897, the point of the three countries changed again. Norway and Finland (now administered by Russia) decided that the new tripoint for their countries would be the Southern, not the Northern river.
Essentially Norway and Finland cut just a bit of land from Sweden when they decided on this new tripoint area. But this did not stop them as they put a cairn made of stones on the new spot they had decided.
The Swedes disagreed with this new location, so in 1897 they refused to contribute any stones to the new cairn to protest the new tripoint spot where the three countries met up. Finally, in 1901, Sweden agreed to the new tripoint location and contributed some stones for the 1897 cairn.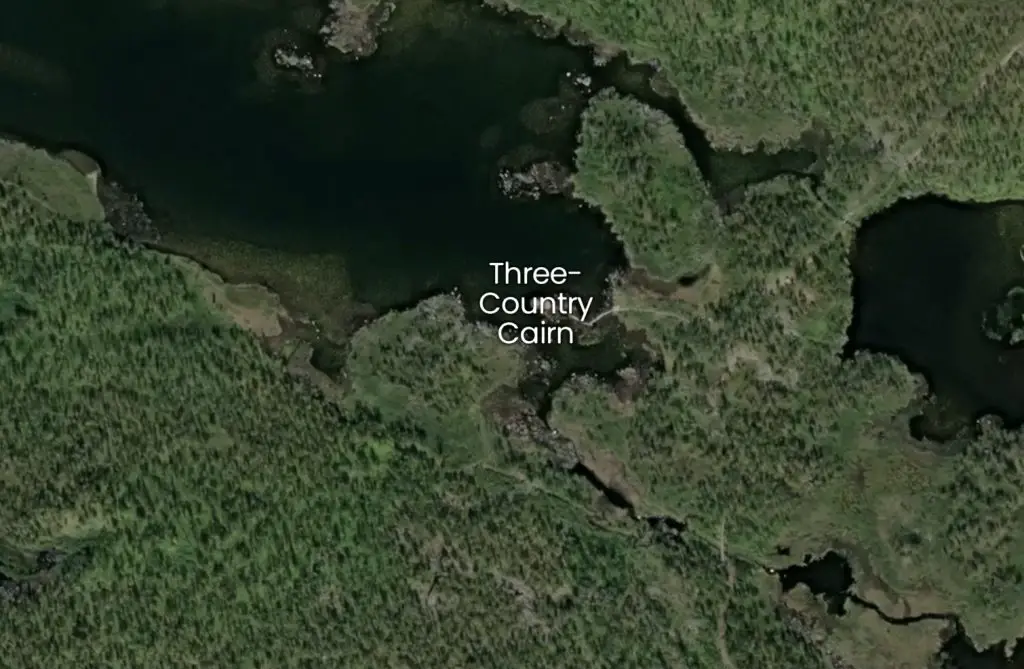 The Three-Country Cairn
The Three Country Cairn is the cairn or spot that marks the exact location where Sweden, Norway, and Finland meet. In 1926 the current cairn monument was built to mark Sweden, Norway, and Finland's boundaries and meeting point.
The Three- Country Cairn is a beige-looking conical frustum structure made of concrete. It is built 10 meters (33 feet) out into Lake Goldajärvi; as it is built on the lake, many consider the Three-Country Cairn as the world's smallest island to divide three country's borders.
The Three-Country Cairn is 489 meters (1,604 feet) above sea level. It is about 14 square meters (150 feet) in diameter and 4 meters (13 feet) high. It is quite a vast, imposing structure that is literally out in the middle of nowhere in this northern outpost of the world.
Lake Goldajärvi is a rare bifurcation lake that means the lake has two different drainage basins, and the drainage cannot be divided as it is somewhere in the middle of the lake. The water in Lake Goldajärvi flows to Lake Kilpisjärvi, the Norwegian Sea, and the Lyngen Fjord in Norway.
Lake Goldajärvi is also known as Koltajärvi in Finnish, Golddajávri in Sami, or Koltajaure in Sweden.
The Three-Country Cairan is known as Kolmen valtakunnan rajapyykki in Finnish, Golmma riikka urna in Northern Sami, Treriksrøysa in Norwegian and Treriksröset in Swedish.
Visiting the Three-Country Cairn
Visiting The Three Country Cairn will take a bit of hiking and also some planning. It is not as easy as driving your car to a parking lot and walking over to the spot.
From Kilpisjärvi Finland
Kilpisjärvi is a small Sami village in Northern Finland. Like most Sami Villages in this region of Finland, the town is built around one major road.
Even though Kilpisjärvi has about 100 residents, it has its school, nearby hotels, and the northernmost research station for the University of Helsinki.
Besides The Three-Country Cairn, the area also has a Saana Summit of schist and gneiss rock formations. Geologically the Saana Summit is part of the Scandinavian mountains.
You can reach The Three-Country Cairn by walking 11 kilometers (6.8 miles) along a hiking trail at the Malla Nature Reserve. You can also reach it by a public boat (MS Malla) and then do a 3 kilometer (1.9 mile) walk in the cairn. The boat only runs in the summertime. If you do not want to do a lot of hiking to visit the Three-Country Cairn, the boat s one of the easiest ways to see the cairn.
From Norway
You can also reach The Three-Country Cairn via Norway. It is recommended that you go on the E8 road near the border. There is a large car park by the E8 just across the Finnish border, and from there you can reach Kilpisjärvi. The E-8 parking lot is about 8 kilometers from Kilpisjärvi, Finland.
From Sweden
From Sweden is the most challenging route to visit The Three-Country Cairn. To reach it from Sweden, you must hike at least 70 kilometers (43 miles) one way. The hike is quite a difficult one as there are several river crossings.
There is a snowmobile trail in The Three-County Cairn area named after the Crown Princess of Sweden, Victoria.
You can freely walk around The Three-Country Cairn as long as you do not have any duty-free items that need to be declared in any country. How will anyone know if they have duty-free items? I am not sure, probably this will not an issue.
At A Bus On A Dusty Road, we talk about all things to do with travel, life, and ex-pat living. We are all about "Living Life As A Global Citizen." We explore social, cultural, and economic issues and travel.
We would love to have you be part of our community. Sign up for our newsletter to keep up-to-date by clicking here. If you have any questions, you can welcome to contact me, Anita, by clicking here.
Listen to our Podcast called Dusty Roads. You can find it on all major podcast platforms. Try out to listen to one of our podcasts by clicking here.
Subscribe to our A Bus On A Dusty Road YouTube Channel filled with great videos and information by clicking here.
References
To find out more about Kilpisjärvi Finland, you can visit their website to visit the area and where to stay when you are there. Their website is filled with information on where to stay and activities you can do in the area besides just the Three-Country Cairn.
Related Questions
Norway, Denmark, And Sweden Celebrate Christmas On December 24th.
Norway, Denmark, and Sweden celebrate Christmas on December 24th because Christmas day was permanently reserved as a holy day. The Scandinavians also celebrate on the eve of a holy day and not on the holy day itself. Many Scandinavians would attend a church service mass on Christmas morning.
By clicking here, you can discover more by reading our blog Norway, Denmark, And Sweden Celebrate Christmas On December 24th.
What Is It Like To Live In Sweden Without Knowing Any Swedish?
In Sweden, most of the population can't speak fluent English. But even if they can not speak English, the Swedish government has many courses they offer to immigrants and professionals who will live and work in Sweden. They offer these courses because they believe that learning Swedish will help you integrate into Swedish society.
To learn more, you can read our blog on What Is It Like To Live In Sweden Without Knowing Any Swedish? by clicking here.