When planning my Mongolia trip, one of the items they had on my list was a pair of binoculars. That was also one of the items I decided that I would ignore and not worry about to save space in my suitcase.
When traveling to Mongolia, a lightweight pair of binoculars is an essential item to pack. By having binoculars, you should be able to see much further than with your naked eye. Pack a pair of binoculars in your suitcase to get the most out of your Mongolian adventures.
Table of Contents
3 Reasons You Should Bring Binoculars On Your Visit To Mongolia
Are you preparing for a visit to Mongolia? If so, there are many interesting sights and activities you could explore. However, before packing your bag with supplies, consider bringing binoculars along with you.
Shopping for the right pair might take some time, but it will surely provide plenty of benefits on your journey! Read on to discover 3 reasons why having a pair of binoculars while visiting Mongolia is key!
Mongolia is mostly wide-open spaces – Binoculars Help You See Them!
When I decided to visit Mongolia, I was told by my friend Adiyabold, who owns a tour company called New Milestone Tours, that once you got outside Ulaanbaatar, it was just wide-open spaces.
When I drove out to the Gobi Desert, I was shocked about how wide-open Mongolia was. I am not sure exactly what I was expecting, but having traveled a lot in Asia, I expected it to be much more developed than I saw.
Sometimes we would go an hour on a two-lane road before passing through the next small town. And when I say a small town, I mean a tiny town consisting of a few buildings and maybe a gas station, government office, medical clinic, school, and a few shops and restaurants. Some of them also had some tiny local hotels with only a few rooms per hotel.
Because Mongolia is such a vast country with wide-open spaces, having a pair of binoculars would really help you to see some of the far-off places that you may drive by and not be able to visit. It will also help you to get a close-up view of the amazing wildlife Mongolia has to offer.
Binoculars will allow you to see some amazing Mongolian wildlife and scenery.
When I was in the Gobi Deseret, I saw quite far, but since I did not have any binoculars, I could not see as far as I could have. I noticed that all nomadic herders had a pair of binoculars; they were essential to finding their herds.
The nomadic family we were staying in the ger (yurt) with lost all their camel somewhere in the desert. So during the morning, we were there, the nomadic herder and his herder friends were frantically running around on their dirt bikes, camels, and horses, trying to find the herd. As they were going about to find the camels, I noticed that everyone had a pair of binoculars to find the lost herd.
If you have a pair of binoculars for your Mongolia trip, you will be all to see so much more of the wildlife and vast countryside of Mongolia that I could not see. It will make the Mongolian experience so much richer. Like the nomadic herders who understand in a country like Mongolia, binoculars are not an option; they are essential.
Having your pair of Binoculars, you do not need to borrow or miss anything spectacular.
We visited the Przewalkski horses at the Hustai National Park, about 60 kilometers outside Ulaanbaatar, Mongolia. Most horses live in this nature preserve, but there are still a few in Kazakhstan, China, or Russia.
The Przewalski horses were once almost extinct, but now about 2,000 of them live. You can read an interesting article on Smithsonian .com on the horses called The Remarkable Comeback of Przewalski's Horse.
When we went to Hustai National Park, we did not have a pair of binoculars. We were looking up at a hillside where we were told the horses were supposed to be. As we were standing there looking at an empty hillside, one of the local nature reserve researchers from the Hustai National Park came by on his dirt bike. He was kind enough to loan us his binoculars to see some of these amazing horses.
If you truly want to get the most out of your Mongolian experience, you must have a pair of binoculars. It will ensure you do not miss out on Mongolia's vast countryside's extraordinary nature and views.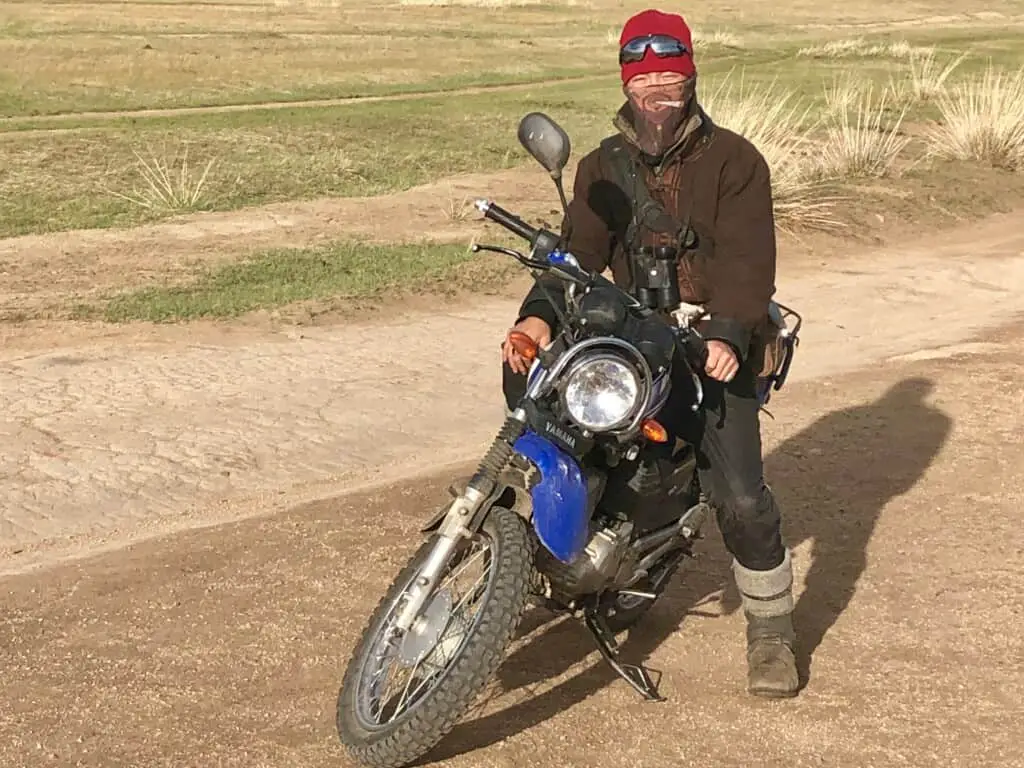 Top 3 binoculars to look to buy for your Mongolia trip.
I would not just bring any pair of binoculars; I would bring those that are light but yet can see long distances and are of the quality you need
Here are a few tips on buying binoculars:
Binoculars come in all prices, sizes, and quality. What will matter in what you get is what you feel you need them for, how often you will use them, and your budget.
Also, if weight is an issue for you, in that you do not want something heavy, you may want to try to get the lightest pair you can find for your budget.
If you want to take photos through them, you may need to look at one that has an adaptor so you can take photos.
Finally, the first number usually means magnification when they say 10 x 42 or 12 x 50, or 8 x 42. Meaning when it says 10 x, it will magnify 10 times, 12 x will magnify 12 times, and 8 x will magnify 8 times. The last number of 42 or 50 is usually the diameter of the lens in millimeters.
Here are some of our top 3 picks for binoculars that you may want to consider and why:
Vortex Optics Diamondback Roof Prism Binoculars by Vortex Optics – Vortex is a great brand. One of the best things about your Vortex binoculars is that there are many choices for each model with magnification and size. They come in compact, mid-size, and full-size.
The weight of the binocular depends upon which one you get, as these binoculars come in many different configurations, as listed on the chart below:
| | | |
| --- | --- | --- |
| Vortex Model No. | Type | Weight |
| DB-200 | 8 x 28 | 14.0 ounces (396 grams) |
| DB-201 | 10 x 28 | 13.5 ounces (382 grams) |
| DB-202 | 8 x 28 | 15.5 ounces (439 grams) |
| DB-203 | 10 x 32 | 15.4 ounces (436 grams) |
| DB-204 | 8 x 42 | 21.8 ounces (618 grams) |
| DB-205 | 10 x 42 | 21.4 ounces (606 grams) |
| DB -206 | 10 x 50 | 29.6 ounces (839 grams) |
| DB-207 | 12 x 50 | 28.7 ounces (813 grams) |
Binocular's
They come with a carrying case, but you can also purchase add ons as the Vortex Optics Binocular harness strap or the simple loop connector so you can easily carry it.
You can adjust the eyecups, which is great if you have eyeglasses or need binoculars that have an adjustable eyecup so you can view them easier.
They are water and fog-proof, so they can work in extreme weather conditions.
The weight of the binoculars will depend on what size or model you get.
if money is not a problem and you want a high-quality binocular, the Vortex is the way to go, as it is such a great product.
ZoomX, Waterproof Lightweight Compact Binocular by Zoom X – These binoculars come with some extra features as a mount for your cell phone so that you can take photos. I have not used a photo-mounted cell phone adaptor like this, so I cannot attest to what quality the photo will really be. But, the image quality may also depend on a lot of things as how steady your hand is when handling these binoculars. Here are some other features.
They are lightweight – they weigh just 1.2 pounds or 546 grams.
They come with an adaptor for your cell phone so that you can use the binoculars to take photos with your cell phone. '
They are 10 x 42.
They can also be put on a tripod.
They also come with a carrying case and strap.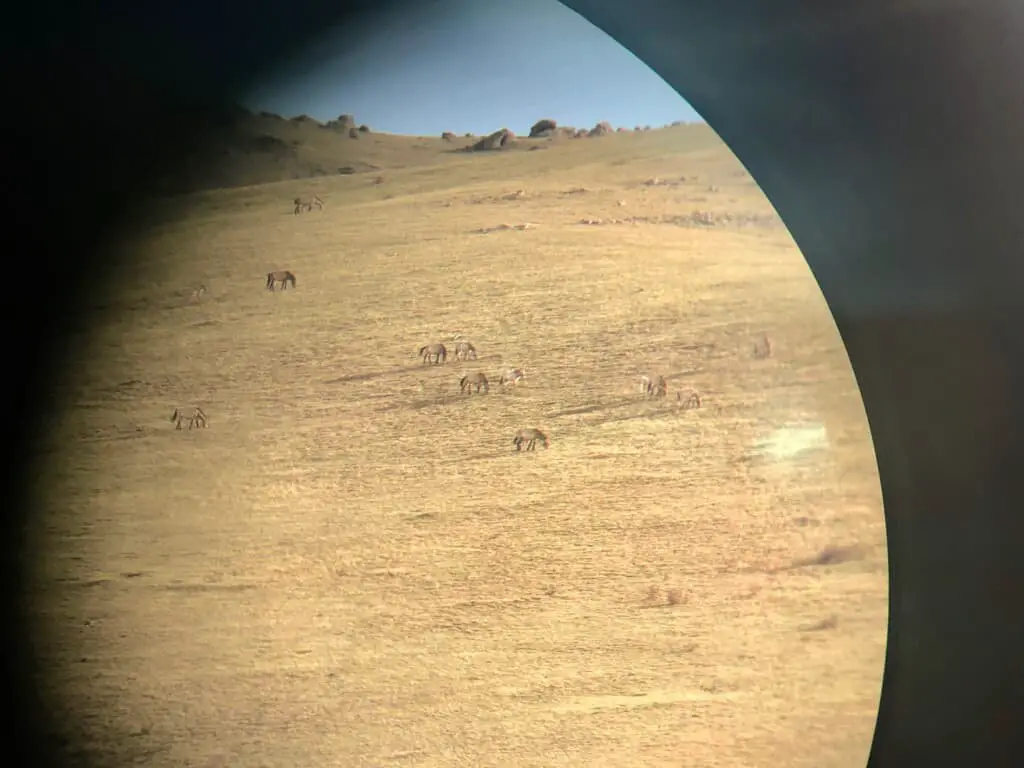 Compact Waterproof Binoculars by Ronasunx- If you do not need all the extras that come in the Zoom X package, or you are just looking for a cheaper option than the Vortex, these compact waterproof binoculars are a great deal. They are a great price and have a lot of great features such as:
They are also lightweight at 1.1 pounds
They are 12 x 42
They also come with a neck strap and carry case.
Very good value for the money.
When you travel to Mongolia, a good pair of binoculars is an essential item to pack. Since you are traveling, they should be lightweight enough so you can carry them around without too much trouble or inconvenience. The binoculars will help open up a new world that cannot be seen with the naked eye.
At A Bus On A Dusty Road, we talk about travel, life, and ex-pat living. We are all about "Living Life As A Global Citizen." We explore social, cultural, and economic issues and travel.
We would love to have you be part of our community. Sign up for our newsletter to keep up-to-date by clicking here. If you have any questions, you can contact me, Anita, by clicking here.
Listen to our Podcast called Dusty Roads. You can find it on all major podcast platforms. Try out listening to one of our podcasts by clicking here.
Subscribe to our A Bus On A Dusty Road YouTube Channel filled with great videos and information by clicking here.
Related Questions:
Is there anything else that I should pack for my Mongolian trip?
If you are traveling to Mongolia you may want to include these items when you are packing:
have a good pair of hiking boots,
clothes that can be easily layered,
a larger scarf you can use in case you get cold,
a good quality battery pack,
a lightweight flashlight
bathing towelettes.
You can read our blog What to Pack If You Are Traveling to Mongolia During Springtime for some more ideas of items for you to pack.
What is the best time of year to visit Mongolia?
The best time of year is the summer months, during June, July or August. I was there in May, and though it did snow, the weather was pleasant. If you are looking to go in May, I will look to go after mid-May as you then have a better chance the weather will be decent; also, if you want to go in September, look at going in early September.
Wintertime in Mongolia can be extremely cold.