One of the fascinating places to visit in Ulaanbaatar, Mongolia, is what the locals call the black market (Naran Tuul). Though the black market's name sounds like this market may be a shady place – filled with shady characters – along with illegal or counterfeit goods – it is not. Going to visit the black market is definitely worth your time.
There are a lot of great finds at the Black Market in Ulaanbaatar, Mongolia. Some of the more interesting finds that I found were horse and camel products, Mongolian-style furniture, and some antiques and antique reproductions. This is a "must-experience" place for any visitor to Ulaanbaatar, Mongolia. The black market is located In Ulaanbaatar, at the eastern end of Narnii Road and near Nam Yan Street. But as this is a place many locals go to, if you ask your hotel how to get there, they should help you.
Table of Contents
About the Naran Tuul Mongolian Black Market
What you need to know before you go
You need to know a few things before you visit the Black Market in Ulaanbaatar, Mongolia.
Product Selection – This market is not a tourist market; it is a market many locals go to. We saw some nomadic families as they came into town to purchase supplies. So if you are looking for souvenirs or other touristy items, this may not be the place to purchase them.
Imported Products – As this is a local market, there will be many imported products not made in Mongolia. For example, the fabrics and silks all look Chinese-made. There is no problem with buying them, but understand they are probably made in China and not Mongolia.
Language barrier – All the vendors we spoke with did not speak any English. So if you are serious about getting a good price or learning more about what you are buying, you will need to take a local guide with you. I highly recommend New Milestone Tours tour company, They can help arrange a local guide to take you around the market.
Watch your belongings – Like any other local markets you are traveling to, watch your belongings. Do not flash around a lot of money. Watch if anyone is watching you pull out your money and keep your passport and other belongings safe.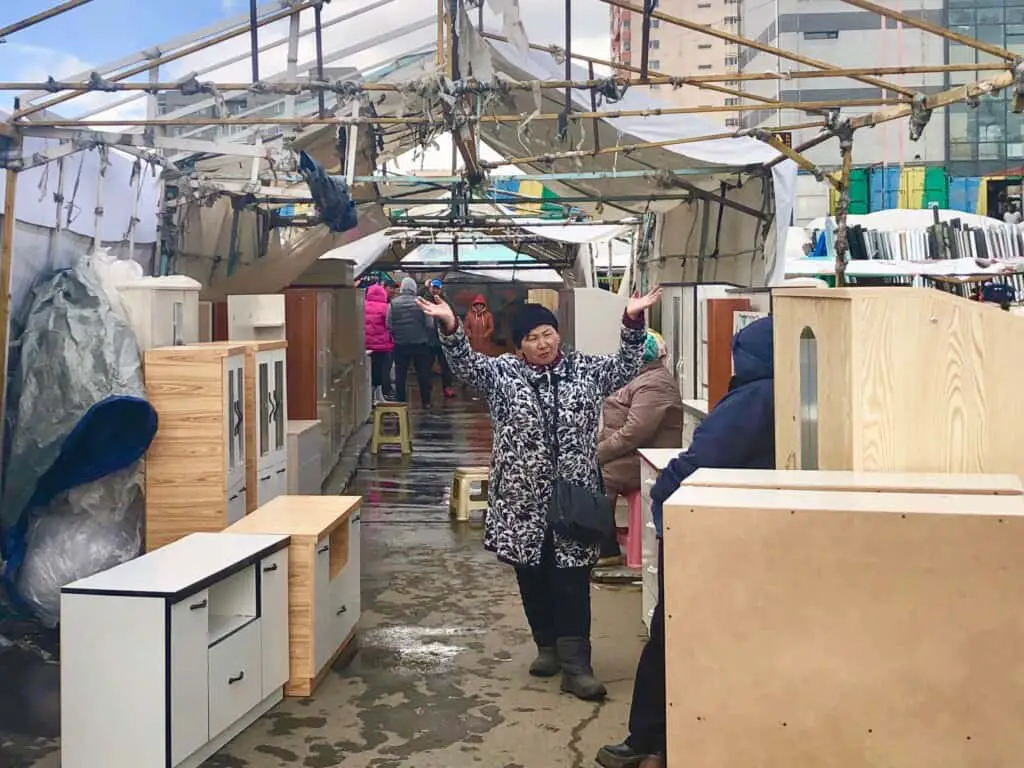 Mongolian Products At The Naran Tuul Black Market.
There are some great finds on the Mongolian black market. As I mentioned earlier, many of the products sold in this market are imported, so I will concentrate on showing you some of the local Mongolian products and Mongolian artifacts.
Mongolian Furniture At The Black Market In Ulaanbaatar
If you love the bright-colored, hand-painted Mongolian-style furniture that the nomadic herders have in their gers (yurts), this would be the place to purchase a piece. The black market was where the nomadic herder bought traditional Mongolian ger furniture pieces.
I find this style of Mongolian furniture to be exciting. You can see the Tibetian Buddhist influence in their furniture pieces and designs, One of these pieces could be a great find and addition to any home.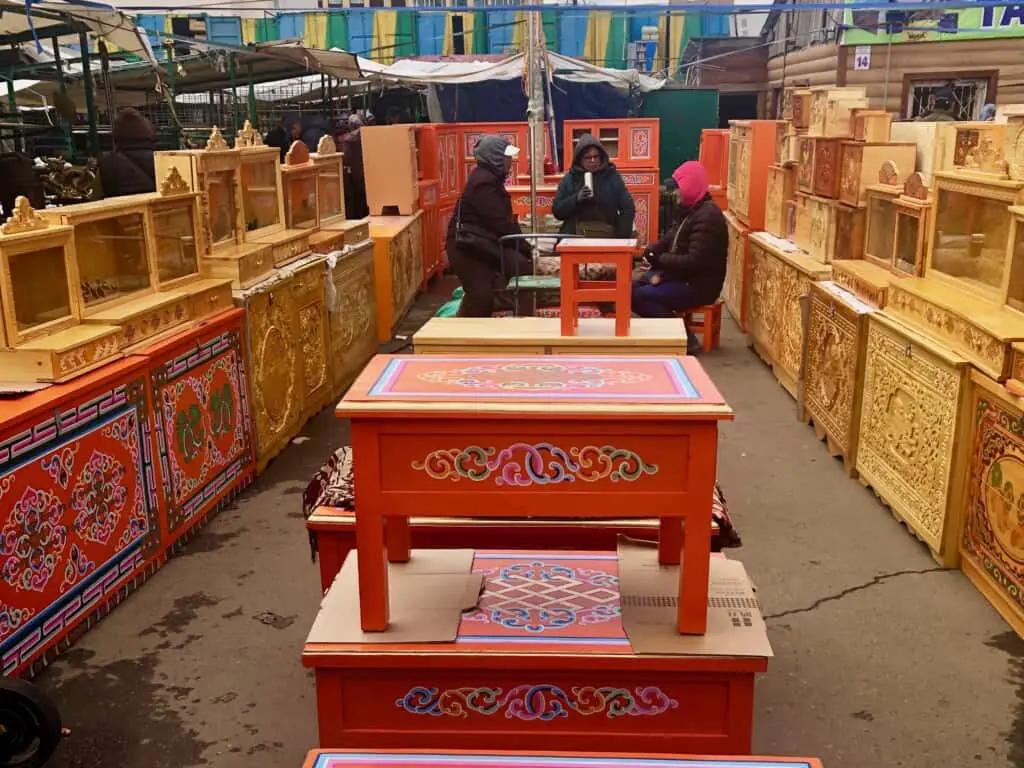 A word of caution, whenever you buy wood furniture that is solid wood, unless the solid wood is treated correctly, it may crack when you get it home to your own country. I do not know if these Mongolian pieces at the market will crack, but I assume they will, as they are for the local Mongolian market. When you purchase these items, understand this may happen.
Even wooden antiques will often crack when exported to another climate. As wood is a natural material, this is the nature of wood, and the drying, construction, and finishing can all make a difference in how and where it cracks.
Spice bottles at the Mongolian Black Market
When you go into a Nomadic family ger, your host will probably offer you a small bottle to open and put some spices on your hand to smell. At this market, you can find various spice bottles in all shapes and sizes. This would also be a place where many nomadic herders would go to find and buy these bottles.
Horse, Camel, and other products at the Black Market
This market is filled with horses, camels, and products for the herders. If you are interested in these kinds of products, this is a place to look to buy them. Here are some fascinating items that I found.
Saddles: There are all kinds of saddles of all qualities and prices. If you want to get leather saddles, look closely to ensure they are real leather (there is a lot of cheaper leather or faux leather). If you want it to be handmade, you must check this carefully. But this would be the place to go if you want a saddle to hang up as a decoration or artifact.
Whips – This place is filled with all kinds of animal whips. There are some very decorative and great pieces. They use a lot of leather, and some are nicely braided.
Briddles – There are also a lot of briddles. Some are very decorative and would make some very nice artifacts.
Stir-ups – There are also a lot of interesting stirrups. They could be a nice decoration. Some are plain, and others have more decoration on them.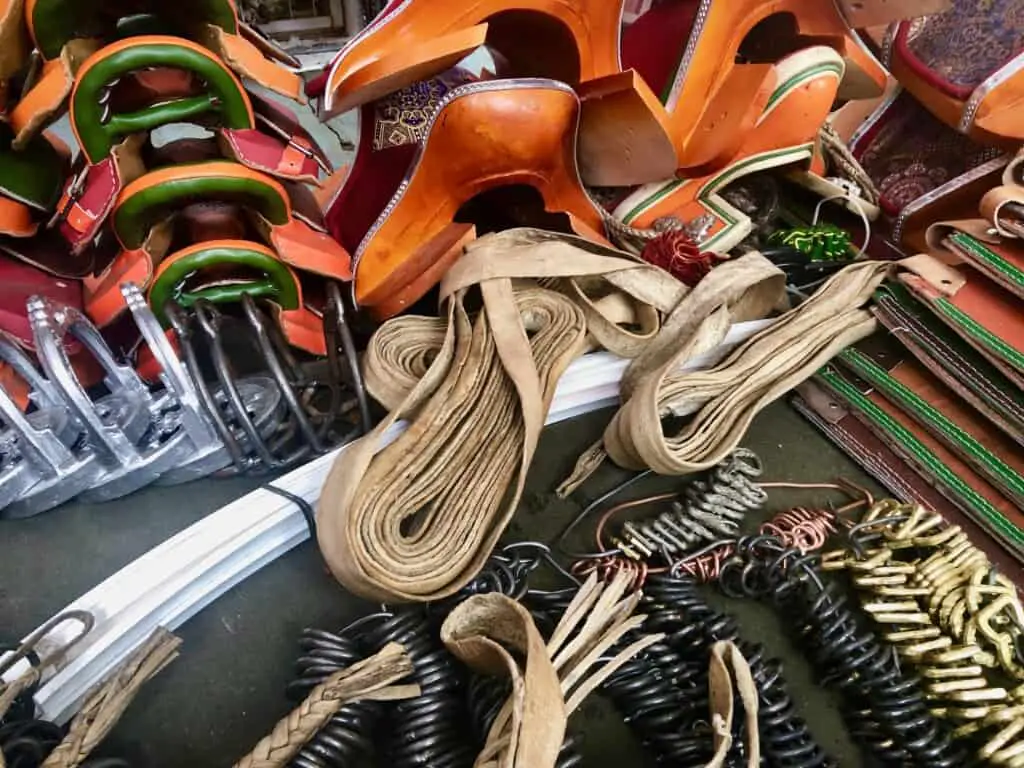 Horse Saddlebags – You can find some used horse saddlebags. They could be a significant artifact to have with a bit of the right cleaning.
Saddle stand – We found a cute Mongolian saddles stand that they use to put their saddles on.
Brass Bells At The Black Market In Mongolia
There is a lot of brass at the market, and you will find brass bells in all sizes and shapes. I was told that the nomadic herders would put the small bells in their small children's shoes to hear the children if they wandered off. Of course, this would make sense as they have no fences, so I am sure they must worry that the children could wander away.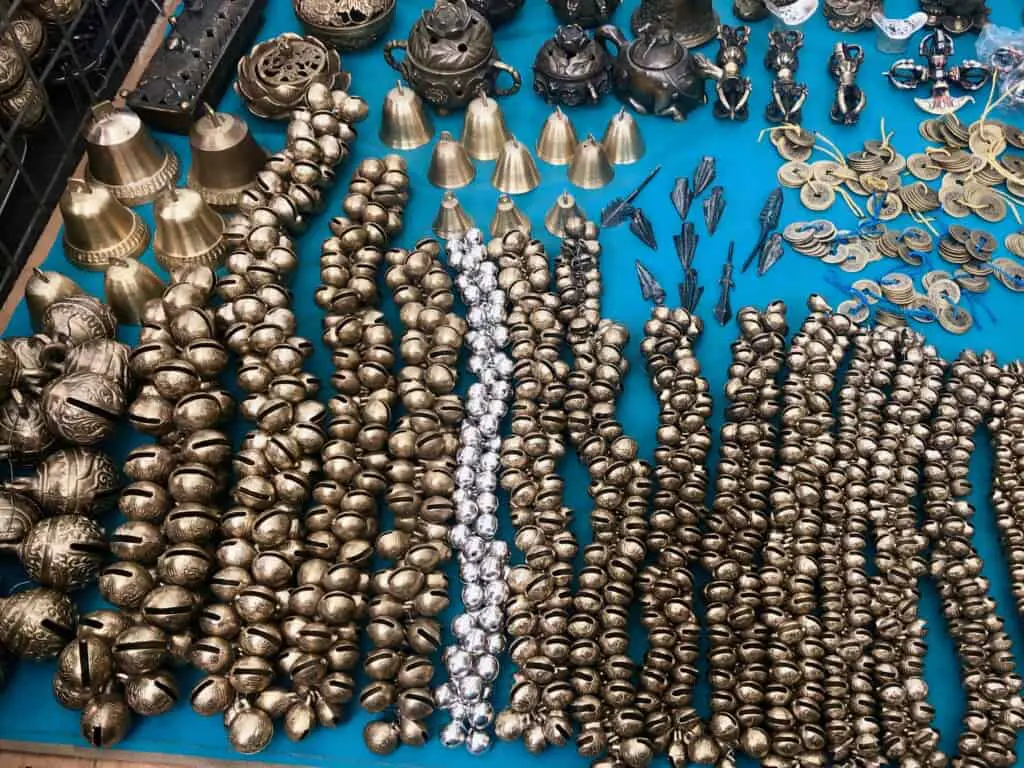 Brass bowls. canteens and other interesting artifacts
I found some fascinating brass bowls, canteens, and other interesting artifacts. Again, you need to look around at all the suppliers, but I saw many of them had some fascinating pieces.
Some of the items you know were collected directly from the nomadic herders. This is a great place to explore if you are looking for some interesting artifacts.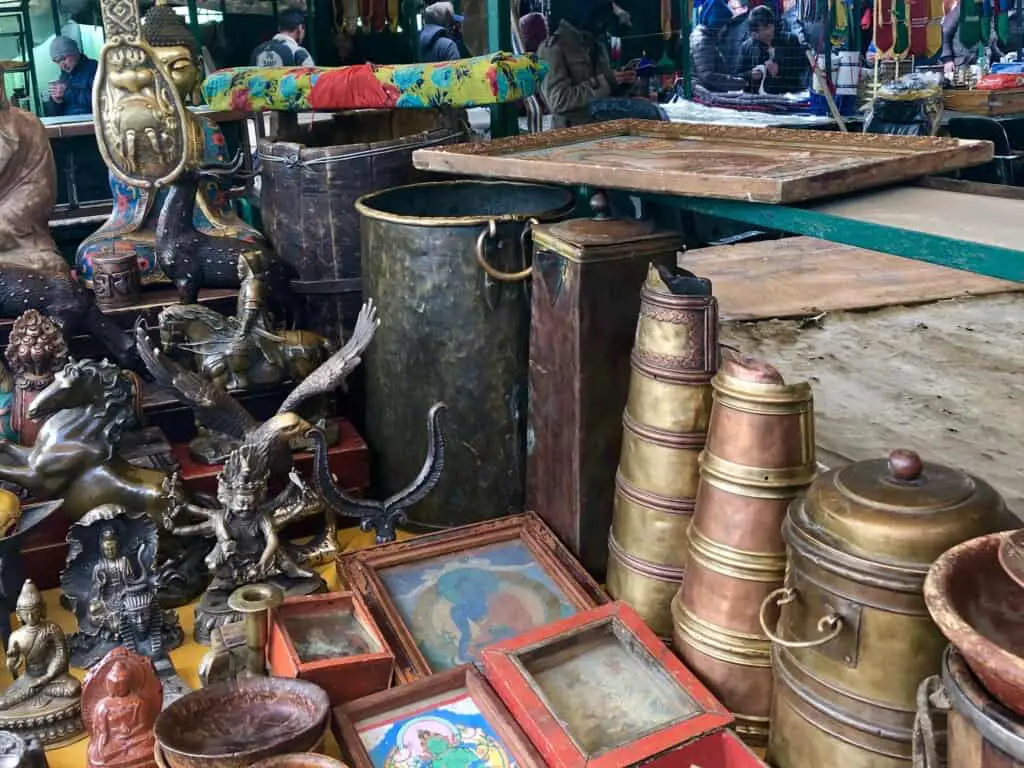 Buddhist Boxes and other trinkets at the Black Market
Just like the nomads come to market to get their supplies, also this a place where the Buddhist monks may come to get some of their products and supplies. They had some fascinating Buddhist artifacts, like some boxes and other things.
Russian Badges At the Black Market
The market was filled with old Russian badges. Mongolia was under Russian control from 1921 to 1989, so there is no wonder you can find things like old Russian badges at the market. I thought a group of these all framed would make an interesting piece of art.
If you are looking for some interesting artifacts or interesting finds to bring back home from your Mongolia adventure, then the Mongolian Naran Tuul Black market is worth exploring. If you are serious about understanding what you are buying or being able to bargain or understand prices, it would be best to bring a local guide to help you navigate the market.
At A Bus On A Dusty Road, we talk about travel, life, and ex-pat living. We are all about "Living Life As A Global Citizen." We explore social, cultural, and economic issues and travel.
We would love to have you be part of our community. Sign up for our newsletter to keep up-to-date by clicking here. If you have any questions, you can contact me, Anita, by clicking here.
Listen to our Podcast called Dusty Roads. You can find it on all major podcast platforms. Try out listening to one of our podcasts by clicking here.
Subscribe to our A Bus On A Dusty Road YouTube Channel with great videos and information by clicking here.
Frequently Asked Questions
What are the top tourist attractions in Mongolia?
The Gobi Desert
Lake Khövsgöl
Terelj National Park
Orkhon Valley
Erdene Zuu Monastery
Flaming Cliffs (Bayanzag)
Hustai National Park
Khustain Nuruu National Park
Amarbayasgalant Monastery
Khorgo Terkhiin Tsagaan Nuur National Park
How do I obtain a visa to visit Mongolia?
You can apply for a tourist visa to Mongolia at the Mongolian embassy or consulate in your country. You will need a valid passport, an application form, a passport-sized photo, and the required visa fee. Alternatively, you may be eligible for a visa on arrival if you meet certain criteria.
What is the best time of year to visit Mongolia?
The best time to visit Mongolia is during the summer months from June to August when the weather is pleasant, and the countryside is lush and green. However, if you're interested in winter activities like ice festivals and dog sledding, then visiting between December and February is recommended.
How do I get to Ulaanbaatar, the capital city of Mongolia?
Ulaanbaatar is well-connected by air to major cities around the world. Chinggis Khaan International Airport (ULN) is the main international airport in Mongolia. You can also enter Mongolia by train from neighboring countries like China and Russia or by road from Russia.
What are the popular festivals and events in Mongolia?
Naadam Festival (July)
Eagle Festival (October)
Ice Festival (February)
Camel Festival (March)
Tsagaan Sar (Lunar New Year, usually in January or February)
Are there any safety concerns for tourists in Mongolia?
Mongolia is generally a safe country to visit, but it's always recommended to take normal precautions. Be mindful of your belongings, avoid isolated areas at night, and be cautious when traveling in remote regions. It's also advisable to have travel insurance that covers medical emergencies and evacuation.
What are some traditional dishes and must-try foods in Mongolia?
Buuz (steamed dumplings)
Khorkhog (meat and vegetable stew cooked with hot stones)
Khuushuur (deep-fried meat pastry)
Aaruul (dried curds)
Boortsog (fried dough cookies)
Airag (fermented mare's milk)
Are there any specific customs or cultural norms I should be aware of when visiting Mongolia?
Mongolians have a strong respect for their traditions and customs. It's important to greet people with a handshake or, in more rural areas, with a slight bow. It is customary to remove your shoes when entering someone's home or a temple. It is also polite to accept offers of food or drink and to reciprocate with a small gift.
Related Questions:
Does the Mongolian black market (Naran Tuul) close if it rains or snows?
The Mongolian Naran Tuul Black Market is open every day from 9 am to 7 pm (1900), even in the rain or snow. But the market is closed every Tuesday.
Is it good to buy Cashmere in Mongolia?
Cashmere is one of the major exports of Mongolia. But like a lot of other things, the price will depend on the quality of the cashmere. A top of the line, 100% cashmere can be expensive, but it would still be cheaper than if you purchased it anywhere else. So cashmere is definitely something that should be purchased in Mongolia.
You can learn more about cashmere by reading this blog, 11 Facts About Mongolian Cashmere Fibers, Yarns, and Products by clicking here.