When my family went on a family vacation to Northern Wisconsin, we usually brought our Kubb game. Kubb is a game similar to the English Game of Skittles.
Legend has it that Kubb was an old Viking game, but this rumor has never been confirmed. We know that Kubb is an old Nordic outdoor lawn game that continues to take Europe, the United States, and even the world by storm. Kubb is a game that almost anyone of any age can play, but to play it well requires strategy and skill.
Table of Contents
The Ancient Vikings And The Swedish Kubb Game
Legend has it that the Vikings used to play a version of Kubb, but they played the game using real bones and human skulls, probably the bones and skulls of their enemies that had been captured and killed.
The Viking Kubb game legend has been floating about Scandindivan for years, even though the rumor has never been confirmed. Some say that the Swedish Kubb game is over 1,000 years old.
I can see those strong, fierce Viking men tossing the human bones to tip over the human skulls while having fierce competition. We know that Kubb is an old Nordic game, so it is easy to imagine that on the wind-swept grassy areas of Gotland Sweden, an island in the Baltic sea, our Viking forefathers played the Kubb game on a grassy part of the island.
Many in Sweden call this game Viking Chess or the old log game. Allan Pettersson, on the official Swedish Gotland Kubb World Championships website, said this about the Swedish Kubb game and the island of Gotland:
Today the World Championships of Kubb are still played on the Swedish island of Gotland. You can discover more about the Kubb World Championships by clicking here.
In the United States, the U.S. Kubb Championship takes place each year in Eau Claire, Wisconsin. Eau Claire, Wisconsin, has claimed itself as the Kubb Capital of America. You can find out more about the U.S. National Kubb Championships by clicking here.
Other parts of the world, such as England, Switzerland, Holland, and France, also have active Kubb associations. The International Championship games have over 165 teams from eight countries participating.
We know this Swedish outdoor lawn game is taking the world and the United States by storm; Kubb (pronounced in Swedish as KOOB) is fast becoming a popular outdoor lawn game.
All About The Outdoor Game Kubb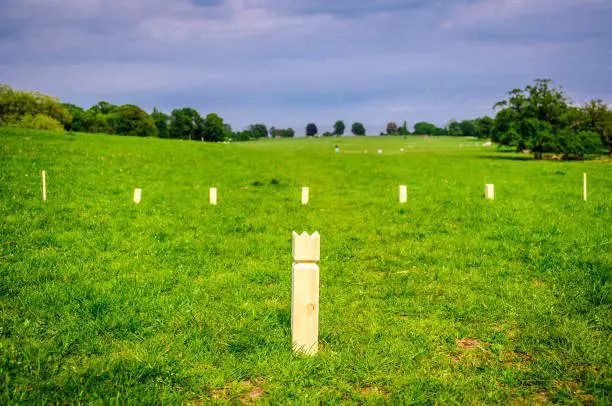 Kubb is usually played on the grass, but it can also be played on the sand, dirt, and even snow. It is considered an outdoor board game, so it is best played on a smooth and flat surface; grass is the most popular surface it is played on.
What makes it such a popular game is almost anyone can play it. Both old and young are known to play Kubb; anyone of virtually any age can participate.
Just two people can play Kubb, or you can have two teams. A good number for a team is usually no more than six people per team.
Having six people maximum on the team allows each person to throw the baton at least once for every turn. Because you can have teams or just two people can play against each other, it ensures that Kubb is a very versatile game.
The official Kubb game is usually made of pine as follows:
1 King about 9x 9 cm and 30 cm high or 3.54 x 3.54 inches and 11.81 inches tall.

10 Kubbs that are 7 cm X 7 cm and 15 cm high or 2.75 x 2.75 inches and 5.9 inches high, each Kubb should not weigh more than 0.5 kilos or a minimum of 0.3 kilos.

6 throwing sticks, also known as a baton, are 44 mm in diameter and 30 cm long or 1.57-inch diameter and 11.81 inches long.

4 corner sticks can be any size and are usually used to mark out the field. Many kits also include 2 center sticks to mark where the center is to place your King. These sticks are usually 2 x 2 x 30 cm.
The pitch area or field for Kubb is measured to be 5 M x 8 M or 16.4 feet x 26.25 feet. The Kubbs are placed on the baseline and the king in the center of the fields.
The Kubb and field are set up as shown below: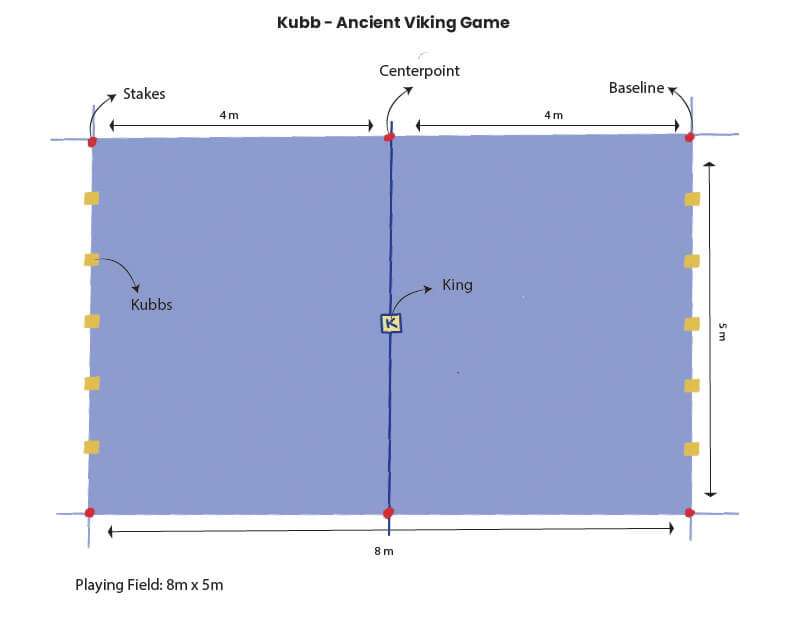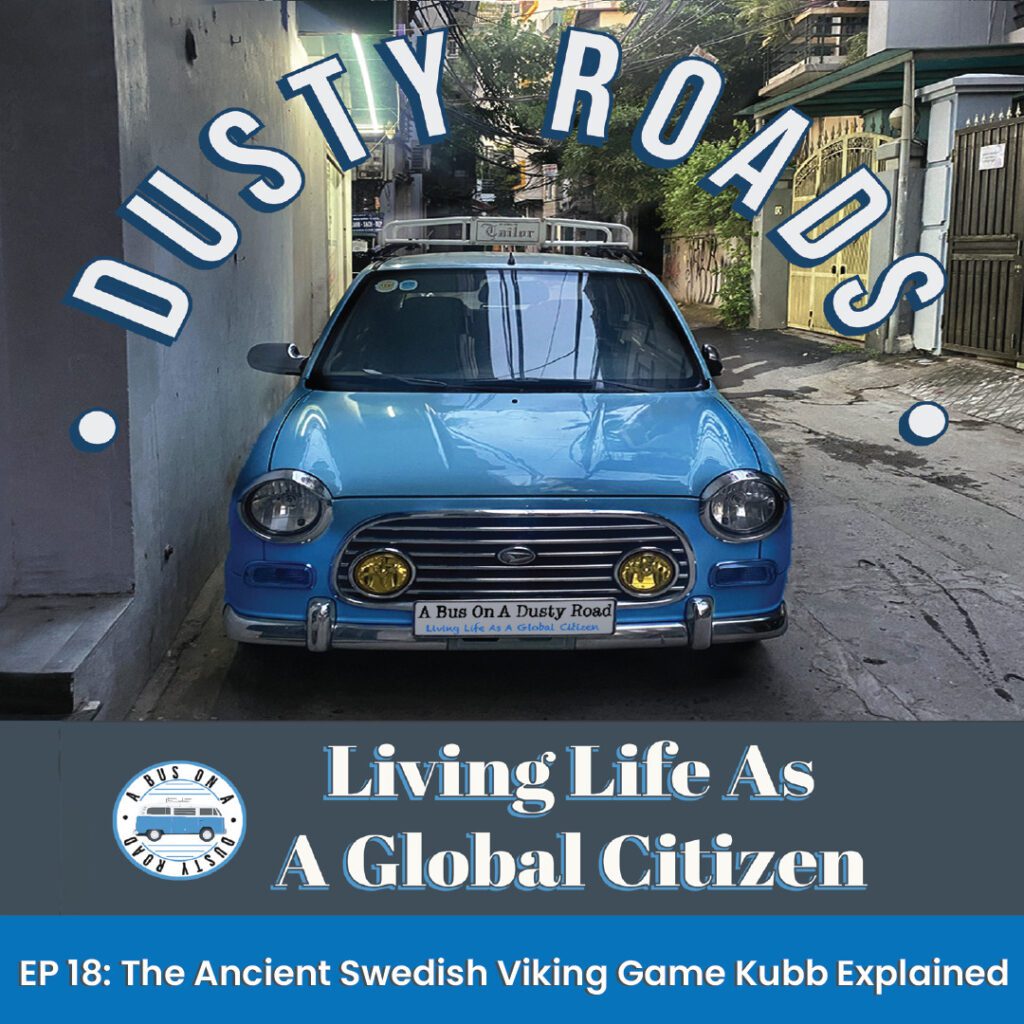 Listen To Our Podcast About The Ancient Swedish Viking Game Kubb Explained below or by clicking here.
The Basic Aim And Rules Of Playing The Kubb Game
The game's purpose is to knock over the King, but you can only knock over the King when you have knocked over all the Kubbs or sticks your opponent has with a baton. If you accidentally knock down the King, you have lost the game.
It may sound like an easy game, but like any game, it takes some skills and strategy, and other rules also must be considered.
Kubb is a game of skill and strategy. After all, remember that your opponent is also trying to knock down your Kubbs so they can then knock down the King and win.
There are many different ways that people may play Kubb in their backyard, but the official rules for Kubb are as follows:
To toss the batons, you need to throw them underarms and stay within the throwing area.
Each team will toss their baton toward the King to see who goes first. The closest one will throw or toss first.
The object is that players need to try to knock down the Kubb of the opposing team. When Kubb is knocked down, Kubb is tossed into the opposing team's field and put upright.
Before that team can knock down any baseline Kubbs, they must first knock down the tossed or field Kubbs.
They go back and forth between each team, knocking down the kubbs. As you can see, it can take a lot of skill as you will need to knock down 11 Kubbs with only 6 batons.
The one who can knock down all their opponents, Kubbs, can then knock down the King and will win the game.
This short video gives a great explanation of the Kubb game and how it is played.
If you want to download the official copy of the U.S. National Kubb Championship Rules, download them below.
Kubb is an old Viking game that continues to gain popularity worldwide. It continues to be popular as it requires skill and strategy. Kubb is a fun and sometimes highly addictive game that anyone can play.
Buying A Kubb Game Set
Today there are many Kubb Sets out there, but one of the Kubb sets we love is this set that comes with a handy carrying bag. We love the bag as you can take the game with you anywhere.
At A Bus On A Dusty Road, we talk about everything about history, travel, life, sailing, and ex-pat living. We are all about "Living Life As A Global Citizen." We explore social, cultural, and economic issues and travel.
We would love to have you be part of our community. Sign up for our newsletter to keep up-to-date by clicking here. If you have any questions, you can contact me, Anita, by clicking here.
Listen to our Podcast called Dusty Roads. You can find it on all major podcast platforms. Try out listening to one of our podcasts by clicking here.
Subscribe to our A Bus On A Dusty Road YouTube Channel filled with great videos and information.
Related Questions
15 Things To Do In Milwaukee, An Insiders Guide
Milwaukee, also known as Cream City, is a wonderful place to live or visit. The city is filled with great food and drink, plus a host of interesting museums and factory tours. There are a lot of great activities on Lake Michigan or near the lakefront. This city of festivals has something to offer everyone.
By clicking here, you can discover 15 Things To Do In Milwaukee, An Insiders Guide
Differences Between the Danish, Swedish, and Norwegian Vikings
The Danish Vikings were the most political of the three groups of Vikings, as they had a noble family behind them and their expeditions. The Norwegians Vikings were the most violent and traveled the furthest. The Swedish Vikings went through Europe and not westward as the Danish and Norweigan Vikings.
By clicking here, you can discover Differences Between the Danish, Swedish, and Norwegian Vikings?
Norway, Denmark, And Sweden Celebrate Christmas On December 24th.
Norway, Denmark, and Sweden celebrate Christmas on December 24 because Christmas day was permanently reserved as a holy day. The Scandinavians also celebrate on the eve of a holy day and not on the holy day itself. Many Scandinavians would attend a church service mass on Christmas morning.
By clicking here, you can discover Norway, Denmark, And Sweden Celebrate Christmas On December 24th.