If you're considering a camping trip to Yellowstone, it's crucial to familiarize yourself with the reservation process for securing a campsite.
Yellowstone offers a variety of exceptional camping options, but to make the most of your experience, you'll need to know what type of campsite you're interested in and the specific requirements for reserving it. This knowledge will help you navigate the reservation process more smoothly and secure your ideal camping spot.
Table of Contents
Guide To Reserving Your Ideal Campground At Yellowstone National Park
Camping at Yellowstone National Park can be a life-changing experience. The natural splendor, the breathtaking landscapes, and the proximity to wildlife make it one of the most memorable outdoor adventures you can undertake.
But like any journey into the wilderness, camping at Yellowstone requires careful planning and awareness. This guide provides essential tips for reserving your ideal camping spot at Yellowstone National Park.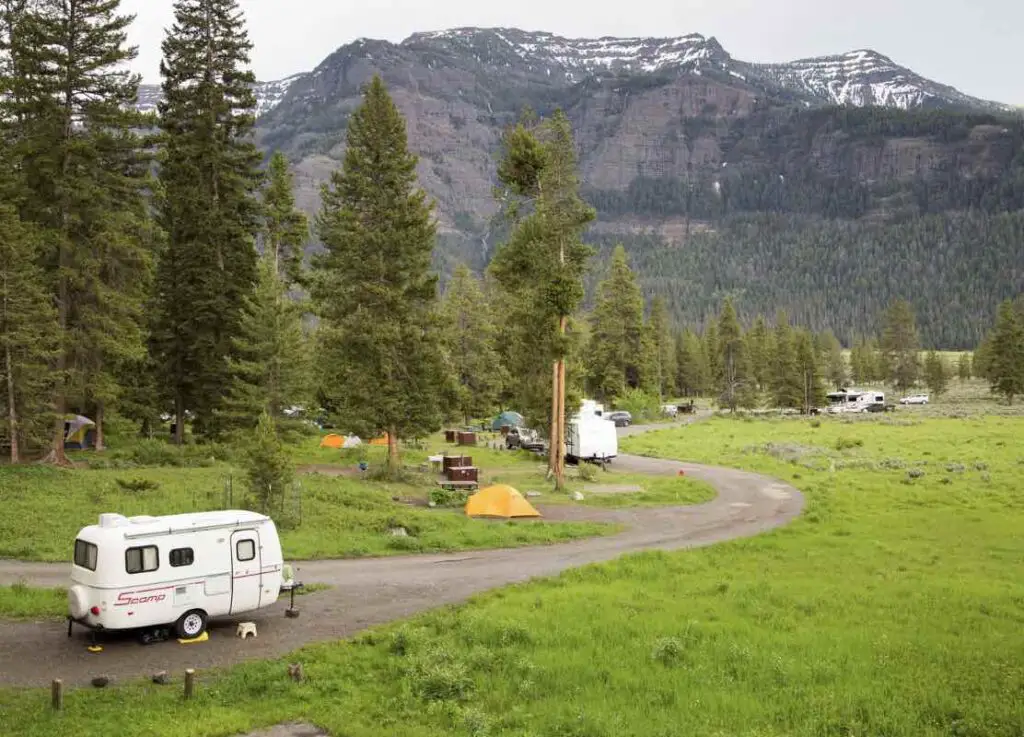 Read on as we explore what you must do to reserve your campground spot
Understand You Must Make A Reservation
One of the first things you should do is understand you must be prepared and make a reservation at the campground of your choice for the specific days you want to stay. Yellowstone's campgrounds can fill up quickly, especially during peak seasons, and a reservation will ensure that you have a spot waiting for you.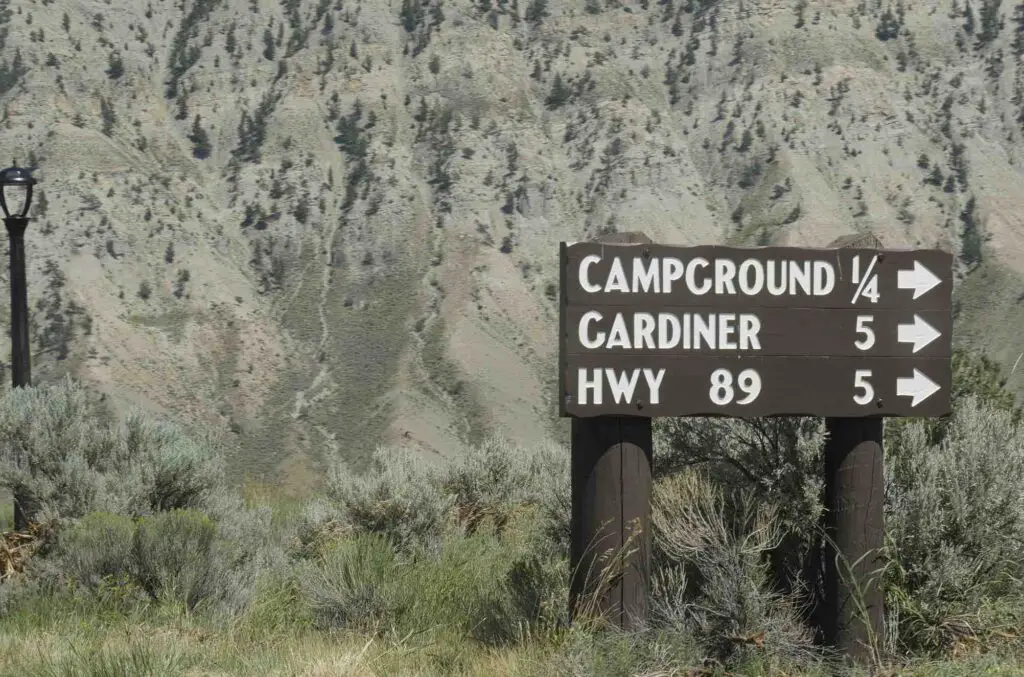 Decide What Experience Are You Looking For?
Before browsing campgrounds, deciding what kind of experience you want is essential. Do you prefer convenience and access to various park attractions? Or are you looking for a more secluded, back-to-nature experience?
Here are some suggestions for you:
For Convenience: If your goal is to see as much of Yellowstone as possible, consider staying at Madison, Norris, or Canyon campgrounds. These are centrally located and offer more accessible access to the park's main attractions.
For Seclusion: If you prefer a quieter experience, aim for a smaller campground like Lewis Lake, Indian Creek, Slough Creek, or Pebble Creek. These campgrounds are less crowded and offer a more intimate connection with nature.
Check For Campground Closures
Always check the Yellowstone Park website to confirm that your preferred campground is open. For instance, in the summer of 2023, Pebble Creek, Norris, and Tower Fall were closed for a significant portion of the season. Your preferred campground might also be closed, so verifying its status is crucial.
The campgrounds can close for various reasons, from flooding and fire dangers to other dangers. So make sure you check if your preferred campground is even open.
Check Amenities And Access
Decide on the amenities you need. Do you want flush toilets, generators allowed, or laundry facilities? Do you need a campground with wheelchair access? All these amenities can vary from one campground to another, so choose accordingly.
How To Reserve Your Camping Spot
Yellowstone allows reservations through two primary channels: the Yellowstone National Park and Lodges and Recreation.gov websites. Know which campground reserves through which platform to avoid confusion.
Campgrounds Reserved Via Yellowstone National Park Lodgings
The campgrounds below are reserved via the Yellowstone National Park Lodgings website. You can visit the website by clicking here.
Yellowstone Campgrounds Reserved Via Recreation.gov
The following campground sites are reserved via recreation.gov, another website that takes reservations. To find out more, click here.
Know Your Dimensions For Tents, Trailers, Trucks, Etc
When making a reservation, you must provide accurate dimensions for any tents, RVs, or other equipment you'll be bringing. When fully extended, park staff will need specific details, such as your truck's and trailer's length.
This information helps ensure you're allocated a site that comfortably accommodates all your camping equipment. Giving the wrong information or size may hurt your ability to get a proper camping site.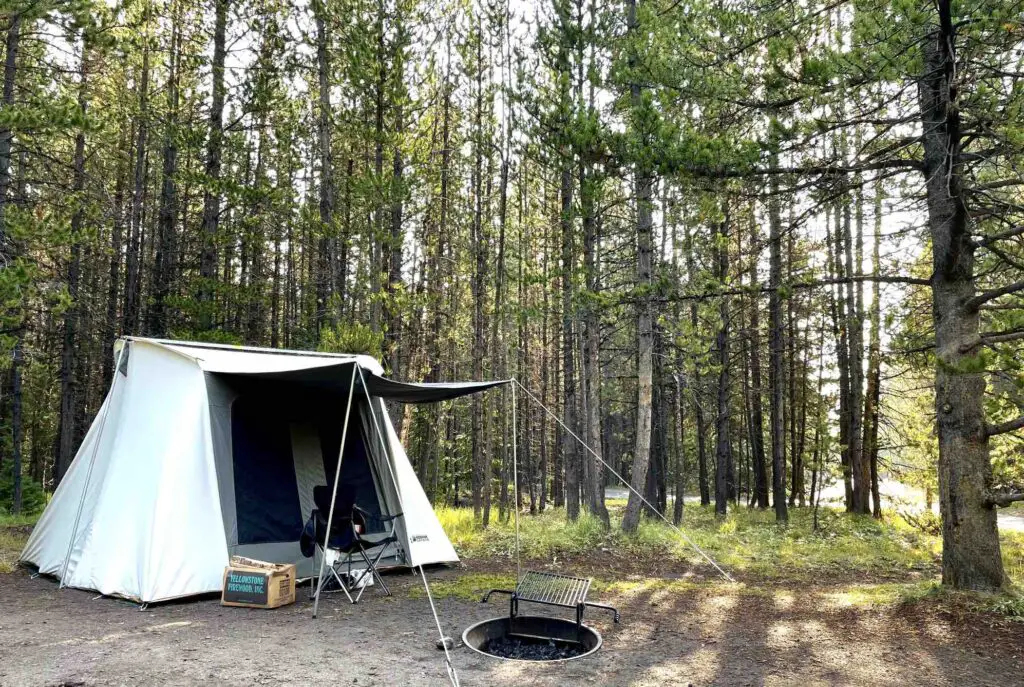 Site Size Matters
Campgrounds in Yellowstone can vary drastically in size, from those with hundreds of sites to those with fewer than twenty. Larger campgrounds often have more amenities but are also more crowded. Smaller campgrounds offer more seclusion but may lack specific amenities or even be closed.
Seasonal Availability
Most campgrounds are open from late May or early June until September or October. Knowing your travel dates can help you plan effectively.
The main Yellowstone campground open off-season or during the winter is Mammoth Campground. But we suggest you check the site Reservable.gov to ensure it is open before going there to camp off-season.
RV Hook-Ups
Many campgrounds have limited RV hook-up spaces if you travel in an RV. Making a reservation is highly recommended.
Biking, Hiking And Camping
Most Yellowstone campgrounds are bike- and hiker-friendly, with a few exceptions like the Fishing Bridge RV Park Campground and Slough Creek.
Group Size Limits For Camping
Yellowstone generally allows up to 6 people or one family (parents with dependent children) per site. Larger groups may need to reserve multiple locations.
Be Accurate With Information
When reserving, provide accurate information to ensure no unpleasant surprises when you arrive. Inaccurate information about your vehicle or equipment size can lead to complications.
Camping at Yellowstone is more than just a stay; it's an experience. By knowing what to look for and how to prepare, you're setting the stage for an unforgettable adventure.
With the proper planning, your Yellowstone camping trip can be a dream come true, filled with memories that will last a lifetime.
Listen To Our Podcast About Camping At Yellowstone National Park – Your Reservation Guide Below or By clicking here.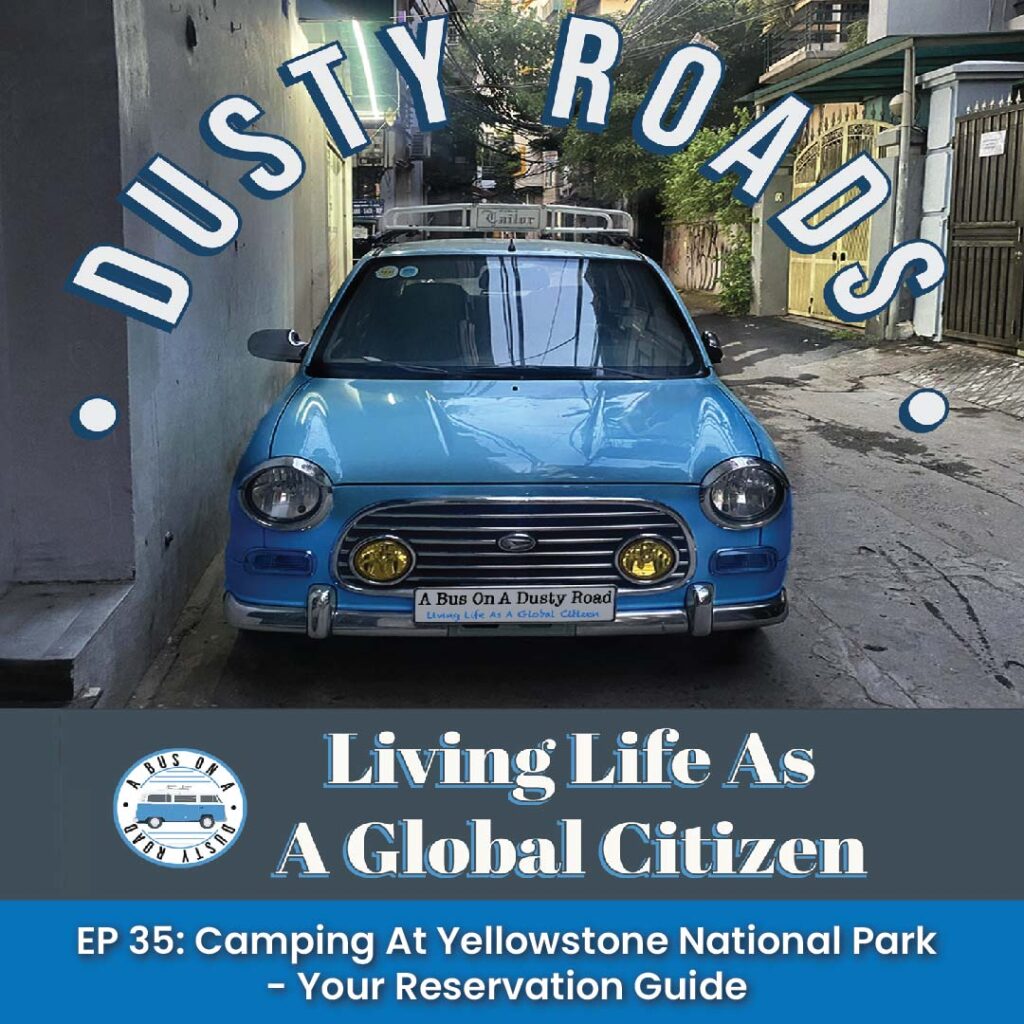 At A Bus On A Dusty Road, we talk about travel, life, and ex-pat living. We are all about "Living Life As A Global Citizen." We explore social, cultural, and economic issues and travel.
We would love to have you be part of our community. Sign up for our newsletter to keep up-to-date by clicking here. If you have any questions, you can contact me, Anita, by clicking here.
Listen to our Podcast called Dusty Roads. You can find it on all major podcast platforms. Try out listening to one of our podcasts by clicking here.
Subscribe to our A Bus On A Dusty Road YouTube Channel with great videos and information by clicking here.
Related Questions
Which Airport Is Close To Yellowstone? And Other Yellowstone Airport Travel Facts
West Yellowstone Airport is the closest airport to Yellowstone National Park. The airport is only a few miles from the park entrance but has a limited flight schedule and is not open all year round. Other airports include Jackson Hole Airport and Bozeman Yellowstone International Airport; both offer more flights, car rental, and ground transportation options.
By clicking here, you can discover Which Airport Is Close To Yellowstone? And Other Yellowstone Airport Travel Facts.
Is Yogi Bears Jellystone Park Based On Yellowstone Park?
Yogi bear's Jellystone is known to be based on Yellowstone National Park, even though it is supposed to represent all U.S. National Parks. Yogi Bear is a fictional cartoon character that has been around since 1958 but has recently seen some reemergence with a new Yogi Bear Movie (2010) and Jellystone Cartoon series (2021).
By clicking here, you can discover Is Yogi Bears Jellystone Park, Based On Yellowstone Park?.
What Happened To The Black Wolf At Yellowstone?
The Black wolves at Yellowstone are still part of the Yellowstone National Park. In Yellowstone, 505 of the wolves are black; the black color is not native to most wolf populations.
By clicking here, you can discover What Happened To The Black Wolf At Yellowstone?