When people think of hot sauce, they think of the famous Sriracha hot sauce. Many people may not realize there is a homemade version of this hot chili sauce that many people in Asia make in their homes.
Our Homemade Vietnamese Sriracha Fresh Hot Chili Sauce Recipe is made from all fresh ingredients and easy to make at home. It is one of my favorite chili sauce recipes; I prefer the fresh version over any bottled versions of the Sriracha or Hot Chili sauces.
Table of Contents
About The Sriracha Chili Hot Sauce
Sriracha or Chili hot sauce is an Asian hot sauce. This sauce is different from other hot sauces as a Tabasco sauce as the Siracha, or Chili hot sauce is made with fresh red chilis.
The Vietnamese have used a hot sauce to put in their Pho, or noodle soup, for many years. They also use it with many other dishes; some Vietnamese eat hot chili sauce with every meal.
Chili hot sauces have long been a favorite in Asia. The original Sriracha hot sauce comes from Sri Racha Thailand, but we can find versions of the Sriracha sauces throughout Asia.
The name Sriracha for a hot chili sauce, was made famous by a California-based company, Huy Fung Foods. Huy Fung Foods is owned by David Tran, a Vietnamese American man who started to make his hot chili sauces in 1975 in South Vietnam.
After the fall of South Vietnam, David Tran was forced to leave Vietnam and ended up as a refugee in California. He noticed there was no proper Vietnamese chili hot sauce for him to eat with his Vietnamese noodle dish or Pho, so he started to supply hot chili sauce to restaurants in California.
That is how the Sriracha chili hot sauce started to become an iconic brand of hot chili sauces.
Most people credit David Tran and his original Sriracha sauce for the name Sriracha. Before David Tran used the Sriracha name, the Thais had a chili hot sauce brand named Sriracha. The word Sriracha is in honor of a Thai beachside town specializing in making hot chili sauces.
The original Sriracha sauce came from Sri Racha, Thailand, a beach and seafood town outside Bangkok. When I lived in Thailand, I often went to Sri Racha to eat seafood; there was always a hot chili sauce on the table. I also tried many versions of the Thai chili sauce, especially on a Thai omelet.
Even though many Americans call this hot chili sauce the Sriracha Sauce, it is a Sriracha hot red chili sauce as the sauce is made with fresh hot red chilis. The Vietnamese make this Sriracha hot red chili sauce at home using fresh red chilies.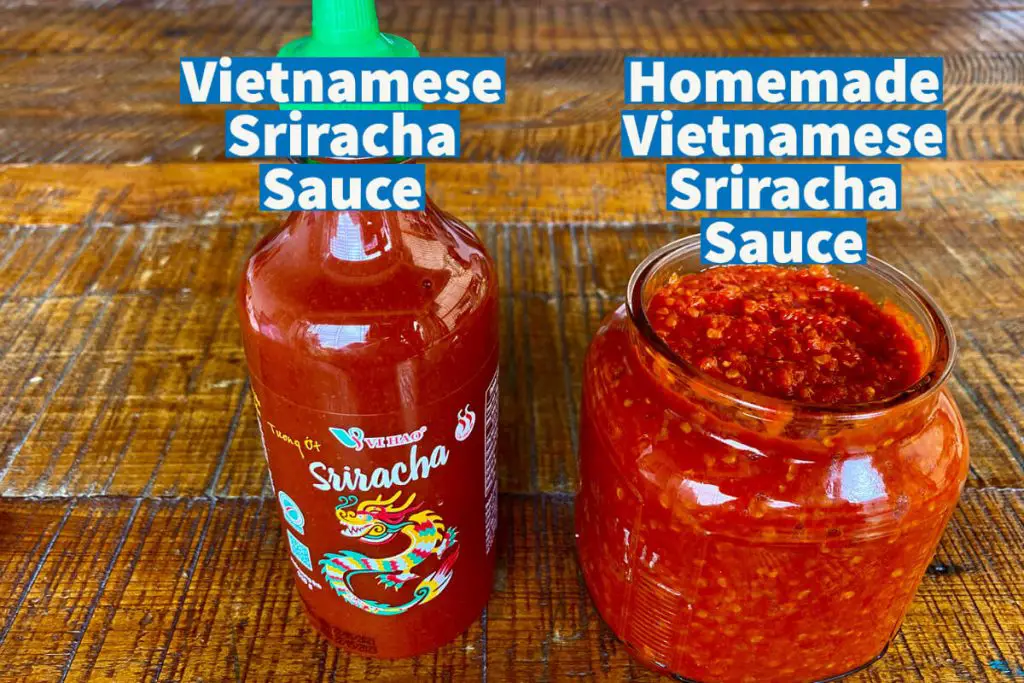 About This Vietnamese Sriracha or Chilli Sauce Recipe
Like everything in Vietnamese cooking, the Sriracha hot red chili Sauce recipe starts with fresh ingredients. All Vietnamese food is based on fresh ingredients. This is one reason that everything can be made from scratch. Even though this recipe is from scratch, making this Sriracha Fresh Chili Sauce is straightforward.
Here are some of the essential ingredients for the Sriracha fresh chili sauce:
Red Chili Peppers – We buy fresh red chilis at the morning market. You may not be able to get the same kind of red chilies, but that is fine -use the hot red or green chilies you can find locally. If you are lucky enough to live near a farmers market with fresh chiles, this would be a great way to get some fresh chilis. You can use Jalapeno Peppers.
Garlic – Use fresh garlic. The pre-crushed garlic or garlic in a tube does not taste the same as the fresh garlic.
Sugar – You can use regular white sugar, which the Vietnamese use. For this recipe, we used natural coconut sugar. You can try using other sugars such as Monk Fruit (to make it completely sugar-free) or other kinds of natural or brown sugars.
Salt – Vietnam produces a lot of salt, so the salt here is more like sea salt; try to use good quality sea salt.
Vinegar – Use rice vinegar or if you want this to be keto-friendly, use apple cider vinegar.
Pepper (optional) – We did not put pepper in our recipe, but you can put it in if you want a pepper taste. The Tabasco sauce is made with a lot of hot pepper, so a good pepper can add some spice.
Fresh Sriracha and Chill Sauce Recipe Substitutions And Variations
It may be hard for some people to get the small red chili peppers we can get in Vietnam. One of the beauties of this recipe is that it is such a versatile and straightforward recipe that you can use any hot pepper to make this chili sauce.
Here are a few things to remember
Chili Sauce Is the Color Of Your Peppers – Your hot chili sauce will be the color of the peppers you use. This fresh Sriracha Chili Sauce recipe has no food coloring or dye.
Sweetener – You can sweeten the chili sauce by adding more sugar or honey You can add more vinegar to make it sourer.
Peppers – Try to add different types of peppers to give some more spice to the recipe. The Cambodians have a very nice black pepper called Kampot Pepper, which would add a very spicy taste to this.
Great Recipe To Experiment With Variations – This is a basic recipe, but there are many ways you can experiment with this fresh chili sauce recipe. Here are some of our favorite ways:

Add more garlic to make a garlic chili sauce
Experiment with different types of sugar, ie, monk fruit sugar, brown sugar, natural sugars, or honey
Add onions to your chili sauce
Add red, yellow, or green peppers along with the hot chili peppers.
Add some cooked tomatoes to have it be more of a tomato base.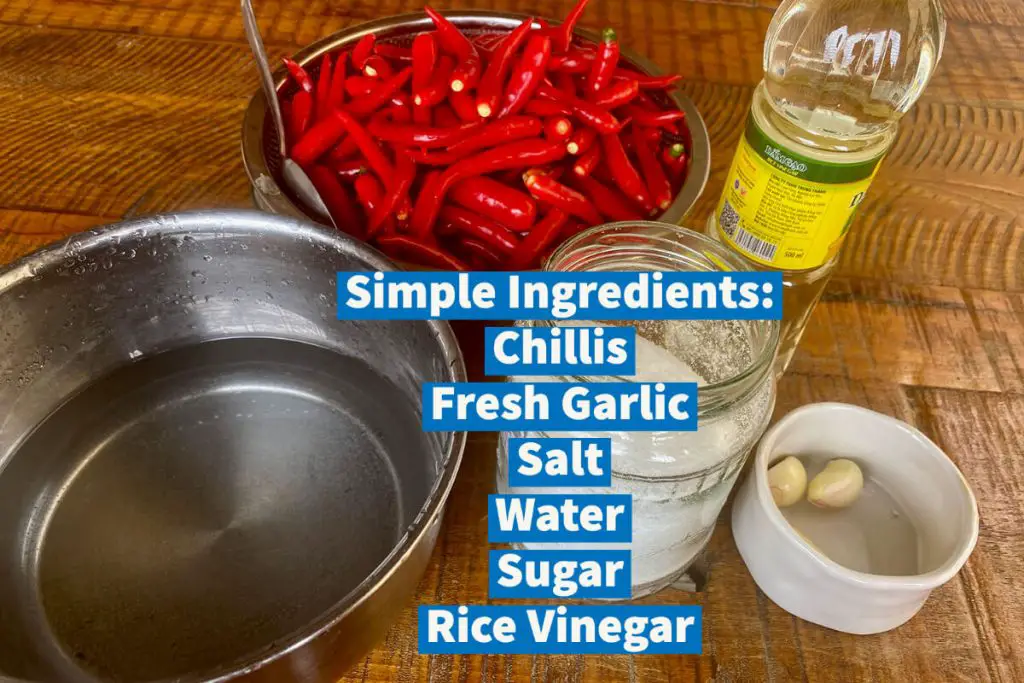 What To Eat The Fresh Sriracha Hot Chili Sauce With
One of the great things about this Sriracha Fresh Hot Chilli Sauce is that it is such a versatile sauce that you can put it on almost everything. Use it like any other hot sauce -even bottled Sriracha sauces.
Here are some ways to enjoy our Fresh Sriracha Hot Chili Sauce:
Vietnamese Pho -Vietnamese love to put this Fresh Sriracha chili sauce on their Pho soup.
Noodles – Many Asians put a chili sauce in their bowl of noodles. Use it to spice up your Ramen noodles.
Fried Rice – Fried Rice is an Asian dish that works great with a Fresh Sriracha Chili Sauce.
Omelet – In Thailand, they put a lot of Sriracha sauce on omelets
Scrambled Eggs – If you like scrambled eggs with spice, use this fresh Sriracha sauce.
Seafood – In Asia, they use a Sriracha or Chili sauce with all kinds of seafood. They usually will grill the shrimp and then dip it in a Sriracha sauce.
Potato Hash – This fresh Sriracha Sauce will mix well if you like a good hash.
Mexican Food – One of the great things about our homemade Sriracha sauce is that you can use it on many dishes, including all your favorite Mexican food.
BBQ – Looking to add some spice to your favorite BBQ? Add some of our fresh Sriracha Chili Sauce.
Spicey Mayo – I love spicy mayo, and the fresh Sriracha sauce and Mayo are perfect.
Hotdogs, Burgers, and More – Looking to spice up your favorite hotdog or burger? Add some of our fresh Sriracha sauce.
You can use our fresh Sriracha hot chili sauce for any food you want to add spice to. The sauce works will work with many dishes.
The great thing about the Sriracha Fresh Hot Chili Sauce is that it is so easy to make. Once you have completed the fresh version, you will use this fresh Sriracha Fresh Hot Chili Sauce as your "go-to" hot sauce.
Related Recipes:
Vietnamese Shrimp Fresh Spring Rolls With Vietnamese Dipping Sauces
Vietnamese fresh spring rolls are rated by CNN Travel as one of the top 50 foods globally; when you try these fresh spring rolls, you will understand why they are so popular.
To learn more about Vietnamese fresh spring rolls and why some people call them salad rolls or summer rolls, read our blog Vietnamese Fresh Spring Rolls Vs. Salad Rolls Vs. Summer Rolls by clicking here. This blog is filled with information about these wonderful Vietnamese fresh spring rolls.
You can learn more by reading Vietnamese Shrimp Fresh Spring Rolls With Vietnamese Dipping Sauces by clicking here.
Fried Vietnamese Spring Rolls (Nem) Recipe
Vietnamese spring rolls can be fried or fresh. The spring rolls are a traditional dish that will consist of pork, prawn, vegetables, and rice noodle. The spring rolls are rolled with a Vietnamese bánh tráng or a very thin rice paper.
Even the Vietnamese spring rolls in the north, south and central Vietnam are not exactly the same taste. or name. In South Vietnam, they call the fried spring rolls as chả giò, whereas in North Vietnam they are called nem.
You can discover more by reading Fried Vietnamese Spring Rolls (Nem) Recipe by clicking here.