North Carolina's Outer Banks, a 200-mile-long string of barrier islands, blends pristine natural beauty, rich historical heritage, and serene seashores. As a destination for vacationers from around the globe, the region draws millions each year, all of whom arrive primarily via several major and regional airports serving the area.
This discourse is designed to unravel significant information about these primary and smaller airports, their distances from the Outer Banks, the airlines that operate from there, and the passenger experience they offer. In addition, we extend our exploration to the practical aspects of the transition from these airports to the Outer Banks, examining various transportation alternatives and estimated travel times, arming you with essential details to smoothen your journey.
Table of Contents
Primary Airports Serving the Outer Banks
Taking Flight to the Exotic Outer Banks: Your Guide to the Main Airports
You are calling all intrepid explorers! Suppose the picturesque tapestry of the Outer Banks is pulling at your heartstrings and beckoning you to journey into its sandy confines.
In that case, this flutter of information will help you flap your wings and fly straight into the heart of this captivating oasis. The key? Getting a handle on the main airports that link you to this coastal serenity. So, fasten your seatbelts, and let's jet off into the open skies!
First, buckle up for Norfolk International Airport (ORF), a direct portal to the rational soul of the Outer Banks. Located in the heart of Norfolk, Virginia, this outstanding joint is barely 2.5 hours away by land.
An array of significant airlines take the roost here, making it a hub of convenience for travelers far and wide. With a scenic drive that perfectly whets the appetite for the ethereal sights the Outer Banks offer, a landing at ORF is relatively as smooth as a seashell.
Light on your heels and looking for a quicker route? Consider Raleigh-Durham International Airport (RDU). Situated just over 3 hours from this slice of paradise, RDU is the perfect perch for travelers who appreciate swift connectivity and an array of non-stop flights. With over 400 flights zooming out daily, RDU sees a high volume of traffic from major airlines, making the journey to the Outer Banks an absolute breeze.
Imagine your heart flying away to the Outer Banks even as your plane touches down. Sounds too good to be true? Wilmington International Airport (ILM) is here to make your daydreams sing in tune with reality.
Nestled barely 3.5 hours from the heart of the Outer Banks, ILM offers a blend of charming domestic charms and easy-peasy boarding experiences you cannot resist. Welcoming travelers with open arms (and runways), ILM is the first step of a journey into the dazzling dreamland of the Outer Banks.
We have one last nugget to share. If you're seeking something cozier, consider Pitt-Greenville Airport (PGV). Affectionately known as Eastern Carolina's doorway to the world, PGV is a small, friendly regional airport 2.5 hours from the Outer Banks.
It may not receive the flurry of activity that the more significant airports do, but hey, isn't there magic in a bit of nostalgia, a slower pace, and an intimate touch?
Well, that's the scoop on the main airports travelers can use on their journey to the Outer Banks. Keep these tidbits tucked under your wings, and before long, you'll find yourself sailing through cotton candy clouds en route to the enchanting embrace of the Outer Banks! Happy flying, fellow explorers!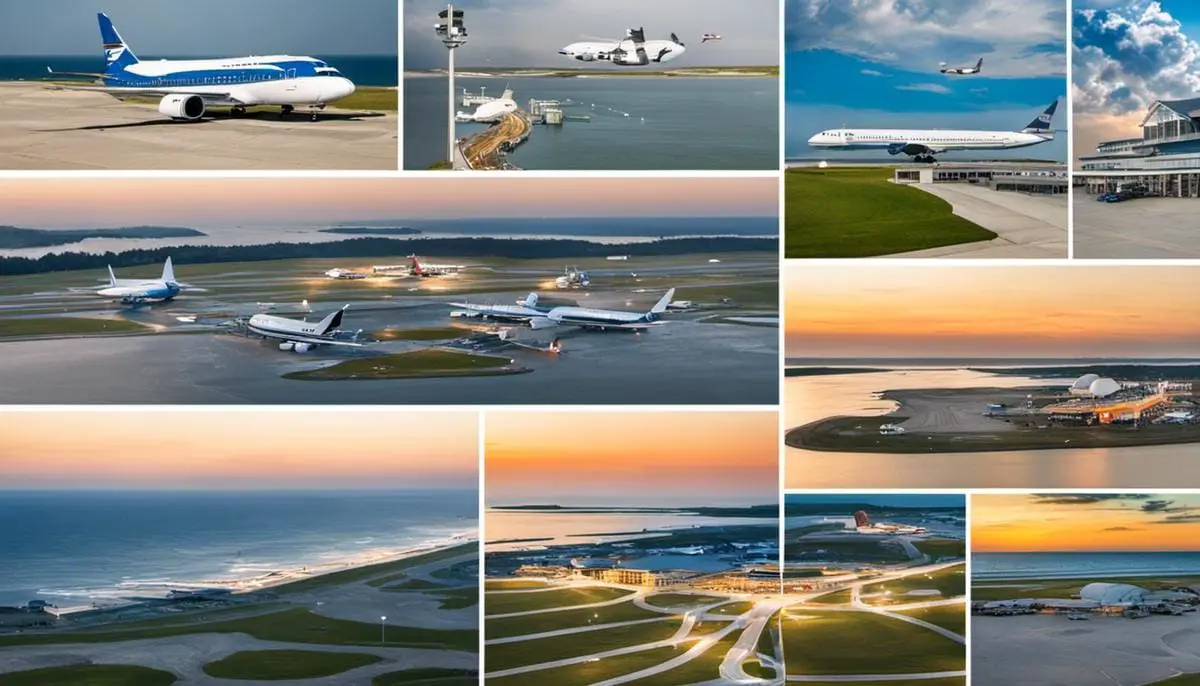 Regional and Smaller Airports Near Outer Banks
Swooping In on Lesser-Known Airports for Adventure in the Outer Banks
Nothing quite matches the thrill of booking a flight to kickstart another sojourn around the sun, and the Outer Banks beckons! Dotted with extensive stretches of sandy beaches, quaint local eateries, and iconic lighthouses, this chain of barrier islands along North Carolina's coast offers the perfect blend of serenity and adventure.
But enough about the destination, let's dive into the journey. By now, you're probably well aware of the significant airports like Norfolk International Airport (ORF), Raleigh-Durham International Airport (RDU), Wilmington International Airport (ILM), and Pitt-Greenville Airport (PGV). But, have you ever wondered about the lesser-known airports that can lead you swiftly to the Outer Banks?
Well, one and all canary birds tuck away those well-worn itineraries and park those predictable travel plans. When charting a course toward the sea-salted air of the Outer Banks, consider making a pit stop—or, shall we say, flight stop—at some enchanting regional and smaller airports for a unique start to your coastal adventure.
Take a peek at Elizabeth City Coast Guard Air Station (ECG), the closest airstrip to the Outer Banks. Although primarily a military installation, general aviation is permitted, allowing private pilots and small aircraft direct access to this stunning location.
A 55-minute drive will take you from the runway to the coastline—a shorter commute wired travelers with cramped cabin legs will instantly appreciate after having their fill of cramped, long-haul flights.
Then there's Dare County Regional Airport (MQI), only a stone's throw away from Roanoke Island, offering another convenient gateway to the area. This airport hosts smaller propeller planes and jets for those seeking a quieter journey filled with camaraderie. It's all part of its charm, you see? It's small but mighty.
And finally, for those willing to invest in a slightly longer drive for a more intimate flight experience, there's Coastal Carolina Regional Airport (EWN) in New Bern. While the ride from the airport to the Outer Banks takes around 2.5 hours, you'll surely relish the journey and ease into your vacation vibe as you hit the road, savoring scenes that flit by the window.
Notable. Sometimes, you need a nudge to peer over your well-worn map, and suddenly, pockets of new possibilities spring up.
By venturing into these less-trodden airports—and fighting the urge to pick the grand ol' international landing strips—it's possible to inch even closer to the seagull calls and waves lapping against the Outer Banks shorelines.
The world, after all, is a big and beautiful book, and those who do not travel are stuck on the same page. So, vamoose, roll out those dusty suitcases or rucksacks, print the boarding passes, and let's drink to the joys of a less conventional route to the paradisiacal Outer Banks.
Discoveries are indeed the spice of a nomadic life, adding a beautiful dash of unpredictability to every journey—however small they may seem. When the world is a dance floor, why stand in a corner? Pack lightly, dream big, and chase adventures—because we're catchin' flights, not feelings!
Remember, the journey is the destination. Explore through flight paths less flown, airports less discovered, and unlock the magic of traveling to the Outer Banks. Our next adventure awaits, just a plane hop away. So fasten your seatbelts—it's going to be one wild ride.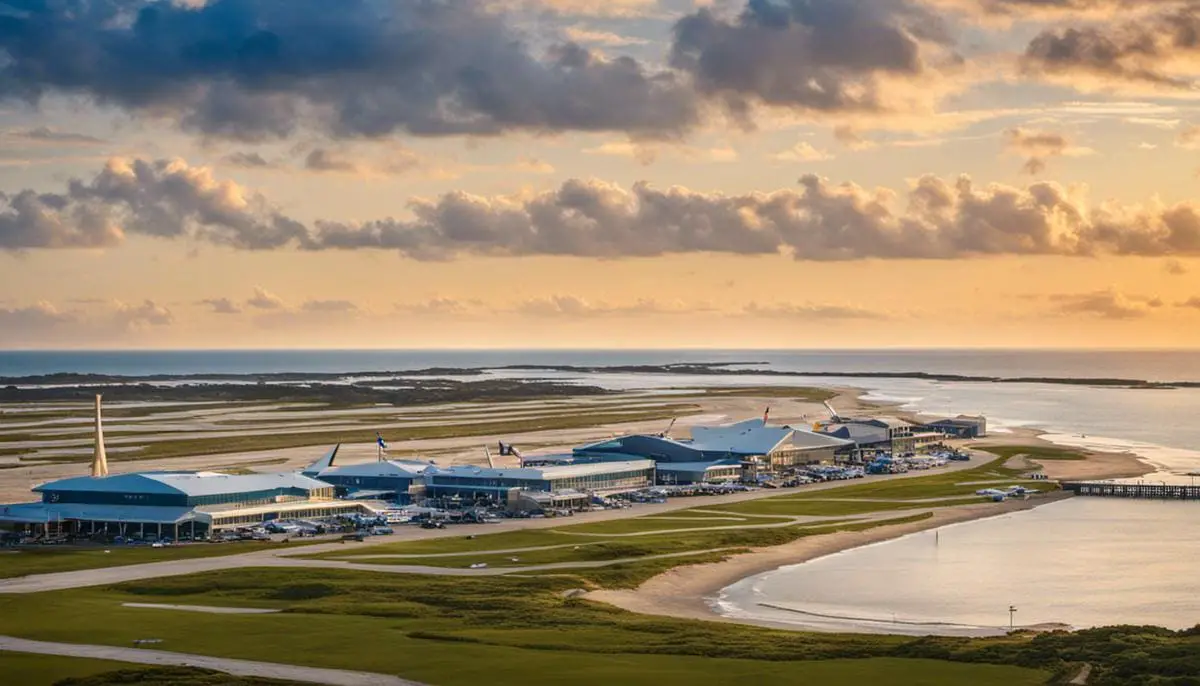 Processing through these Airports and Heading to the Outer Banks
Embarking on a journey to the enchanting Outer Banks is, without question, an opportunity for an extraordinary adventure. However, this extraordinary adventure should not be dampened by a less-than-delightful commute from the airport. Therefore, navigating the airports throughout North Carolina and making one's way to the sandy shores of the Outer Banks should be knowledgeable, timely, and filled with awe.
While ORF, RDU, ILM, and PGV are frequently selected as the gateways to the Outer Banks, it's worth venturing beyond the best-known routes.
Adventures are anticipated, novelties are discovered, and life, as cliche as it may sound, happens when we drift from well-trodden paths. So why not give it a go by considering regional hubs such as Fayetteville Regional Airport (FAY) and Charleston International Airport (CHS)?
Fayetteville Regional Airport (FAY), located in the heartland of North Carolina, might not be the first name to come to mind when thinking of the Outer Banks. Nonetheless, it's a hidden gem worth considering.
With two runways and a recently renovated terminal, FAY brings convenience without compromising facilities. The location has transport links that can whip you off on a 4-hour drive to the captivating Outer Banks.
Down south, Charleston International Airport (CHS) in South Carolina might seem a bit of a stretch given its significant distance from the Outer Banks. Yet for the true wanderlust soul, the nearly 6.5-hour drive through the scenic coastal byways is an opportunity to explore the less traveled road.
Then, there's Greensboro's Piedmont Triad International Airport (GSO), perched in the central part of North Carolina. Going the distance via PTI affords a pleasant drive through the state's heartland, handling a charmingly laid-back airport, and arriving at the Outer Banks in around 5 hours.
And, for our friends to the north, International Airport (RIC) is in Solutions eastern Virginia. This sizable airport is usually bustling yet smooth-running and offers several convenient services. The approximately 3.5-hour drive to the Outer Banks through historically significant Virginia countryside makes more than just a journey; it creates a memorable prelude to the beachy destination.
Understanding the quirks and features of these less conventional hubs is an imperative step towards a fulfilling journey to the Outer Banks. The idea is to ensure all wanderers, regardless of their itinerary, can revel in every moment of their travels.
Embrace the unknown, respect the journey, and let the anticipation of reaching the Outer Banks stir up an insatiable wanderlust. Destinations are indeed beautiful, but the joy of the journey is where the real magic resides! Happy Travels.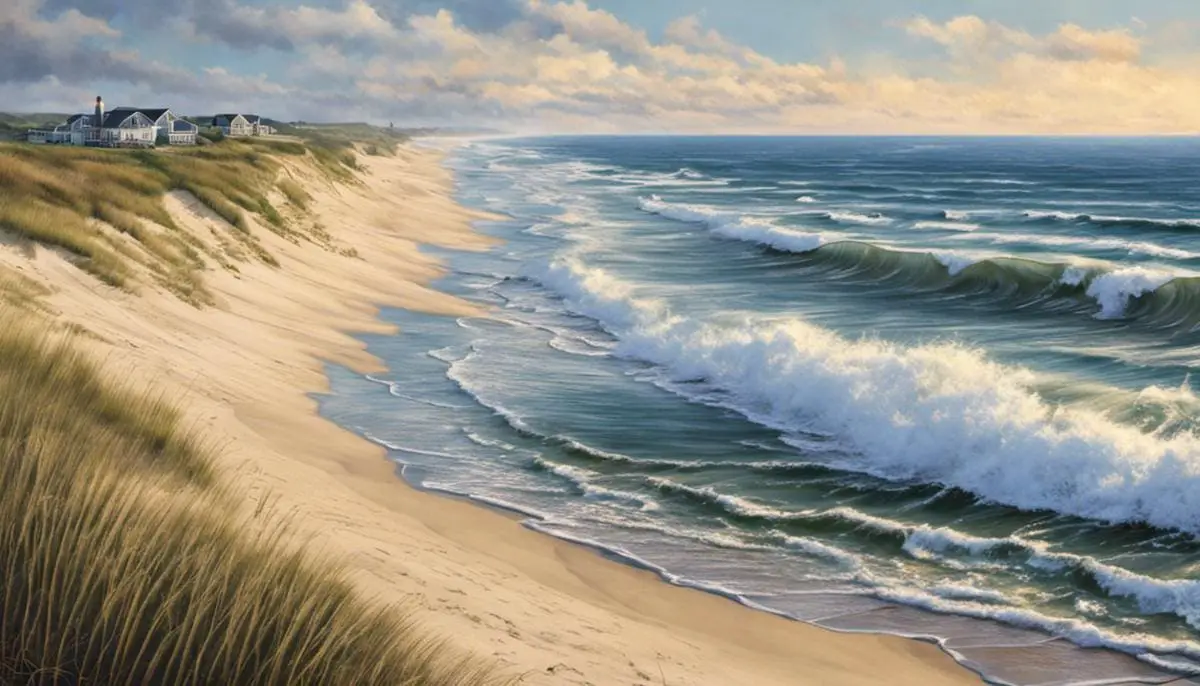 Outer Banks, with its enchanting barrier islands, continues to lure travelers year after year. We aim to furnish you with well-rounded, utilitarian knowledge about accessing this coastal paradise. While the significant airports provide more diverse service options, the regional ones may present more direct access depending on your specific destination within the Outer Banks.
While your flight gets you to North Carolina, the last leg of your travel adventure begins on the ground, utilizing one of the assorted transportation options. Like the waves ushering you onto the Outer Banks' sandy shores, your well-informed decisions will guide you deftly from a bustling airport to the tranquil beachfront, adding ease and joy to your travel experience.
At A Bus On A Dusty Road, we talk about travel, life, and ex-pat living. We are all about "Living Life As A Global Citizen." We explore social, cultural, and economic issues and travel.
We would love to have you be part of our community. Sign up for our newsletter to keep up-to-date by clicking here. If you have any questions, you can contact me, Anita, by clicking here.
Listen to our Podcast called Dusty Roads. You can find it on all major podcast platforms. Try out listening to one of our podcasts by clicking here.
Subscribe to our A Bus On A Dusty Road YouTube Channel with great videos and information by clicking here.
Related Questions
Grand Canyon History – Helicopter Crashes And Safety Review
The Grand Canyon's vastness, intricate rock formations, and sheer beauty make it a bucket-list destination for travelers from all corners of the globe. For those pressed for time or seeking a unique vantage point, taking to the skies in a helicopter offers an unforgettable perspective of this geological masterpiece. Read on as we explore the safety of helicopter rides over the Grand Canyon.
By clicking here, you can discover Grand Canyon History – Helicopter Crashes And Safety Review.
Can You See The Great Wall Of China From Space?
One enduring myth about the Great Wall of China is that it's the sole artificial structure visible from space. This myth emerged in 1938 when space travel was not a reality.
However, astronauts who've journeyed into space have debunked this claim, asserting they couldn't discern the Great Wall from their celestial vantage point. Various reasons challenge the long-standing belief and why it isn't as easy today as it was years ago to see the Great Wall of China from space.
By clicking here, you can discover Can You See The Great Wall Of China From Space?
How To Travel Internationally Without Flying? 9 Different Ways
If you are looking for creative ways to travel internationally without flying, there are many ways you can travel, such as by bus or coach, train, boat, car, motorcycle, biking, and even walking, to name a few. These are all great ways to travel internationally without flying or entering an airport.
By clicking here, you can discover How To Travel Internationally Without Flying? 9 Different Ways.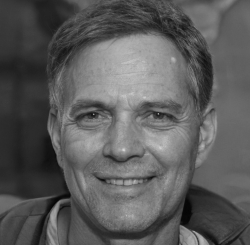 Latest posts by James Johnstone
(see all)