One of my favorite Christmas stories is Charles Dickens's a Christmas Carol. This story continues to be a favorite Christmas story for many people.
Four ghosts appear to Ebenezer Scrooge in the Christmas Carol. The first ghost is Jacob Marley, his former business partner. The following three ghosts are the Christmas past, the Christmas present, and the Christmas future. Each of these ghosts was sent to teach Scrooge about redemption and change.
Table of Contents
About The Four Ghosts That Appear To Scrooge In A Christmas Carol
In a Christmas Carol, four ghosts appear to Ebenezer Scrooge. Each of these ghosts has a different role in trying to convince Ebenezer Scrooge that there is still time to change and time for redemption.
The ghosts that visit Ebeneezer Scrooge are Jacob Marley, the spirit of Christmas past, the ghost of Christmas present, and the ghost of Christmas future.
The Ghost Of Jacob Marley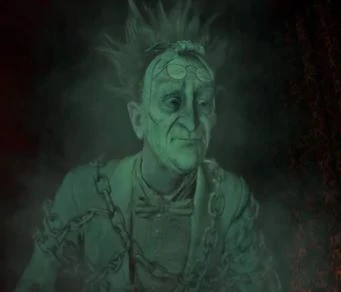 The ghost of Jacob Marley is the first ghost in the Christmas Carol to appear to Scrooge. He is a fictional character in Charles Dickens's 1843 Christmas Carol story.
When the ghost of Jacob Marley visited Ebeneezer Scrooge, Jacob Marley had been dead for seven years. Previously Marley had been Scrooge's business partner.
Marley and Scrooge were very alike; they were both very good at business but were concerned about money and miserly.
For many, Marley appears to have left his life unpunished for his lack of social conscience or care for his fellowmen. Marley has chains he drags around; he has been forced to walk the earth in purgatory.
The ghost of Marley is sent to show Scrooge that it is not too late to change. There can be change and redemption if he acts and changes now.
Marley also tells Scrooge that three other ghosts will visit him. These ghosts will be sent to show Scrooge it is time to change.
The Ghost Of Christmas Past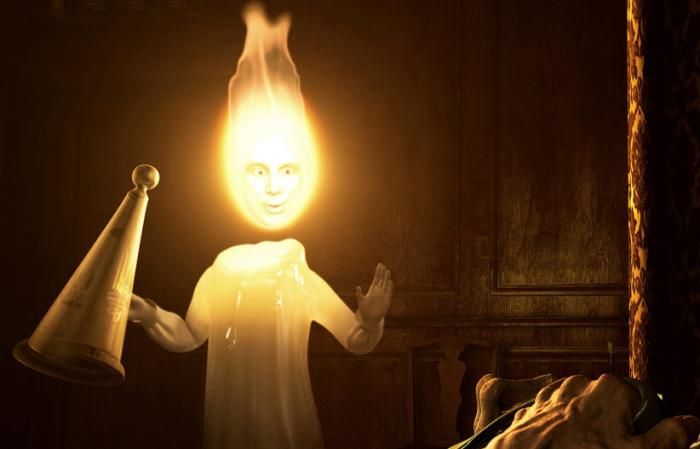 The ghost of Christmas past is the first ghost to visit Scrooge after the spirit of Marley visits him. Ghost to Christmas past arrives when the clock times one.
The ghost of the Christmas past appears both old and young simultaneously. The spirit of Christmas past has light streaming from the top of its head.
The ghost takes Scrooge through his life's journey, showing him some of his young adulthood and happier times. He shows Scrooge his lost love Belle and her happy family.
Belle was engaged to Scrooge but decided to break it off as Scrooge was always so busy working and consumed with money. Belle later remarried and found happiness and love with another man.
Scrooge sees Belle and her family and demands to be shown more. But the ghost will not deliver him. The spirit shows Scrooge about Belle as a reference that you could have had, but you lost it.
The Ghost Of Christmas Present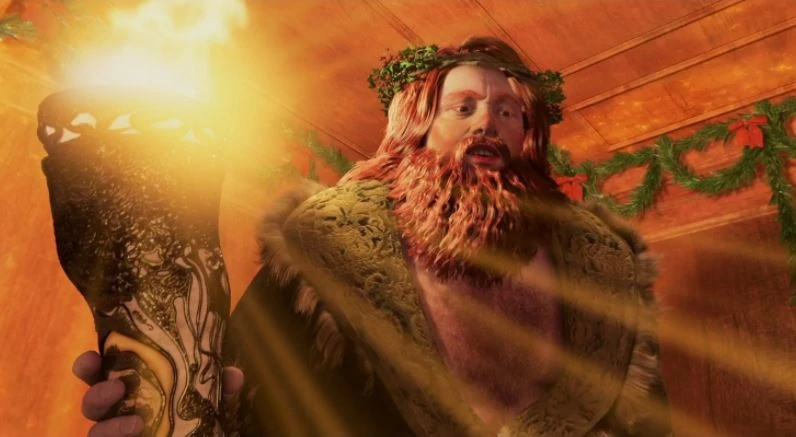 Ghost of Christmas present is a prominent, vibrant character. He appears in Scrooge's room, surrounded by a delicious feast.
The Ghost of Christmas present is a cheerful ghost known to be a very joyful character. He is excited to see Scrooge and is open, giving, kind, and full of the festive Christmas spirit.
Scrooge becomes humbled by the ghost and is willing to learn anything the spirit wants to teach him. The ghost takes him to the home of his nephew Fred and Bob Cratchit.
From visiting Bob Cratchit's family, he sees that even though they are poor, they love each other. And most of all, he is impressed with Tiny Tim, who, even though he is disabled, is still full of the Christmas spirit and cheer.
The ghost also takes Scrooge to the streets in his neighborhood that he knows so well. He shows Scrooge the poor who have no food and the bakeries who are helping to feed the poor.
Finally, as the Spirit is about to leave, he shows that under his robes are two children – Ignorance and Want. The children are shallow, ragged, and scowling. They are children who are in dire poverty.
In this part, Charles Dickens is warning those who do not care for the poor of society, especially the children. He is also telling us that poverty is not just a thing of the past but also the present.
The Ghost Of Christmas Future
The final ghost is the ghost of Christmas Future. He is a silent yet frightening ghost, spooky and eerie.
The ghost is also very demanding towards Scrooge and will point whenever he wants Scrooge to see something. He will not stop pointing until he does.
The ghost shows Scrooge a funeral scene in which business people wonder about the money the dead man has left. Then he shows him the locations of people picking through the dead man's pockets.
Scrooge realizes that this is his death is foretold. The ghost takes Scrooge to the household of Bob Cratchit, and Scrooge is very upset when he realizes that Tiny Tim has passed away.
As a final gesture, the ghost shows him a tombstone that only says "Ebenezer Scrooge" on the headstone. Scrooge realizes this is his destiny, and life grabs onto the ghost's robes and pledges that he will change his ways if he will not die in such a solitary death.
The ghost disappears, and Scrooge is left clutching his bedroom curtains. The change or redemption has occurred, and Ebenezer Scrooge is a changed man.
Christmas Carol is one of the best Christmas stories. The reason is that the story's message is about redemption and our role as members of society to have a social conscience and to help those who may not have all we have.
At A Bus On A Dusty Road, we talk about travel, life, and ex-pat living. We are all about "Living Life As A Global Citizen." We explore social, cultural, and economic issues and travel.
We would love to have you be part of our community. Sign up for our newsletter to keep up-to-date by clicking here. If you have any questions, you can contact me, Anita, by clicking here.
Listen to our Podcast called Dusty Roads. You can find it on all major podcast platforms. Try out listening to one of our podcasts by clicking here.
Subscribe to our A Bus On A Dusty Road YouTube Channel with great videos and information by clicking here.
Related Questions
Lapland Or Sapmi – In Norway, Sweden, Finland, And Russia
The Sami are indigenous people who live in northern parts of Norway, Sweden, Finland, and Russia, known as Lapland or Sapmi. Most Sami people live in Norway and Sweden, some in Northern Finland, and a few in Russia.
To learn more, you can read our blog on Lapland Or Sapmi – In Norway, Sweden, Finland, And Russia by clicking here.
Loneliness, Old Age, And Sickness in the Villages of Vietnam
As we visited with these Vietnamese women, I began to realize that no matter how many times in my life I have felt loneliness, sickness, or even the creeping up of old age, I have never felt as lonely, sad, or alone as many of these women in that village felt. These women are truly alone since Vietnam does not have a real safety net for older people like in many countries.
By clicking here, you can discover Loneliness, Old Age, And Sickness in the Villages of Vietnam.
Norway, Denmark, And Sweden Celebrate Christmas On December 24th.
Norway, Denmark, and Sweden celebrate Christmas on December 24th because Christmas day was permanently reserved as a holy day. The Scandinavians also celebrate on the eve of a holy day and not on the holy day itself. Many Scandinavians would attend a church service mass on Christmas morning.
By clicking here, you can discover more by reading our blog Norway, Denmark, And Sweden Celebrate Christmas On December 24th.