If you are traveling to the beautiful islands of Hawaii, it Is good to understand a little bit about Hawaii and exactly which time zone Hawaii is in.
Hawaii has a one-time zone, the Hawaii – Aleutian time zone, which means it shares a time zone with part of Alaska. Hawaii has never changed its time for daylight savings time because Hawaii is near the equator. The sunrise and sunset do not fluctuate significantly throughout the year.
Table of Contents
Hawaii Has One Time Zone
Hawaii has one time zone for the entire islands and has never changed its clocks forward or backward for daylight savings time. The Hawaii time zone is called Hawaii- the Aleutian time zone.
The main inhabited islands, as we know the islands of Hawaii, are all UTC-10:00) time zone.
Why Hawaii- Aleutian Name?
Many people may not realize that the Hawaii-Aleutian time zone gets its name from the two areas it includes: Hawaii and a portion of Alaska's Aleutian Islands. So really, this time zone covers part of Alaska and Hawaii.
This makes it a unique time zone in that it inverts two highly different states; one is our most northern state, and the other is our most tropical island state; these two diverse places share a time zone.
Why Has Hawaii Alway Kept The Same Time Zone?
Hawaii has never changed its time zone for daylight savings time. Even though daylight savings time will soon become obsolete in the United States, it is interesting to learn why Hawaii has been one of the areas that have never changed its time.
One of the main reasons is that Hawaii is close to the equator. Any places in the world that are close to the equator tend to have an equal amount of daylight to nighttime. There may be some slight differences in the summer or wintertime, but it is not very noticeable.
Generally speaking, the further north or south you go from the equator, the more you experience variations in sunrise and sunset throughout the seasons. That is why in countries like Sweden, it may be dark during most of the winter but light during the summer months.
Average Sunrise And Sunsets And Daylight In Hawaii By Month
In Hawaii, there is not that much variation between sunrise and sunset. But even then, the time the sun rises, and sets can vary according to what month you visit Hawaii. It can also vary according to your location and island in Hawaii.
Below is a chart that shows the average sunrise, sunset, and amount of daylight time in Honolulu, Hawaii:
| | | | |
| --- | --- | --- | --- |
| Month | Average Sunrise Time | Average Sunset Time | Average Daylight Hours |
| January | 7:11 am | 6:10 pm | 10 hours and 59 minutes |
| February | 7:00 am | 6.23 pm | 11 hours and 23 minutes |
| March | 6:39 am | 6.41 pm | 12 hours and 2 minutes |
| April | 6:12 am | 6:51 pm | 12 hours and 39 minutes |
| May | 5:53 am | 7:03 pm | 13 hours and 50 minutes |
| June | 5:50 am | 7:14 pm | 14 hours and 4 minutes |
| July | 5:58 am | 7:15 pm | 13 hours and 57 minutes |
| August | 6:10 am | 7 pm | 12 hours and 50 minutes |
| September | 6:18 am | 6:34 pm | 12 hours and 16 minutes |
| October | 6:28 am | 6:07 pm | 11 hours and 39 minutes |
| November | 6:43 am | 5:50 pm | 11 hours and 7 minutes |
| December | 7:01 am | 5:53 pm | 10 hours and 52 minutes |
Data Calculated From Bishop's Museum Planetarium – Honolulu, Hawaii
As you can see from this chart, there can be some differences between the seasons and how much daylight you have, but Hawaii's daylight hours are similar month to month.
Virtually Visit Hawaii With The Conquer Virtual Challenge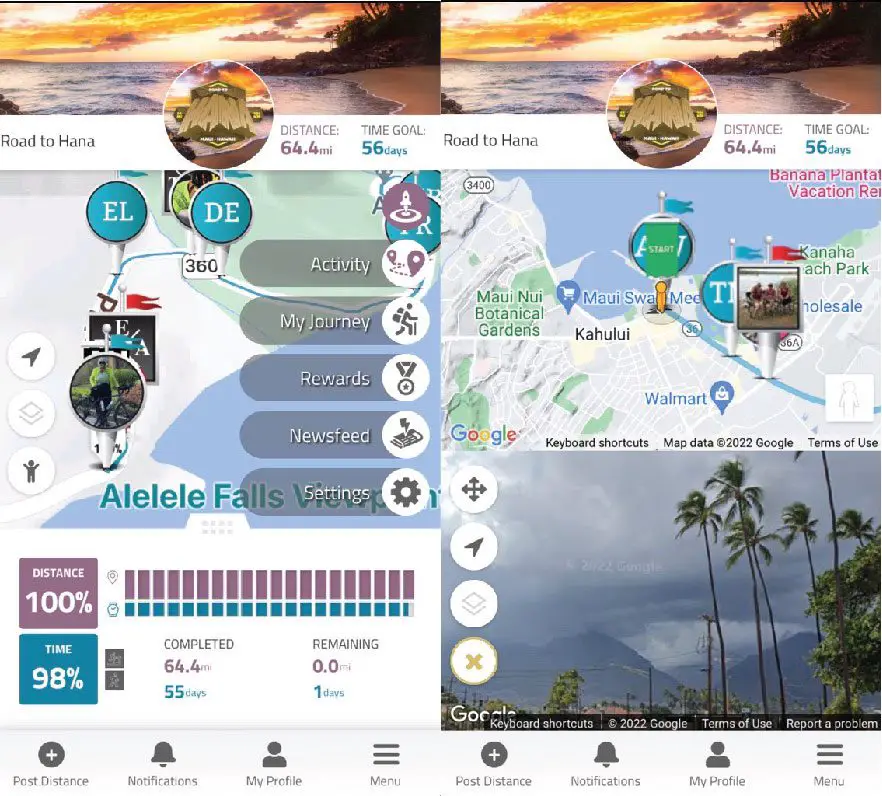 If you cannot visit Hawaii, you can virtually travel through Hawaii with The Conqueror Virtual challenge; the Conquer Virtual Challenge has a challenge called the Road to Hana. The Road to Hana is a very scenic highway on the island of Maui.
Each time you swim, run, walk, cycle or do a host of other exercises, you can count them towards your mileage on your virtual challenge. That helps you not only remain fit, but also learn a bit about Hawaii as you travel the Road to Hana.
You can do the Virtual Challenges alone or with a group of friends. And you can decide exactly what will count towards your virtual challenge.
One reason we enjoy the Virtual Challenge is that each time you pass a vital landmark but conquer the virtual challenge, you will email your postcard to tell you about the area you have just traveled to. We love how we can learn about the world, including Hawaii, as we travel on the challenges.
At the end of the challenges, you will get sent a medal that will show that you have completed the Road to Hana challenge
Travel Hawaii and, in particular, the Road to Hana; you can get 10% off your first challenge by clicking on the link below:
At A Bus On A Dusty Road, we talk about travel, life, and ex-pat living. We are all about "Living Life As A Global Citizen." We explore social, cultural, and economic issues and travel.
We would love to have you be part of our community. Sign up for our newsletter to keep up-to-date by clicking here. If you have any questions, you can contact me, Anita, by clicking here.
Listen to our Podcast called Dusty Roads. You can find it on all major podcast platforms. Try out listening to one of our podcasts by clicking here.
Subscribe to our A Bus On A Dusty Road YouTube Channel with great videos and information by clicking here.
Related Questions
What Continent Is Hawaii A Part Of, And Why?
Politically, Hawaii is considered part of the North American continent as it is one of the United States of America states. But location-wise, many people consider it part of the Oceana continent as it is located within the area known as Polynesia.
By clicking here, you can discover What Continent Is Hawaii A Part Of And Why?.
Are Hawaiians And Samoans The Same Thing?
Hawaiians and Samoans are not the same groups of people; they are very different. Native Hawaiians are considered to be Americans. Most native Hawaiians do not speak the Hawaiian language. On the other hand, Samoans consider themselves from the archipelago of Samoa. Most Samoans speak Samoan and English. Culturally the two places are very different.
By clicking here, you can discover Are Hawaiians And Samoans The Same Thing?.
How Do You Say "Hello" In Hawaiian And How It Is Traditionally Used?
In Hawaii, people will greet you by saying hello or aloha. They may also use the word aloha to say goodbye. Aloha is the traditional greeting in the Hawaiian language for greedy people that are friends, family, or even strangers. But the word aloha means much more than just hello or goodbye; there are many traditional and cultural meanings inside the word.
By clicking here, you can discover How Do You Say "Hello" In Hawaiian And How It Is Traditionally Used