Compared to many other countries around the world, Christmas celebrations in Israel are not very large. It is not one of the official holidays for Israel.
Christmas is not an official holiday in Israel. Christmas is a Christian holiday; Israel has very few Christians. The largest religion in Israel continues to be Judaism. But even though Christmas is not an official holiday or celebrated in Israel, it is still an important festival. It continues to be a popular location for Christians to celebrate Christmas.
Table of Contents
The top 6 reasons why Israel does not celebrate Christmas.
Christmas is one of the most popular and widely celebrated worldwide. From Christmas carols to peppermint-flavored lattes, it's hard to miss all the festivities that come with December 25th!
For many countries — including much of Europe, North America, South America, and beyond — celebrating Christmas is a significant part of their culture every year.
Here are some of our 6 top reasons why Israel does not celebrate Christmas like it is celebrated in many other countries.
Israel Has A Small Christian Population
Despite Israel being the location of the birth of Christianity, there are very few Christians who live in Israel. The Christian population of Israel is only about 2% of the population in the entire state of Israel.
Israel is the only country in the world where most people identify themselves as Jewish. Approximately 41% of the Jewish population worldwide resides in Israel.
Israel also has a significant Muslim population. Here is the official religious breakdown of the Israeli population according to Pews Research:
About 81% of the people of Israel is Jewish.
About 19% of the population is non-Jewish

Of the non-Jewish people, 14% are Muslim.
There are 2% of Christians
There are also 2% Druze
And there is 1% without a religion.
As you can see from this, there are far more Muslims in Israel than there are even Christians. But overall, the Christian population in Israel is relatively small.
Christmas Is Not An Israeli Public Holiday
Because the population of Israel is mainly Jewish, Christmas is not even listed as one of their public holidays. This is simply because the Jewish people do not celebrate Christmas as one of their holidays.
It does not mean that an office may not give a holiday to a Christian staff member or they decide to close the office to show respect for a Christian member of their team. It simply means that government offices, banks, and other facilities will remain open on Christmas Day because it is not a public holiday.
When I lived in Bangkok, Thailand, this was very similar; Thailand is mainly Buddhist. Christmas for us was also not a public holiday. But those of us who were Christian usually took the day off and celebrated Christmas. It did not feel the same as Christmas in many other parts of the world, where everything is closed down on Christmas day, but we had some wonderful Christmas celebrations in Thailand.
Judaism Has Their Important Religious Holidays
Judaism has important religious holidays that many Christians are not familiar with. These holidays for the Jewish people are considered extremely important, similar to how Christians celebrate Easter or Christmas.
Judaism's Most Important Religious Holidays
Here are some of the essential Jewish religious holidays: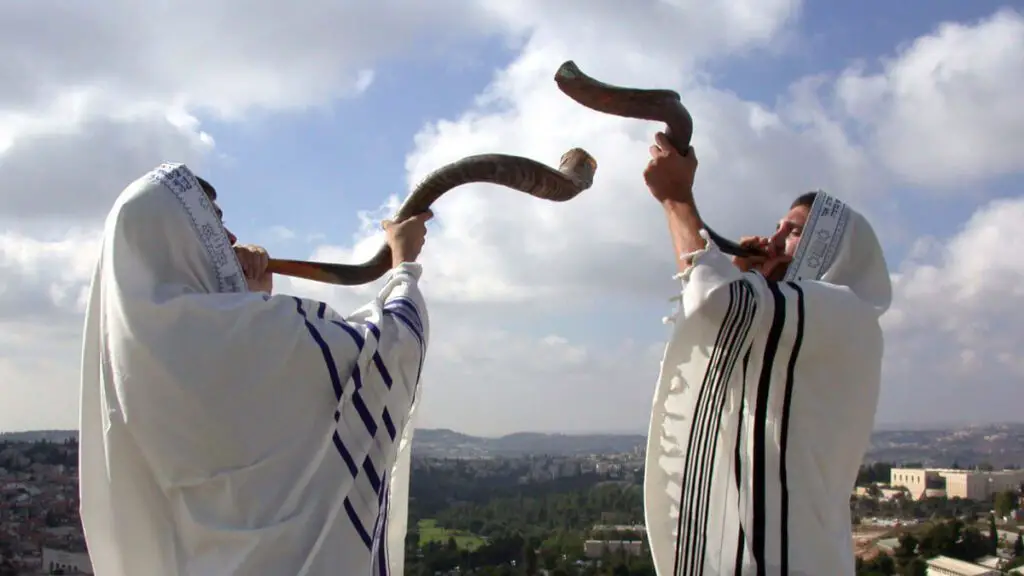 Rosh Hashanah – Rosh Hashanah is the Jewish New Year; in the Bible, this holiday is mentioned as the Feat of Trumpets. Traditionally this holiday commemorates the creation of the world or, more specifically, the creation of man on the sixth day of creation.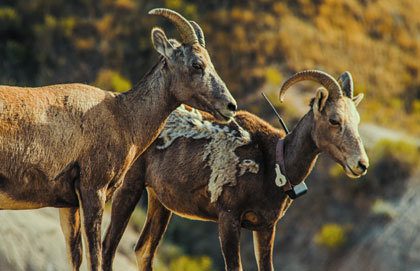 Yom Kippur – Yom Kippur is also known as the Day of Atonement and is the most critical day in the Jewish Calendar. In Biblical times this was the day the high priest would take two goats. One goat was used to confess the sins of Israel, and the other goat was sent into the wilderness to die as a scapegoat. The goat that was sacrificed had its blood spread on the ark of the covenant so that the atonement was made.
Both are significant Jewish holidays celebrated yearly in Israel and wherever there is a Jewish population.
Judaism Does Not Recognize Christ
At the heart of Judaism is the belief that they do not accept Jesus as the Messiah or as a divine intermediary between humans and God. This does not mean they do not acknowledge that Jesus has lived upon the earth, but they do not see him as a God or a Messiah.
Because Judaism does not see Jesus as a Messiah, they do not commemorate the birth of Jesus on Christmas; Christmas is a Christian holiday to celebrate the birth of Jesus Christ.
You Can Still Find Christmas Symbols And Celebrations Throughout Israel
Although Christmas is not a national holiday, and Israelis do not celebrate Christmas, there are still many Christmas symbols and celebrations in Israel. Israel is one of the world's unique Christian spots to spend Christmas.
Here are some of the places in places to spend a Christmas holiday in Israel:
Bethlehem And Nazareth – Birth Place Of Christianity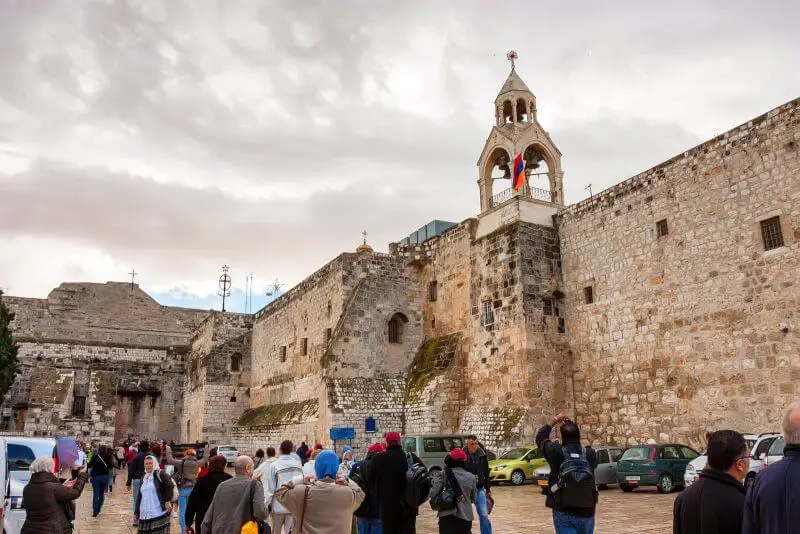 Bethlehem and Nazareth are the birthplaces of Christianity. This is where the Christmas story took place and where Christmas all began.
Here are some things you can see in Bethlehem and Nazareth:
Church Of The Nativity – Bethlehem is home to the Church of the Nativity, known as Jesus's birthplace.

Manager Square – Bethlehem's manager square is filled with crowds singing Christmas carols and awaiting the midnight mass service. What a fantastic way to celebrate and ring in the Christmas season.

Nazareth Christmas Market – Nazareth has a bustling Christmas market.

Christmas Parades – You will find Christmas parades going on through the streets. Christians and non-Christians alike will decorate their homes.

Church Of Annunciation Mass – One of the popular spots to have a midnight mass is the Chruch of Annunciation, where the angel Gabriel appeared to Mary and announced she would give birth to the baby Jesus.
Jerusalem – Another Important Place For Christmas Celebrations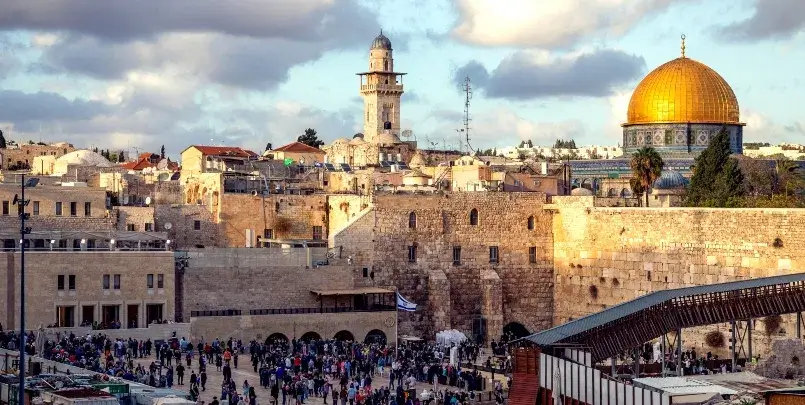 The city of Jerusalem is another vital s place for Christian pilgrims visiting Israel during Christmas time. Around Christmas, you can find the old cities' Christian and Armenian quarters sparkly with Christmas lights and festivities.
Many Christian pilgrims will walk through Jerusalem or the path Jesus would have taken on his way to crucifixion. Midnight mass and Christmas services are held at the Church of the Holy Sepulchre.
In Jerusalem, you will also find cultural events such as Christmas bazaars, singing and performances, musicians in the street, and even a few Santa Clauses.
Haifa – The Holiday Of Holidays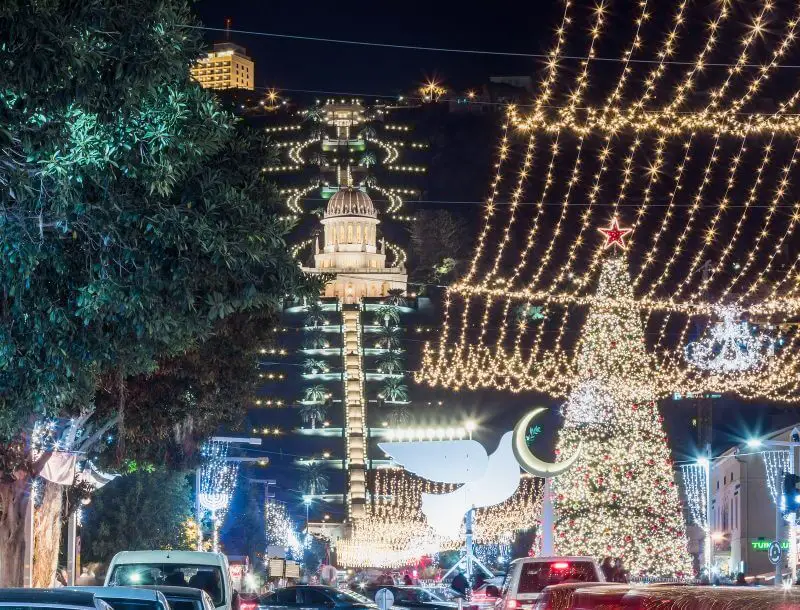 Each year the city of Haifa has an annual December celebration that commemorates the city's religious diversity of Judaism, Islam, and Christianity. The holiday marks three significant holidays in each religion – Hanukkah, Ramadan, and Christmas.
There are a lot of activities and celebrations in the city, including food stands, fairs, arts and crafts, music, circuses, and street celebrations. The city is also filled with lights to celebrate all the holidays.
Many In Israel Respect Christian Christmas Celebrations
I have a few Jewish friends, and I know they respect Christian holidays and traditions such as Christmas. Most of my Jewish friends are far more familiar with the Christian holidays than we are with the most important Jewish holidays.
So even if Christmas is not an official holiday in Israel, most Jewish people know about Christmas and respect the Christmas holiday even if they may not personally celebrate it. That is why Israel continues to be an excellent place for Christians to go during the Christmas season.
At A Bus On A Dusty Road, we talk about travel, life, and ex-pat living. We are all about "Living Life As A Global Citizen." We explore social, cultural, and economic issues and travel.
We would love to have you be part of our community. Sign up for our newsletter to keep up-to-date by clicking here. If you have any questions, you can contact me, Anita, by clicking here.
Listen to our Podcast called Dusty Roads. You can find it on all major podcast platforms. Try out listening to one of our podcasts by clicking here.
Subscribe to our A Bus On A Dusty Road YouTube Channel with great videos and information by clicking here.
Related Questions
4 Tips To Preparing Your Own Family History Trip and Travel
Before you decide to travel to your Ancestor's hometown, there are some things you should do to make sure your family history tour is successful. First, you must research as much genealogy as possible before you actually travel. You should then do local research on the areas you are traveling to; map out what places you should visit. Also, take some time to study the maps of where you are traveling.
To learn more, you can read our blog on 4 Tips To Preparing Your Own Family History Trip and Travel by clicking here.
What Are Some Lessons We Can Learn From Mongolian Nomadic Herders?
The Mongolian nomadic herders in the Gobi Desert taught me six important lessons about our community support importance. I learned some important lessons about our working together as a group and supporting our neighbors while also building a support team that will always be there for us – especially in time of need. For this to happen, we must each be willing to serve in our communities and work together.
You can discover more by reading our blog 6 Lessons On Community Support from The Mongolian Nomadic Herders, by clicking here.
Why You Need a Rabies Shot Before Traveling to Southeast Asia?
Travelers to Asia and especially Southeast Asia, should be sure to get or ensure their rabies shots are up-to-date before they travel anywhere in southeast Asia. The reason is that rabies is still a common problem in many of these areas, and getting a shot may be difficult or almost impossible to obtain if you are traveling out in the countryside.
You can learn more by reading our blog Why you need a Rabies Shot Before Traveling to Southeast Asia by clicking now.