Almost anywhere you travel to Vietnam, you will see the countryside dotted with vast rice fields. Farmers will be up early each day, tending to their rice paddies.
Rice is one of the world's most important staple foods. Due to its climate, Vietnam is one of the world's leading rice producers. As with many things in Vietnam, there is folklore and legends about rice and rice production. You can visit many places in Vietnam to see some spectacular rice fields and rice terraces.
Table of Contents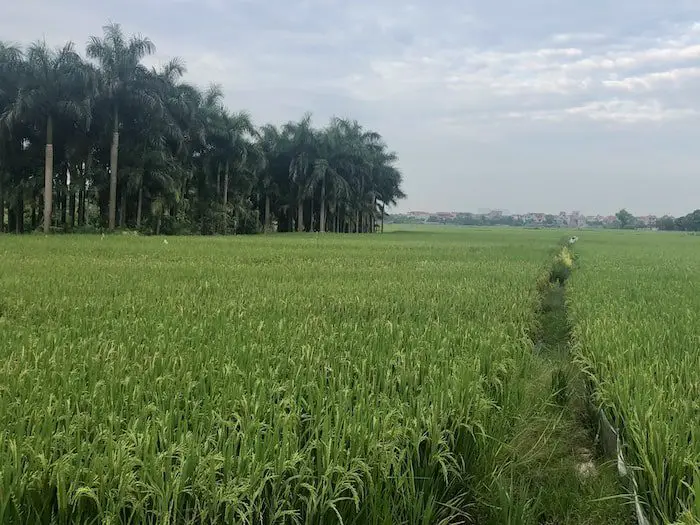 All About Rice
Rice is a food staple for many countries around the world. Over half of the world's population considers rice to be a staple food.
Here are some facts about rice and rice production:
Rice is a seed of the grass species Oryza sativa (Asian rice) or Oryza glaberrima (African rice).
Rice is the most widely consumed staple food in the world.
After sugar cane and maize, rice is the third most-produced food in the world.
A lot of sugarcane and maize are grown for use other than food, so rice is the most important food grain grown for human consumption and nutrition.
There are many varieties of rice, and most countries and regions have their preferred taste or preferences for rice.
Rice is a very labor-intensive plant to cultivate.
Rice production requires a lot of water for it to grow.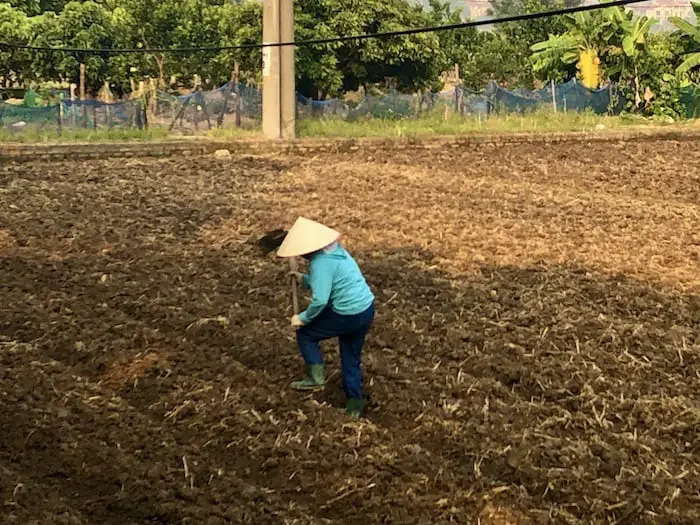 Vietnam And The Love Of Rice
The Vietnamese love their rice. This is because rice is an important food staple in Vietnam. Everywhere you go, rice is planted, grown, and harvested throughout the year.
Here is some information about Vietnam and their love of rice:
Vietnam is the world's fifth-largest rice-producing country.
Rice production in Vietnam is a huge business.
The rice harvest continues to give a higher yield each year.
Rice is a staple food in Vietnam.
Vietnam is one of the world's leading rice exporters.
Rice requires water to grow. Vietnam has a competitive advantage in rice production in they have land that can grow rice and has the annual rainfall each year to sustain rice production.
There are between two to four harvest times per year in Vietnam. The harvest depends on the location. But the two main seasons are winter-spring and summer-autumn.
Even though you can almost go anywhere in Vietnam to find some rice fields, the Mekong Delta in South Vietnam has been dubbed the "rice bowl" of Vietnam. This is because this area alone has 1 million hectares (3,862 square miles) of rice production, which will produce about 6.7 million per year.
The Red River Delta and the mountain areas in North Vietnam are known for their stunning rice terrace fields. These rice terrace fields boast some of the most spectacular world-class views.
Producing rice is not easy. A rice farmer will usually start their day at 5 am and work back-breaking labor all day. Rice is planted manually and is a very labor-intensive plant.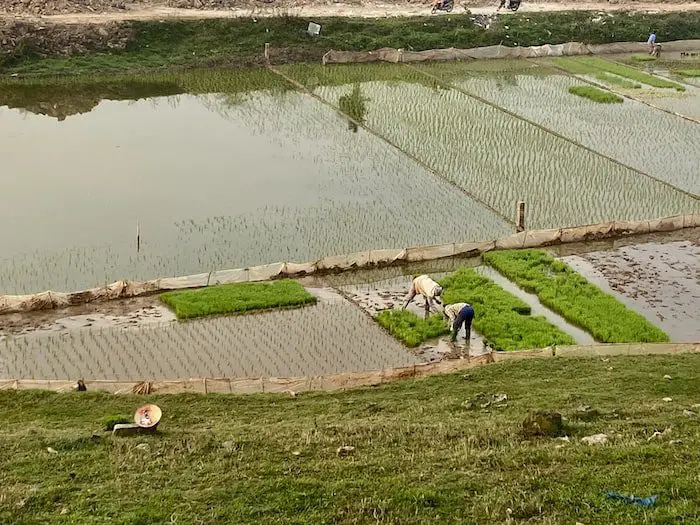 Vietnam's Legend of the "White Gold" Rice
The Vietnamese called rice the "white gold," or rice was the sustainer of the human race. Rice is important to the Vietnamese. It is an important part of daily life, and some form of rice is eaten at most meals.
Vietnam has a legend about how this "white gold" or rice came into every household in Vietnam.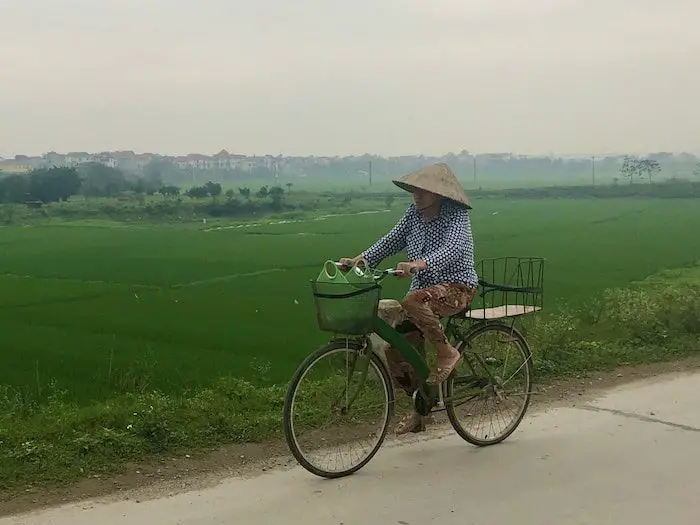 Vietnam's Conical Hats and Rice
When you travel around Vietnam, a common site you will see is the locals wearing a Non-La, or a Vietnamese conical leaf hat. The Non-La or conical hat is a symbol of Vietnam.
Today almost any rice field you see in Vietnam, you will see the women working in the fields wearing one of these conical hats. They have become an essential part of harvesting rice. But as with many things in Vietnam, the conical hat also has a legend.
Vietnam's Legend of the Conical Hat
Once upon a time, there was a huge torrential downpour of rain. There was so much rain that there was water everywhere. The rain lasted for weeks and weeks. The rain flooded all the houses, and lands and disturbed what had once been the tranquil life of rural Vietnam.
One day a goddess descended from the sky. On her head, she wore a giant hat made of four large leaves stitched together by bamboo sticks. The hat was so large that it helped guard all the people from the rain. This allowed people to return to their normal lives and routines.
The goddess, who had a very soothing voice, started teaching the people how to grow crops, including rice. But one day, as the people were listening to the goddess with the soothing voice instruct they all fell asleep. When they woke up, the goddess was gone.
They built a temple to honor her and all she had taught them. Everyone also started to wear the hat they had seen her wear. This is how the legend of the Vietnamese conical hat came about.
Brief History of Rice in Vietnam
Rice has always been an important food staple in Vietnam. But there are two important times in Vietnam's history when rice became an important political pawn.
French Occupation and Rice
One of the many reasons that the country of Vietnam was so strategically important to the French is because of Vietnam's ability to produce rice. The French needed the rice to sustain some of their other French colonies. Rice production under the French rule of Vietnam became an important commodity.
Japanese Occupation and Rice
When the Japanese occupied Vietnam during World War II, one of the reasons Vietnam became strategically important for the Japanese was because of Vietnam's rice. The Japanese wanted the Vietnamese rice to send home to Japan as Japan had a huge rice shortage.
This causes a lot of starvation in Vietnam. The Japanese denied about one million Vietnamese the right to their very basic food staple of rice.
10 Spectacular Vietnamese Rice Fields
You can go almost anywhere in Vietnam and see some rice fields. But if you want to see the magnificent rice terraces, those are generally in the northern part of Vietnam.
Here is a list of some of the best places in Vietnam to see the rice fields:
Mu Cang Chai – Mu Cang Chai is located in Yen Bai province. The rice terrace fields of La Pan Tan, Che Cu Nha, and Ze Xu Phinh are recognized as being some of the best in Vietnam.
Tu Le – Tu Le is also located in Yen Bai province. Like the Mu Cang Chai, this area is known for its spectacular beauty.
Pu Luong – Pu Luong is in Son La province and is known for being a very high peak and having some very nice rice terrace fields. There are also some nature reserves in the area.
Sapa – Sapa is in Lao Cai Province and is quite easy to get to from Hanoi. The area has a lot of rice terrace fields. Many foreigners visit this area to see the rice terraces and the local hill tribe culture.
Hoang Su Phi – Hoang Su Phi is in Ha Giang Province, also in the Northeastern part of Vietnam. This area is also famous for its rice field terraces, particularly the rice fields on the road between Hoan Su Phi and Xin Man.
An Giang – An Giang Province is in south Vietnam, and this area borders Cambodia and Vietnam. This area is flat but has a lot of rice production and rice fields.
Mai Chau – Mai Chau is in the Northwest region of Vietnam. This area also has a lot of tourism, including hill tribes and rice fields.
Bac Son – Bac Son is in Lang Son province. This is also in the Northeastern region of Vietnam. Bac Son has some very nice rice terraces and fields in the valley.
Y Ty – Y Ty is located in Lao Cai province, and you can find rice fields throughout Ban Xat District.
Ninh Binh – Ninh Binh Province is famous for its limestone mountains, but this area is also very rich in rice production.
Rice is one of the staples of the world, but it is also a very important food for Vietnam. The Vietnamese consider rice a symbol of their culture as it is so fully integrated into their daily life. Vietnam is a must-see travel location for those who love rice and want to see some spectacular rice terraces and rice fields.
At A Bus On A Dusty Road, we talk about everything about travel, life, and ex-pat living. We are all about "Living Life As A Global Citizen." We explore social, cultural, and economic issues and travel.
We would love to have you be part of our community. Sign up for our newsletter to keep up-to-date by clicking here. If you have any questions, you can contact me, Anita, by clicking here.
Listen to our Podcast called Dusty Roads. You can find it on all major podcast platforms. Try out listening to one of our podcasts by clicking here.
Subscribe to our A Bus On A Dusty Road YouTube Channel filled with great videos and information by clicking here.
Related Questions
Who Built the Long Bien Bridge in Hanoi, Vietnam?
Gustave Eiffel was the designer of the iconic Long Bien Bridge in Hanoi, Vietnam. The bridge has a long history and is an important part of the history of French rule in Vietnam. It was a target of bombings by the Americans' military forces during the Vietnam War. Today you can ride a motorcycle, bicycle or walk across the Long Bien bridge.
To discover more about the Long Bien Bridge, you can read our blog Who Built the Long Bien Bridge in Hanoi, Vietnam? by clicking here.
Do I Need a Visa To Travel to Vietnam?
All travelers to Vietnam will need to organize and look at their Vietnam travel visa before they enter Vietnam. There are several types of ways to obtain a Vietnamese visa as at the Vietnamese Embassy, online through an agent or visa at the border. In some circumstances and for some nationalities, Vietnam offers visa-free travel.
To find out more about visa requirements for your Vietnam travel, you can read our blog Vietnam Travel Visa, What You Need to Know Before You Go by clicking here.