Like many people during the coronavirus time, I couldn't travel; I had been itching to go somewhere or see something new. The Conquer Virtual Challenge has been a great way to see parts of the world without leaving town.
The Conquer Virtual Challenge, also known as My Virtual Mission, is an online platform that allows you to travel the world as you log miles virtually you have traveled (usually through swimming, hiking, biking, cycling, running, rowing, elliptical, walking, or even in a wheelchair). It is a great way to stay motivated and exercise while logging your miles to virtually see other parts of the world. I recommend the Conquer Virtual Challenge.
Read on to discover why and get 10% off your first virtual challenge.
Table of Contents
When you complete a virtual challenge, they send you a very nice medal for all your hard work. You can also order a t-shirt for the virtual challenge you have completed.
Doing online virtual challenges helps to keep me motivated. I love viewing their interactive map and seeing where I am traveling virtually in another part of the world.
My Review of the Conquer Virtual Challenge or My Virtual Mission
Are you looking for an exciting virtual challenge? Then you have to check out the Conquer Virtual Challenge! I recently participated in this online adventure, and it was one of the most thrilling experiences I've ever had.
From visiting exotic locales to scoping out hidden treasure troves, the Conquer Virtual Challenge offered a unique opportunity to explore new places from home – this is undoubtedly an experience I'll never forget!
Here are some of the reasons why I love the Conquer Virtual Challenge
Web Platform And Ease of Use For Conquer Virtual Challenge
My Virtual Mission or The Conquer Virtual Challenge setup is relatively straightforward. You sign up, pay the fee, and set a goal date to complete your mission. Then you can start to record your mileage for your virtual challenge.
You do not need to worry too much about the challenge goal date you set, as you can change it at any time. The challenge goal date is there to help you with your goal.
There is also a Conquer Virtual Challenge that you can download on a phone or Ipad. I have downloaded the app on my iPad. I appreciate how I can put my mileage data through the app on my iPad or computer. This helps make it easier to record your data.
Joining a Community Helps Keep Me Focused
My friend Carrie and I joined the Conquer Virtual Challenge; we wanted to be our own community so that the map would show where we were and not everyone else we did not know.
For your community, you will set a name. Not everyone can join your community; you need to give them a code or invite them to join.
To set up a community on the Conquer Virtual Challenge, I contacted Tech Support to set up our virtual mission community. Tech Support did answer very quickly, but I would think if there were a way that I could have done it myself without contacting Tech Support would have been easier.
I hope allowing people to set up their own community online is something they can improve in the future, making the user experience better. I would like to see users set up a community without having to contact tech support to do it for them.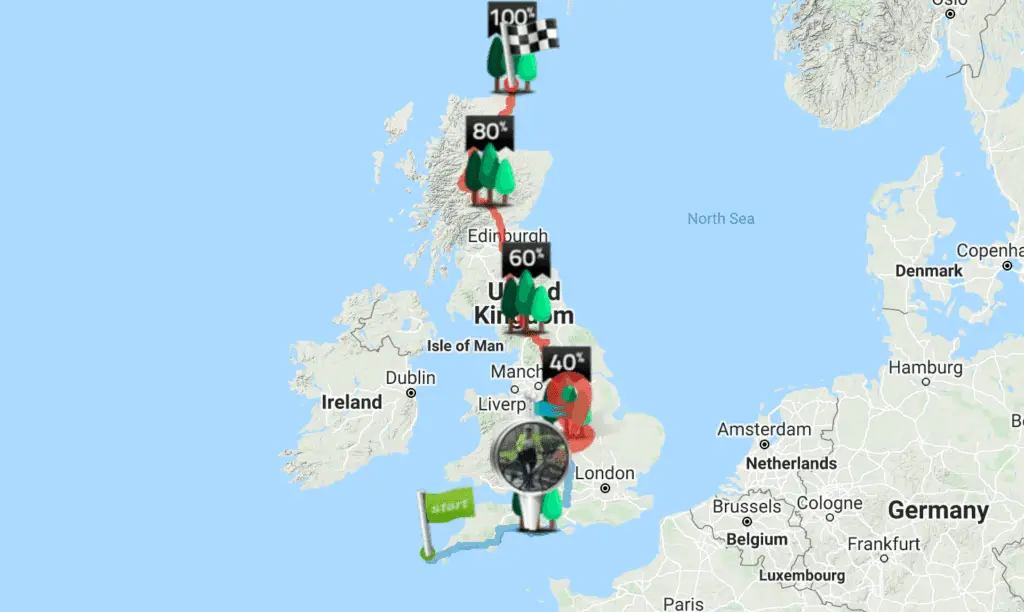 Can Control Your Data On the Conquer Virtual Challenge App
The My Virtual Mission App allows you to control your data as:
Time Zone – You can set the time zone you want to post.
Mileage – You can choose which mileage format you want to logins, such as miles or kilometers.
Currency – If you use this as a platform to raise money for a charity or cause, you can choose what currency you will use.
Privacy Controls – You can control your privacy completely, as you can control what others see or do not see.
Set Exercises – You can also set up the system to use one particular exercise for one specific challenge.
The Conquer Virtual Challenge gives you control over what people can see on your profile and challenges. I did not set up any privacy controls, but people may want to keep their challenges completely private.
Set Up Your Challenge or Race Time and Rules
The Conquer Virtual Challenge allows you to set up your challenge or race with a specific group of people. Some companies are using the Conquer Virtual Challenge platform to set up a fitness challenge within their companies. Clubs also use it to have a fitness challenge for their own club.
The Conquer Virtual Challenge also has a fundraising function. A challenge can be set up for you to raise funds for a charity or a cause.
Two Names A Bit Confusing For The Challenge
I find using the two names, i.e., The Conquer Virtual Challenge and My Virtual Mission, to be confusing; at least, it was for me when I first started using their platform. You sign up on The Conqueror Virtual Challenge but are putting data on the My Virtual Mission app. I found the use of two names to be quite confusing.
For example, when I want to sign up for a new mission, I need to go to the Conquer Virtual Challenge page to sign up for the challenge. But to input the data, I go to another website, My Virtual Mission. I find the name change and extra steps in the process confusing.

Posting On Conquer Virtual Challenge
You can post your mileage on Conquer Virtual Challenge n for your challenges in several ways. One way is to set the system to automatically post your distance with Strava, Fitbit, Garmin, Runkeeper, or the Underarmor App.
I do not use any of these apps except Strava to record my cycling routes and mileage. For all my other exercises, I use the Apple fitness app. So I must manually upload my mileage. I usually photograph my Apple fitness data and manually input it into their system.
Another aspect of posting on Conquer Virtual Challenge is that they will congratulate you when you complete 10%, 50%, or some other markers. I love that, as I feel good about my accomplishments.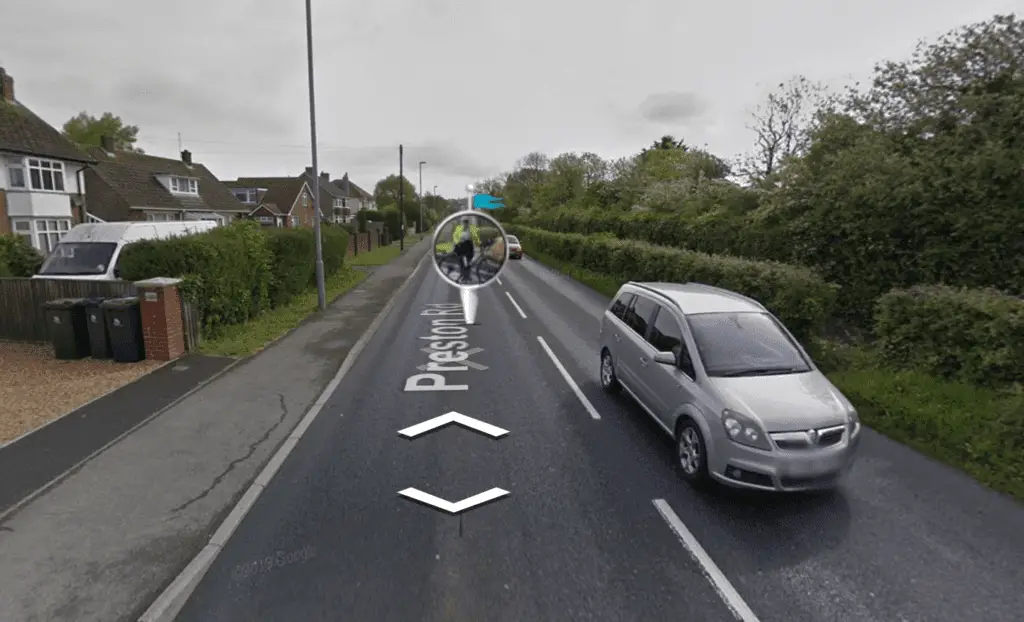 Can Virtually See Where You Are On Google Street View
One of my favorite features of The Conquer Virtual Challenge is that you can see where you are on the map as you turn the map to street view. I find this an enjoyable way to see another part of the world.
Learn A Bit of History Of Where You Are Traveling
When you get to a specific historical location, The Conquer Virtual Challenge website will send you a postcard with information about your location. I love learning about the places I am virtually traveling.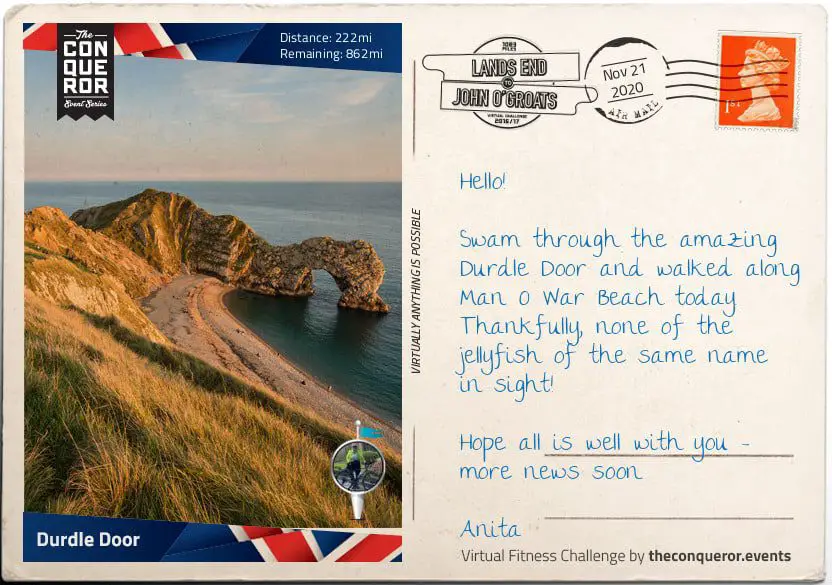 The Conquer Virtual Challenge Is Reasonably Priced
The cost to do a Conquer Virtual Challenge is very reasonable. The primary cost is 29.95 if you only want to do the challenge and get the medal. If you also want to include a T-shirt, it is 59.95 USD.
They offer quite a few different discounts. To get an automatic 10% discount on your challenge, click and sign up with this link. You can discover more by clicking here.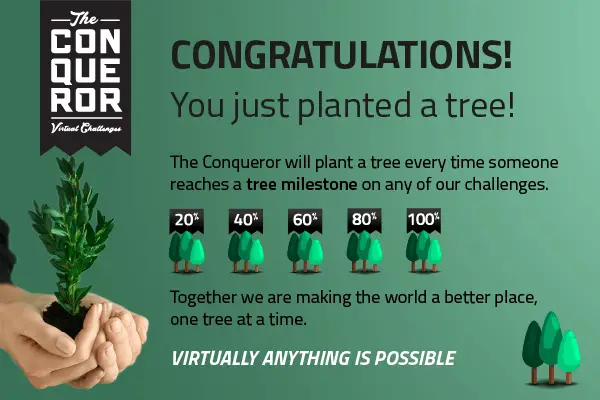 Plant A Tree Or Pick Up Plastic Bottles When You Complete 20% Of Your Conquer Virtual Challenge
Each time you complete 20% of your challenge, The Conquer Virtual Challenge will plant a tree for you or help you pick up plastic bottles from the ocean. This benefit comes with every challenge.
I love this aspect of the challenge, as my miles also count toward doing some good and saving the planet.
When You Complete Your Conquer Virtual Challenge, You Get A Medal
When you complete your virtual challenge, they will send you a medal. I wasn't quite sure how the medals' sending would work, as now I live in Hanoi, Vietnam. But my medal arrived promptly and came in a lovely box.
I now have my medal hanging up in my room to remind me to keep going on my other challenges. I look forward to collecting more of the finisher's medals.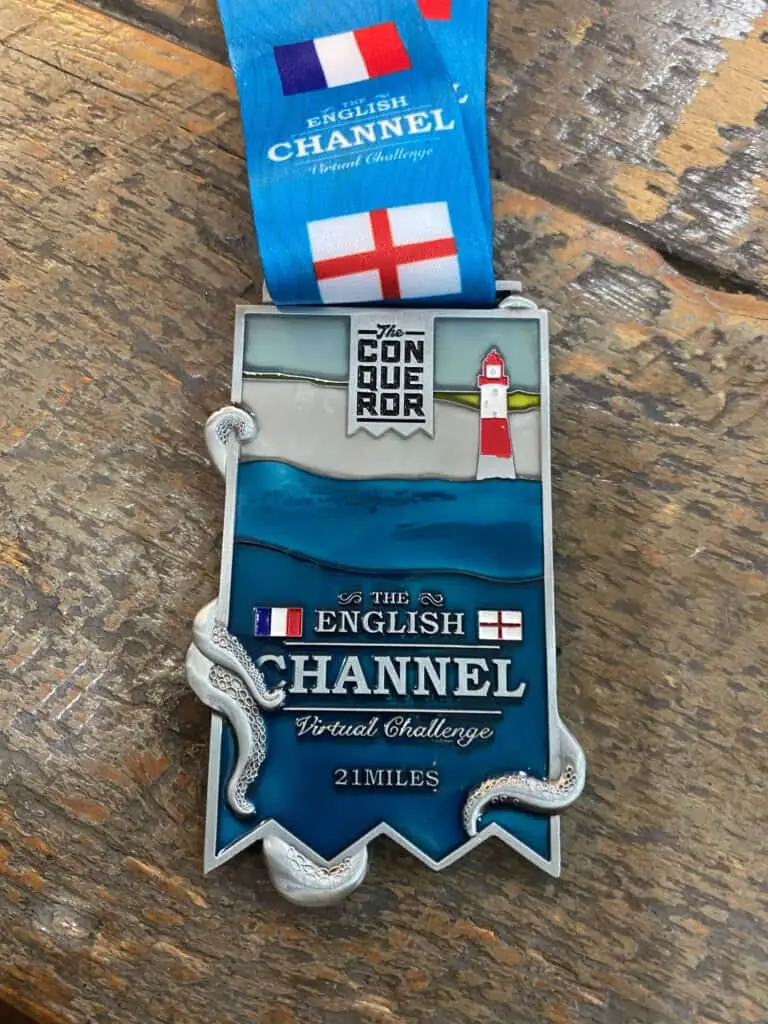 The Conquer Virtual Challenge Has A Great Facebook Group
As a bonus, The Conquer Virtual Challenge has a very active Facebook group. You can use Facebook to stay up-to-date on the news about the challenges and what others are doing. To join The Conquer Virtual Challenge Facebook page or discover more by clicking here.
I Recommend The Conquer Virtual Challenge
I would give The Conquer Virtual Challenge a 5-Star Rating. The things I mentioned to improve would improve the user experience, but overall I feel like it is a great way to virtually travel the world while logging in miles for your exercise. It has been a great motivator to keep going on my fitness goals and a great way to virtually see other parts of the world.
Get 10% Off Now On Your Conquer Virtual Challenge.
Sign up today for the Conquer Virtual Challenge and get an automatic 10% off on your challenge. A Conquer Virtual Challenge is a great way to make "Every Mile Count."
At A Bus On A Dusty Road, we talk about travel, life, and ex-pat living. We are all about "Living Life As A Global Citizen." We explore social, cultural, and economic issues and travel.
We would love to have you be part of our community. Sign up for our newsletter to keep up-to-date by clicking here. If you have any questions, you can contact me, Anita, by clicking here.
Listen to our Podcast called Dusty Roads. You can find it on all major podcast platforms. Try out listening to one of our podcasts by clicking here.
Subscribe to our A Bus On A Dusty Road YouTube Channel with great videos and information by clicking here.
Frequently Asked Questions
What is a virtual fitness challenge?
A virtual fitness challenge is an organized event that individuals participate in remotely, tracking their fitness activities and progress using digital platforms or apps.
How do virtual fitness challenges work?
Participants register for a virtual fitness challenge and receive instructions on tracking their activities. They then record their workouts, steps, or other fitness metrics and submit them online or through a designated app.
What types of activities can be included in virtual fitness challenges?
Virtual fitness challenges can include a wide range of activities such as running, walking, cycling, swimming, strength training, yoga, or any other form of exercise.
Can anyone participate in a virtual fitness challenge?
Yes, virtual fitness challenges are generally open to anyone who wants to participate, regardless of age, fitness level, or location.
How long do virtual fitness challenges typically last?
Virtual fitness challenges can vary in duration. Some may be short-term challenges lasting a few days or weeks, while others can extend for months, providing ongoing motivation and goals.
Do virtual fitness challenges have prizes or incentives?
Some virtual fitness challenges offer prizes or incentives for participants, such as medals, certificates, merchandise, or even cash rewards. However, not all challenges provide tangible rewards.
Can I participate in a virtual fitness challenge as part of a team?
Yes, many virtual fitness challenges allow participants to join or create teams, fostering camaraderie and friendly competition among teammates.
How can I track my fitness activities during a virtual challenge?
Participants can track their fitness activities using various methods, including fitness trackers, smartphone apps, or manually recording their workouts and distances.
Related Questions
What Are The Early Morning Exercisers in Hanoi, Vietnam?
It is usually safe to go out early in Hanoi, Vietnam. The streets are always bustling with a lot of activity and excitement. People in the city tend to start their days very early. To see the early morning exercise, you must also get up very early. There are a lot of places in Hanoi where you can see a lot of early-morning exercisers. Starting the day early is a habit that many people have throughout all of Asia.
You can discover more by reading our blog Early Morning Exercise in Hanoi, Vietnam, What You Need to Know by clicking here.
Why Every Cyclist Should Ride Around Angkor Wat Cambodia?
Every cyclist should put cycling around the Angkor Wat temple complexes in Cambodia on their bucket list as it is not only one of the magnificent architectural wonders of the world, but it is also a great way to see some amazing old temple complexes. When you cycle around Angkor Wat, you will have the freedom to see Angkor Wat at your own pace. When you cycle around Angkor Wat, you will also see things that you could never see in a car, bus, or even a tuk-tuk.
You can learn more about this by reading our blog Why Every Cyclist Should Ride Around Angkor Wat Cambodia? by clicking here.