I am a great fan of virtual challenges. I find it a great motivator to help me to stay fit and work on my health goals. I first discovered virtual challenges when I was looking to motivate myself to get moving and exercising more than I had been doing.
A virtual challenge is a challenge you do virtually by posting your mileage into an app or on your computer. You can run, walk, swim, cycle, step, or any exercise at your own pace as you move along a specified route on a map. You can do it individually, as a team, or as a community.
About Virtual Challenges
A virtual challenge is a virtual fitness race or route do at your own pace on a pre-determined route. You can run, walk, swim, cycle, step, or even do cartwheels for your virtual challenge. What kind of exercise you choose to count towards your mileage for the challenge is up to you.
There is a predetermined route. Most of the routes are in exotic or unique places of the world. You do not actually travel to these places, but you virtually travel to them by logging in your fitness miles as you complete them.
You will pick a location or challenge that you want to travel to. So far, I have virtually traveled to Peru, England, Scotland, Germany and swam across the English Channel, all while still at home in my house in Hanoi, Vietnam.
What challenges you do and how quickly you do it, or what form of exercise you do is totally up to you. A virtual challenge is more like an individual challenge where you are trying to race against yourself or a group of your friends.
I have done several virtual challenges, so here are 11 facts that I have compiled that may help you decide if a virtual challenge is right for you.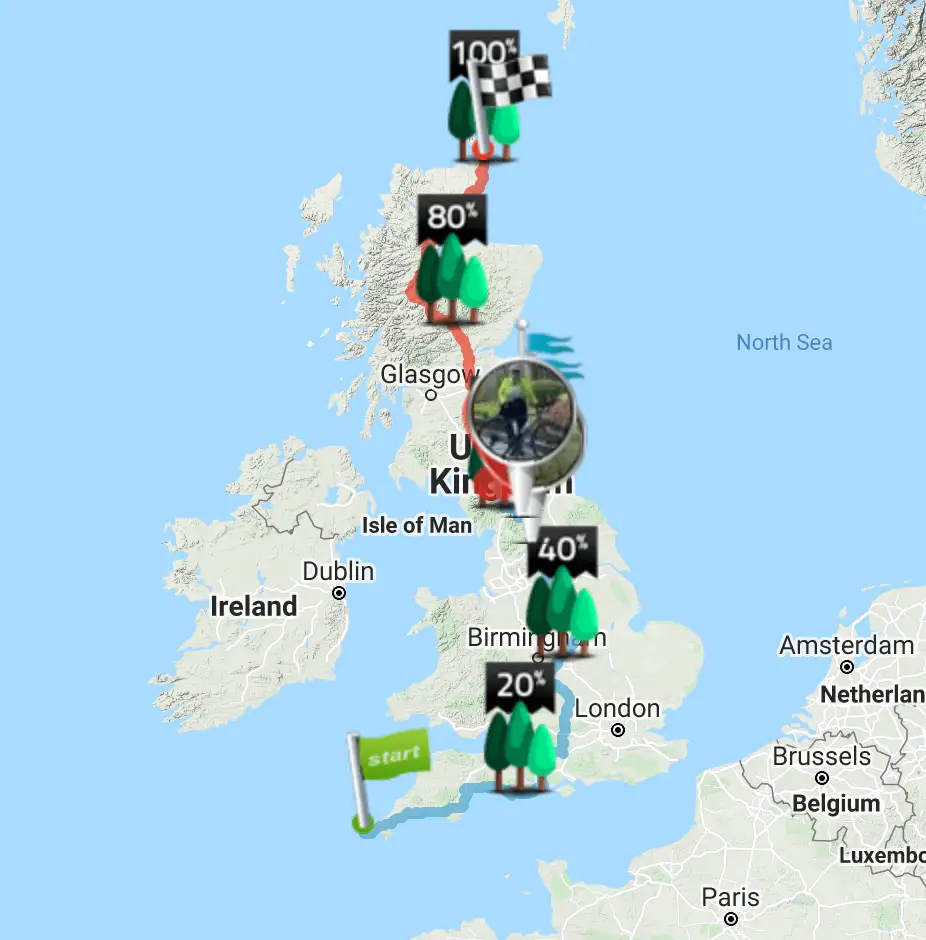 1 – The Challenge is Virtual
The challenge, as it says, is virtual. Virtual means that the location of the places you are traveling is virtual or online; you do not need to physically travel to any of these places.
Sometimes, it can get confusing for some people, and they do not understand that the travel is virtual. But even though you are virtually traveling this distance, you will be doing the same distance as someone who has done that distance in person.
To find out more about virtual challenges you can read Is The Conqueror Virtual Challenge Legit? 10 Things to Know And Understand by clicking here.
2 – Your Virtually Travel Along A Route
For a virtual challenge, you will virtually travel along a preset route. This is similar to running or walking a race in your local community; the race organizers set up where the race would go.
For a virtual challenge, this is the same, except in this case, the virtual challenges are usually much longer; most challenges are anywhere from 20 miles to thousands of miles. So it is a long-term commitment for you to travel the route set for the challenge.
3 – The Rules Are Up To You
The rules and how you decide to do the challenge are completely up to you. I am doing several challenges now because I like to divide up different exercises for different challenges. For example, a friend and I are swimming around Easter island for a 100% swimming challenge. All the mileage that I write down for this challenge I have actually swum.
Another challenge, the Romantic Road in Germany, I am doing with my sisters and some friends. Each person is putting in the mileage a different way. Some are putting in all their steps, others like me just by walking.
4 – It Is Based On The Honor System
The challenge is completely based upon an honor system. If you want to put in miles that you did not actually do, no one can stop you or tell you the miles are not legitimate.
This is why a virtual challenge is really based upon the honor system and upon you putting in your miles or connecting one of your fitness devices to the programs for automatic updates. It is completely up to you and your community or team to ensure the miles your put into the online system are actually miles you have completed.
5 – You Can Follow Along On A Map
I really love the virtual challenge because you can follow along on a map where you are traveling. Challenges like the Conquer Challenge will send you postcards along the way and tell you about some historic sites you would see as if you were actually traveling to that area. Other challenges as the Pacer Virtual Challenge have a lot of information about the area you are virtually traveling on their app.
For the virtual challenges, you will be following along a predetermined route on a map. As you complete your distance, you will move along that map and route.
6 – Google Street View Shows Your Surroundings
I love the Google Street View integration on many of the virtual challenges. You can go to the app, and if there is a street view from Google, you can see exactly where you are on the virtual challenge.
This is one of my favorite parts of the challenges. Sometimes I am in a lovely housing area or right outside a pub or Fish 'n Chips shop, or I might find that I am under some bridge or an area that does not look like a great area. This is one of the fun parts about the challenges; with Google street view, you can virtually see where you would be if you were actually traveling to that location in person.
7 – You Usually Get A Medal or Certificate
Most of the challenges will send you a medal when you complete the challenge. I really love to collect these medals and display them to remind myself about the challenges.
These medals are usually quite large and make for a great display. On some of the Facebook groups, you read of people who were so proud of their accomplishments they walked around all day long with their medals hanging around their necks. For many people, like me, receiving a medal at the end of this challenge is a great motivator.
8 – There Is A Challenge Entrance Fee
This is a paid challenge the same way you would pay an entrance fee to join a race for your local community. I have found the cost to complete these challenges very reasonable.
Normally when you pay for a challenge you receive the following:
Access to the app – The virtual challenges will each have its own app. When you pay, you will get full access to the challenge and their app.
Medal – Most of the challenges have some medal or certificate. I find the medals are a great way to keep me motivated.
Community – Many of the challenges also have a really great community. For example, the Conqueror Challenge has a really great Facebook group.
See Other Participants -In most of the apps, you can also see other participants if you choose to or set up a team or community only to see a specific group of friends.
9 – You Can Set Up A Group, Team or Community
You can also set up a group, team, or community. Whatever challenge you do understand that these words can mean something a bit different for each challenge organizer.
For example, on the Conquer Challenge, a team means that you and your teammates will complete your challenge together; a team will add their mileage together to complete the challenge. A community means that you will see where other community members are on the challenge, but each of you will log in your own miles to complete the challenge individually.
If you do not want anyone else to see or know what you are doing, you can set your status to private. Private means that no one else will be able to see you and your challenge.
10 – Some People Do It To Raise Funds or Team Building
Some of the challenge platforms will allow you to set up your own challenge to raise funds or set up a Corporate wellness plan for all your employees. I know that the Conquer Challenges has both of these features.
I have not personally participated in this kind of challenge, but I do think it is a great idea for someone who might run a charity or be looking at corporate wellness; this can be a great way to motivate people with their fitness goals.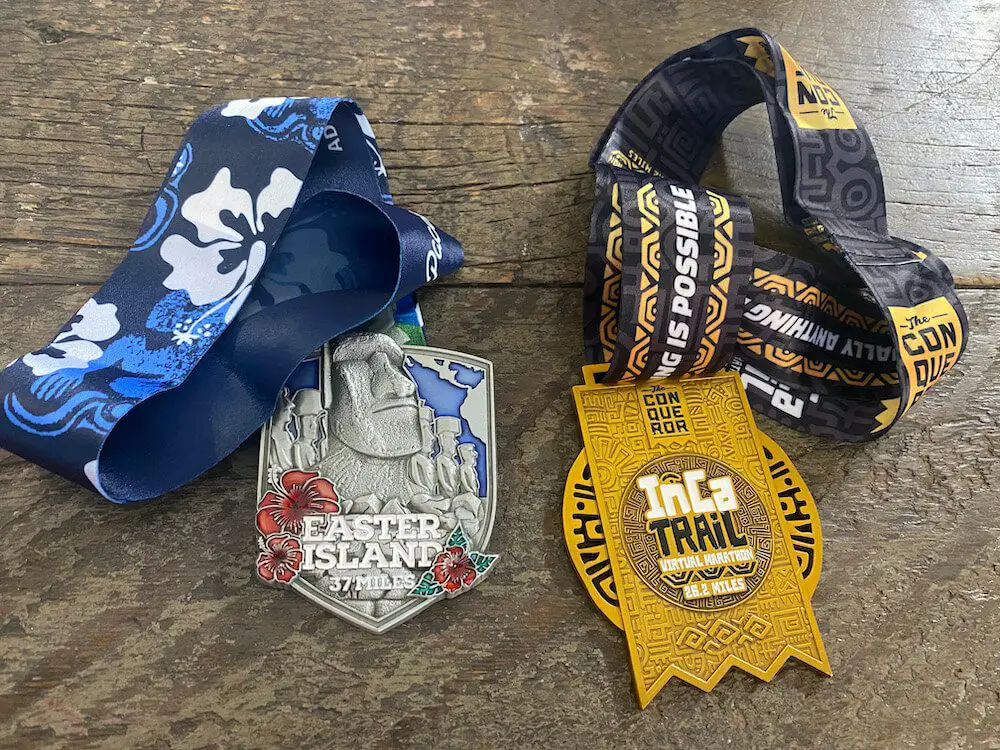 11- It Is A Great Motivator
A virtual challenge is just a great way to motivate you are to move more or to exercise. I know some people wonder if a virtual challenge is worth it, and I can tell you that it is.
I have participated in both the Conquer Challenges and the Pacer Challenge. I have to say my top pick is the Conquer Challenge. The Conquer Challenge continues to improve its app, service, merchandise, and medals.
Sign Up For A Challenge Today!
My top pick for a Virtual Challenge is the Conquer Virtual Challenge; the Conquer Challenge's cost is very reasonable. The basic cost is $29.95 if you only want to do the challenge and get the medal. If you also want to include a T-shirt, it is $59.95. They also offer other kinds of merchandise.
To receive an automatic 10% discount on your challenge, click and sign up with this link. You can discover more by clicking here.
As a bonus, The Conquer Virtual Challenge has a very active Facebook group. You can use Facebook to stay up-to-date on the news about the challenges and what others are doing. To join The Conquer Virtual Challenge Facebook page or discover more by clicking here. They have another Facebook page that is only for those who are actually on the challenge.
At A Bus On A Dusty Road, we talk about all things to do with travel, life, and ex-pat living. We would love to have you be part of our community. Sign up for our newsletter to keep up-to-date by clicking here. If you have any questions, you can welcome to contact me, Anita, by clicking here.
Related Content
Is The Conqueror Virtual Challenge Legit?
The Conquer Virtual Challenge is 100% legit. Upon completing a challenge, you will receive a medal as an acknowledgment that you have completed the challenge. You can also pay extra to get a T-shirt or to purchase some other merchandise. Even though this challenge is 100% virtual, it is a great way to virtually experience other parts of the world.
You can discover more by reading Is The Conqueror Virtual Challenge Legit? 10 Things to Know And Understand by clicking here.
What About Early Morning Exercise in Asia and Vietnam?
In the early mornings in Hanoi, Vietnam, many of the streets bustle with people out exercising. It is usually safe to go out in the early mornings in Hanoi, Vietnam. People in the city tend to start their days very early. To see the early morning exercise, you must also get up very early. There are many places in Hanoi where you can see a lot of the early morning exercisers. Starting the day early is a habit that many people have throughout all of Asia.
You can learn more by reading our blog Early Morning Exercise in Hanoi, Vietnam, What You Need to Know by clicking here.