When people sign up for the Conquer Virtual Challenge, they want to know if it is legit. Some want to know if they lose money or if a Virtual Challenge gives you a real medal and award. I have done several Conqueror Virtual Challenges.
The Conquer Virtual Challenge is 100% legit. Upon completing a challenge, you will receive a medal for acknowledging that you have completed the challenge. You can also pay extra to get a T-shirt or purchase merchandise. Even though this challenge is 100% virtual, it is a great way to virtually experience other parts of the world.
Table of Contents
As with any kind of virtual challenge, there are a few things that you should understand. Here are 10 things to know and understand about the Conquer Virtual Challenge.
1 – When You Pay Your Money, You Get Full Access To The Conquer Virtual Challenge App
A Virtual Challenge is a paid program, similar to signing up for a local community race. You need to pay the total amount for the program, and then you will get access to their system; if you want to do the challenge, you need to pay at least the minimum fee to get access to record your mileage into their system.
I have found their computer program relatively easy and flexible to use. This is one of the things that I like about their program.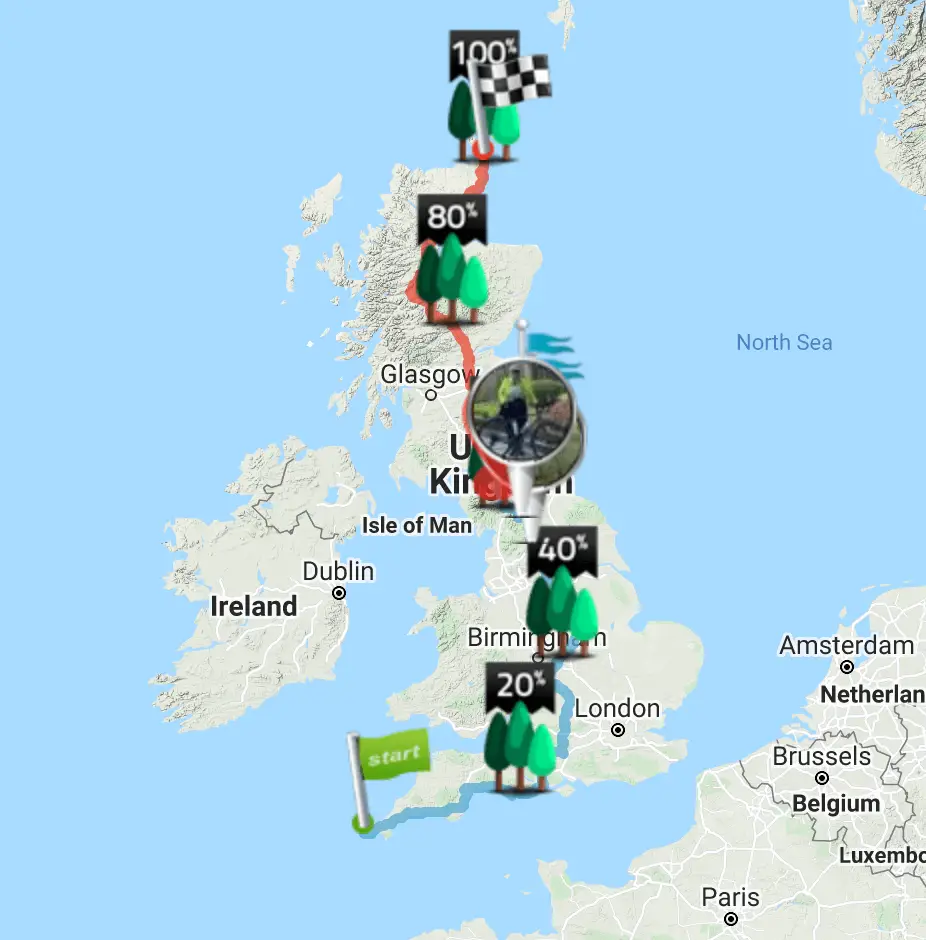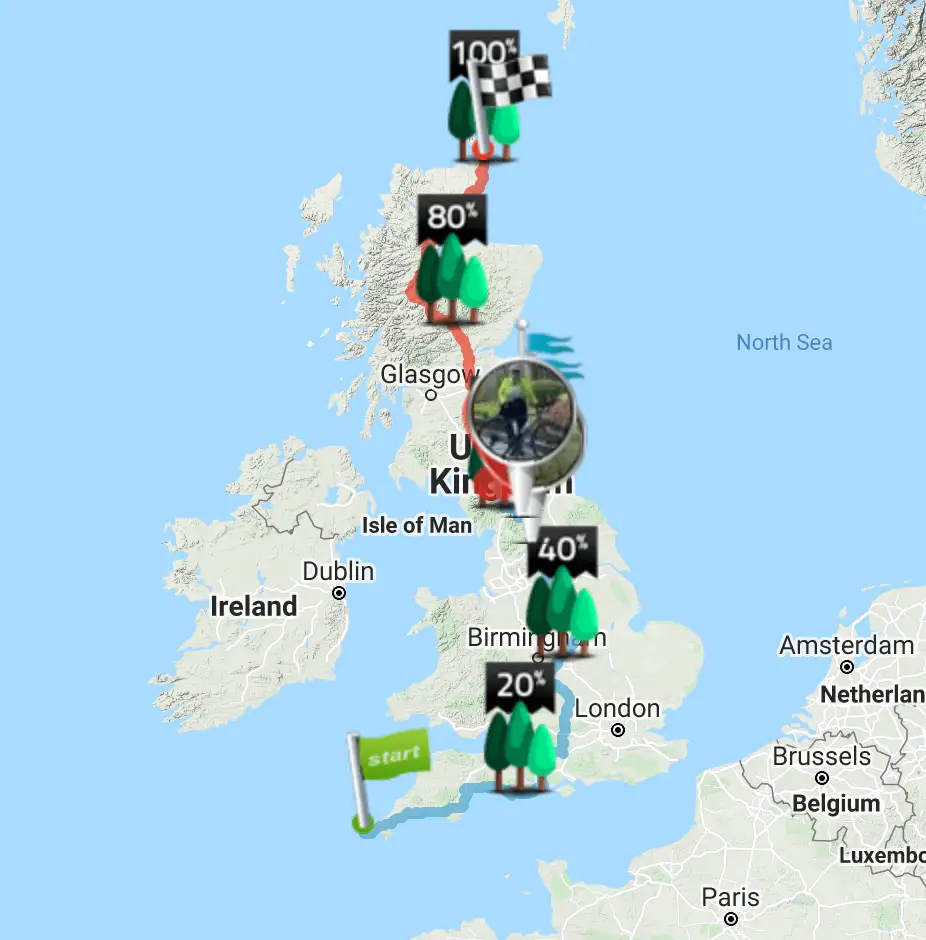 2- The Conquer Virtual Challenge is Based On The Honor System
The challenge is based on the honor system. This means you put in your mileage or connect the program to an app such as Fitbit or Strava.
I like to go into the Conquer Virtual Challenge system each day after exercising to record my mileage manually. I enjoy seeing how far I have come on my challenge. Inputting the data into their system is based on the honor system; how, when, and where you input it is entirely up to you.
3- You Are Responsible For Putting In Your Own Data Into The Conquer Virtual Challenge App
You are also responsible for putting all your data into their system. A friend and I are on a team, she collects all of her data and then puts it in at once. I like to record mine every day and then put it in daily. Others have it automatically recorded from a fitness app.
No matter how you decide to record your data, you need to understand that you will be responsible for ensuring that the data is either automatically recorded or manually put it in.
4- You Can Always Add More Time to Your Conquer Virtual Challenge
When you start on a challenge, they will ask you how long you think it will take you. This is not like a race where you only have so much time. With the Conquer Virtual Challenge, you can easily add more time to complete the challenge if necessary.
I appreciate the flexibility of this, as sometimes things happen in life to slow you down. I love how they want you to be successful, allowing you to adjust the time frame.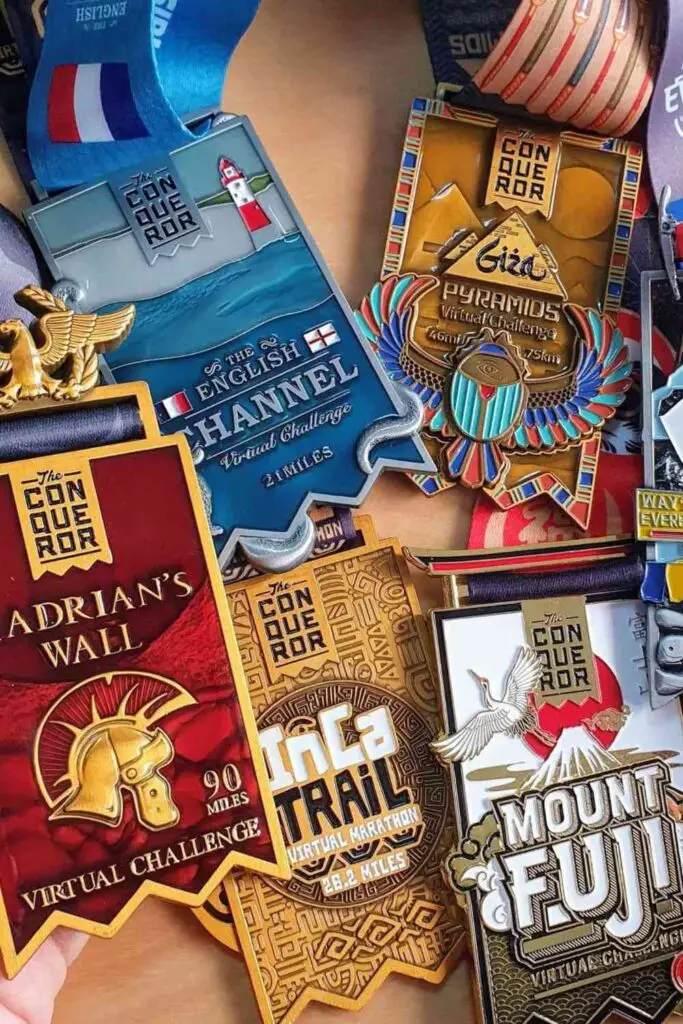 5 – You Will Virtually Travel To Places Worldwide
As the name implies, this challenge is a virtual challenge; you are virtually traveling to a place to complete the challenge. You will do the same distance as if you hiked up the Inca Trail in Peru or Hadrian's Wall in England.
The challenge has allowed me to travel virtually to these parts of the world. The Conquer Virtual Challenge will send me postcards at specific travel points and tell me a little about where I just passed through or what I see.
6- You Can Make a Team, Join A Group or Do Your Own Challenge
You can join the Virtual Conquer Challenge on your own, make the team, or join a group or do your own challenge. The program is flexible in deciding what you want to do and how you want to do it.
A friend and I have our own team. Because we can see who is ahead or behind, we have a bit of friendly competition going. For me, this is a great motivator.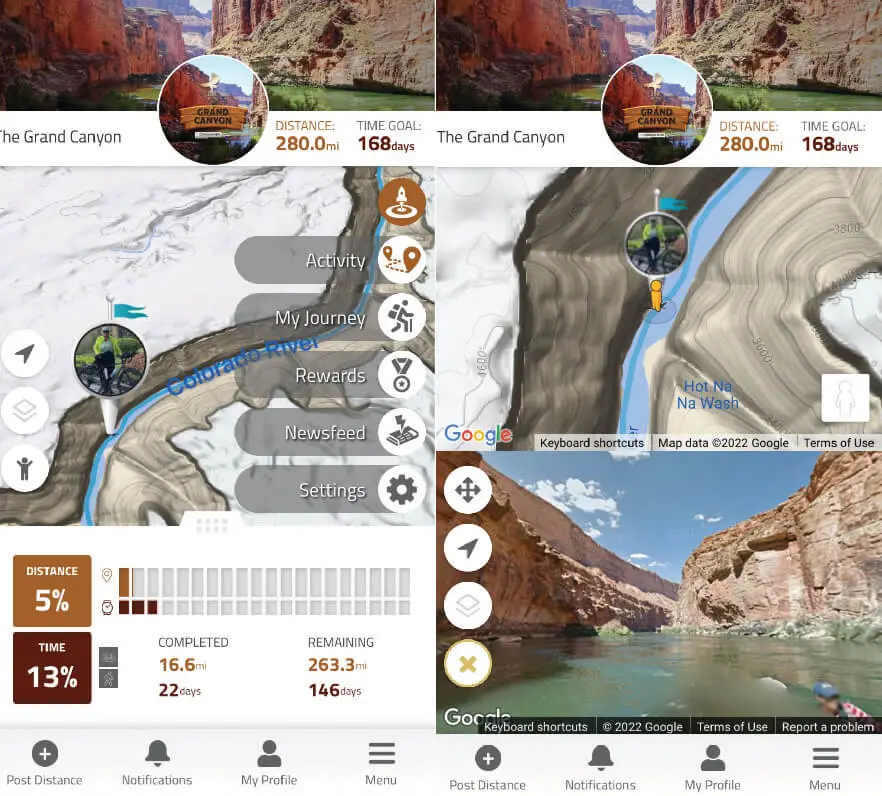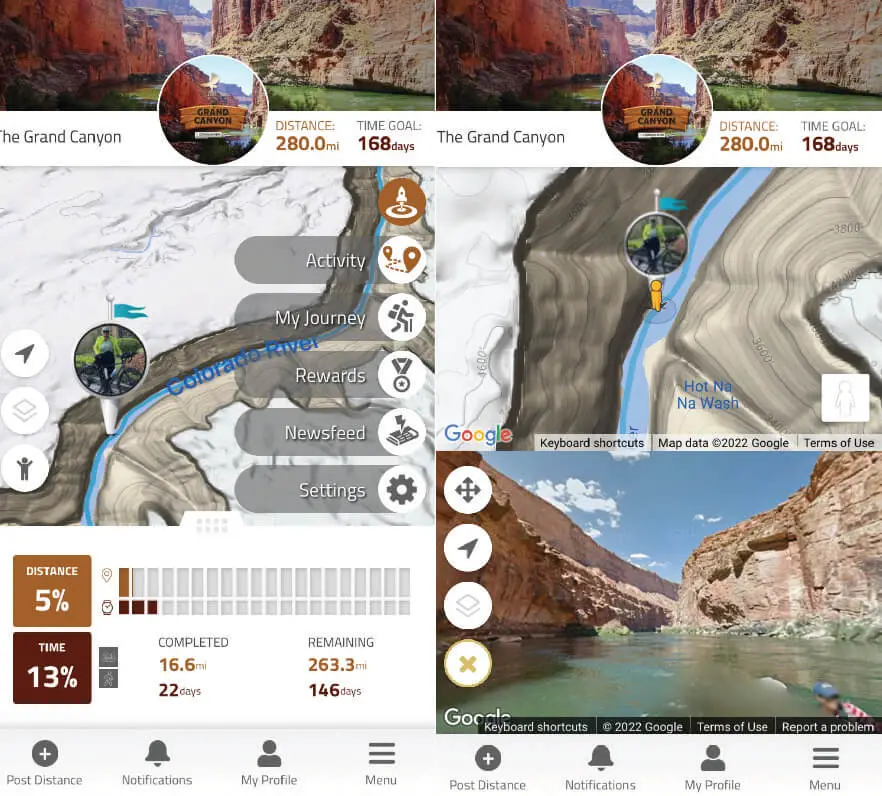 7- The Conquer Virtual Challenge Is A Great Fitness Motivator
I found the Conquer Virtual Challenges to be a great motivator for my fitness goals. There are many times when I think I do not want to get up to exercise, but then I think about how I need to get up because I need to be able to add some miles to the challenge; it helps to motivate me.
I have my medals hanging on my bedroom wall so I can look at them every day and remind myself to get up and try to collect some more medals. For me, this kind of focus helps to motivate me in my exercise goals.
8 – A Great Way To See and Learn About Other Places
One of my favorite things about the Conquer Virtual Challenge is that there is a street view on most of their challenges. On this street view, you can see where you are and your surroundings.
Many times I am in the middle of the freeway. Other times I might be on a lovely country road. I have been on a beautiful coastline a few times near a lovely fish'n chips shop. I have enjoyed virtually getting a feel of where I am at during my travels.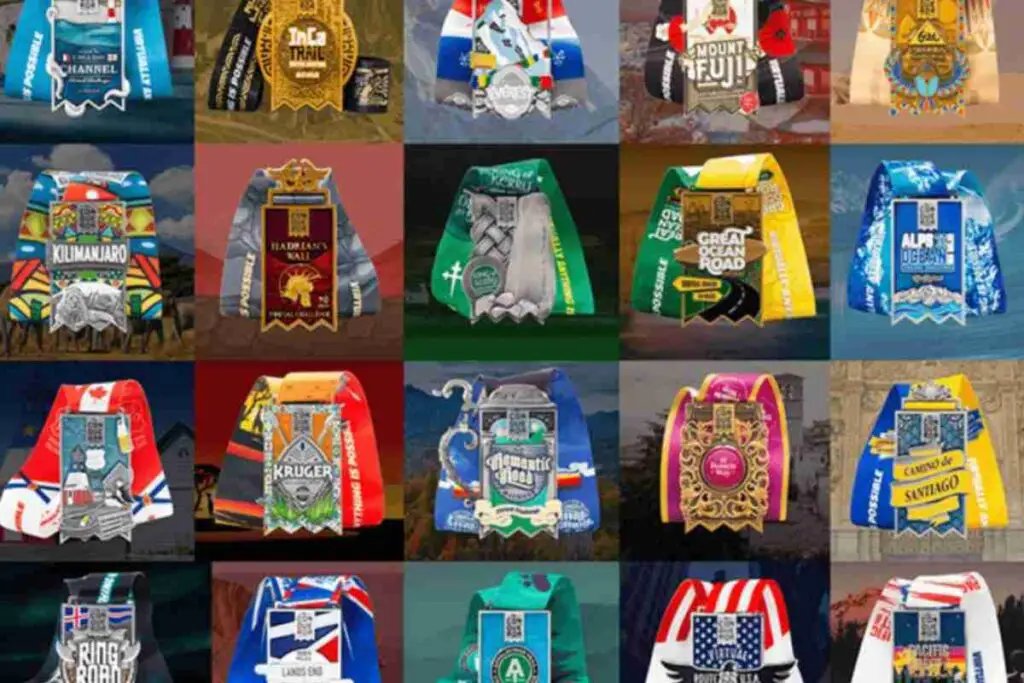 9 – Your Conquer Virtual Challenge Medal is Sent Promptly
When you complete a medal, it is sent to you promptly. I live in Hanoi, Vietnam, so I was a bit worried about whether I would actually get my medal. I am pleased to announce that my medal arrived relatively timely through the Vietnamese post.
Almost everyone should also receive my medals if my medals could arrive via the Vietnamese post. The medals came in a lovely box and package.
10 – The Conquer Virtual Challenge Is Just Plain Fun
The Conquer Virtual Challenge is just plain fun. It is a great way to motivate yourself and fun to tell people that you virtually swam the English Channel or biked through England and Scotland.
Some people may feel it is not legit or a challenge because it is all virtual. That is further from the truth. Whether you do the miles in the USA or Germany – you are doing the same amount of miles as if you completed the same route in person.
If anyone tells you that a Virtual Challenge does not count because it is all virtual and not an in-person challenge – I would just smile at them and say thank you very much for your opinion, but I did do all the exact miles as someone who would have done it in person. What matters most is how you feel about the challenge and how you feel about what you have accomplished.
Sign Up For A Challenge Today!
The cost to do a Conquer Virtual Challenge is very reasonable. The basic cost is 29.95 if you only want to do the challenge and get the medal. If you also want to include a T-shirt, it is 59.95 USD.
They offer quite a few different discounts. To get an automatic 10% discount on your challenge, click and sign up with this link. You can discover more by clicking here.
As a bonus, The Conquer Virtual Challenge has a very active Facebook group. You can use Facebook to stay up-to-date on the news about the challenges and what others are doing. To join The Conquer Virtual Challenge Facebook page or discover more by clicking here.
At A Bus On A Dusty Road, we talk about travel, life, and ex-pat living. We are all about "Living Life As A Global Citizen." We explore social, cultural, and economic issues and travel.
We would love to have you be part of our community. Sign up for our newsletter to keep up-to-date by clicking here. If you have any questions, you can contact me, Anita, by clicking here.
Listen to our Podcast called Dusty Roads. You can find it on all major podcast platforms. Try out listening to one of our podcasts by clicking here.
Subscribe to our A Bus On A Dusty Road YouTube Channel with great videos and information by clicking here.
Related Questions
Is It Safe To Walk At Night In Hong Kong?
ong Kong is still a relatively safe city, and Hong Kong is usually safe to walk at night. But with any place that you are traveling, there are some precautions that you should take when you are walking around a city that you do not know. In recent years Hong Kong has had some violent protests, which has led to an increase in crime. Crime in Hong Kong is considered a crime of opportunity and is not as violent as in some other parts of the world.
You can discover more by reading Is It Safe To Walk At Night In Hong Kong? Tips to Stay Safe In Hong Kong by clicking here.
What About Early Morning Exercise in Asia and Vietnam?
In the early mornings in Hanoi, Vietnam, many of the streets bustle with people out exercising. It is usually safe to go out in the early mornings in Hanoi, Vietnam. People in the city tend to start their days very early. To see the early morning exercise, you must also get up very early. There are many places in Hanoi where you can see a lot of the early morning exercisers. Starting the day early is a habit that many people have throughout all of Asia.
You can learn more by reading our blog Early Morning Exercise in Hanoi, Vietnam, What You Need to Know by clicking here.